French Inspired Christmas Decor: Holiday Tour in the Living Room
Come on in and take a peek at our French inspired Christmas decor! Combining a neutral palette with lots of seasonal greens keeps it simple, while pops of gold and white bring in a little sparkle.
When I was a little girl I was always the one who was the most excited to decorate for Christmas. So much so that when I was around ten years old, my mom simply let me take over! I couldn't wait to bring down the boxes of decorations from the attic, and sprinkle the few Santas and little bits of decor we had around the living room. To me, it was almost the best part of the season!
And honestly, it isn't much different now. As a blogger I start early so that I can bring you inspiration for your own holiday decorating. But even before I was blogging, I always decorated before Thanksgiving. And to me, the decorating is still one of my favorite things!
If you've been here awhile then you know that I frequently do a neutral Christmas palette as opposed to the more traditional red and green theme. But this year, I wanted to add a little bit of pop so I decided to add some touches of gold.
You'll see brass candlesticks on the mantel and lots of gold ornaments on the tree. My decor is still simple and natural, but the bits of gold and white really add a pretty pop! Because if you can't add a little sparkle at Christmas, well, when can you?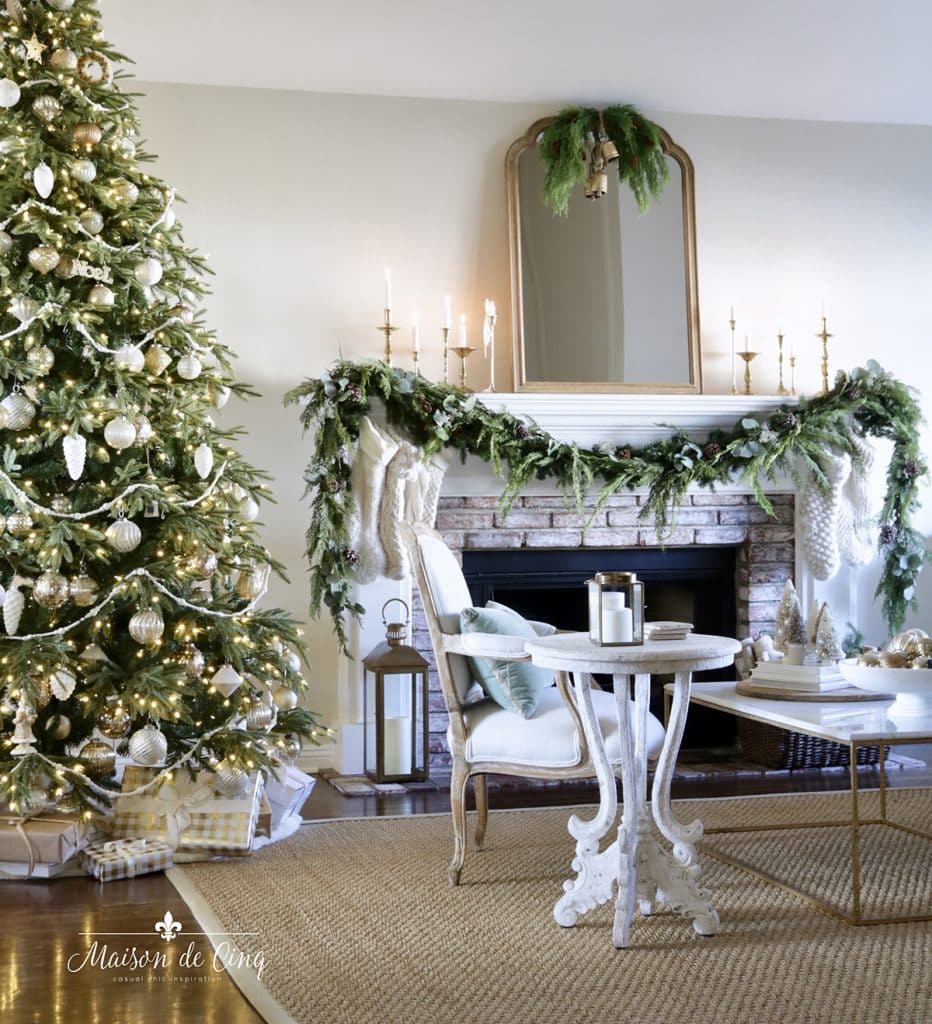 Above the mantel I decided to forgo a wreath this year – a first! I've had a wreath on the mirror for well over a decade but I was itching for a change. To create the swag, I wired together some greenery and then topped it off with my favorite brass bells and it's a completely new look. I'm smitten!

The mantel is decorated with not one, but five garlands! I love a lush looking mantel so I combine a few to get the look I want. And I'm going to be sharing all the details of what I did in a mantel post next week, so stay tuned!
In the meantime, you can take a look at the garlands I used below. Starting with a 'cheapy' one to create the shape, I then add a pine garland, then my favorite cedar garland (this is a great option, too), and cut up and add pieces of a eucalyptus garland to finish it off!


On the coffee table I filled my marble bowl with some of the gold mercury glass ornaments. I love the contrast of the gold with the white bowl.

I also added some of my bottle brush trees to create a little vignette along with some tiny brass bells.

I gathered a group of white vases on the console table and created a statement with white roses and lots of seasonal greenery.

My tree is a new one from Balsam Hill and I'm in love! I haven't had a full-style, green tree in about five years and I'm loving the change. This is a 9 ft. generous, full tree. I love the quality of Balsam Hill trees and how realistic they look. They are so easy to put up and the best part is the step-on button for the lights!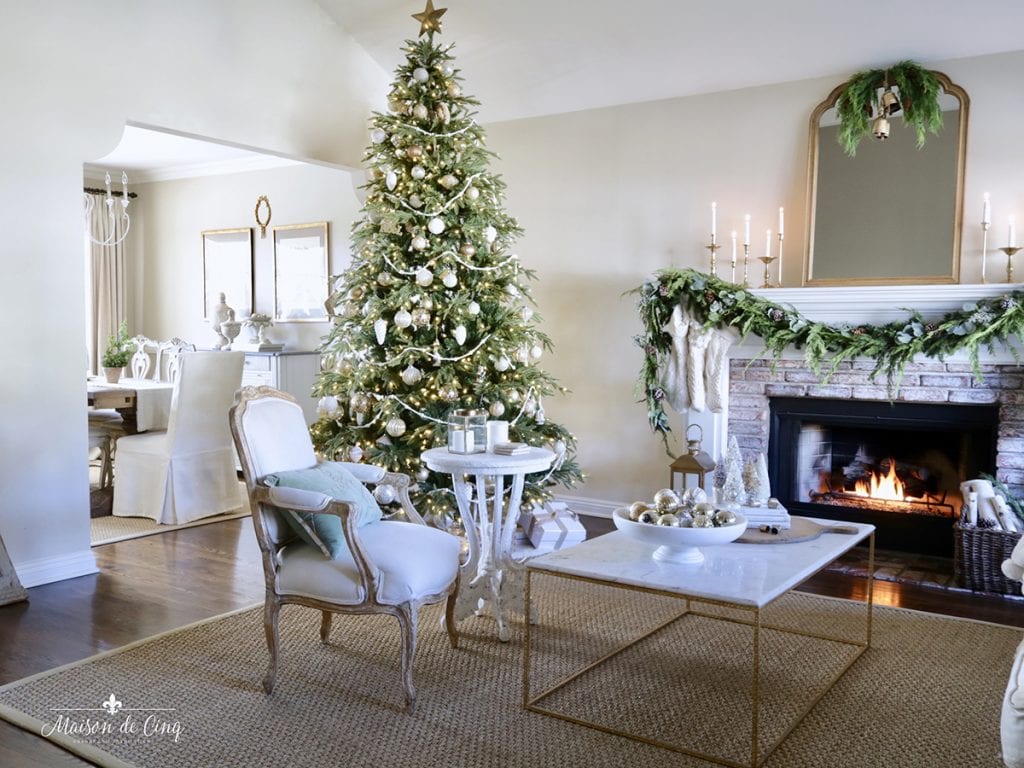 In the dining room I kept it simple, just adding some tabletop trees to the table and some ornaments to the sideboard.

On the dining table is a simple vignette with two little cedar trees in vintage terracotta pots along with a cloche holding a bottle brush tree. I love that you can feature anything under a cloche and it immediately looks more special!

On the sideboard, I combined a vintage French urn full of ornaments along with one of my vintage Santas. I've been collecting these for several years now, and I love to sprinkle them around. I found a few below if you're interested in collecting them, too!


The entry table holds an antique French urn with greens and white berries, along with a couple more mercury glass ornaments.

Hudson approves too!
Shop French Inspired Christmas Decor


*please note affiliate links included for your convenience*
I hope you enjoyed this year's simple French inspired Christmas decor, and that it's sparked some ideas for your own holiday decorating! And stay tuned, because there's lots more holiday inspiration coming!
Next week I'm sharing all the details of how I put together my mantel (including a garland tutorial), followed by tours of the kitchen, family room and porch!
Happy Holidays!
Sheila
xo
And now, be sure to visit my friends who are also sharing their holiday inspiration below!
Designthusiasm | Shabbyfufu | StoneGable
Maison de Cinq | Southern Hospitality
If you enjoyed this post, be sure to check out more holiday decor ideas and inspiration below: