French Inspired Christmas Tour with Touches of Blue
My last holiday tour of the season is my French Inspired Christmas Living Room! I'm continuing my theme of touches of French blue throughout, along with neutrals and lots of white for a soft and subtle version of the season.
Good morning friends! I'm so excited to be joining the Holiday Housewalk hosted by Jennifer Rizzo for the first time ever! This is always a gorgeous tour, and it has been around for nine years now. There are 7 of us sharing today, but there are more posting through Friday so be sure to stop back and get inspired all week long.
And if you happen to be landing here from the stop before me, Jen at Chronicles of Home (or any of the other lovelies on the tour), hello and thanks so much for stopping by!
If this is your first time visiting here, I'm Sheila and I live in Southern California with my husband and three kids. We also have a Golden Retriever named Hudson who thinks he's my fourth child (you'll see him a little later in the tour 😉 )
The name Maison de Cinq means "House of Five" in French, which is what we are 😉 . And if you didn't already guess it, yes, I love France and anything French. French design, French food, French wine…. all of it!
So welcome to my French Inspired Christmas Tour with Touches of Blue! For my regular readers, you know I've been adding some French blue to my otherwise neutral decor this year. After the holidays last year I planned this palette and I've been super excited to actually implement it!
The blue is such a departure for me, but I love the shade so much. A little bit French, and maybe a little bit vintage ~ that's what this shade evokes for me. And today, I'm bringing it into the living room. Hopefully you'll like it, too!
This frosted tree was new last year, and I love that it's flocked but in a subtle way. But instead of it being covered in blush ornaments, this year it's silver, white and a bit of French blue!

This year I decided to swag my garland vs. draping it over the top of the mantel like I usually do. I don't know why I didn't do this sooner! I used six different garlands to create this look – to get more details and all my tips you can check out my tutorial on Instagram stories.

White roses in a simple glass vase and a little vignette with one of my paper maché houses and some mercury glass bowls decorate the coffee table.

I've scattered some of these small blue mercury glass ornaments all over the house – I can't get enough of them! 😉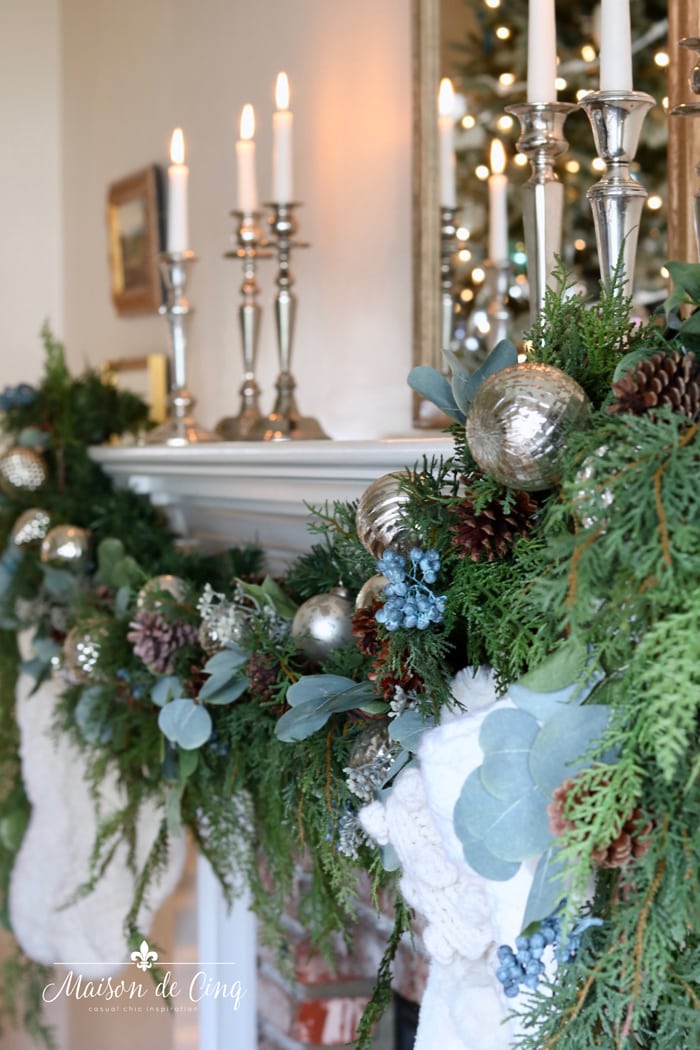 I love this garland – it looks so real! I added some faux juniper berries, pine cones, and silver mercury glass ornaments for just a little sparkle.

My favorite lanterns made an appearance on the hearth – I love these! I've used them in the backyard, on the porch, and in the house.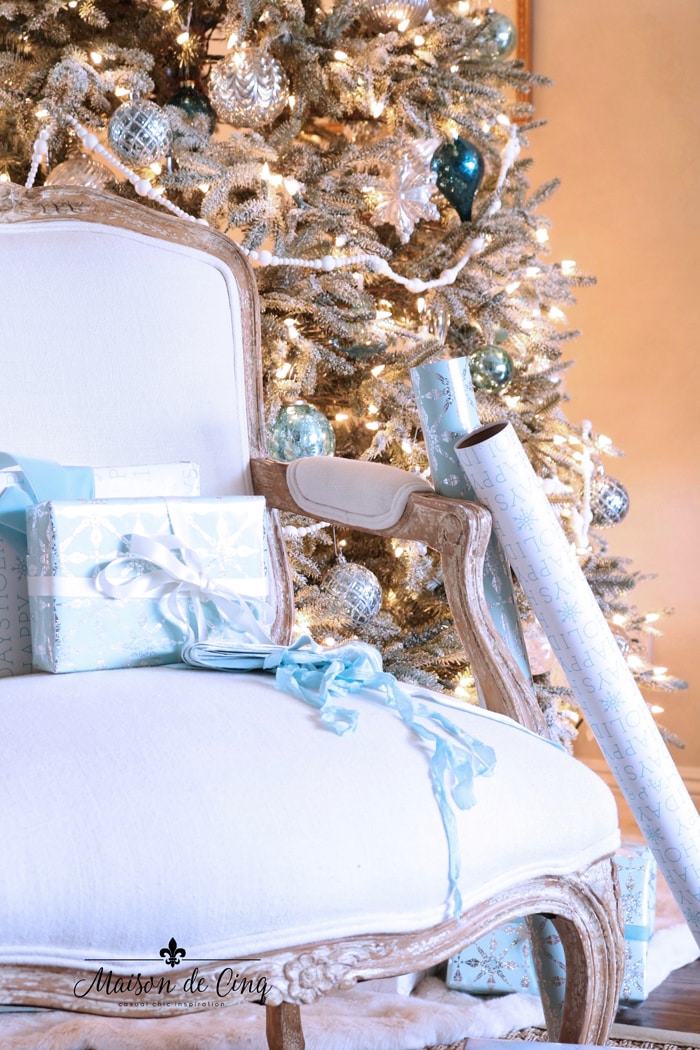 The stockings are a mix of different cream knit ones that I've found over the years. I love the charming, old-fashioned feel of them.

And these paper whites are faux!! Can you believe it?! I did force fresh paper whites a couple of years ago (you can see those here) but I found that the timing isn't great as far as having them bloom at the right time. I've been on the hunt for faux that look real for awhile now and am so thrilled to have found them! They are a bit of an investment, but I figure I'll be using them again and again for years so it's money well-spent. Mine are these. They look so real and they come in 3 sizes!

Shop the Post!


*affiliate links are added for your convenience*
Thanks so much for stopping by my French Inspired Christmas Tour today! I know there are a ton of tours this time of year, and I so appreciate you coming here and spending time in my little corner of the internet!
Now continue the tour by going to my friend Cami at Tidbits next. Cami has amazing taste and is living in a brand new home they just built. I just know you'll love her farmhouse tour!
Happy Holidays!
Sheila
xo
And if you missed any of my other holiday tours, you can get to those by clicking the photos below!