We've always been smitten with French style when it comes to fashion. That effortless attitude that is casual yet oh-so-chic. And today, we're sharing the essentials you need to achieve that quintessential French style for summer!
As I'm sure you know by now, I'm a bit of a Francophile 😉
I love French interiors, and I consider my home to be at least somewhat French-inspired. But along with French decor and design, I also love French style! And when I say French style, I don't mean Fashion Week in Paris or Chanel handbags, though those are fun, too. No, I'm talking the chic, everyday style of fashionable French women.
Americans have been mesmerized by the style of French women for decades. They have a certain confidence and nonchalance that just screams chic. They're often in casual clothing, yet they seem effortlessly cool. And they never seem like they're trying too hard.
Simplicity is key. Minimal make-up and accessories and a "less is more" mantra are the norm.
The irony is, it doesn't take a lot of money to dress like a French woman. In fact, quite the opposite. They are almost always un-done, dressed down, and their style is definitely on the casual side of chic. And I love that!
My life as a mom and a blogger doesn't exactly warrant wearing all the latest trends anymore, so I'm all for casual chic that doesn't break the bank but still looks put together. Denim, espadrilles, flats, and stripes are some of the summer basics that come to mind when it comes to French style fashion essentials.
Here's to the quintessential French girl and her je ne sais quois!
French Style Essentials – Summer Version
Great White Shirt
All French women seem to have a basic, borrowed-from-the-mens-department white shirt. Here you can go with a button down, or something slightly more feminine, but you definitely want it to be timeless.
It's great to have a white cotton one for casual days, and a silk one for when you want a little more oomph. But if you're only going to buy one, then I would say an all-cotton one is the way to go. You want something you'll be able to pull out again and again, and again!
My personal favorites are the white shirts from J. Crew (here and here). They are well-priced and always look good, but I've also sourced other options below.
Leila Yavari via The Telegraph.
Emmanuelle Alt via Who What Wear.

Flattering Narrow Jeans
This is the one spot I would suggest spending a bit more. If you don't have a basic pair of super flattering jeans you love to throw on, get yourself some stat! Because when it comes to the 'per wear price', there's hardly anything you'll get more wear out of than these.
Medium to dark wash, and slim to the ankle is the French girl favorite. You can do skinny or straight, but I wouldn't do anything too trendy (like flares or heavy distressing) for this. Again, you want timeless. And flattering!
Marion Cottilard via Vogue.
Audrey Tautou via Bloglovin'.

Ballet Flats
French women do not run around on their cobblestone streets in heels. Flats are a French style favorite, and they are for me, too. I practically live in my flats!
They are more chic than a sneaker, yet nearly as comfortable. And they go with everything!
Via Ines de la Fressange.
Via Moop Shop.

Striped Tee
If you think wearing striped tees in Paris is cliché, you thought wrong! French women love a good striped tee (or sweater). They don't tend to wear a lot of prints in general, but stripes are an exception to the rule.
My recent favorite seems like the perfect example!
Via Could I Have That.
Caroline de Maigret via Bloglovin'.

Oversized Sunglasses
I'm pretty sure the French invented this look! Oversized sunnies connote mystery, something French women love to exude. And, they protect your eyes from sun damage, reducing signs of aging, so it's a win-win, right?
Via Maria Bernard's Instagram.

Straw Handbag
Whether it's a straw market bag for collecting fruit at the farmer's market, or a cute little basket handbag, there is nothing more summery than a straw bag for summer, no matter where you live.
Via Adenorah.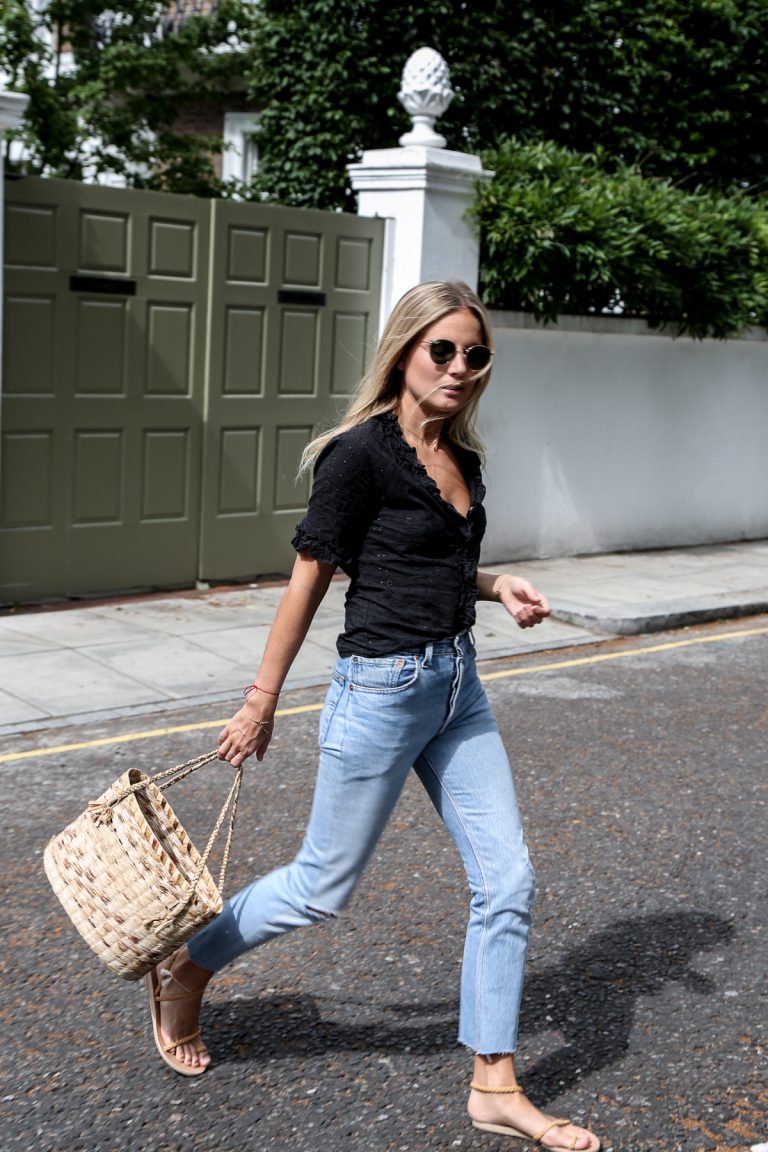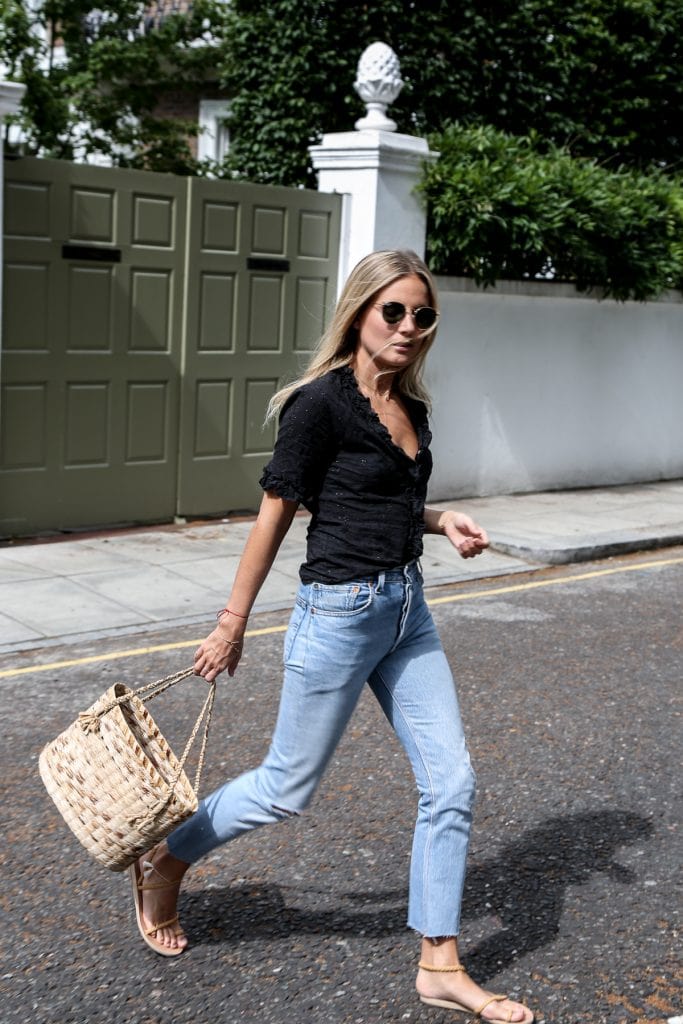 Via Lucy Williams Instagram.

Summer Dress
A simple summer dress is such an easy, breezy way to get ready on a hot summer day. I don't wear dresses a lot in general, but I do love them in summer.
First of all, they are much cooler (hello breeze!) which is perfect when you don't feel like wearing much of anything at all. And the wrap style is particularly flattering on almost any body type.
Via Fashion Me Now.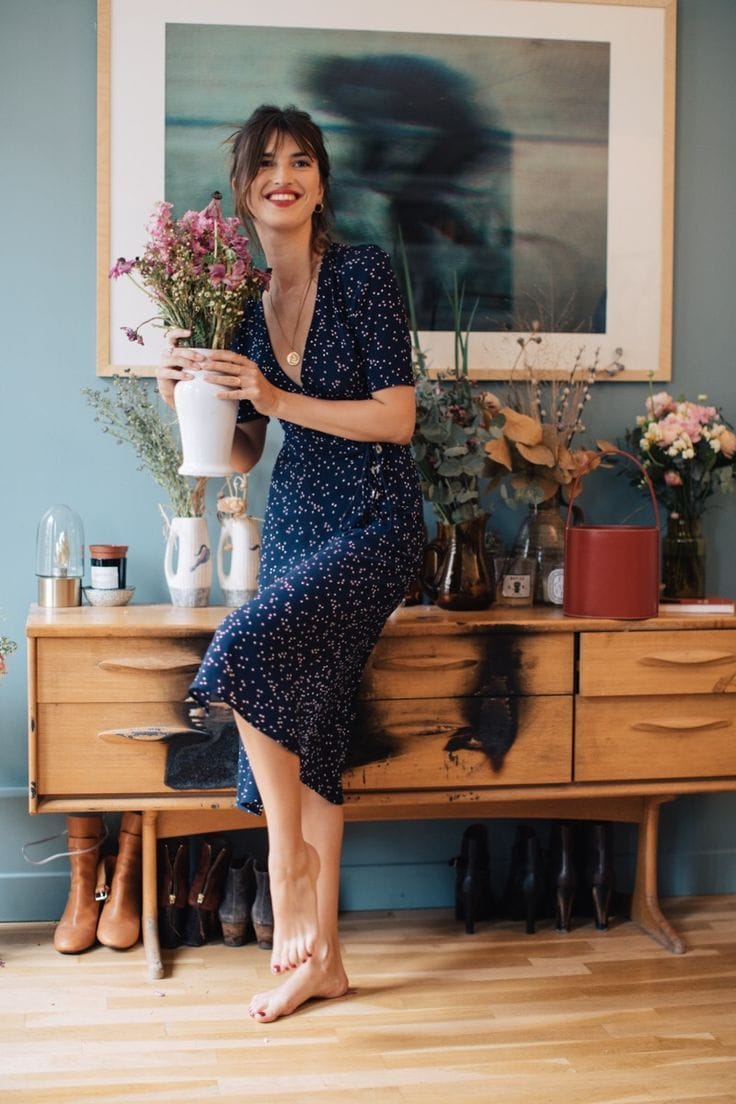 Jeanne Damas via The Man Repeller.

Neck Scarf
I did a whole post on the charming neck scarf when the trend was appearing here again a few years ago. I mean, is there anything that exudes French style more than this accessory?!
It adds such flair to an otherwise plain outfit of a tee shirt and jeans, and you'll definitely feel like you're in the South of France while wearing it!
Via Sarah Mikaela's Instagram.
Vanessa Jackman via The Zoe Report.

Espadrilles
The absolute, quintessential French summer fashion item! Espadrilles are timeless, and French women bring them back out every summer. When I was in Provence last year, I saw them literally everywhere – on men and women!
Plus, the cotton canvas makes them a cool and comfortable summer footwear choice.
Via Harper's Bazaar.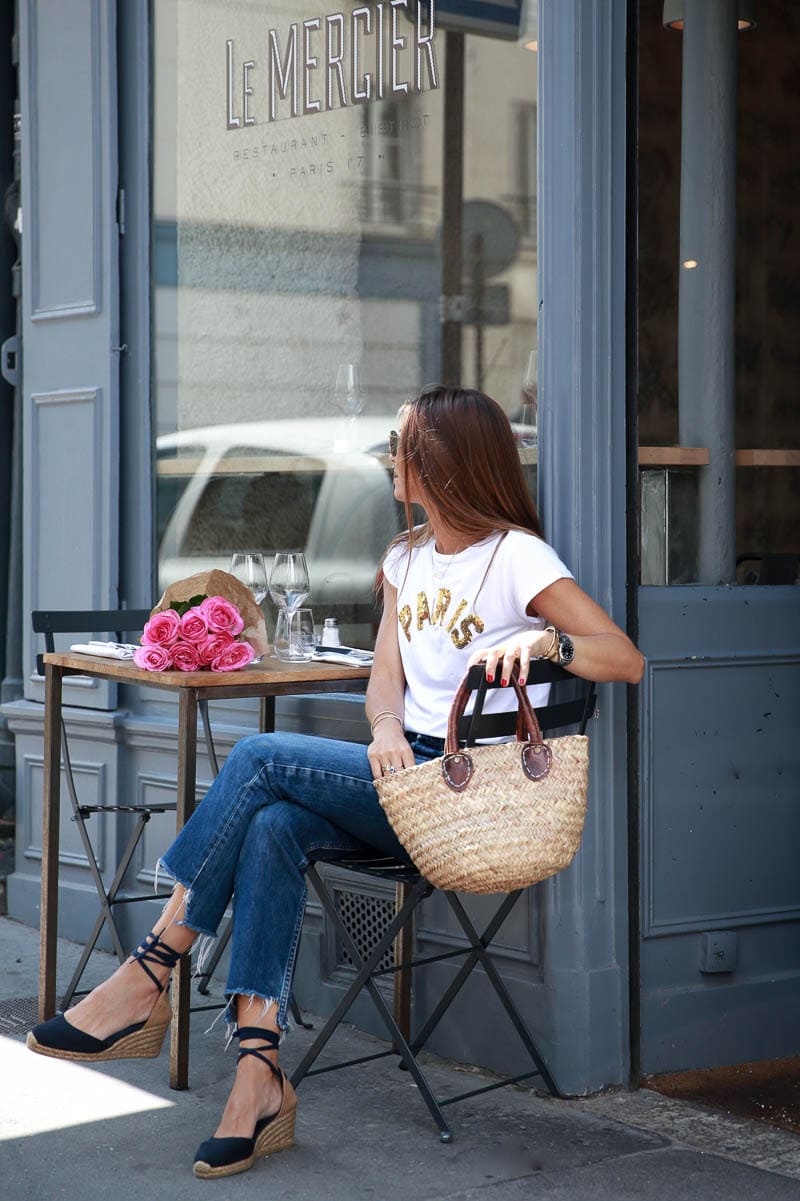 Via Style Lovely.

Simplicity is definitely best when it comes to French style. And in the summer time, that seems even more appropriate. Throw on a cute striped tee, flattering jeans and stylish flats, or just a simple summer dress, and you can dress with style without a lot of effort.
To shop the French style finds below, simply click and scroll!
Shop French Style Fashion





*affiliate links are included for your convenience*
je t'aime,
Sheila
xo
If you enjoyed this post, be sure to check out more French inspiration below!