Lots of feminine elements combined with soft and serene colors and a nod to Grandmillenial style create a stunning French traditional style home.
Today I'm sharing another gorgeous home as part of our Inspiring Homes Series, and this one is truly special! This traditional home includes French and Swedish influences set in soft tones of blue and green to create a serene haven for a young family.
I think you'll be as inspired as I am by this beautiful home!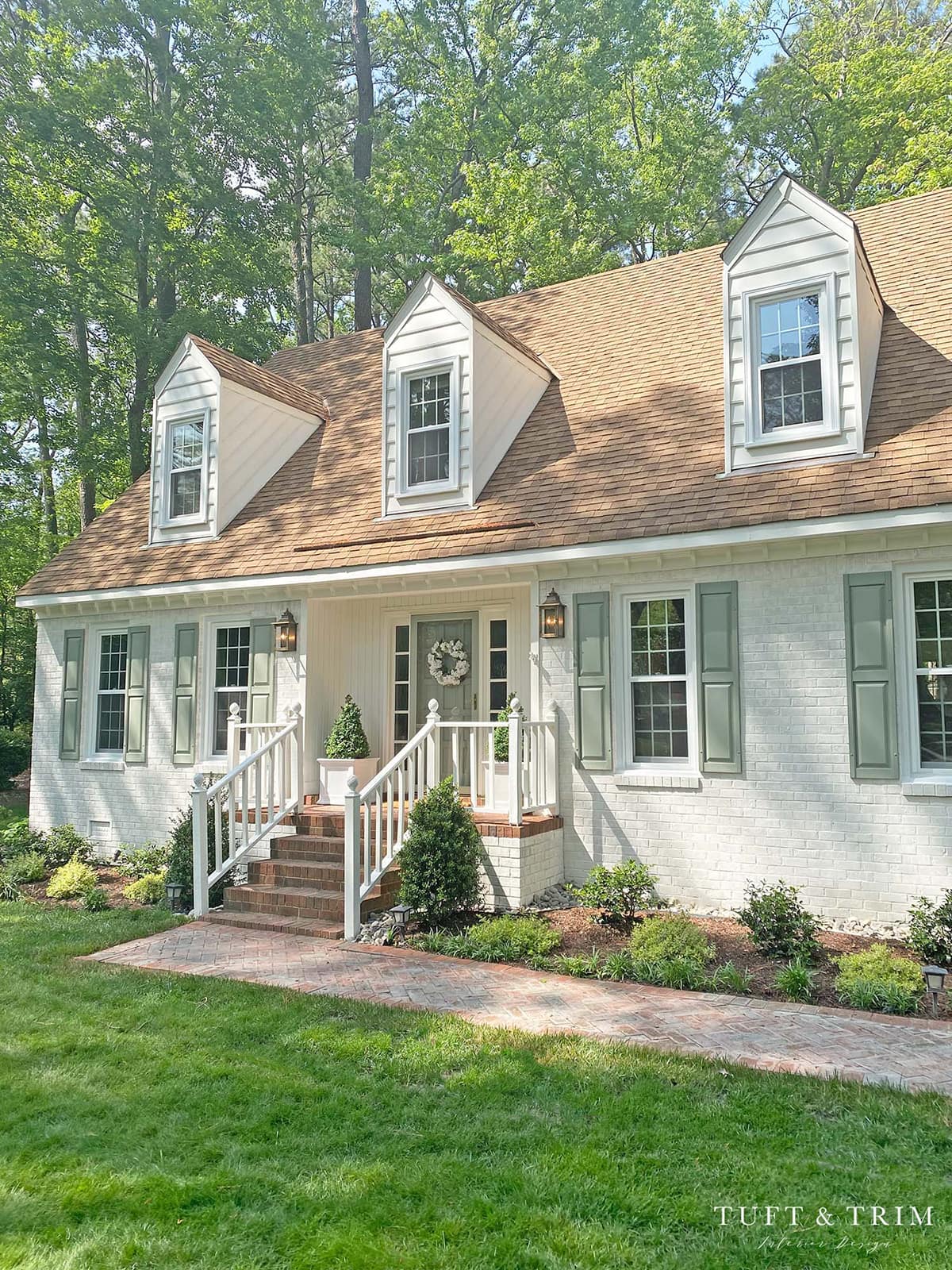 This home is in Virginia Beach, Virginia and belongs to my fellow blogger and friend Courtney. She lives here along with her husband and two young sons.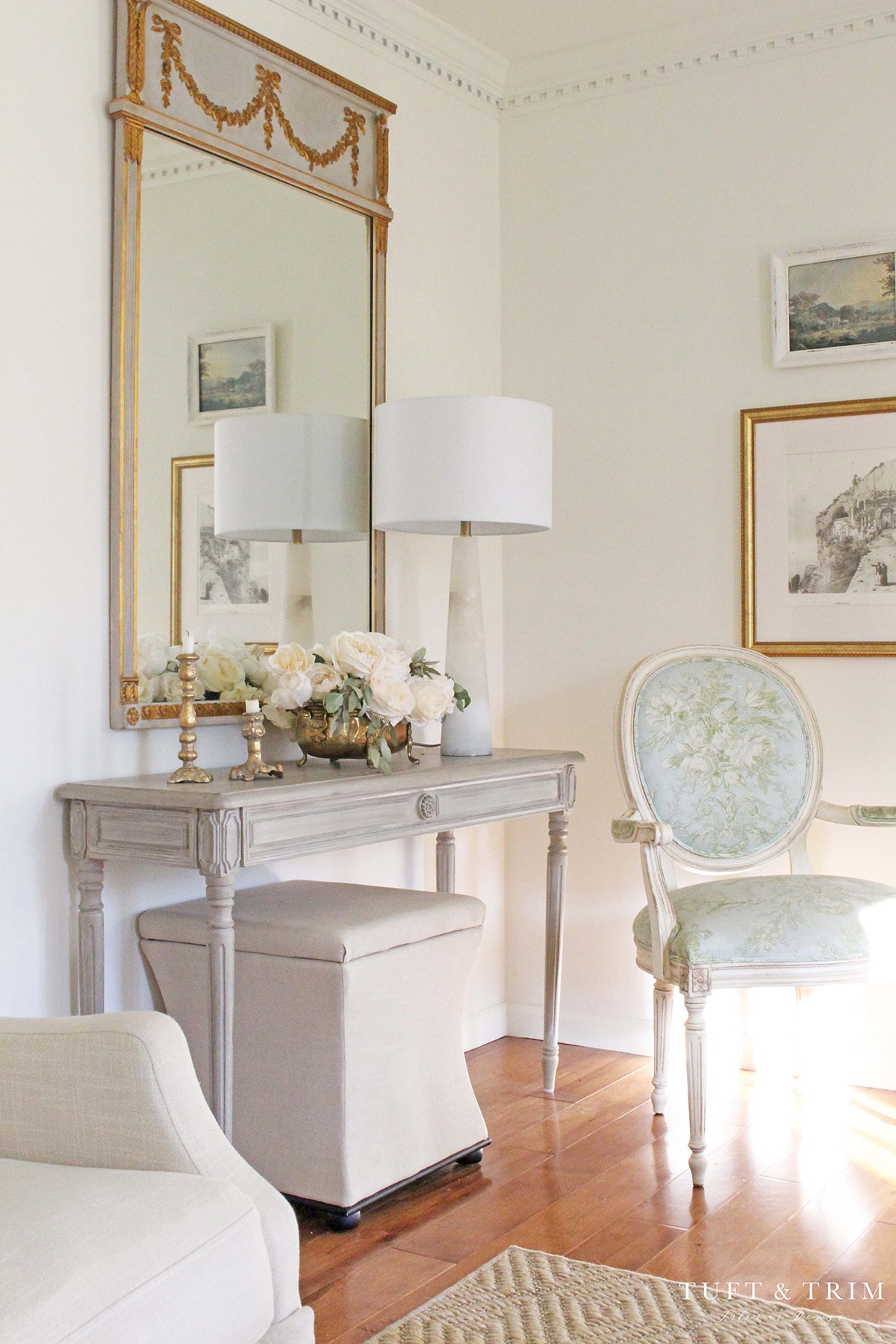 Courtney says one of the things that attracted them to the property was the fact that the home is nestled within a beautiful canopy of trees.
They purchased the Colonial Cape Cod style home last year and have been slowly updating the original 1970's style to make it more of their own.
Courtney says they've done a ton of painting, "We painted all the dated dark wood trim, doors, windows, cabinets, and paneled walls in white. We also renovated the downstairs bathroom adding a beautiful marble subway shower, along with marble flooring, a new vanity, fixtures, and lighting. More recently, we got all new windows and lime washed the brick exterior."
The family room is a cozy space anchored by a grey velvet tufted sofa along with an upholstered ottoman as a coffee table.
The touches of French blue and sage green add color without overpowering the serene feeling of the space.
"The house was definitely dated and in major need of some TLC when we bought it, but it's full of character and has so much potential. We're so happy to see it coming back to life!"
The formal living room is where Courtney really added some of that traditional "Grandmillenial" style.
Combining a beautiful sofa covered in a sage floral fabric with taffeta curtains ups the glam factor. And gold accents add the perfect bit of bling and separate this space from the more casual family room.
Courtney says she loves having a traditional floor plan with all the separate spaces, and the front room or 'parlor' is probably her favorite space.
"It's very feminine and formal with a fun pop of color."
Her dining room is probably my favorite room in her home! Love her perfect mix of chairs with the chunkier farmhouse style table, and of course, how could I not love the chandelier? (I have the same one!) 😉
Also note that she uses natural style rugs in each space, but they are all slightly different.
And her sideboard is gorgeous!
She used a gorgeous floral wallpaper with a palette of soft blues and greens in what she calls the "Garden Bathroom." It does feel like a garden!
Courtney says she's always been drawn to French and European influenced decor and she loves to mix in a few traditional elements as well.
"While I typically stick to soft neutrals, I've had fun introducing subtle color schemes like sage green and pale blue into my home. Overall, I'd say my style is an elegant French traditional."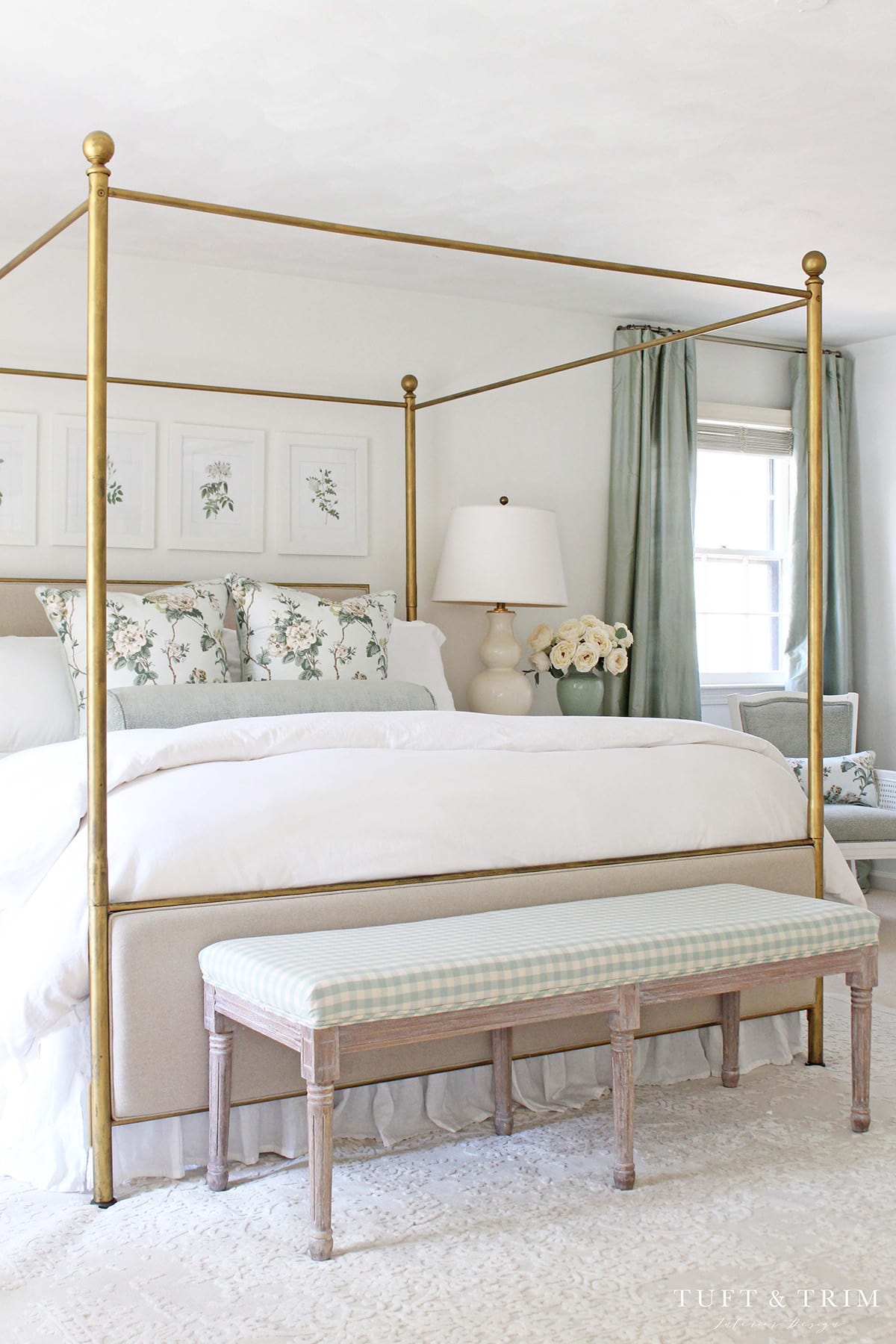 A key element in her French traditional style home is creating continuity by using colors repeatedly throughout. Here in the master bedroom she continues the soft sage greens in both the bedding and the drapery.
The master bathroom was a space they only recently finished redoing. They painted a vintage dresser and are using it as a vanity, while also adding new gold mirrors and sconces.
And of course I had to share her boys' room as it's as cute as the rest of her home! How perfect is the pretty blue color and the nautical theme?!
Her kitchen cabinets were painted white to lighten and brighten up the space.
And another favorite space of mine is her adorable laundry room! They took a dark and dated space and made it absolutely gorgeous – I'm pretty sure I wouldn't even mind doing laundry in here!
Courtney and her husband have done so much to make this home their own and it shows! It's elegant yet warm, sophisticated yet cozy, and perfect for a young family.
Courtney says, "I believe home should be a place that reflects you. A space where you enjoy spending time in and where you can recharge and feel refreshed. We love spending time together in our home as a family!"
I'd say she's done just that!
For more inspiration and photos you can find Courtney on her blog, Tuft & Trim or on Instagram!
Sheila
xo
If you enjoyed this post, be sure to check out more Inspiring Home Tours below!