How to Freshen Up your Outdoor Space for Summer
Are you all getting excited for summer? I know I definitely am! Lately I've been trying to clean up and refresh our outdoor space in the backyard. Spring gets me so excited to have bar-b-ques, swim parties, and revel in the freedom that summer seems to bring. In the spirit of that, our blogging group is talking "outdoor spaces" in our monthly blog hop this month!
For me, I love entertaining outside in summertime. Because we live in Southern California, we're lucky to be able to enjoy our outdoor space for quite a few months out of the year. However, we admittedly use it much more in the summer than any other time. I mean, is there anything better than lingering outside after dark, sipping some wine or enjoying a cocktail with friends while the kids play in the pool? Heaven!
To be honest, we need to do some work on our pool and some re-landscaping, but for now, I need to work with what I have! So for this post, I'm sharing how I've tried to update the space with plants, flowers, and outdoor accents. Right now, I'm all about accessorizing and making the most of what I've got!
One thing I did to add interest to the patio was to buy this little bistro table and chairs set. Because the backyard needs some work, I wanted to distract from that. This little seating area does the job! It's charming and sweet, adds extra seating when we need it, and makes for a nice little corner in which to have our morning coffee.
Mine is from Ballard Designs (and I think it's still on their site) but I've also linked some similar sets at the end of the post that are even less expensive.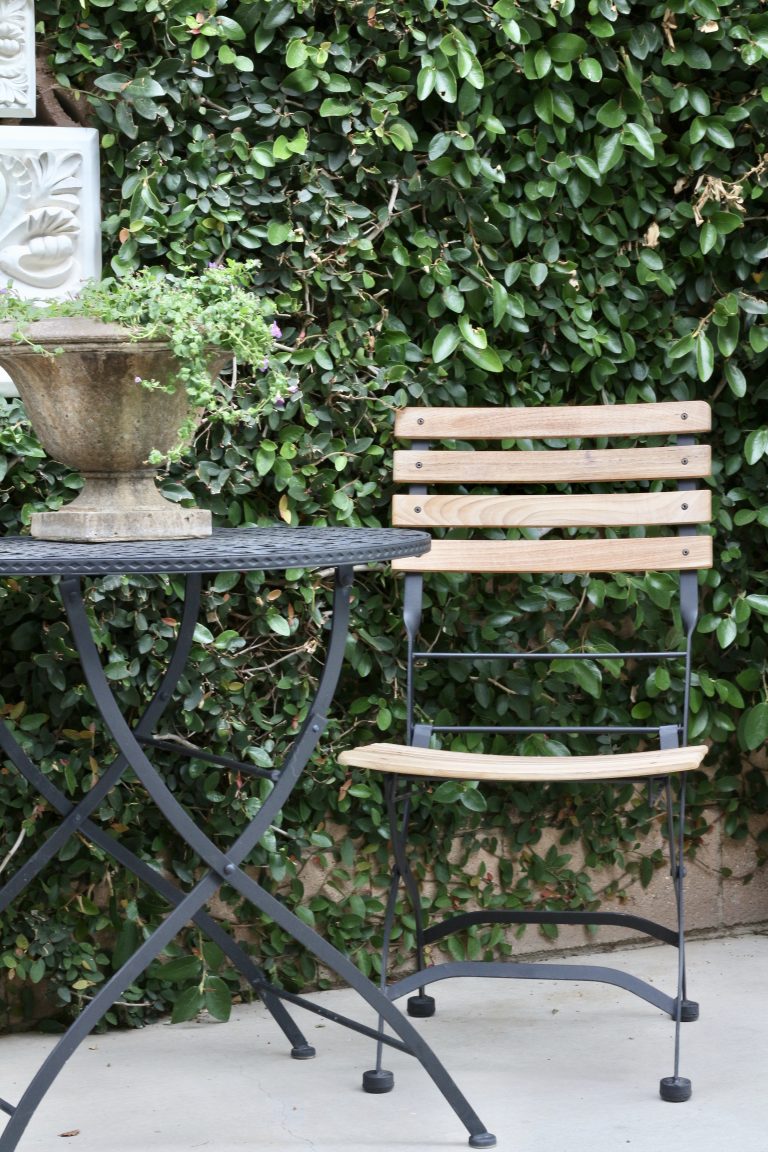 Another item that's great for decorating your outdoor space is wall decor. And these days, there are tons of options! Everything from art, to wall plaques like mine, to clocks, all in made-for-the-outdoors materials.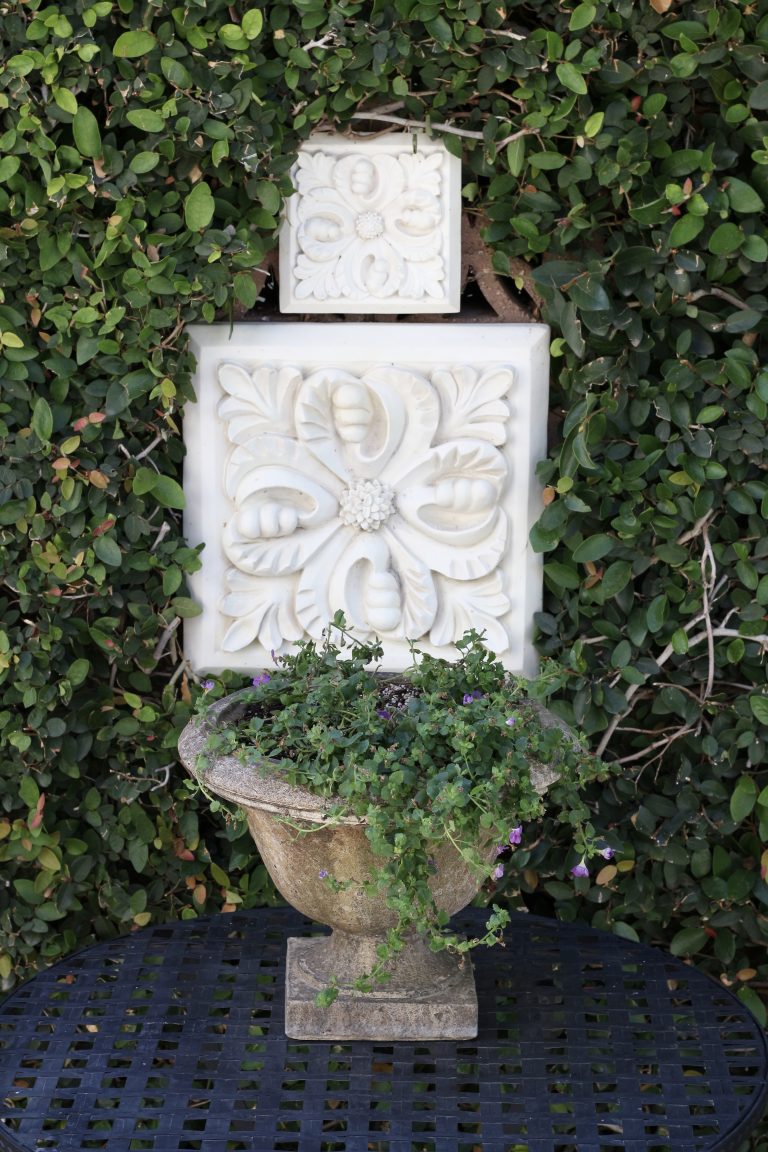 I've owned these plaques for years, but only just recently moved them to this wall. I cleared out a space from the fig that covers the wall and made for a little focal point. Again, it adds some interest to what was once a pretty bare wall, and I didn't spend a dime!
Our dining area is one we use a lot, as we love to grill and during the summer we eat outdoors probably 5 nights a week! This table was actually made by my husband from the farmhouse table plans on the Shanty 2 Chic website, and the chairs are World Market (similar here, here, and here). They aren't outdoor chairs, but they are under a patio cover and I treat them every spring. So far, they've survived pretty well and they were a fraction of the cost of the outdoor chairs in the same style.
I always love to decorate the table a little, and usually have a vignette on the wine barrel lazy Susan.
Here I planted one of my favorite plants, Kalanchoe. It's actually a succulent, so it does very well in the summer here and lasts long in a pot.
The candle holder is Pottery Barn and the bird statue was from Home Goods.
On the console table I have my favorite little girl garden statue, and two Target planters with Petchoa plants. If you want to see more of how I added color with flowers from Monrovia, you can see the full post here. I'm still really loving the purple as a pop against my usual white flowers.
The table is set for lemonade and some snacks. The chicken wire caddy is actually made for flatware, but here I'm using it to carry out some bee glasses from Sur la Table. I love things that can be used for more than one purpose!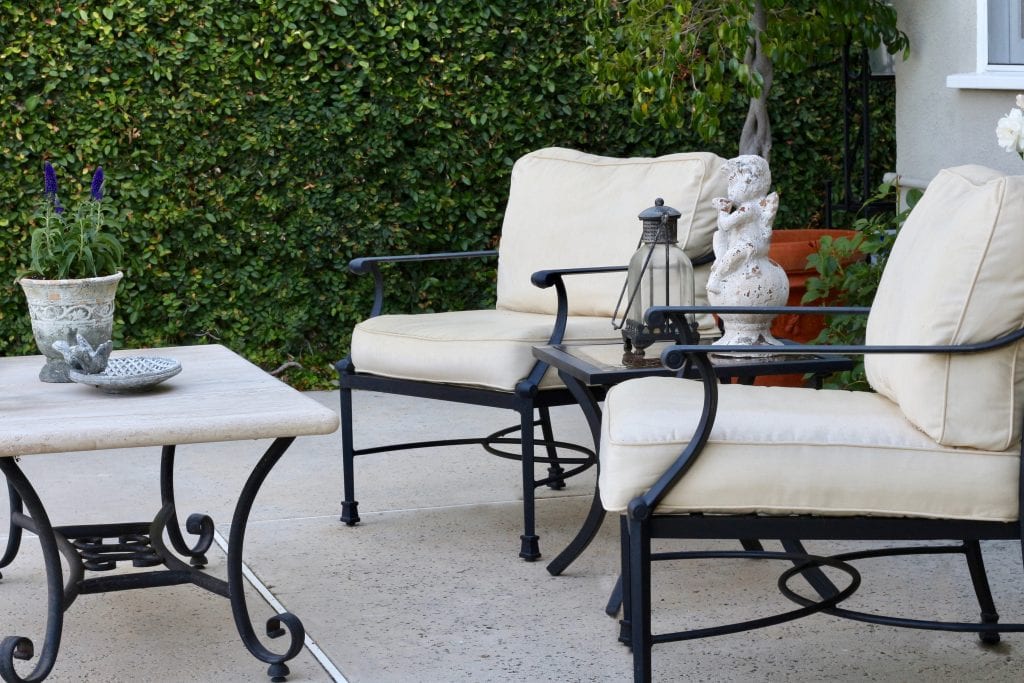 On the opposite side of the yard from the dining area, is our pool and this small lounge area.
Again, nothing fancy over here but I did buy cute patio furniture from Ballard Designs a couple of years ago. This spring, I added some pots with flowers, and some decorative items like a lantern and garden statue from Home Goods. I really think adding decor the same way you would on the inside of your home helps make for a more inviting outdoor space.
And of course, I have to have some of my favorite flower, white hydrangeas! I have two of these pots flanking the french doors.
HOW TO FRESHEN UP YOUR OUTDOOR SPACE FOR SUMMER!
This runner is made from an antique grain sack and the candle holders were from a local store a few years ago. I find lots of grain sack items on Etsy and am contemplating buying more of these with different colored stripes!
SHOP THE POST!



(*please note some affiliate links have been added for your convenience*)
Hopefully I've helped inspire you to start thinking about your outdoor space, or at least given you some ideas for ways to update them without breaking the bank. I hope you will also visit my friend Tamara at Citrine Living next. She has beautiful taste and I love everything she does, so I'm sure she'll have some amazing outdoor areas to share with you!
Here is the full line-up of the all the bloggers participating this month – I know you'll get lots more inspiration from them all!
Outdoor Spaces Blog Hop
Amie at Meme Hill
Kathleen at Lindsay Hill Interiors
Joan at 2 Ladies and a Chair
Me! at Maison de Cinq
Tamara at Citrine Living
Kim and Lacey at Styled with Lace
Thanks again for stopping by!
Sheila
xo