The All New Friday Favorites: Weekly Inspiration
Welcome to Friday Favorites, a series where we share our favorite decor, design inspiration, movies, podcasts, fashion finds and more! And though it won't all be French, some of it definitely will!
Hello friends and welcome to my new weekly series, Friday Favorites. If you've been here since the beginning (and I know some of you have!), you may remember I did a Friday Favorites series for several years when I first started blogging. But then I joined some friends for French Country Fridays and my favorites post kind of went out the window.
But you know what? I've always wanted to get back to it! It's just like talking to a good friend. You know when your bestie tells you about the new find she got at PB, on sale?? Or she's found some wonderful cleaning product you just have to have? That's what this is!
So when my Fridays opened up again, I knew I wanted to bring it back!
Everything from a decor find at a great price, to a favorite movie, recipe, or podcast, to a wonderful fashion find – anything that strikes me as interesting is what I'll be sharing. But it won't just be filler. These will be my absolute favorite things. Things I truly love, or use, or that inspire me. I can't wait to start sharing with you!
Things I Love in Design/Decor
If you've been following me for awhile now, then you know I'm a huge fan of the designer Brooke Giannetti. She is married to Steve Giannetti, an architect, and they do many projects together (including their own amazing home Patina Farm). Their new book is Patina Homes and it's as stunning as the first three.
I'm dying for a set of new everyday dishes! I want something white but with some pretty detail to keep them from looking too plain. My two dream sets are this set, and this set. But get a look at this one – so pretty and it's a fraction of the price.
I'm obsessed with baskets this week as I try to restyle my large builtins in the family room, and the Studio McGee ones from Target are right on point. They are so French looking (love the grey tone). The largest one is priced so well, and I also love this one for an indoor tree or large plant.
Things I'm Watching/Reading/Listening To
Do you guys listen to podcasts? I'm completely addicted. From informative to riveting to entertaining, I've learned so much! One I just discovered is Dolly Parton's America and I was so pleasantly surprised – it's both uplifting and inspiring.
I'm a huge fan of design shows, but until recently I had not watched Rock the Block Season 2. The premise is they build 4 new spec houses and 4 pairs of HGTV designers have 6 weeks to completely design and decorate them, and whoever adds the most 'value' to the house by the end, wins. And my favorite part? Watching Nate Berkus and Jeremiah Brent! First of all, they are funny, and cute, and so real. They turned this builder-grade house into a Belgian Farmhouse (um, hello, totally my style!)
Once I finished that, I ended up watching all 3 seasons of Nate and Jeremiah: By Design. You only need to know four words: first episode, first season. The most amazing transformation for this family, and this time they also channeled what they termed Belgian Countryside. Let's just say I'm smitten. 😉
I thought since it's our first week I'd share one of my all-time favorite movies that takes place in one of my all-time favorite places, Positano, Italy. If you've never seen Only You, you're in for a treat. The wardrobe, the scenery. And oh yeah, it's a romance. But did I mention the scenery?!
Things I'm Wearing/Loving/Wanting
The Nordstrom Anniversary Sale started earlier this week, and though I couldn't buy until today at my cardholder level, I've been scoping out items all week! Tonight I put this blouse, this coat, this blazer, these booties in brown, these jeans, and my fave cheese knives in my cart. You can see the whole sale here.
If you love French style as much as I do, you may want to check out my post all about French girl fashion essentials.
Things I'm Making/Eating/Drinking
We're all about grilling in the summer and this recipe from Bobby Flay is in heavy rotation. (We use chicken rather than the turkey specified, but either are delicious).
We also make a lot of homemade ice cream (I consider this ice cream maker a summer essential) and this Sour Cream Ice Cream is a favorite. We love it, my kids love it. It's so delicious – I promise!
Random Thoughts
If you're on Instagram, this account is gorgeous!
Are you on Spotify? This music app was new to me a few years ago but I am hooked! We connect this speaker to a phone and we can listen in the kitchen, family room, or walk it outside. It's so much easier than dragging out the CDs! (You can follow me/find my playlists here).
Just found this room spray and I love it. The citrus scent is subtle and the clean and simple bottle is nice enough to sit in the bathroom. 🙂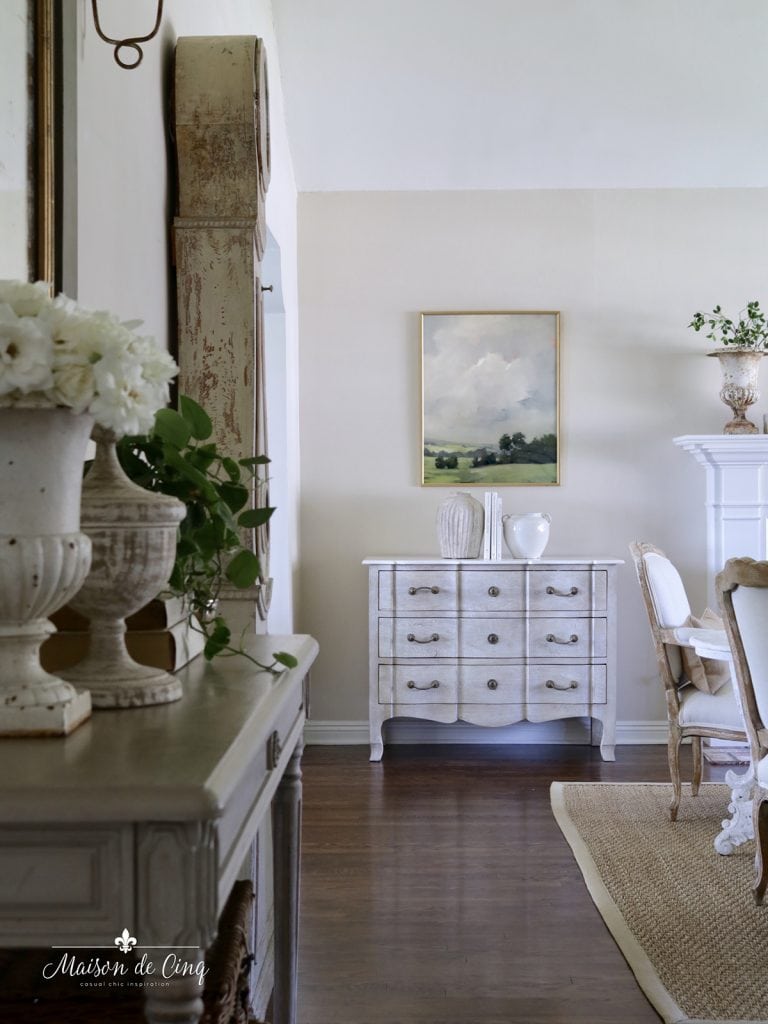 And if you missed last week's post, I shared my new living room artwork.
I really hope you enjoyed this first installment of Friday Favorites! I love sharing things that inspire me with all of you, and I hope you'll find things that interest you, inspire you or just make you smile.
Happy Friday!
Sheila
xo
*affiliate links are included for your convenience*
P.S.
1. Have you signed up to be a Maison de Cinq subscriber yet? You'll get every post delivered directly to your inbox and you'll receive my free 5-day email series How to Get French Farmhouse Style for Less for FREE! Sign up here and get Maison de Cinq straight to your inbox!
Oh and if you've missed any of the previous Friday Favorites, you can find them all here!