Friday Favorites – Weekly Inspiration
Welcome to Friday Favorites, a series where we share our favorite decor, design inspiration, movies, podcasts, fashion finds and more! And though it won't all be French, some of it definitely will!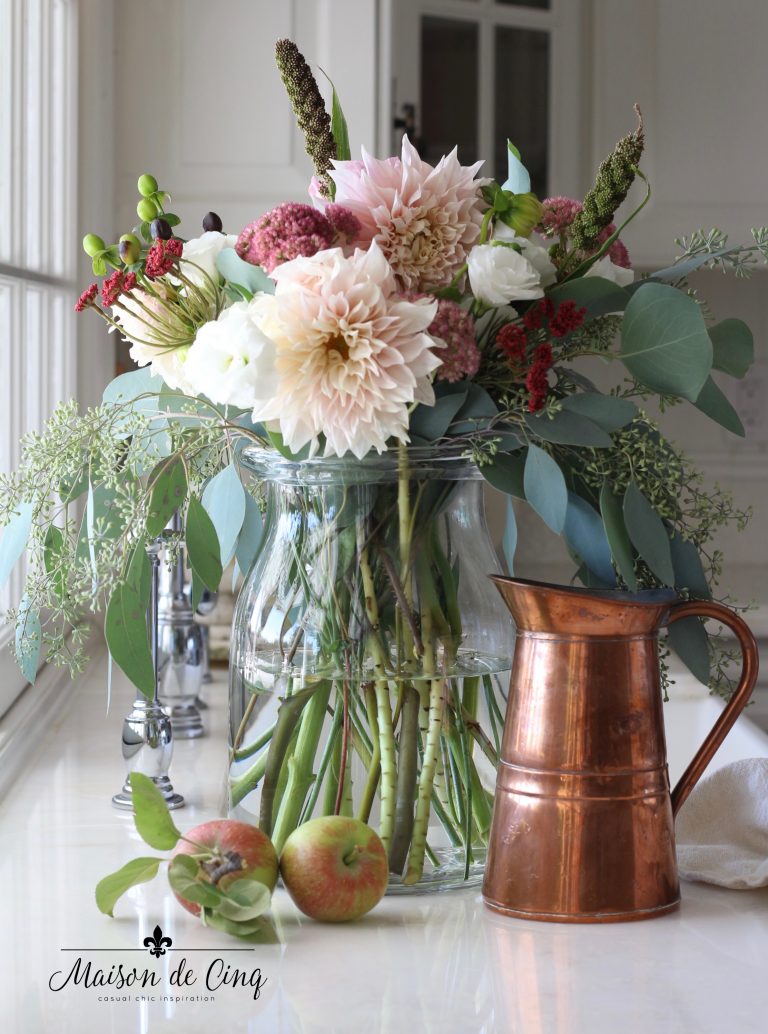 It's finally feeling like fall here and I couldn't be happier! No A/C today and I had all the windows open and ate lunch outside – my favorite kind of day. Last week my husband and I escaped for a couple of days up to the coast in Northern California. We hadn't been away alone in over 2 years so it was a much-needed break. The coast was cool and beautiful, and we drove into Sonoma for some wine tasting, too – never a bad idea!
This week on Friday Favorites I'll be sharing all my favorite things. Everything from a great decor find, to a favorite movie, recipe, or podcast, to a wonderful thing to wear – anything that strikes me as interesting or fun or that you might love, too! 😉
THINGS I LOVE IN DESIGN/DECOR
This kitchen! It's always been a favorite and I think I've pinned it about 30 times. That mix of old and new, the French limestone floors and that incredible antique cabinet – does it get any better? But now I just read a little tidbit about that cabinet that is so fascinating. Would you believe the doors are original antiques but the rest of it was custom built around them? You can read all about it here.
And, while we're on the subject of this kitchen, it's designed by Beth Webb who is one of my favorite designers. If you're not familiar with her, check out the rest of the home here, and order her book here! It's a gorgeous coffee table book, but it also includes wonderful design tips and advice from the heart. I think you'll love it! 🙂
I'm a white vase lover and always have been. They're the best for florals because they allow the flowers themselves to shine. Lately I've been wanting a couple of new ones and I've found so many beautiful options! These two are my favorites that I have and love, and I just ordered this one in the round, this one is also beautiful and on sale, these are adorable and a bargain, and I love the shape of this one.
For even more drama, go for a large planter! I love these (and have the medium), this is so pretty, and this one is priced so well!
THINGS I'M WATCHING/READING/LISTENING TO
I've been perusing Netflix for movies lately and it's surprising how many older ones are in the top 20 every week! I thought I'd share a few that we love that are still going strong. Catch Me If You Can features gorgeous sets and wardrobe from the 60s and it's sooo good! If you've never seen it, it's definitely worth a watch (and based on a true story).
And in the same vein is a little seen movie that's an homage to Doris Day/Rock Hudson movies of the 60s called Down with Love. It's chic and charming (and the wardrobe is fabulous!) What more could you want from a romantic comedy?!
And in reading, I just finished one of the biggest best sellers of the last couple of years (it just came out in paperback this summer) called The Silent Patient. It's definitely on-the-edge-of-your-seat reading and there's a huge twist!
THINGS I'M WEARING/LOVING/WANTING
I just found out that Amazon sells clothing! Am I the only person who didn't know this??? I don't mean you can find Adidas sweats, a pair of Converse, or a Marc Jacobs handbag on there, I mean they produce and sell multiple lines of clothing of their own.
I started with sweaters, but they make all kinds of things from sweats, to tops, to PJs. I love that everything I've ordered is cotton, or a cotton blend and they're so reasonably priced!
So far I ordered and am keeping this cotton sweater in black and olive, this chunkier cotton one in grey, and this oversized cardigan in camel and grey. I also ordered this one in olive and grey (kinda want every color though) and though it's not a sweater, I heard so many good things I had to order this cozy loungewear set.
I'm not really a perfume person (in fact I haven't worn it in years) but I do love to smell good which is why I'm a big fan of L'Occitane products. This French company makes divine scents and none of their fragrances are overbearing. My go to for years has been their Almond fragrance, it's sooo good!
I buy almost everything 'almond' that they make, but my favorites are the supple skin oil and the body balm. If I want to smell extra good (or I'm extra dry, lol) I'll layer both, but typically I choose the oil if it's summertime and the body butter when I'm drier or it's winter. Slathering these on right after a bath or shower is heaven. 😉
THINGS I'M MAKING/EATING/DRINKING
Since we've finally gotten some cooler weather here I've gone all in with fall baking this week! I made our favorite pumpkin chocolate cheesecake bars. These are so delicious – I'm telling you, it's hard to stop eating them! But this pumpkin bread is also yummy and a super easy recipe, too.
And I can't wait to start some cool weather cooking! Doesn't this baked mushroom risotto look amazing??!!
RANDOM THOUGHTS
Have you ever 'stripped' your laundry? This was all the rage during the pandemic last summer but I never did it. I'm kinda curious to try it.
I had no idea WD-40 had this many uses!!
This kitchen from The Fox Group gives me all the heart eyes! You can see more of their amazing work on their Instagram here.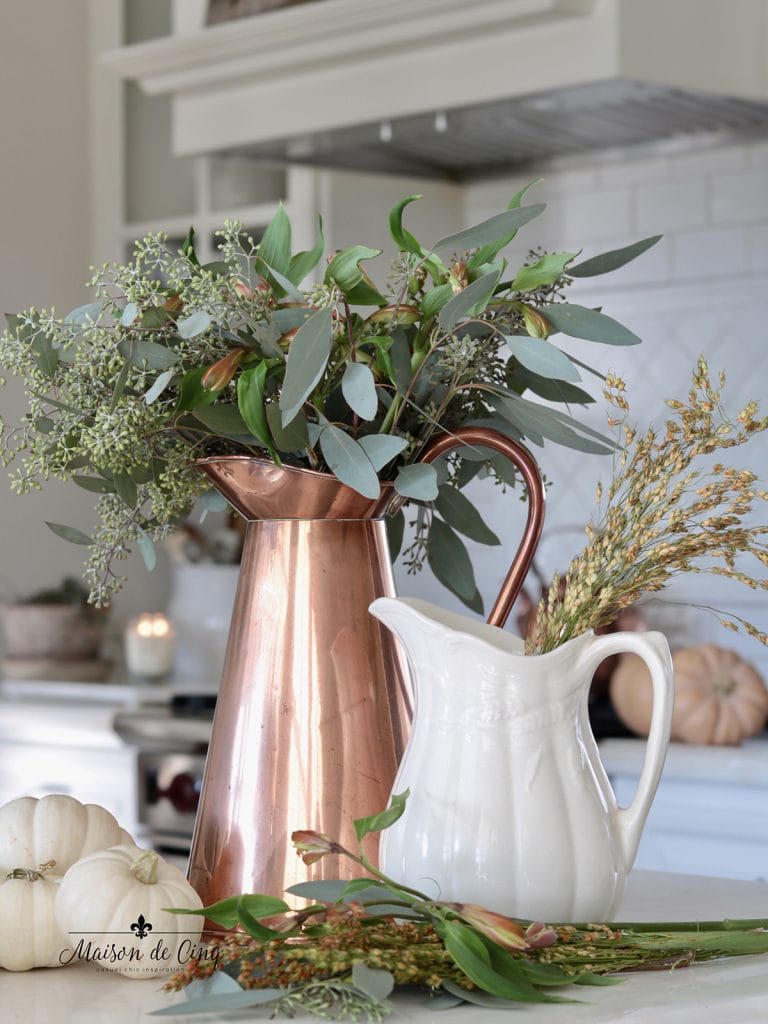 And if you missed either of my fall posts on the blog this week, I shared my kitchen all decked out for fall, as well as my simple fall mantel.
Happy Friday!
Sheila
xo
*affiliate links are included for your convenience*
P.S.
Have you signed up to be a Maison de Cinq subscriber yet? You'll get every post so you don't miss any and you'll receive my free 5-day email series How to Get French Farmhouse Style for Less for FREE! Sign up here and get Maison de Cinq straight to your inbox!
Oh and if you've missed any of the previous Friday Favorites, you can find them all here!