Friday Favorites – Weekly Inspiration
Welcome to Friday Favorites, a series where we share our favorite decor, design inspiration, fashion finds, TV shows, recipes and more!
It's July!! How did that happen? Do you feel like summer is screaming by like I do? I know people always say this, but for some reason, this year is really flying for me and I feel like it just started!
But we've finally warmed up and I'm ready for it! Bring on the outdoor dinners, feet in the sand, reading by the pool, and all the other wondrous things summer brings!
And in that vein, let's take a peek at all the fun things I'm sharing today!
THIS POST MAY INCLUDE AFFILIATE LINKS. CLICK HERE FOR MY FULL DISCLOSURE POLICY.
THINGS I LOVE IN DESIGN/DECOR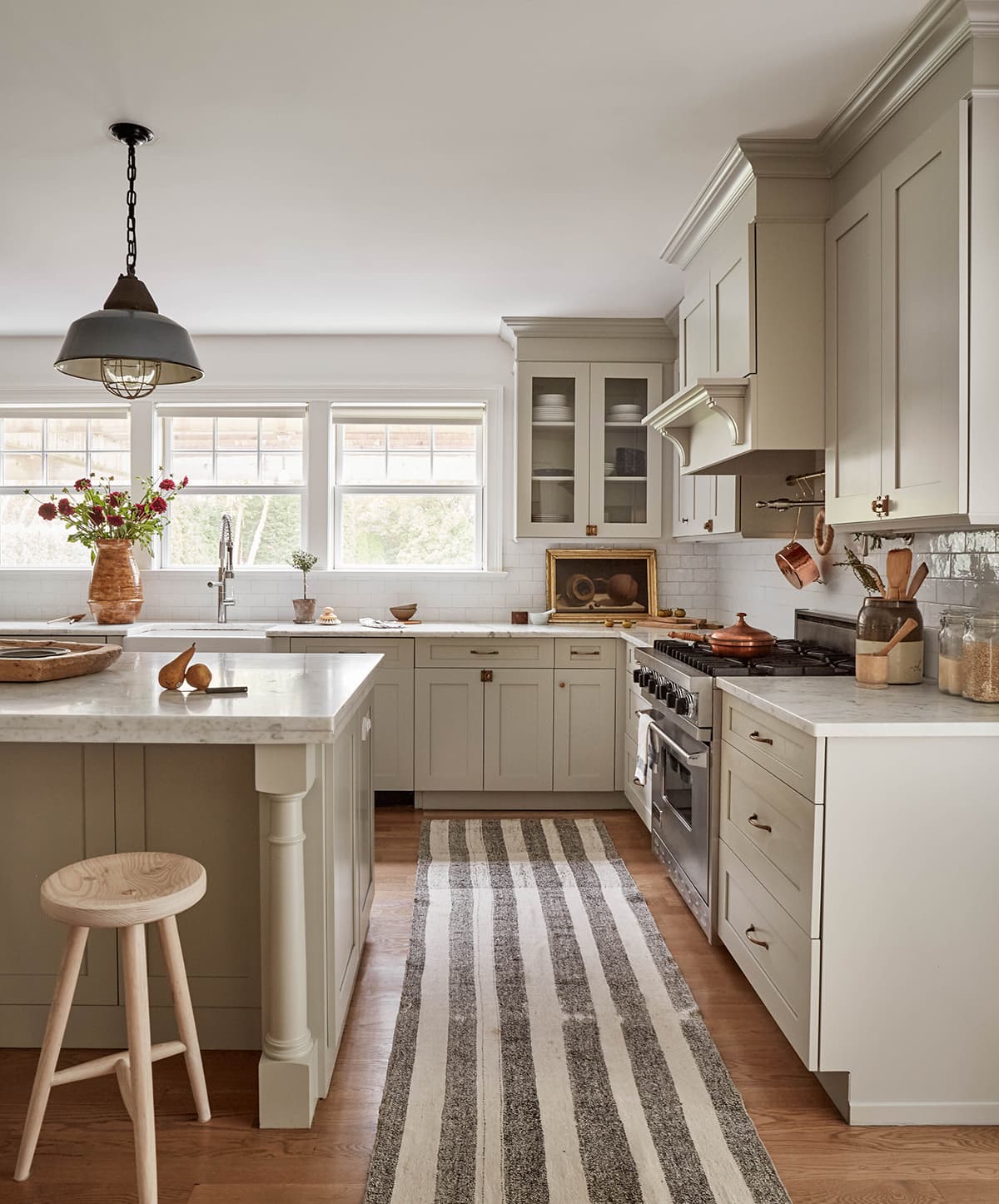 This pretty beach house has the loveliest kitchen!
Hopefully you don't mind if this week is a little random, since that's how my life is feeling right now!
I saw this adorable arm chair this week and couldn't resist sharing! It's so cute and such a great price (and has amazing reviews, too), this large marble bowl is a great statement piece that belies it's low price, and I've been seeing this cute wicker bar cart all over Instagram!
If you're looking for some new, inexpensive artwork, I've got you covered! This piece is gorgeous (and there are many other options/sizes), this is absolutely stunning (thinking of it for the guest room), and this set of botanical prints are so pretty and a steal!
I absolutely adore these vintage-looking wood candlesticks (on sale!), these frosted glass candleholders are gorgeous, and I'm in love with these super cute striped baskets – and they're such a great price at 40% off!
Summer entertaining? There's nothing like wicker wrapped glasses (pitcher here) or a pretty wicker wrapped serving bowl (on sale!) to scream 'summer'!

THINGS I'M WEARING/LOVING/WANTING
It's feeling very summery here, so of course, that has me in the mood for all things white. White tops, jeans, dresses – when the weather heats up, I love it all!
Recent finds include this flutter sleeve linen top which is tied with this soft gauze top for the perfect summer shirt, and this sleeveless linen top is super cute (I bought it earlier this spring).
I also adore this cute beach-y crocheted sweater, and this versatile linen jacket is so perfect as a light layer all season (it was recommended to me here on the blog when I was looking for something to bring to Europe).
And what's better than a summery white dress? This pretty eyelet number is lined (not always the case with white dresses!) and is now over 50% off, and this gauze skirt (above) looks like the most comfortable thing to throw on all summer (also lined – and it's on sale for $35!)
Another favorite for summer is white jeans (of course!) but I also love a really pale denim. This straight pair is such a great price at under $70, and I love these sailor style wide-leg jeans (plus they're 35% off!)
I recently stumbled on this adorable scarf scrunchie! I love that it looks oh-so-French but won't fall out of your hair like a scarf would! And if you're looking for a good sun hat, this one is packable, well-priced, and comes in 6 color options.
And if you're looking to French-ify your wardrobe, look no further than this lace up espadrille wedge that comes in 13 colors – and that price!

THINGS I'M WATCHING/READING/LISTENING TO
So. Many. Good. Books. this summer! I've been reading up a storm and luckily, have loved so many of them that I have to share!
A few weeks back I shared the book Wrong Place, Wrong Time and I liked it so much I went and found others by the same author. I just finished another by her called How to Disappear and loved it! She has a similar style to Liane Moriarty but combined with British humor, and usually set in a mystery.
Another recent read I loved is The Christie Affair (above) Did you know Agatha Christie disappeared for 11 days in real life? This is a fictionalized account of what might have happened.
THINGS I'M MAKING/EATING/DRINKING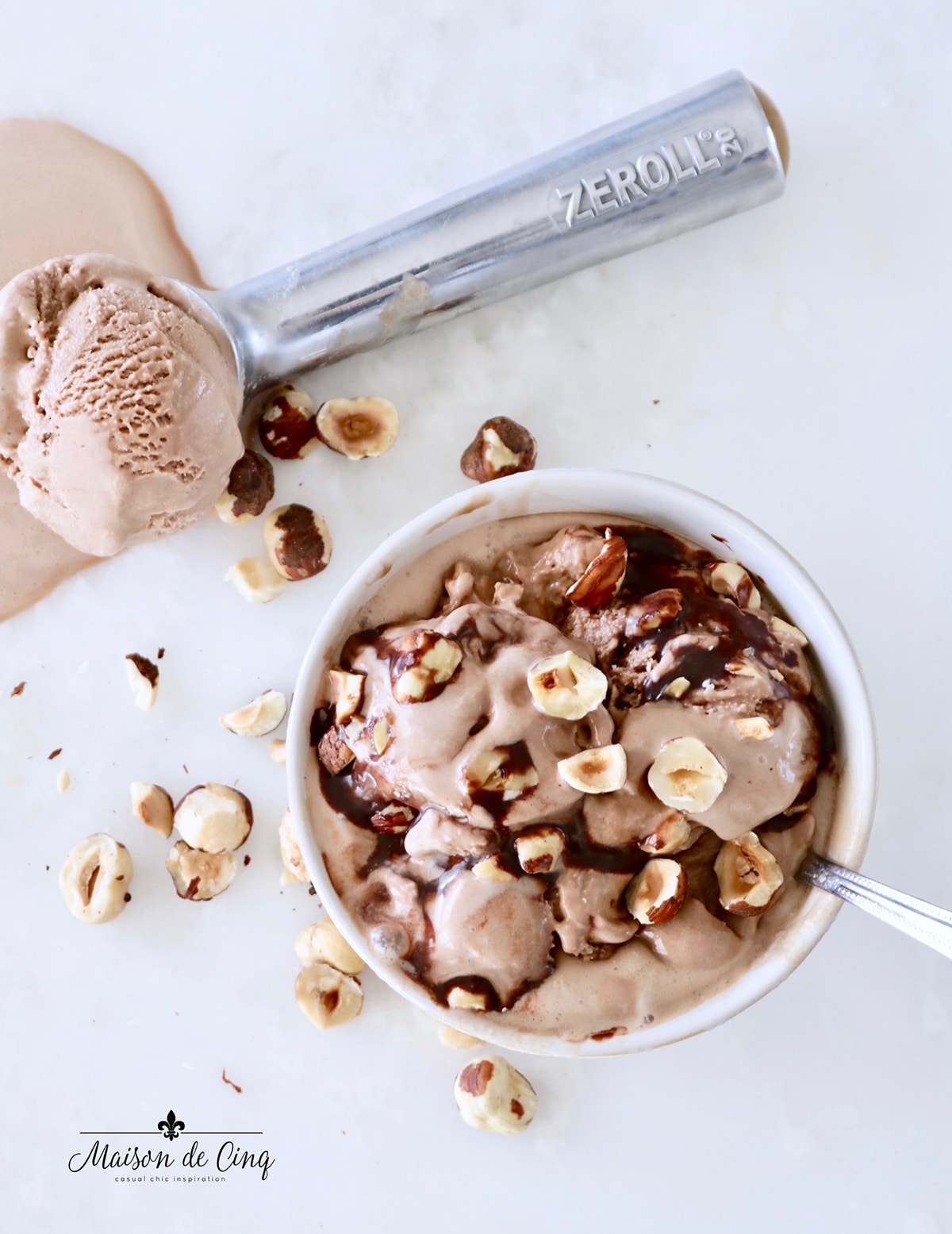 Well since July is National Ice Cream Month, I'm obligated to share, right?! 😉 We love this Chocolate Hazelnut Gelato (above) as well as this Fresh Strawberry Ice Cream.
These Blackberry Lavender Ice Cream Sandwiches look amazing and I'd love to try this No-Churn Peanut Butter Chocolate Ice Cream.
RANDOM THOUGHTS
7 Ways to Be Kinder to Yourself
French Perennial Garden Inspiration
What Adding 'Awe' Walks To Your Day Can Do For Your Mood
Looking for summer inspiration? You can find Summer Entertaining here, Summer Decor Ideas here, and some of my Summer Favorites here.
Happy Friday!
Sheila
xo
P.S.
Have you signed up to be a Maison de Cinq subscriber yet? You'll get every post so you don't miss any and you'll receive my free 5-day email series How to Get French Farmhouse Style for Less for FREE! Sign up here and get Maison de Cinq straight to your inbox!
Oh and if you've missed any of the previous Friday Favorites, you can find them all here!