Friday Favorites – Weekly Inspiration
Welcome to Friday Favorites, a series where we share our favorite decor, design inspiration, fashion finds, TV shows, recipes and more!
Happy Friday friends! Hope you're managing to beat the heat. I'm loving the warm nights especially since we've been lucky enough to still be able to eat outdoors, but the days, not so much, haha!
This week has been filled to the brim with work so I'm looking forward to some RnR this weekend. And my oldest will be home for a visit which is always a welcome sight! Hope you all have something fun planned. 🙂
And now let's talk Friday Favorites!
This post may include affiliate links. Click here for my full disclosure policy.
THINGS I LOVE IN DESIGN/DECOR
This is one of my all-time favorite kitchens, but now I just discovered the rest of the house! Wait until you see the pretty bedrooms and bathrooms (scroll down to the Seagrove Village Drive home).
Looking for a gorgeous statement bowl that doesn't cost a fortune? This blue terracotta bowl I have is a stunner – plus it's a generous size and it's now on sale for 30% off (plus, free shipping!)
Another bowl I found that I'm in love with is this handcrafted ceramic bowl – love the shape!
Speaking of bowls, I've had a few of you ask me what to put in statement bowls that are on a coffee or dining table. How about these frosted glass balls that are half off?!
Fell absolutely in love with these adorable planters when I saw them this week. Love the size and the finish!
You know I always love a good "French-ish" find, and this basket is it!! Looks so much like an antique French laundry basket and it's a great price for the size!
The vintage jugs I have in my kitchen were from Pottery Barn, but they are now sold out. But this week I found two more sources. This site has 3 sizes, and Walmart has the smallest size for a steal! (these are actual, vintage pieces by the way).
I've been wanting some cute ice cream dishes for awhile now, and finally found these adorable ones! Love the clear glass and how thick they are.
Last week's best sellers: this well-priced wine decanter and this cute reversible pillow (on sale).

THINGS I'M WEARING/LOVING/WANTING
Maybe it's because it's still so hot here, but I can't get enough of feminine, floaty dresses for summer. They're perfect for everything from a casual lunch to a wedding. The floral pattern on this one is so cute, as is this one (great price, too).
This floral slip dress or this floral halter dress (above) would be perfect for a summer wedding or dinner.
Or if you're looking for a casual day dress in white or black, this cotton one is great (and over 50% off), as is this jersey dress (I have a dress just like this in black and it could not be more comfortable.) Plus, it's so easy to dress up with heels and jewelry, but can still go to lunch with sneakers!
If you're still looking for a versatile, comfortable heel for summer (and beyond!) this one is adorable. Plus, the price can't be beat and it gets great reviews. (I ordered the rattan).
I just adore any kind of pendant or coin style necklace. This St. Christopher pendant from Mod+Jo (one of my favorite sites) is so up my alley, as is this adorable zodiac pendant (love!), and this coin style is so pretty!
Last week's best sellers: Both from the Nordstrom Sale! This classic camel coat and this adorable loafer (comes in 5 colors).

THINGS I'M WATCHING/READING/LISTENING TO
Can I say how excited I am to see the Barbie movie?! Not only do I love Margot Robbie (perfect casting!), but from what I've seen, the sets and wardrobe are incredible! I was such a Barbie fan when I was a girl so seeing it in life-size is irresistible!
You can see all of Margot Robbie's looks on the press tour here. So fun!
THINGS I'M MAKING/EATING/DRINKING
Well since it's about 1000° outside, I'm not loving the idea of any kind of heavy-duty cooking these days! While looking for something new to add to the repertoire, I came across this Chicken Tzatziki Bowl which looks delicious and healthy. I'm thinking I'll try it but rather than roast the chicken, I would grill it.
Summer cooking = no oven in my book!
And if you love zucchini (or just have a lot of it growing in your garden), this Zucchini with Lemony Crumbs is one of my favorite vegetable recipes. It's super easy and so good!
RANDOM THOUGHTS
Just love the story of this restored 1800s farm in Australia. And it's available for rent!
Got bugs when you're outside dining like we do?! These little fans are a lifesaver (and come in a set of 2)!
21 Women on What Their Grandmother's Taught Them
Meryl Streep's Four Decade Love Story is Better than the Movies
25 Great Books to Read on a Beach Vacation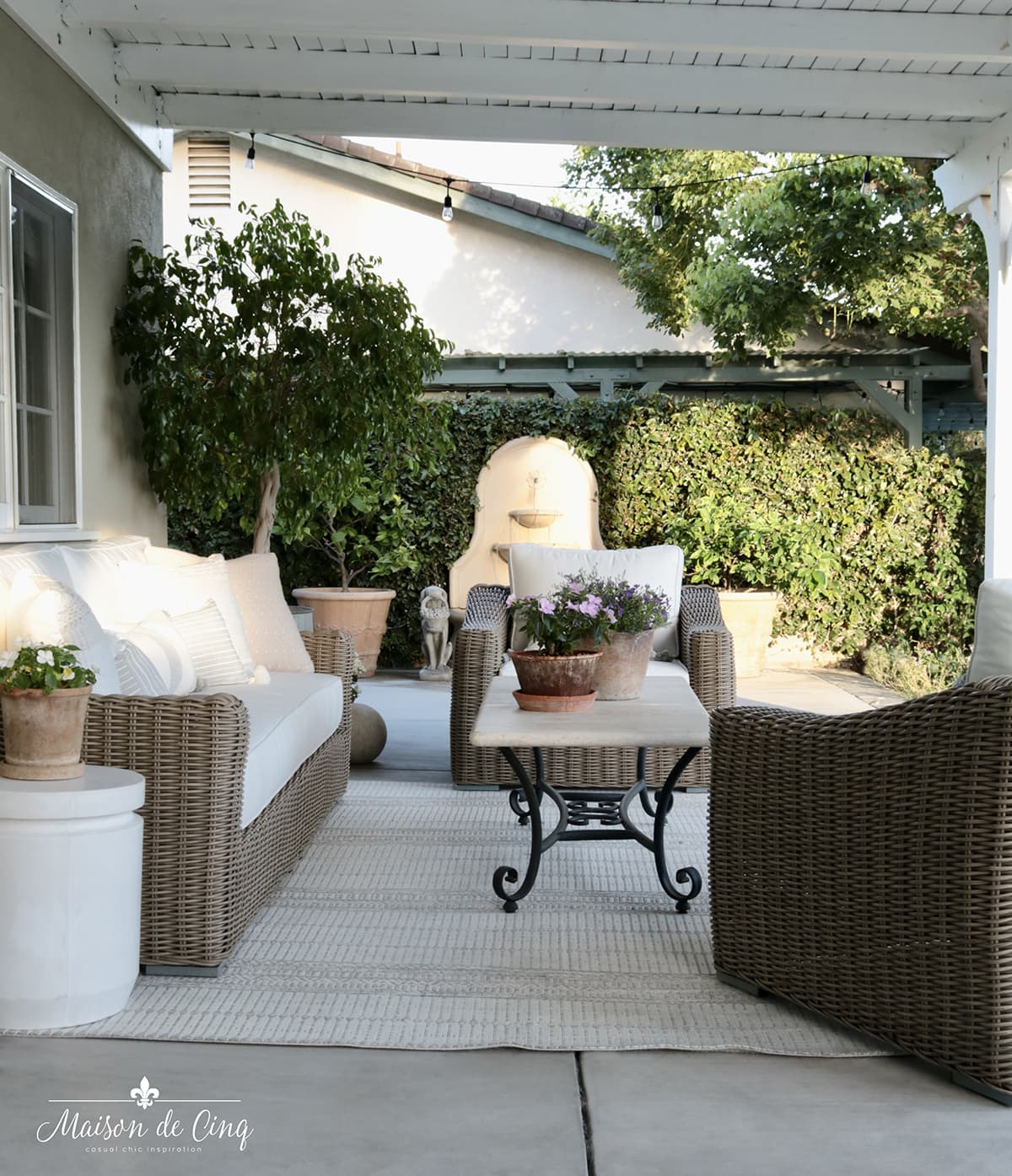 And if you missed it, this week on the blog I shared How to Create Your Own Outdoor Oasis.
Happy Friday!
Sheila
xo
P.S.
Have you signed up to be a Maison de Cinq subscriber yet? You'll get every post so you don't miss any and you'll receive my free 5-day email series How to Get French Farmhouse Style for Less for FREE! Sign up here and get Maison de Cinq straight to your inbox!
Oh and if you've missed any of the previous Friday Favorites, you can find them all here!