Friday Favorites – Weekly Inspiration
Welcome to Friday Favorites, a series where we share our favorite decor, design inspiration, fashion finds, TV shows, recipes and more!
Our weather has been so up and down – with hotter days mixed with days of clouds and rain that make it feel more like fall, and I have to say, it's making me so ready!
This weekend I plan on removing the last of the summer-ish decor and adding a few early fall touches. Hopefully I'll be finished next week and can share it.
And… you may have noticed that the 'new' blog did not appear today, much to my chagrin. I've been working on it non-stop and really have my fingers crossed that it will be debuting next week. I seriously can't wait for you all to see it!
And now, let's talk Friday Favorites – I've got lots of fun finds for you!
This post may include affiliate links. Click here for my full disclosure policy.
THINGS I LOVE IN DESIGN/DECOR
This gorgeous Mediterranean-inspired kitchen was a completely DIY remodel – you have to see the before/after!
The Maison de Cinq Fall Shop is live! If you've visited The Shop before, then you know it's a curated collection of all our favorite furniture and accessories. And now, we've added a Fall Decor section so today I thought I'd share some of my favorites from the there!
These gorgeous antiqued metal trays come in 4 sizes and 2 shapes. They'd be beautiful any time of year, but the color makes them especially appropriate for fall.
This faux willow eucalyptus might be my favorite faux I've ever bought!! I've ordered it and can't wait to get it!
Love this stunning fall wreath that looks like dried grasses (30% off!).
I bought these little stoneware maple leaf plates last year and love them! So happy to see that they brought them back this year.
And you know how much I love anything made of wicker, seagrass or the like so it's no surprise that I fell in love with this oversized seagrass vase! It makes a statement for sure, plus it's 25% off now! Or how about this stunning seagrass tray? It's huge for the price, and would look great on a counter, table or even hanging on a wall.
And it may seem early but this Christmas decor find is so good, I had to share. I've always loved these bells from Pottery Barn, but now Amazon has the exact same ones at a fraction of the price! I'm pretty sure these will sell out so if you've ever wanted them, now's the time!
Last week's best sellers: this chunky hand-knit throw (on sale) and this realistic faux pumpkin.

THINGS I'M WEARING/LOVING/WANTING
It's fashion month! September will forever feel like 'Back-to-School' shopping month no matter how old I get! Fall is also such a great season to dress for – cozy sweaters, boots, chunky jackets – it makes it fun to get dressed!
I'm not a person who buys a lot of bags, but I do love to get a new bag for fall and this year I'm totally crushing on brown. It feels so rich and luxe and perfect for the fall and winter. I fell in love with this shoulder bag with it's mix of leather and suede. It's gorgeous and a great price (just ordered). I also love this bucket bag, and if you're willing to spend more this shoulder bag is so good!
And it's sweater season! Sweaters are the thing I most gravitate to when fall starts poking it's head out. A few that caught my eye were this adorable striped one (40% off) (love the all-cotton), this classic roll neck that's back at J.Crew, and this puff-sleeve cashmere sweater (above) – so cute!
Do you know the label & Other Stories? I've seen their things at Nordstrom and Anthropologie but had no idea they had a whole website! They have beautiful things, reasonably priced and sustainably sourced, and they're designed in France. Plus, they have free shipping and returns!
Some favorites include this stunning wrap sweater, this sweater that's a much more affordable version of the cult favorite from Jenny Kayne, and these super chic wide leg jeans (love!)
Last week's best sellers: this contrast trim cardigan sweater (on sale) and this knee-length leather coat.

THINGS I'M WATCHING/READING/LISTENING TO
I was looking for a new podcast because I've been really lacking a good one the last few months and I stumbled onto a doozy! Scamanda is about a young woman who was a popular blogger, mother, and role-model who faked having cancer for over 7 years to garner money and sympathy. It is jaw-dropping!
THINGS I'M MAKING/EATING/DRINKING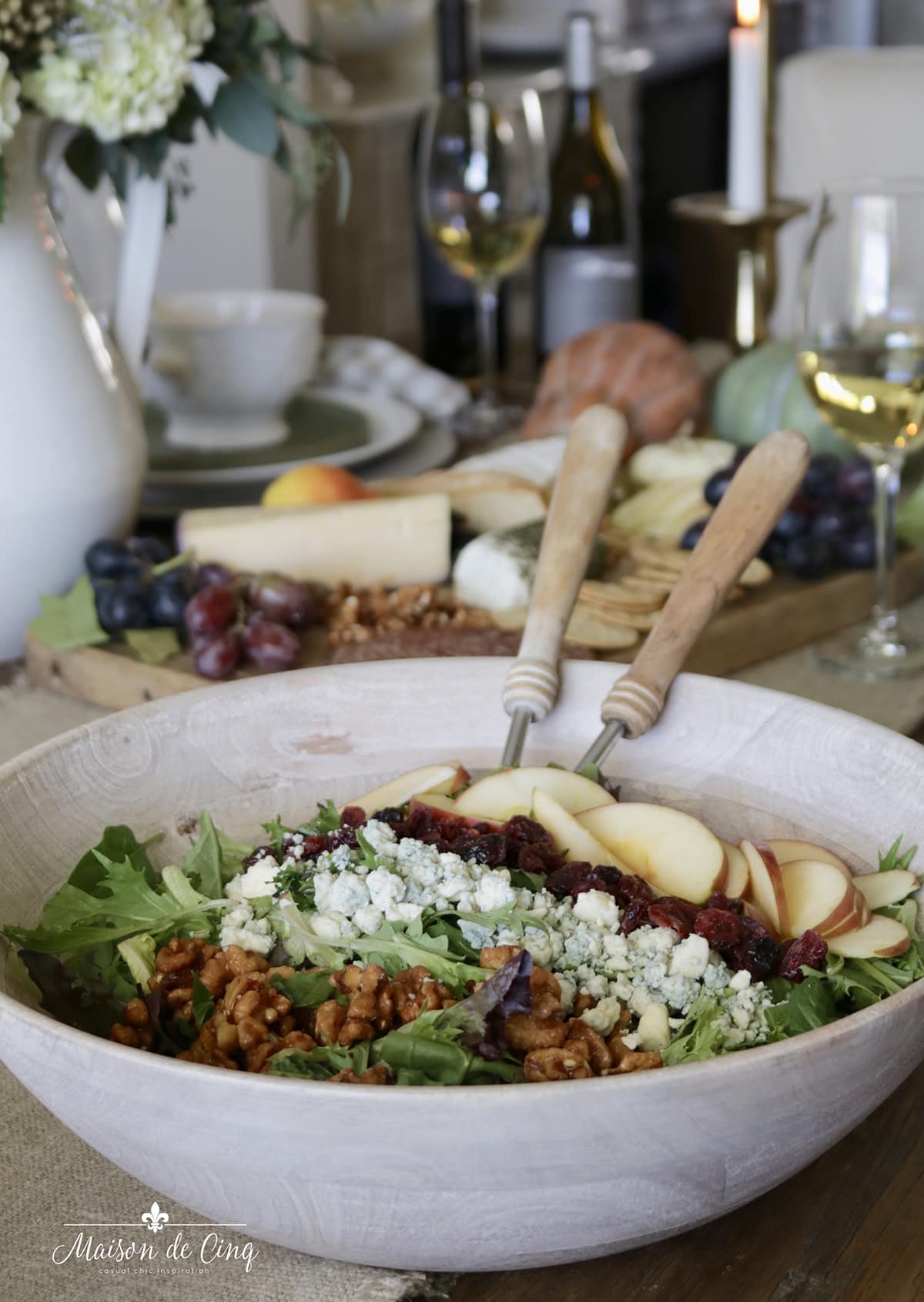 Apples are one of the things I most look forward to in the fall, and I was excited to find my favorite Honey Crisps back in the market this week! We also have an apple tree in the backyard that produces, though I don't know what kind as it was here before we were. 😉
Some of our favorite dishes using apples aren't even dessert, though I love those, too. This Pork Chops with Maple Apples is a family favorite (healthy and so good!) as is this delicious Fall Harvest Salad (above).
And I use the apples from our trees to make this Homemade Applesauce. It's delicious, healthy, and not too sweet. Great as a snack all on it's own, or stirred into yogurt for breakfast or ice cream for dessert.
For even more apple recipes, check out 23 Delicious Apple Recipes to Make this Fall that Aren't Pie.
RANDOM THOUGHTS
Another DIY kitchen that I'm totally crushing on! Her Instagram account is full of gorgeous inspiration.
This Fall Foliage Map Shows When Foliage is Peaking Near You
7 Morning Habits that Affect Your Whole Day
And if you missed it, this week we shared How to Add Warmth to Your Fall Decor with Copper!
Happy Friday!
Sheila
xo
P.S.
Have you signed up to be a Maison de Cinq subscriber yet? You'll get every post so you don't miss any and you'll receive my free 5-day email series How to Get French Farmhouse Style for Less for FREE! Sign up here and get Maison de Cinq straight to your inbox!
Oh and if you've missed any of the previous Friday Favorites, you can find them all here!