Friday Favorites – Weekly Inspiration
Welcome to Friday Favorites, a series where we share our favorite decor, design inspiration, fashion finds, TV shows, recipes and more!
Last weekend in NYC was amazing, despite the biblical, torrential rains we got on Friday! I had such a fun time catching up with old blogging friends as well as meeting some new ones. And the icing on the cake was having Nate Berkus and Jeremiah Brent as keynote speakers for our closing event. I've met them before and they are just as sweet in real life as they are on tv, plus I love their taste and their show. So inspiring!
Of course since I was away for 5 days, by the time Monday came, I already felt behind, haha! But it was well worth it. Travel is something I really missed during the 3 years of the pandemic and since starting it up again I feel so energized by it. I'm ready to go again! 🙂
And now onto all the fun things I'm sharing this week, including some good sales!
Happy October!
This post may include affiliate links. Click here for my full disclosure policy.
THINGS I LOVE IN DESIGN/DECOR
To say I'm crushing on this kitchen would be an understatement! See the whole home here.
Before we get started, let's talk holiday decor! I'm not one to rush each season, but I have to be honest, last year a few of the things I most wanted were sold out by the time I was ordering – in early November! Having said that, I'm trying to be organized and order a few of my have-to-have staples before they're gone again this season – and I wanted to share them with you because I know some of you missed them last year, too!
This garland is my favorite and looks amazingly real as does this simple green wreath. They're worth every penny – I've been using them over and over for years now. (Also, the garland now comes in 2 lengths rather than only one!) These brass bells give a great vintage European look and sell out every year. And another garland that people go crazy for is this one. I don't own it but I've seen it and it's fabulous, too. It's another one that won't be around long!
And anything Christmas that you love at McGee & Co you should think about ordering now. Her things are so popular that they sell out very quickly. See the whole collection here.
Both Anthropologie and Terrain have sales going on right now with select things at 30% off. At Anthropologie, this gorgeous French-inspired mirror is a favorite, plus my absolute favorite pumpkin-scented candle is on sale too (and I'll be buying a back-up since I'm not sure they'll do that white container again next year!)
At Terrain, my favorite brass candlesticks are 30% off (and they're not expensive to begin with!) I use them anywhere and everywhere. If you like even more of a vintage look, this candlestick is adorable (I have it and mix it with the others). And this ceramic urn is so good! I have a hard time finding wide/low ones that look as good indoors on a table as they do outside. This would be perfect for a Thanksgiving table!

THINGS I'M WEARING/LOVING/WANTING
Lately I've been obsessed with leather and even more so, faux leather pieces. There are so many good ones now! I remember when I was a teen/twenty-something and faux leather was so bad! We used to call it 'pleather' because it really did look plastic. But now? I'm amazed and delighted at how far we've come in quality. Plus, I can't think of a chicer way to dress during fall and winter!
I just ordered this straight leg pant (30% off right now), keeping an eye on this slim wide leg style – above (also 30% off), this bootcut faux leather pant looks really flattering and I love the brown! And you may remember the wide-leg pants I bought last year and love – they're back and come in very yummy colors!
This faux leather blazer is a steal at 30% off right now and this one is under $100 and comes in 3 colors. And I love this cropped leather jacket – so chic with great details (and 25% off).
For under these jackets (or anything this fall) I'm loving this adorable ruffle-neck sweater (50% off).
I had lunch with a friend last week and she was wearing the cutest chunky bangle – something I haven't donned in a few years! But it looked fresh and chic which put me on the hunt. I ended up ordering this one (on sale for 30% off), and this one is also lovely and a little thinner if you don't want to go that bold.

THINGS I'M WATCHING/READING/LISTENING TO
I've always been a lover of fall, and the rich abundance of great movies is one of the reasons. I eagerly await seeing some actual, adult films!
This year looks especially promising (you can google trailers of all of these). There's Dumb Money (about the Game Stop short squeeze of 2021), A Haunting in Venice (the 3rd Hercule Poirot movie and allegedly, the best so far), What Happens Later (A romantic comedy! With Meg Ryan!), Maestro (Bradley Cooper vehicle about Leonard Bernstein), and Killers of the Flower Moon (Scorsese's newest which got a 9-minute standing ovation at Cannes!)
Looks like my Friday night movie line up is set for awhile!
THINGS I'M MAKING/EATING/DRINKING
After all the rain in New York, I'm ready for fall-ish weather and soup! If it's not cool enough where you live yet, save these for later. Some of our favorites are this yummy and easy Chicken Tortilla Soup and this incredibly delicious Cream of Wild Mushroom Soup. And I'm dying to try this Creamy White Bean Lemon Pesto Orzo Soup (above).
RANDOM THOUGHTS
Love this pantry from this new-to-me designer I stumbled across on Instagram.
I have some exciting news! I found out that as a subscriber, I can actually share New York Times articles for free! I know some of you have been frustrated in the past when you couldn't read something I was sharing, but now you'll be able to. Yay!
These 7 Daily Habits Cut Your Risk of Depression in Half
What are Glimmers? (loved this so much I printed it out and put it on my bulletin board) 🙂
16 Dishes Everyone Should Know How to Cook (with tips for making them better)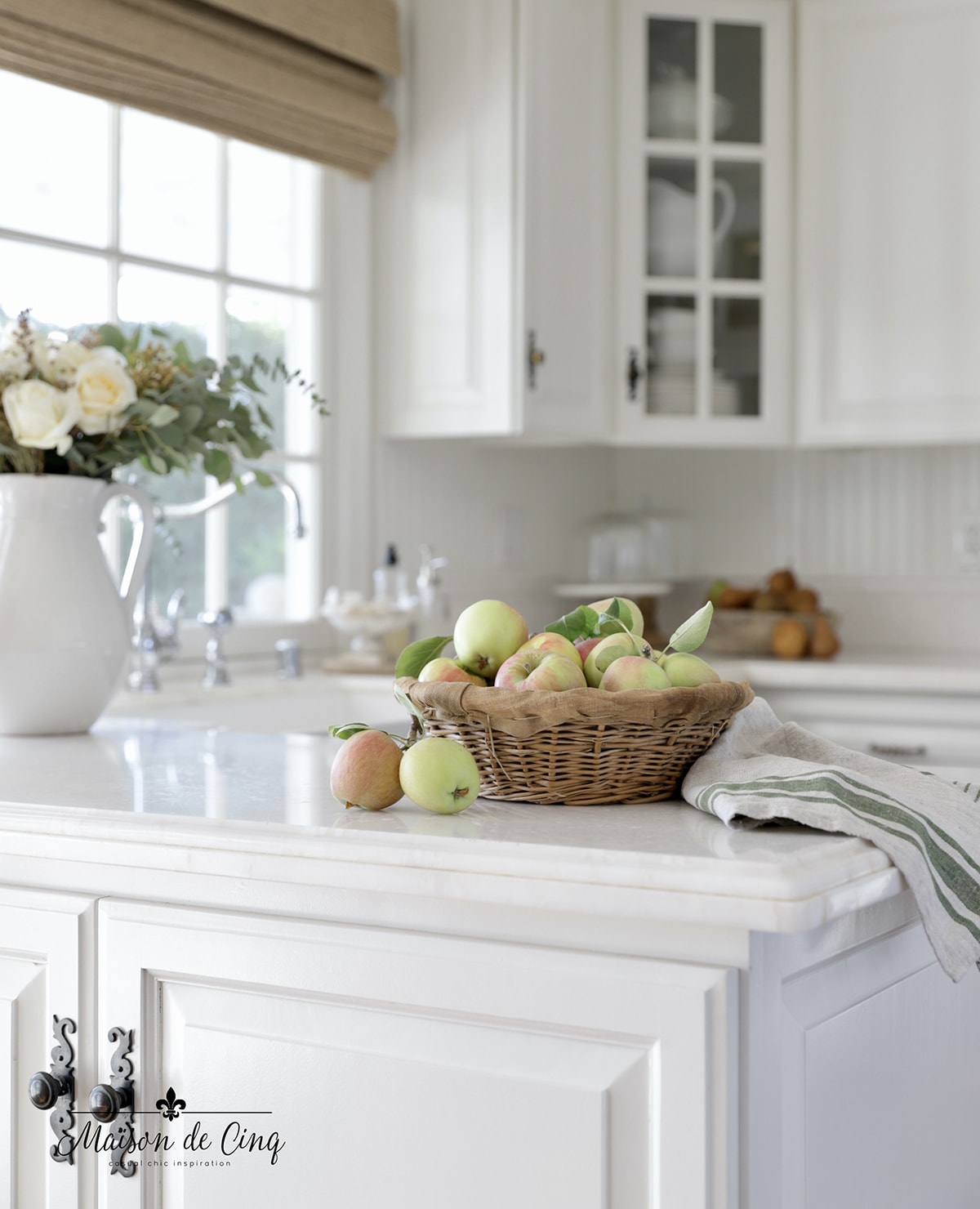 And if you missed it, this week we shared 5 Tips for Decorating with Neutral & Natural Fall Decor.
Happy Friday!
Sheila
xo
P.S.
Have you signed up to be a Maison de Cinq subscriber yet? You'll get every post so you don't miss any and you'll receive my free 5-day email series How to Get French Farmhouse Style for Less for FREE! Sign up here and get Maison de Cinq straight to your inbox!
Oh and if you've missed any of the previous Friday Favorites, you can find them all here!