Friday Favorites – Weekly Inspiration
Welcome to Friday Favorites, a series where we share our favorite decor, design inspiration, fashion finds, TV shows, recipes and more!
This week has been windows open kinda weather, my favorite! Of course, this was mixed with some heat but at least it wasn't unbearable. Plus, my husband got home last night after being away for work so that's always nice!
We've got some plans with friends this weekend and I'm hoping to spend some time outdoors in this nice weather – preferably reading with my feet up! It's been a busy fall already and I'm trying to balance work, house stuff, and life with taking time to relax, too. Not always easy for me to do, haha!
And now let's talk Friday Favorites!
This post may include affiliate links. Click here for my full disclosure policy.
THINGS I LOVE IN DESIGN/DECOR
A beautiful Provencal-style lake house with lots of gorgeous character! See the whole home here.
Today I thought I'd share both your favorites and mine – some of the best sellers that you all love along with some of my favorite things I have in my home – big and small! 🙂
The top sellers here on the blog are this farmhouse dining table (I love the seadrift color), along with my breakfast area chairs (20% off), as well as rustic vases. This weathered white artisan vase is at the top, along with this terracotta one. Both of these vases are personal favorites and move all over the house! They're perfect for holiday greenery, too.
Our new family room rug has also been popular, along with our rustic French dining room chandelier (a great price for the size).
And I wanted to share some of your fave kitchen items, too! This gorgeous wine decanter remains popular with you all (it's an amazing price and now is the perfect time to snag it! It would be great for holiday entertaining or gift-giving). I'm constantly asked about this rustic linen runner which I use all the time and love (it's thick and washes so well – I have it in 2 sizes), and this little vintage-style print has been a top seller all year (I have it in the kitchen dining area).

THINGS I'M WEARING/LOVING/WANTING
So many good finds this week, it's hard to know where to start!
First of all, J.Crew is having a fall sale with up to 50% off almost everything – yay! I'm eyeing this cozy sherpa jacket (40% off), and I purchased this wool top coat (above – 40% off). I saw it on a fashion blogger on IG and it's so chic (hard to decide between the camel and the ivory.) And I'm loving this unique lady jacket (50% off) in lustrous crepe! The fabric is stunning and I feel like it could elevate any outfit, while also being the perfect piece to wear for nights out (it would even look great over a dress).
Also, some of my favorite cashmere is on sale: this chunky turtleneck (30% off) is so good and giving me Jenny Kayne vibes for a fraction of the price, and these basic crew necks come in a million colors and are 40% off (I have several).
And Banana Republic Factory has really upped their game these days! I'm seriously crushing on these cargo pants a friend bought (did you know they're back??) They're 30% off and come in such good colors! And this hobo bag is gorgeous and looks way more expensive than it is.
It's boot season! Or really booties, since that's what I wear most days in the fall/winter months. Love that this pair has a lower heel so it would be great for everyday wear and these are a little dressier and gorgeous (the gray suede is stunning!)
These slingback heels are such a find! The 2″ heel height is very wearable (and goes really well with all the cropped jeans!) They also come in literally dozens of colors (loving the brown python).
Last week's best sellers: this chic and chunky bangle bracelet and these faux leather pants (50% off!)

THINGS I'M WATCHING/READING/LISTENING TO
Sooo excited about this show!! Lessons in Chemistry debuts tonight and I can't wait to check it out. It was one of my favorite books last year – crossing my fingers it's as good as the book was!
THINGS I'M MAKING/EATING/DRINKING
Pumpkin baked goods are admittedly a weakness, but since they're loaded with Vitamin A they're healthy right?! 😉
Here are some family favorites: this is my go-to Easy Pumpkin Bread, we also love these Pumpkin Chocolate Cheesecake Bars, and these Pumpkin Cheesecake Crumble Bars (above) are to-die-for. Seriously good!!
And I'm dying to try this Pumpkin Banana Bread. I have a feeling that combo could be delicious!
RANDOM THOUGHTS
Shea McGee just finished her first international project in Mexico. The outdoor spaces are so good!
53 Best Fall Movies to Get You in the Autumn Mood
A Simple & Brilliant Hack for Better Boxed Brownies
How to Keep Fall Mums Alive as Long as Possible (seriously, I need this!)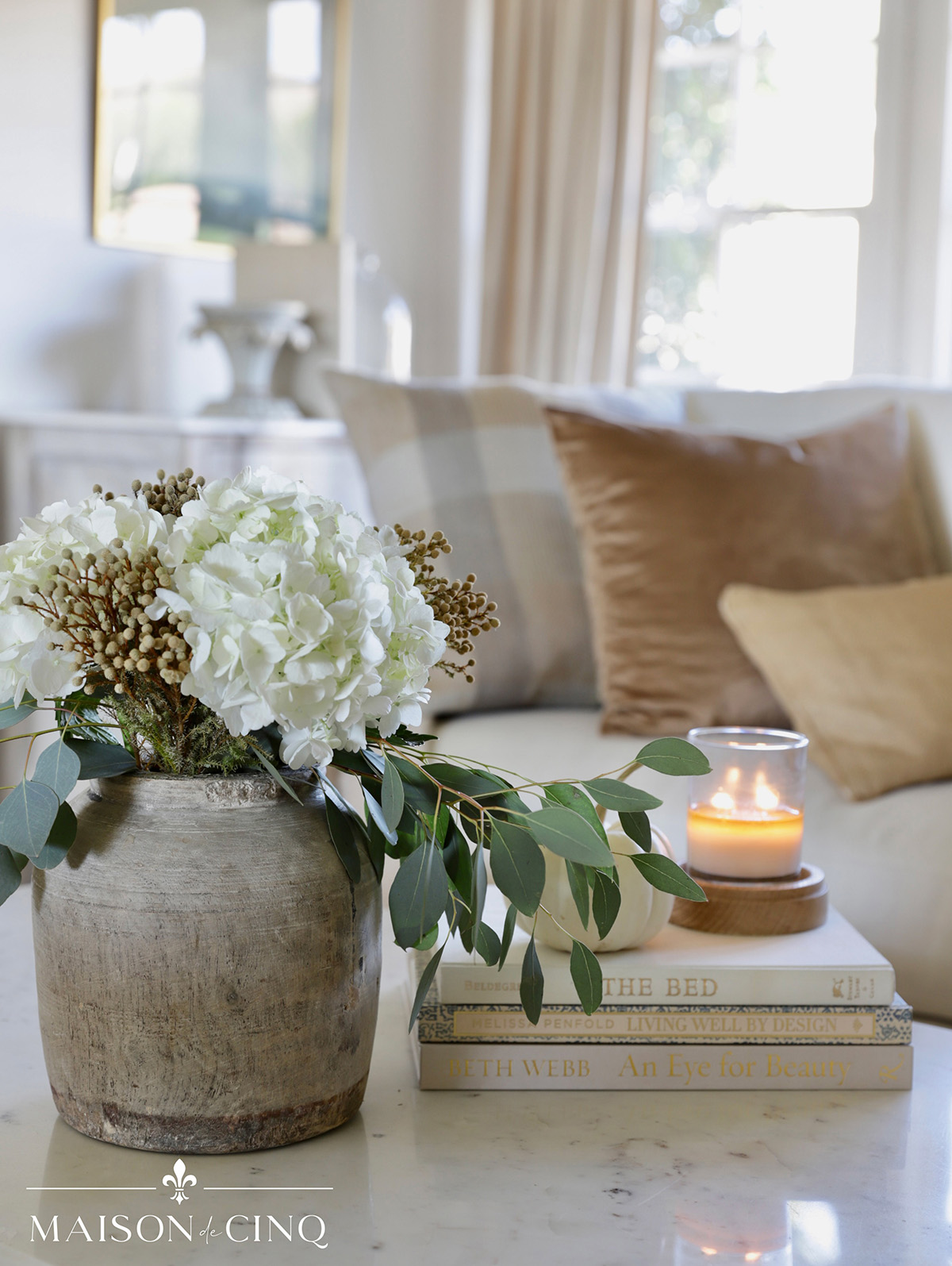 And if you missed it, this week we shared a post all about decorating with coffee table books! We're talking how to choose them, tips on styling them, as well as our 25+ favorite ones!
Happy Friday!
Sheila
xo
P.S.
Have you signed up to be a Maison de Cinq subscriber yet? You'll get every post so you don't miss any and you'll receive my free 5-day email series How to Get French Farmhouse Style for Less for FREE! Sign up here and get Maison de Cinq straight to your inbox!
Oh and if you've missed any of the previous Friday Favorites, you can find them all here!