Friday Favorites – Weekly Inspiration
Welcome to Friday Favorites, a series where we share our favorite decor, design inspiration, fashion finds, TV shows, recipes and more!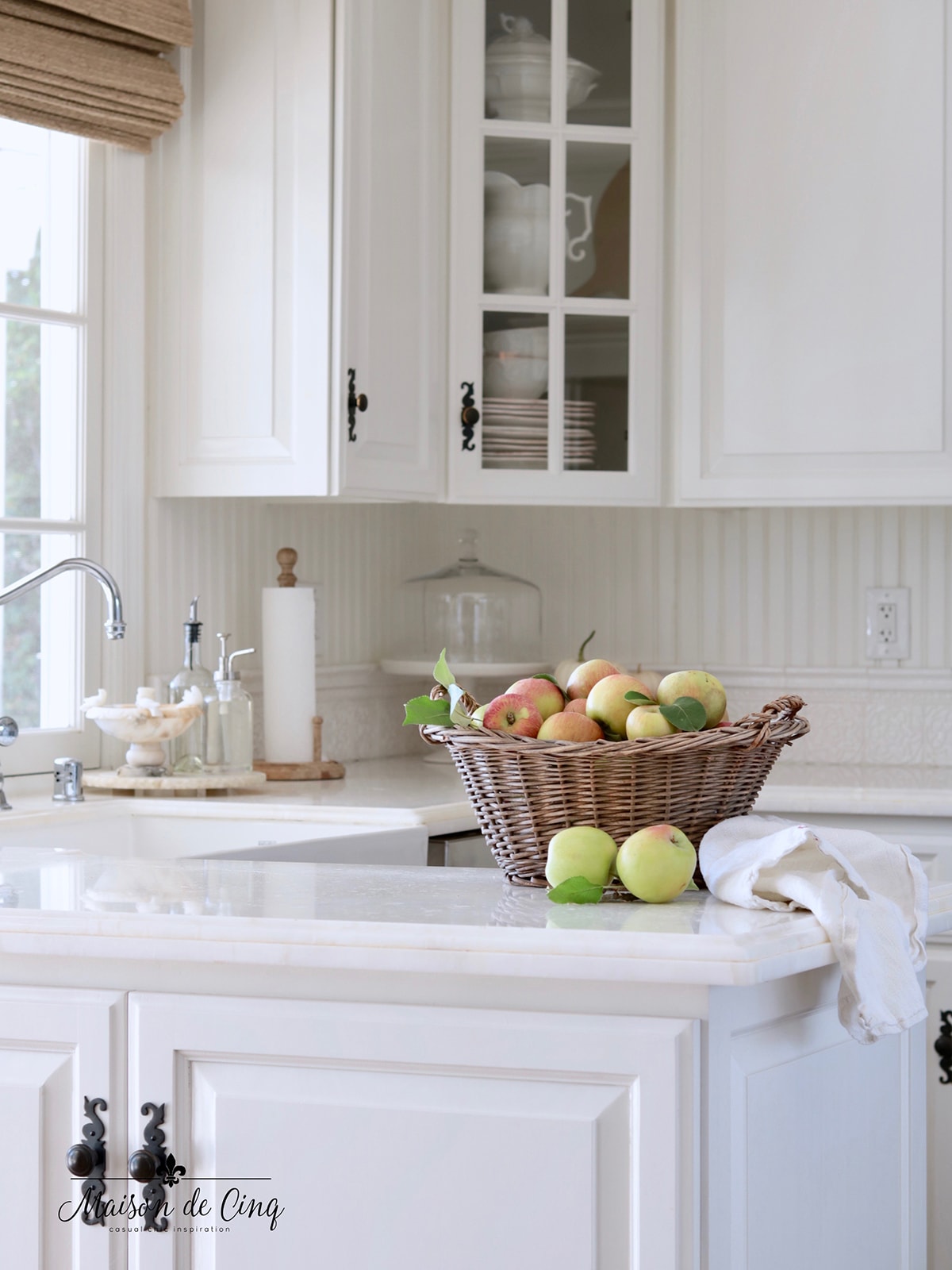 The fall season has a tendency to make me want to get projects finished. Partly because the end of the year is coming, but also because we're having family to stay for the holidays. And of course being the procrastinator that I am, two projects that I had on the list last year are still there and have now taken on a more urgent nature. 😉
We're working on replacing our upstairs carpet so that search has begun in earnest again. And even more importantly, I'm desperately trying to get our guest room done in time for Thanksgiving! Hope to report some progress on both fronts soon!
But I do have some exciting news on the blogging front. The Maison de Cinq Holiday Shop is open!! If you didn't get a chance to see it, you can shop by category here!
And now let's talk Friday Favorites!
This post may include affiliate links. Click here for my full disclosure policy.
THINGS I LOVE IN DESIGN/DECOR
I'm totally crushing on this European cottage style kitchen!
Soon I'll be sharing a post with you all about my guest room but in the meantime, I want to get the bed ordered. The two contenders are this gorgeous French bed (an amazing price since it's a dupe of the Eloquence bed which is thousands!) and this more transitional style. Both would get here before Thanksgiving so I just need to decide!
Do you ever feel like you've gone in a certain direction decorating and then all of a sudden, you're far from where you started? That's how I've been feeling lately. But after buying some new French/European design books, it's really inspired me and brought me back to my roots. Which brought me back to looking for gorgeous items in that vein for my home and for all of you!
I've been wanting another wicker-wrapped demijohn and wasn't finding a lot of luck on Etsy when I stumbled on this one!! How great is this for the price?! Magnolia also has some lovely items and I often forget to go there! I'm smitten with this adorable white pitcher, and I just ordered this pretty brass & wood shelf unit for a bathroom.
Some other random finds: this sweet little scalloped stool (soo cute and 25% off!), this giant wicker tray (with 5* reviews!), and this charming set of French country etchings.
This rustic urn is on my wishlist and it's now almost half off (and less than I've ever seen!) and this one is another gorgeous option (it comes in 3 sizes). Love the European feel of both. I've been seeing lots of transferware on display these days (it seems to be having a resurgence!) And since I've wanted some blue transferware plates for awhile now, I picked up this set which are one of the prettiest I've ever seen!
Last week's best sellers: this Noel doormat and this little faux cypress potted tree.

THINGS I'M WEARING/LOVING/WANTING
I don't know if you've heard, but red is huge this season! I love the idea of a pop of red, especially in a coat/jacket, or accessories like shoes. Of course, if you're not into red, everything I'm sharing comes in other colors, too. 🙂
I could not be more in love with this adorable lady jacket – it's truly stunning in the red (also comes in black which I have and is so cute!) This wool coat is gorgeous (I have it from last season), is currently 30% off and comes in the most stunning deep, true red, and this pretty cashmere cardigan is also 30% off.
Ballet flats is another fall trend where I'm all in! They've always been a favorite of mine, and of course, are a staple of a French wardrobe. I've been ordering a few to find the perfect one and finally settled on this classic style. They're a good dupe for this super-popular and well-rated brand, though this one does come in more colors. I also love the Mary Jane ballet flats that are so popular and am thinking of trying this one. And these red ballet flats are so cute and cover both trends at once (though they come in like 10 other colors, too)!
Another trend for fall? Pants! Which seems funny right? But after years of nothing but jeans, it is nice to actually see slacks being worn! These flowy wide-leg pants seem comfy and stylish, these are slimming (and stunning) with the seaming down the front, as is this similar, less expensive option.
Last week's best sellers: these cute cargo pants (40% off ) and this chic crepe jacket (50% off).

THINGS I'M WATCHING/READING/LISTENING TO
There are quite a few very popular shows that I somehow never watched, so I decided maybe I should make up for some lost time while I wait for The Crown to return!
The ones I'm starting or thinking of starting are Game of Thrones, The Leftovers, Breaking Bad, Parenthood (above), and Veep. See? Hard to believe I missed them but there are just so many good shows now it's hard to keep up! Have you guys seen these?? Or have others you loved that I might have missed?
THINGS I'M MAKING/EATING/DRINKING
Of course we have to talk fall cocktails since I shared a new one on the blog yesterday. This Apple Butter Old Fashioned is so good! It's not overly bourbon-y since it uses both apple cider and apple butter to tone it down, and it's the perfect blend of apple flavors and warm spices. I strongly encourage you to try it!
If you're game to try more, we made this Pumpkin Old Fashioned last weekend and it was also really good. I also want to try this Pumpkin Margarita – it looks amazing!!
RANDOM THOUGHTS
This English country inspired Instagram account is one of the most gorgeous I've ever seen!
These DIY Mod Podge Pumpkins are so cute!
How to Refresh Your Work Routine for Fall
How amazing are these Artistic Leaf Rakings?
And in case you missed it, this week we shared our annual French Christmas Decor Shopping Guide and we've found over 50 gorgeous French and European style pieces!
Happy Friday!
Sheila
xo
P.S.
Have you signed up to be a Maison de Cinq subscriber yet? You'll get every post so you don't miss any and you'll receive my free 5-day email series How to Get French Farmhouse Style for Less for FREE! Sign up here and get Maison de Cinq straight to your inbox!
Oh and if you've missed any of the previous Friday Favorites, you can find them all here!