Friday Favorites – Weekly Inspiration
Welcome to Friday Favorites, a series where we share our favorite decor, design inspiration, fashion finds, TV shows, recipes and more!
It's been a busy week here on Maison de Cinq! I've been sharing all of our Gift Guides – if you missed the guides, I've got Mens & Womens here as well as Gift Guide by Category here. If you love home decor or are buying for those who do, be sure to check out the Decor Lovers/Hostess guide as well as my personal favorite, the Gift Guide for Francophiles – that's us! 😉
I've also begun decorating for Christmas this week! I know – it's early. But as a blogger I need to get my tours out early so that I'm providing inspiration for you! I'm hoping to be sharing some holiday decor by early next week!
And now let's talk Friday Favorites – where I share everything from a great decor find, to a favorite movie, recipe, or podcast, to a wonderful thing to wear – anything that strikes me as interesting or fun or that you might love, too! 😉
This post may include affiliate links. Click here for my full disclosure policy.
THINGS I LOVE IN DESIGN/DECOR
One of my all-time favorite homes decorated for Christmas – be still my heart!
You guys have been loving what I'm sharing lately, both in the Holiday Gift Guides and in Friday Favorites!
Lots of you loved this slipcovered swivel chair (great price!), this stunning gilded tray, and this adorable scalloped stool (30% off and so cute!)
Among your holiday favorites are this cute French-themed doormat, my favorite cedar wreath, this little faux cypress in a terracotta pot, and you went crazy for this stunning velvet ribbon and these Balsam Fir tabletop trees (40% off)!
While I was roaming Target yesterday I bought these gorgeous brass lanterns in store and they are so good – and on sale now, too! I also picked up this adorable Noel pillow that I love!

THINGS I'M WEARING/LOVING/WANTING
As for what fashion you've been loving lately, these gorgeous velvet pants (above – over 50% off!) were very popular, and you also loved this on-trend pearl necklace that I'm completely smitten with!
You also went crazy for all things cozy, like this super-soft sweater (35% off now), this oversized cashmere wrap (perfect for travel or gifts and 25% off now!), this classic wool parka (50% off now), and these cashmere gloves (under $50).
A couple other favorites were this practical and cute fanny pack, this cute French-inspired tee shirt, and this personal safety alarm was the biggest seller of the last two weeks!!

THINGS I'M WATCHING/READING/LISTENING TO
This past week we've been enjoying the Beckham documentary (above), featuring David Beckham's childhood and rise to soccer fame. Though I knew nothing about him, his wife, or soccer, it's been really interesting. They met and married when they were so young! He and Victoria come off as kind and very down-to-earth which I was surprised by, to be honest, plus he's not bad to look at. 😉
Another find this week was a new-to-me podcast called Hollywood Gold. Though I'm a big movie buff I had never heard of it, but I heard they were interviewing Nancy Myers so of course, I was all in! They do a deep dive into one specific movie per episode, interviewing a star, director or writer. Nancy was adorable and I really enjoyed hearing more about the making of Something's Gotta Give (one of my all-time favorite movies!)
THINGS I'M MAKING/EATING/DRINKING
As things cool down, I'm always up for yummy, cozy one-pot meals. Some of our favorites are this Pot Roast with Vegetables and this Chicken with Forty Cloves of Garlic recipe.
I also stumbled on this One Hour One Pot Coq au Vin (above). I've always wanted to make it but it usually takes hours so this one is super tempting!
RANDOM THOUGHTS
This blogger shares amazing DIYs – most of her gorgeous home they did themselves!
The Complete Line-Up of Holiday Movies on TV this Year – they started in October!
Thanksgiving Must-Haves from Trader Joe's
How to Become a Better Gift Giver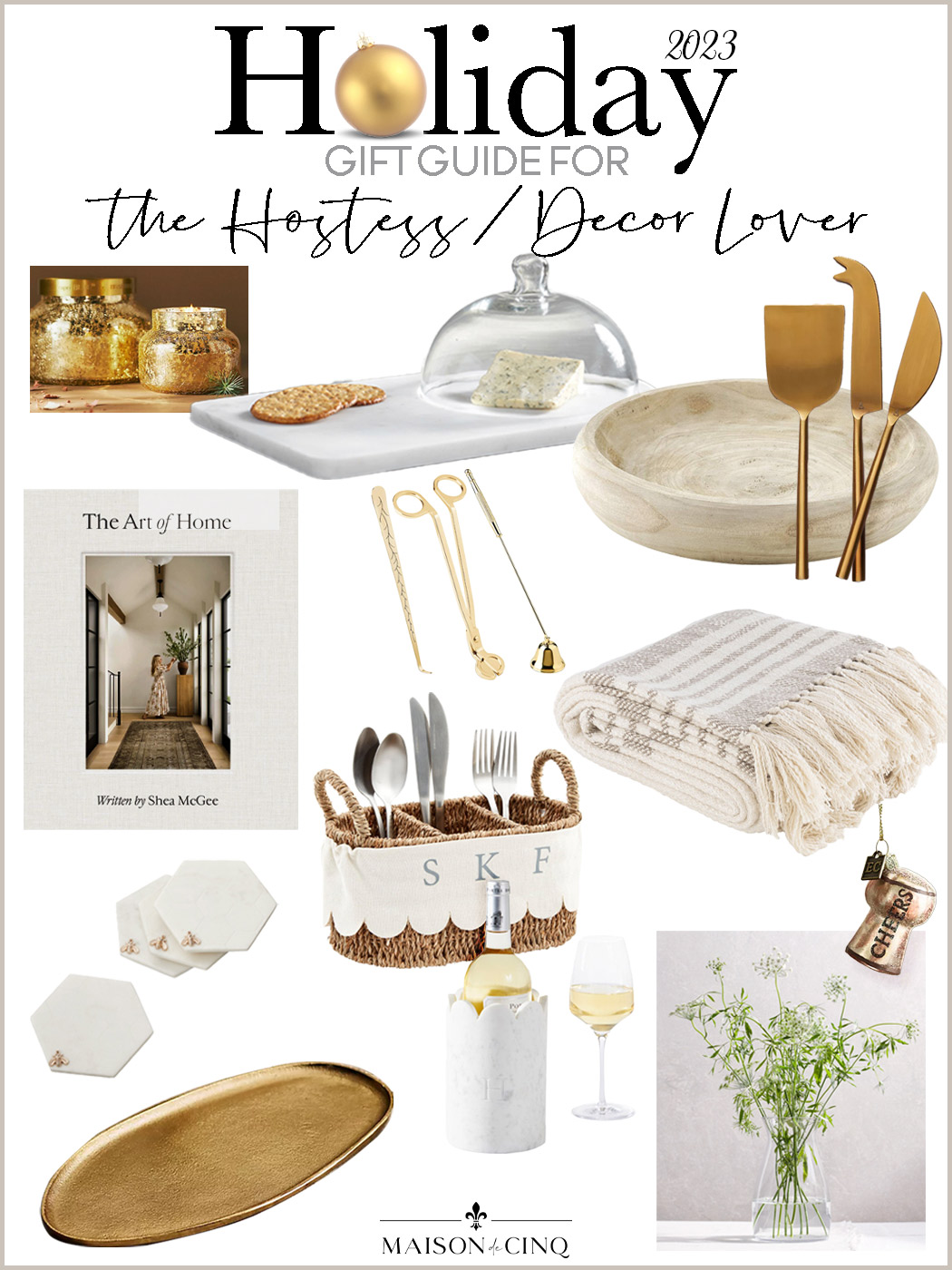 And if you missed it, this week we shared the second gift guide installment, Gift Guides by Category featuring guides for the Francophile, hostess, fashion lover, and more!
Happy Friday!
Sheila
xo
P.S.
Have you signed up to be a Maison de Cinq subscriber yet? You'll get every post so you don't miss any and you'll receive my free 5-day email series How to Get French Farmhouse Style for Less for FREE! Sign up here and get Maison de Cinq straight to your inbox!
Oh and if you've missed any of the previous Friday Favorites, you can find them all here!