Friday Favorites – Weekly Inspiration
Welcome to Friday Favorites, a series where we share our favorite decor, design inspiration, movies, podcasts, fashion finds and more! And though it won't all be French, some of it definitely will!
Hello friends! How are you this week? Feeling relaxed and not rushed? Or more slightly crazed like I am?
I wish I could say I was done with all my shopping and wrapping as well as holiday cards, but alas, that is not the case! This season is the busiest on the blog so I'm juggling lots of work with all that needs to get done. But I'm not complaining – I love creating holiday content here and hope you've been inspired!
This week I've got a gorgeous holiday tablescape coming (my first and only one this year) as well as a holiday cocktail and some Christmas cookies next week. Can't wait for you to see it all! If you missed any of my holiday tours, you can find them all here.
And now let's talk Friday Favorites – where I share everything from a great decor find, to a favorite movie, recipe, or podcast, to a wonderful thing to wear – anything that strikes me as interesting or fun or that you might love, too! 😉
THINGS I LOVE IN DESIGN/DECOR
I'm loving all the gorgeous textures in this mostly white kitchen! You can see the whole home here.
I'm all about a good candle – especially at the holidays. Every year I do a post on my favorite ones but I never got to it this year so I thought I'd share my favorites here! Full disclosure: I'm very picky about candles! They need to last long, smell great (obviously) and not cause a headache.
My absolute favorite is the Linnea Lights Forest Fir! I also love the Thymes Fraser Fir and the Balsam & Cedar from Illume is super yummy, too. Also in this large and beautiful glass vessel (this would make a gorgeous gift!)
You guys know how crazy I am about white/neutral vases, jugs and vessels and now since I'm in the process of re-styling my large builtins in the family room (I'll be sharing that in the new year) I've been gathering a few more vases and things to fill in.
I just got this beauty from Pottery Barn which I've been eyeing forever and I'm so glad I finally broke down and ordered it! I ordered the extra large and it is large, so it's well worth the price! In the last few months I also added this one (in the large) and this one (in the short). All of them have a great distressed look and mix with my other vintage pieces really well.
And I've found some amazing pieces on Etsy, too. These are not vintage, but they're handmade reusing and aging old pieces and they really do a good job! This vase is gorgeous and I also love this one. You can see more of her things here.
Ooh and you guys I talked about my new log holder last week and forgot to link it! I'm so sorry! And thanks to those who let me know. 🙂
THINGS I'M WEARING/LOVING/WANTING
We're finally getting some wintery weather (and even some rain – yay!) so I'm alll about the cozy!
I've been living in these jeans and these joggers, I love this cozy sweater line in the rollneck, the hoodie (50% off with code CHEER), and the turtleneck. When I'm at home and feeling chilly I also usually throw on a puffer vest over my sweater. It's the perfect solution for keeping you toasty without making you hot! I have this one, love this one and just bought this one for my daughter. These sneakers are my daily uniform and I can't live without my fave slippers (wearing them now!)
For outdoors I just invested in some short rain boots – I wanted something easier to throw on than my tall ones. And these gloves are the same cozy knit as my fave sweaters and they have touchscreen fingers so you can use your phone without removing them – brilliant! (and they're 50% off – I just bought two pairs for gifts).
Do you wear a down jacket? I am always cold and hate the one I have so I've been looking. I'll be asking for one for Christmas and am eyeing this one. Let me know if you know of a good one!
THINGS I'M WATCHING/READING/LISTENING TO
And can we talk Christmas movies again?! (I might talk about these every week until it comes – #sorrynotsorry!) Last weekend we watched The Family Stone and I just adored it! How have I not known about this movie before?? Sarah Jessica Parker is so good, Diane Keaton is my fave and Luke Wilson is great, among others. It's funny and heartwarming. In other words, a perfect holiday film. 🙂
I just finished The Midnight Library with my book club and loved it! It's sweet and uplifting and the perfect book to cozy up by the fire with.
THINGS I'M MAKING/EATING/DRINKING
Since the holidays are almost upon us holiday cocktails are in order don't you think? One of my absolute favorites is one I shared last year. It's beyond delicious!
And I've always wanted to try this one – it looks like dessert in a glass!
RANDOM THOUGHTS
This Instagram account is so inspiring! And she just released a book!
I love using this pine scented hand soap during the holidays and through January – so yummy! (and they make dish soap, too).
20 Random Acts of Kindness to Do This Week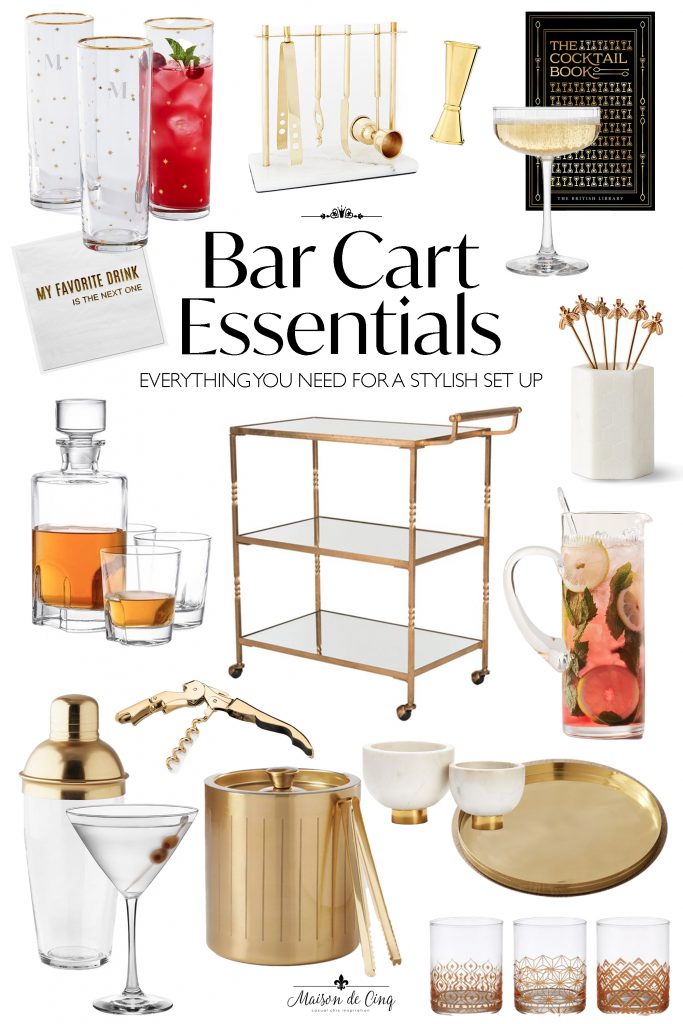 And if you missed it, I shared a post all about bar cart styling! And even if you don't have a bar cart you have to check it out – I'm sharing the cutest glassware and barware – perfect for holiday entertaining and gift giving!
Happy Friday to you!
Sheila
xo
P.S.
Have you signed up to be a Maison de Cinq subscriber yet? You'll get every post so you don't miss any and you'll receive my free 5-day email series How to Get French Farmhouse Style for Less for FREE! Sign up here and get Maison de Cinq straight to your inbox!
Oh and if you've missed any of the previous Friday Favorites, you can find them all here!