Friday Favorites – Weekly Inspiration
Welcome to Friday Favorites, a series where we share our favorite decor, design inspiration, fashion finds, TV shows, recipes and more!
How is everyone? It's been a bit of a mellow week for me, except for the weather. It's like I've moved to Texas! Last week it was in the mid-80s and now it's mid-50's and we've had crazy high winds, rain, and hail! (In case you were wondering, rain and wind are normal in So Cal in the winter. Hail, not so much).
It is making me excited for spring though!
And today is a little bit of a special Friday Favorites! Special, you say? Yes. Because today I'm talking French-inspired everything!
Though my decorating style has been morphing slightly with more rustic elements, I still describe my basic style as French farmhouse or European-influenced. And I know that's what a lot of you gravitate to (probably why you're here, right?) So in today's Friday Favorites, I thought I'd focus on some of my favorite French finds, both in fashion and in the home!
THINGS I LOVE IN DESIGN/DECOR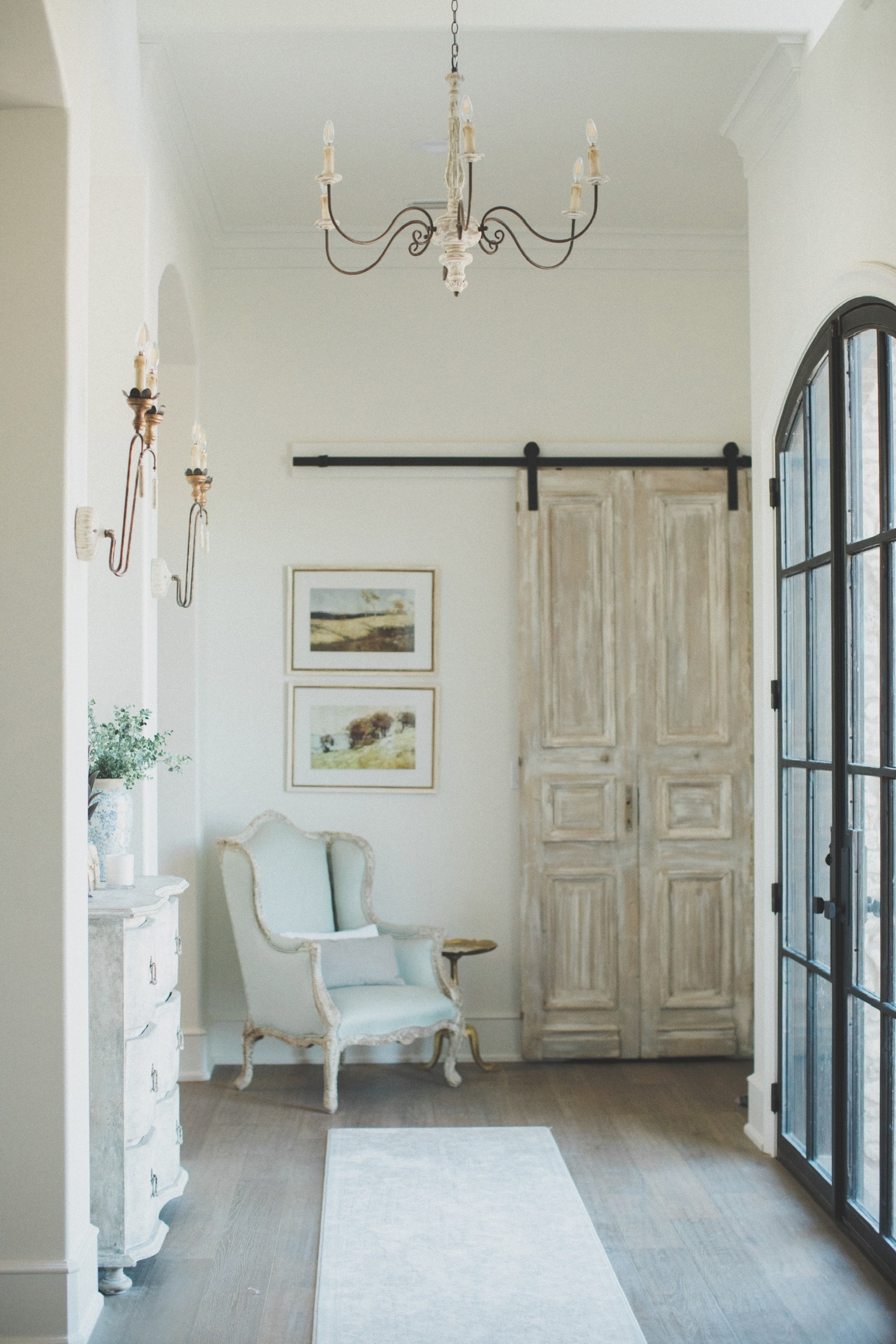 A few months back I shared this home tour as part of my Inspiring Home Tours series. Stunning French farmhouse style that's chic but oh-so-livable. See the full tour here.
A few things of my favorite French-inspired items for the home: this fabulously chic-but-cheap side table, this super reasonable console table we have in the living room, this coffee table ottoman, this dresser in pretty French blue, this adorable doormat (on sale!), this same bench I have in my bedroom (for half of what I paid), this linen bedding which is almost the same as my PB bedding at a fraction of the price, and these stunning vases (on major sale now!).
For the table/kitchen: this adorable scalloped plate, this stunning pitcher (15% now), and these blue striped linen tea towels and here in green. This Etsy seller has good pieces – from pottery to ironstone. And this marble mortar/pestle looks like a European antique but sells for waay less (they are hundreds) and it's 20% off.
THINGS I'M WEARING/LOVING/WANTING
And since we're on the subject of chic, is there anything chicer than a French woman? They have a simple and understated style that I just love. I'm sharing just a few things that I think really capture that essence and/or that I've recently brought home and love.
Love this classic cashmere sweater, this drapey blouse (on sale) feels effortlessly chic, this short-sleeve sweater is so stylish and you can't go wrong with a classic button down. A good trench coat is such a French staple and perfect for mercurial spring weather (and it's 25% off now), and this handbag is amaaazing! Perfect size and so versatile (good for travel too!) And I shared this quintessentially French tee last week (which arrived and I love!), and it would be perfect with these jeans.
And for some extra style, why not throw on a little neck scarf? So cute, so French and it makes even jeans and a tee look chic.
For lots more French fashion inspiration, check out French winter fashion essentials here and French summer fashion essentials in this post.
THINGS I'M WATCHING/READING/LISTENING TO
There are a few movies that are either French or feature France that I love! Amelie (has subtitles) is an absolutely charming French movie, while Midnight in Paris and Before Sunset are American movies that take place in France. But perhaps my favorite movie set in France is Chocolat, shot in a small medieval village in Burgundy. Seriously if you haven't seen it, it's a must!
And books! Too many to name so I'll share more another time, but my absolute favorite is Julia Child's charming biography, My Life in France. You'll laugh, you'll cry. I gave it to my son's girlfriend for Christmas and she loved it. It's so good (even if you don't cook)!
THINGS I'M MAKING/EATING/DRINKING
French food? Yes, please. But not fancy French food. I actually make quite a few recipes that are French in spirit but delicious and uncomplicated. Most are either from the Ina Garten cookbook, Barefoot in Paris or Around my French Table by Dorie Greenspan.
This chicken dish is dinner-party worthy, these Brussels sprouts are delicious, and it isn't a French meal without a decadent dessert, right? We love this Chocolate Mousse.
RANDOM THOUGHTS
Eloquence is a stunning line of French and European reproduction furniture and their Instagram is drool-worthy.
Wordle!! It's all anyone talks about here (husband and children included) Do you guys play? I've just started and I'm hooked!
If you missed it, I shared the 8 Hottest Decorating Trends of 2022 this week and there's lots to discuss! Oh and I know I mentioned I'd be writing a post about 'beautifying' your home that might surprise you. For those of you asking, I didn't forget! It will be coming to the blog next week. 🙂
Happy Friday!
Sheila
xo
P.S.
Have you signed up to be a Maison de Cinq subscriber yet? You'll get every post so you don't miss any and you'll receive my free 5-day email series How to Get French Farmhouse Style for Less for FREE! Sign up here and get Maison de Cinq straight to your inbox!
Oh and if you've missed any of the previous Friday Favorites, you can find them all here!