Friday Favorites – Weekly Inspiration
Welcome to Friday Favorites, a series where we share our favorite decor, design inspiration, fashion finds, TV shows, recipes and more!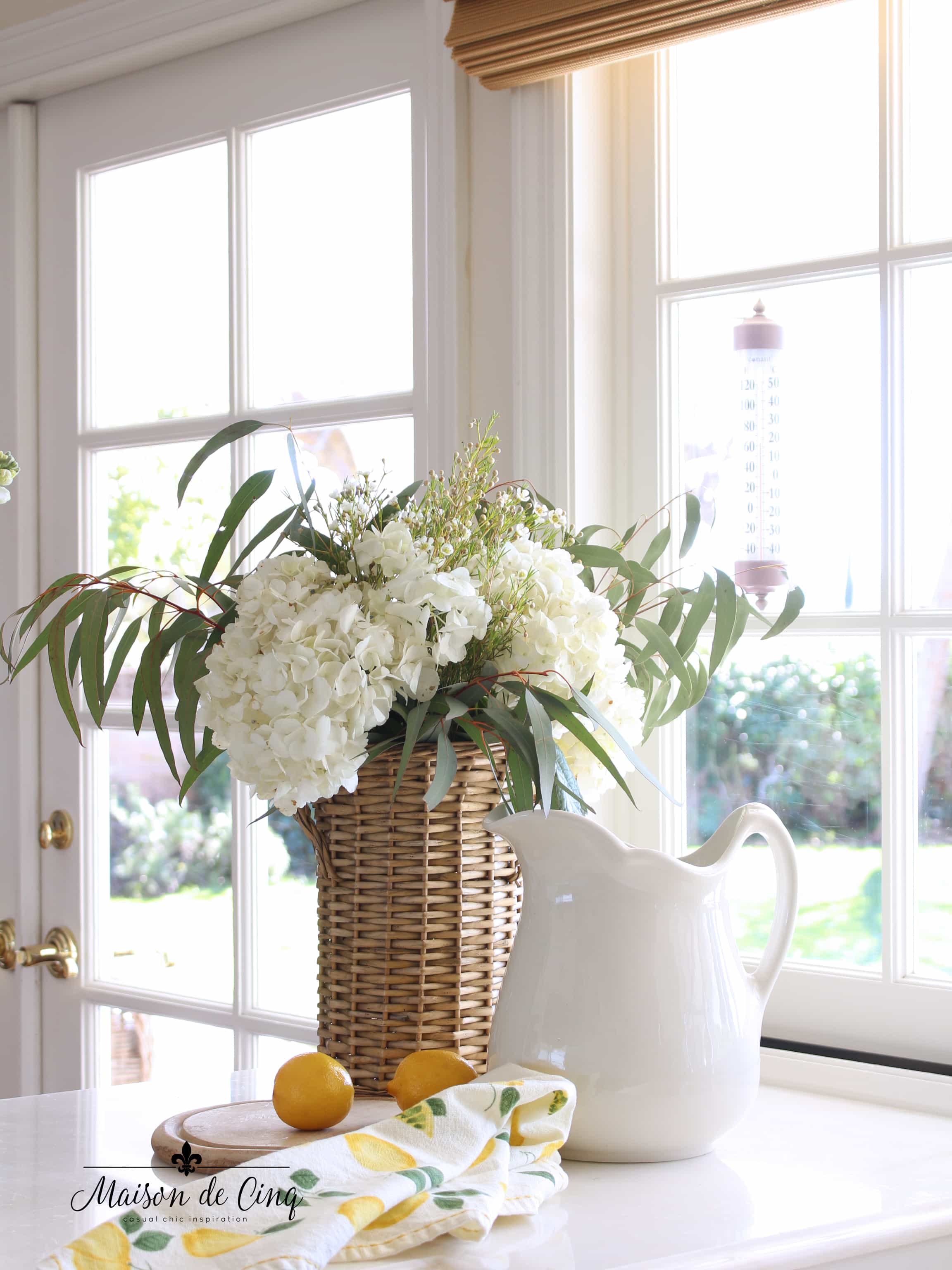 It's such a weird time of year isn't it? We're dreaming of spring, yet still in the throes of winter. I don't know about where you are, but our weather has been so up and down – sunny one week, and icy cold the next!
So this week on Friday Favorites we're going to talk 'in between' seasons! Things that will help you get through this last month before spring really settles in!
Before we get started, did you know you can shop all of my posts, both blog and Instagram, in one place? Simply download the free Like to Know It app (click here for Apple or here for Google phones). It's easy to do and then you can find everything all in one place! Plus, I share things there that I don't share here on the blog! Once you download the app, look for me, @maisondecinq, and follow me there!
THINGS I LOVE IN DESIGN/DECOR
What's better for dreaming of spring than this stunning kitchen full of flowers?! Beth Webb Design via Veranda.
One thing that really feels like it bridges winter and spring (and feels season-less at the same time) is the color green. And since it's a huge trend for 2022 (read more about design trends here) it's a win/win.
I recently bought these floral pillows (which I shared awhile back but needed to share again because they're so good!) These textured linen pillows have a pretty green as well as a rainbow of other options and a lightweight herringbone throw is always welcome to keep away the spring chill.
And this wreath is perfect for any season! I have it and have used it year round – display as-is in spring and add a rust ribbon in the fall or a red one at Christmas! And speaking of faux greenery, you seriously cannot go wrong with my two favorites I've recently gotten – this green ficus branch looks more real than anything I've ever seen along with these olive branches. Seriously if you fluff the olive branches up a bit they look way more real than some that are much more expensive!
A few decor crushes: this linen runner is perfect for any table in any season (I keep it on all the time), these linen tea towels add some cheer to the kitchen, these textural vases are similar to ones I found in a boutique here for much more, this marble bowl would be gorgeous anywhere (and it's much less than the WS ones I have).
And if you've been following my stories on Instagram I'm hot on the trail for new everyday dishes! Deciding between this well-priced set and this classic style that I've always loved. And I love these plates, too! Thoughts?
THINGS I'M WEARING/LOVING/WANTING
I absolutely love the look of a chunky low-heeled sandal with the cropped jeans that are so in now. These are the shoes I dream of, but in the meantime I just ordered these and plan to wear them all season long. And this sandal is stylish and could be worn so many ways – it comes in tons of colors (love the pink and the 'new cream'!) Another great partner to those cropped jeans? This cute sweater (love the pale lilac color!)
Are you as happy as I am that classic cardigans are back? I wore them constantly in the 90s! This silk blend is on sale with lots of color options, and this one is similar in all-cotton. These are such great layering pieces for chilly spring days.
I also love a good denim shirt; I own this classic version and this puffed sleeve blouse is adorable and on sale!
THINGS I'M WATCHING/READING/LISTENING TO
I was looking for a new show the other night and stumbled upon Sweet Magnolias. Well, I'm only three episodes in and I love it! I love the female friendships and it's fun to be watching a "women's show" again.
And since we're talking about the south, here are two older films that I love that take place there: The Help and Steel Magnolias. And The Help (the book upon which the movie was based) is so good if you've never read it!
THINGS I'M MAKING/EATING/DRINKING
I'm feeling a little dessert-y lately, you? Oh good. 🙂
I love my recipe for Chocolate Banana Bread (seriously. so. good.) and this Classic Banana Bread is the best!
RANDOM THOUGHTS
The displays at Magnolia Market in Waco are always inspiring and this year's spring collection is no exception. Oh and if you've never been and ever get the chance, it's worth the trip!
I could use a few of these 'Happy Habits'!
Did you check out my post all about beautifying the everyday things in your home? If you missed it, you can see 7 Things You Can Do to Make Your Home More Beautiful here.
Happy Friday!
Sheila
xo
P.S.
Have you signed up to be a Maison de Cinq subscriber yet? You'll get every post so you don't miss any and you'll receive my free 5-day email series How to Get French Farmhouse Style for Less for FREE! Sign up here and get Maison de Cinq straight to your inbox!
Oh and if you've missed any of the previous Friday Favorites, you can find them all here!