Friday Favorites: Weekly Inspiration
Welcome to Friday Favorites, a series where we share our favorite decor, design inspiration, movies, podcasts, fashion finds and more! And though it won't all be French, some of it definitely will!
Hi friends and welcome to another week of Friday Favorites! I'm enjoying these so much – I look forward all week to writing them! It's so fun to share things I'm loving with all of you and makes me feel like I'm sitting around with my girl friends and chatting about all the things!
If you've missed the first few installments, this is where I share everything from a great decor find, to a favorite movie, recipe, or podcast, to a wonderful thing to wear – anything that strikes me as interesting or fun or that you might love, too! 😉
THINGS I LOVE IN DESIGN/DECOR
I've admired Shea McGee since I started following her on Instagram a few years back, and she never disappoints. For someone like me who doesn't have a laundry room in my house, this is perfection!
I love her clean and simple aesthetic (and she always adds lovely artwork, too!) You can see more of her work on her website here.
Though I haven't started decorating for fall yet, as a blogger I do need to plan ahead and I've begun to do just that. I'll probably do something very similar to last year, with an emphasis on colors from nature including these gorgeous greens that are out now. Also, if you don't plan ahead, I find everything sells out quickly now, and shipping can be slow these days!
Right now I'm eyeing these adorable plaid pillows, these pretty fall branches and of course, the first thing I'll be doing is burning my favorite yummy pumpkin candle!
If you've never owned a table like this, you're missing out! It's perfect for the beach, picnics, and concerts in the park. We've had ours about 15 years and it's still going strong!
THINGS I'M WATCHING/READING/LISTENING TO
I'm sure if you guys have been following for awhile you know how fond I am of Italy. And food. 😉
And Italian cooking is something I love as much as I love Italian travel. So a show that features both? Sign me up!! Bobby and Giada in Italy is a travel/cooking show featuring Bobby Flay and Giada DeLaurentiss. You literally follow them around in Rome and Tuscany while they eat. Between the gorgeous footage of Italy and the delicious food, it has me dying to go back to Italy. Ciao Bella!
My husband has been out of town a lot the last month which means I get to watch whatever movies I want, haha! And when given the choice, I will watch Something's Gotta Give no matter how many times I've already seen it! If you're a Nancy Myers fan, then you understand my obsession. But if not, you need to be!
She wrote and directed three of my all-time favorite movies. Something's Gotta Give, It's Complicated, and The Holiday. I'm not even a person who usually sees movies twice, but these I've easily seen 4 or 5 times and I could do it again. If you're not familiar with them, they are romantic comedies (emphasis on the comedy) that are well-written and most important, they have gorgeous sets! They make me so happy. 😉
THINGS I'M WEARING/LOVING/WANTING
Even though I'm thinking fall in the living room, in the wardrobe department I'm still all the way in for summer!
I've talked about how much I adore straw bags in the past (they're so chic and make me feel slightly French 😉 ). This one is my go-to, these are a splurge but oh-so-adorable, and this is a steal. Everyone should have at least one!
Do you wear hats? I have friends who I walk with who never wear them! I'm very conscious of saving my skin from aging and even more importantly skin cancer, so I'm always in a hat, especially in the summer.
I wear a straw one to the beach, pool, or events. This one is my absolute favorite one. It's an investment but I've had it ten years! And this one is a great find at a great price. And I bought this one for walking and hiking and I love it. It gives way more coverage than the baseball hats I used to wear, and it has a strap so it's great for things like windy days or boating.
I don't do facials or a lot of fancy treatments, but I do like to get manicures. For years I just dealt with the frustration of nail polish chipping. But now no more. Enter Essie Gel Nail Couture line! Love, love, love this stuff!
It consists of a color and top coat and it lasts amazingly long! Even if I do dishes, household chores, or garden, my polish will stay looking fresh and shiny for a week to 10 days, and even longer if I baby them. I love light colors so I usually use Fairy Tailor, but it comes in lots of color choices (Rock the Runway is nice for the holidays).
THINGS I'M MAKING/EATING/DRINKING
I think I've shared before what a coffee-fiend I am – I'm usually drinking it at multiple times over the course of a day! In summer, I love an afternoon latte and I just tried this copycat version of the Starbucks Iced Brown Sugar Latte. Yum.
I also love Chai Latte and it's especially good iced. My favorite brand is this Oregon Chai Latte that you simply mix with milk. It can be made hot or cold and it's delicious either way.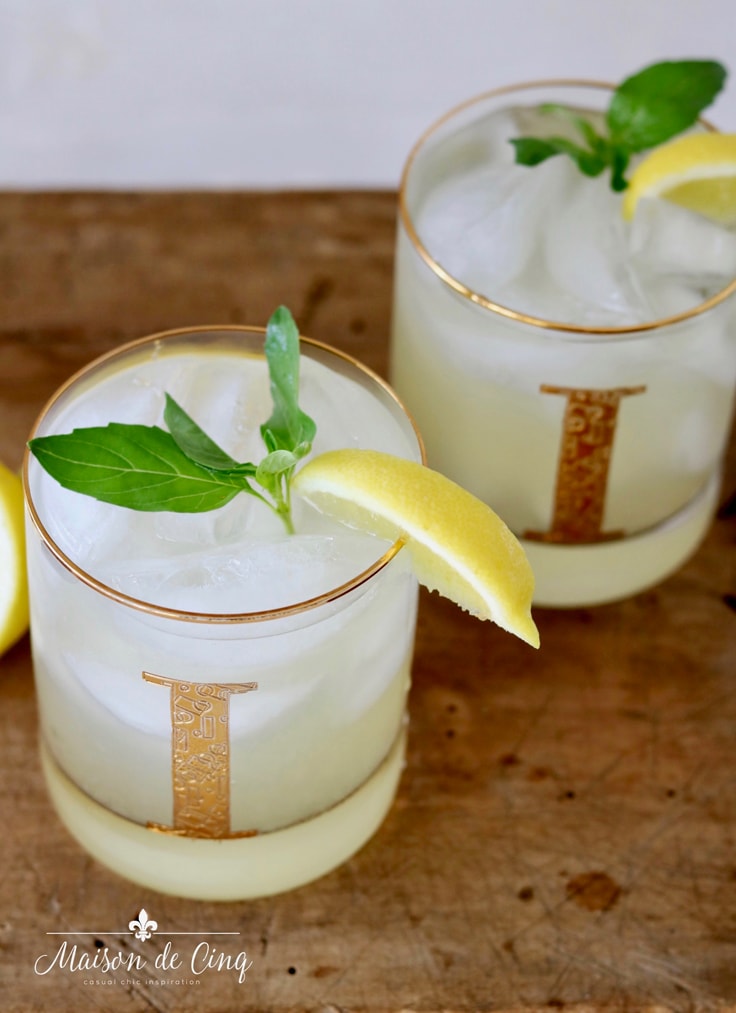 This Basil Vodka Gimlet is probably my favorite cocktail on the planet. Even people who don't like cocktails like this. It's got vodka, and basil, and lots of lemon and it's beyond refreshing and perfect for summer. And for friends who think they don't like cocktails!
RANDOM THOUGHTS
If you don't believe the quality of your tweezers makes a difference, you haven't used these. I have them in the rose gold because they're pretty, but the black is on sale. Either way, they work so well!
I'm not a huge DIYer but I do love to have a few handy and useful tools for painting projects and the like. This 15-in-1 painter's tool is a favorite.
For a gorgeous and inspiring Instagram account, check out French Larkspur for pretty scenery and French-inspired design.
And if you missed it, I shared a beautiful coastal farmhouse home tour on the blog this week.
Happy Friday!
Sheila
xo
*AFFILIATE LINKS ADDED FOR YOUR CONVENIENCE*
P.S.
1. Have you signed up to be a Maison de Cinq subscriber yet? You'll get every post delivered directly to your inbox and you'll receive my free 5-day email series How to Get French Farmhouse Style for Less for FREE! Sign up here and get Maison de Cinq straight to your inbox!
Oh and if you've missed any of the previous Friday Favorites, you can find them all here!