Friday Favorites – Weekly Inspiration
Welcome to Friday Favorites, a series where we share our favorite decor, design inspiration, fashion finds, TV shows, recipes and more!
After weeks of sweltering heat we're finally supposed to get some nice weather this weekend – yay for fall! I've been removing the last of the summer decor and I started to add a few early fall touches and it's made me so ready! Plus I'm excited to share what I'm doing with you – hopefully I'll be finished next week. 🙂
And now let's talk Friday Favorites – I've got lots of fun finds to share with you!
THIS POST MAY INCLUDE AFFILIATE LINKS. CLICK HERE FOR MY FULL DISCLOSURE POLICY.
THINGS I LOVE IN DESIGN/DECOR
This is a perfect lake house: full of character and cozy texture!
I've been strategizing my fall decor plan over the last week and have settled on doing very faded rusts and sage greens along with lots of added woods and texture. You guys know I love to mix high and low so I've ordered a few inexpensive pillows hoping to combine them with the pricier ones. I'm totally crushing on this plaid and this adorable floral and this Studio McGee one is super cute, too!
Oh, and my amazing find this week: these wood vessels on Amazon (2 sizes)!! Who knew?! They are vintage and around half what they sell for on Etsy!
One of the things I've been wanting to replace for awhile now is our doormat – a small thing but it matters since it's the first thing you see when you arrive! This one is so pretty and has a more European feel (on sale), love the texture of this one (plus, it comes in 2 sizes), and this seasonal one is adorable and such a great price for the size!
On another note, I've also been wanting to get a new living room coffee table and typical of me, I've spent months looking! I love the look of this one, but I'm hoping to find something that's more affordable. This one is attractive and this one is a steal! Another option I'm batting around is the idea of a pretty ottoman – love this French one (and the price is right!)
THINGS I'M WEARING/LOVING/WANTING
As soon as fall arrives I'm all about sweaters and sweater-y things!! I'm especially fond of cable-knit – they're so classic and cozy looking. This cardigan is gorgeous as is this version (those wood buttons!), and this longer one is cute, too. Love the slightly shorter version of this classic cashmere crewneck, and these merino wool sweaters are on sale and have the yummiest colors (especially fond of the olive green)!
Favorite fun finds of the week: this super chic chunky chain bracelet as well as this pretty suede belt. And this turtleneck which is a steal!
And your favorites last month were these chic-but-cheap wide legged jeans (just got mine and love them!), this classic cashmere wrap (above) along with this similar but less expensive wool poncho.
THINGS I'M WATCHING/READING/LISTENING TO
Have you guys watched the Paul Newman/Joanne Woodward documentary, The Last Movie Stars? It's sooo good!! It's fascinating to learn so much about them and their amazing lives. If you haven't seen it, I highly recommend it.
THINGS I'M MAKING/EATING/DRINKING
I love apples in savory dishes, like this Pork Chops with Apples & Onions and this Honey-Mustard Chicken & Apples. And this Creamy Tuscan Chicken with Crispy Prosciutto recipe (above) looks amazing!!
RANDOM THOUGHTS
Love this designer's stunning Instagram account.
Love this sweet story of romance at 80!
What do you think of these 2022 design trends? Love? Hate?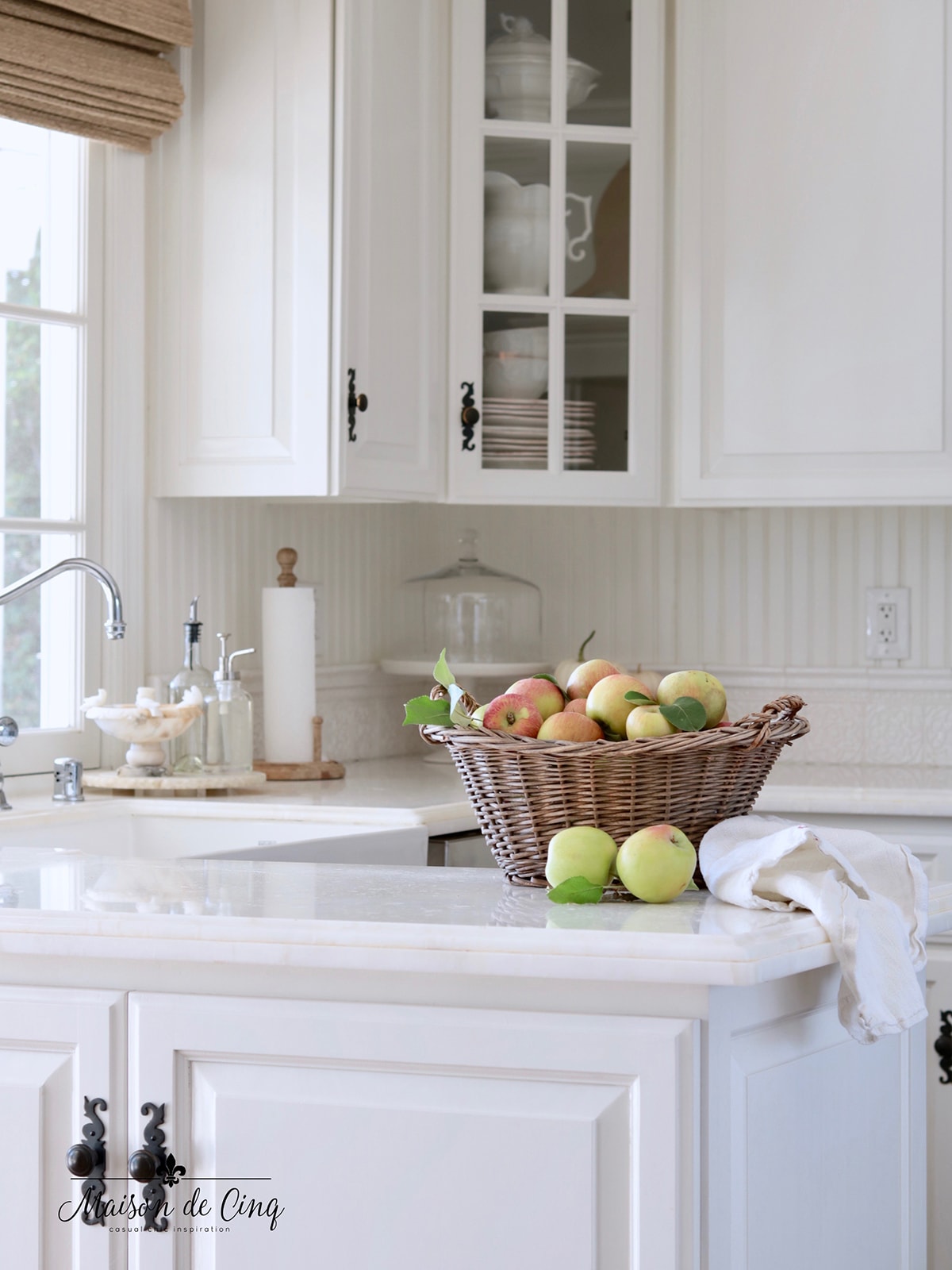 Want to take a peek at some of my past fall tours before I share this year's? You can see them all here!
Happy Friday!
Sheila
xo
P.S.
Have you signed up to be a Maison de Cinq subscriber yet? You'll get every post so you don't miss any and you'll receive my free 5-day email series How to Get French Farmhouse Style for Less for FREE! Sign up here and get Maison de Cinq straight to your inbox!
Oh and if you've missed any of the previous Friday Favorites, you can find them all here!