Friday Favorites – Weekly Inspiration
Welcome to Friday Favorites, a series where we share our favorite decor, design inspiration, fashion finds, TV shows, recipes and more!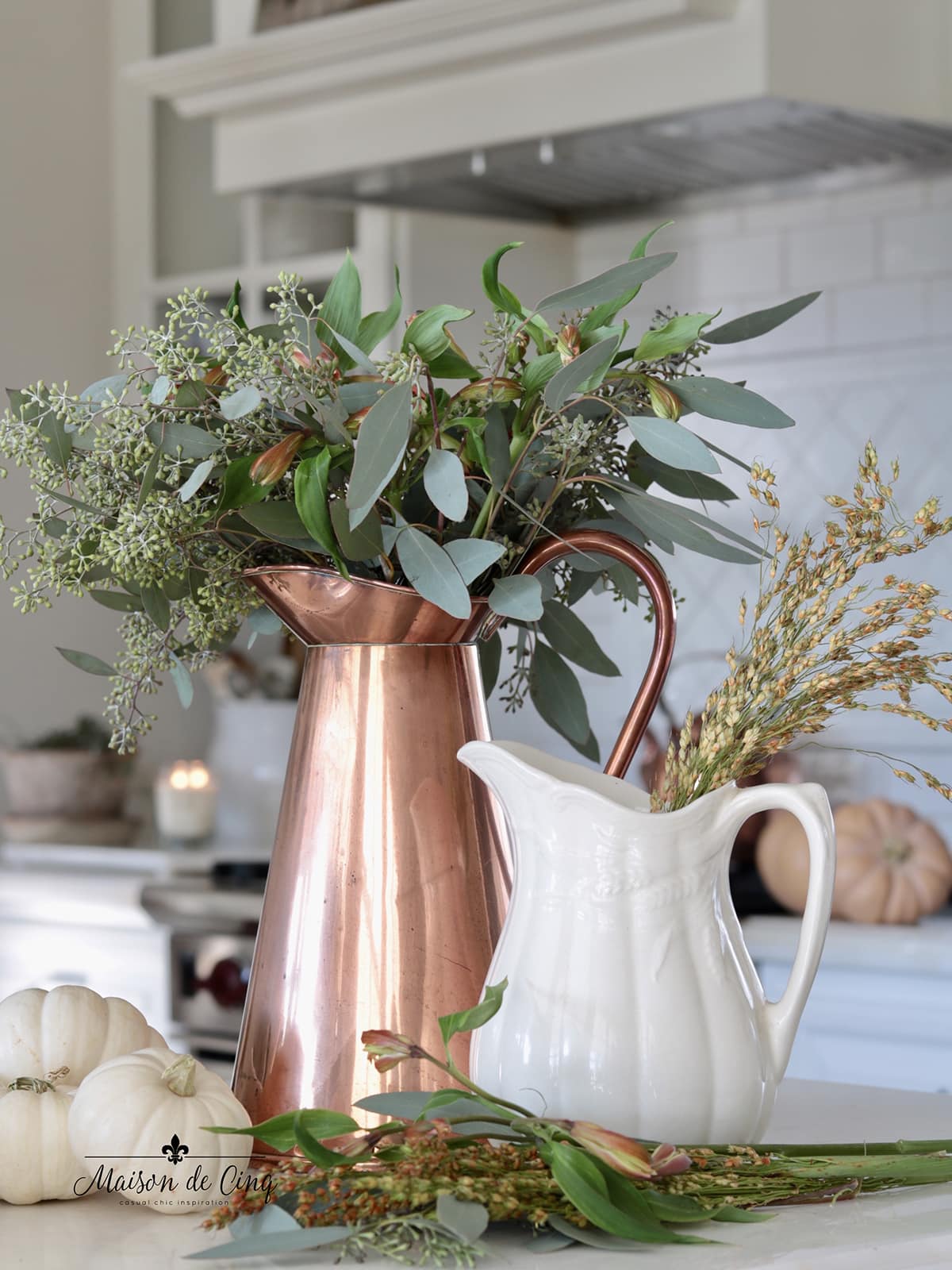 As you're reading this, I'm probably driving to, parking at, or arriving at the airport! Our niece is getting married so all of us are headed to Albuquerque to the wedding.
This is our first real trip in over 2 years (minus moving kids into college), and I can't tell you how excited I am to spend time with family and celebrate! I love weddings – plus, I plan on dancing the night away!
And now, let's talk about all the fun things I have to share this week!
THIS POST MAY INCLUDE AFFILIATE LINKS. CLICK HERE FOR MY FULL DISCLOSURE POLICY.
THINGS I LOVE IN DESIGN/DECOR
This kitchen – actually the whole house – is so full of character and texture – just gorgeous! See the full tour here.
This week was a bit random, so my finds are a bit random, too! There's a line of artisanal vases at Pottery Barn that I own a few of, and this week I noticed they added some rustic-looking ginger jars to the collection! They are truly stunning and would make a great statement in any room (there are 2 sizes).
For me, fall is all about adding texture which any of these will do! These favorite baskets are super cute and come in 3 sizes, this little wood pedestal gives a great rustic look (could be used anywhere), this paper mache bowl looks vintage for much less (my vintage one was more than double this price!), and this little match striker is so adorable! Would love it sitting on the mantel or in the kitchen!
And probably the best buy ever – this tufted bed!! It's an amazing price (and gets great reviews). Plus unlike a lot of cheaper beds, it's actually quite high which I love. I'm thinking of ordering it for the guest room!
THINGS I'M WEARING/LOVING/WANTING
Annnd J.Crew's new collection came out! I'm sure you know what a fan I am, so today I thought I'd share some of my favorites from the new fall line!
These faux leather pants (above) look so chic – and I love that they give the leather look but they aren't skinnies! (available in black, too) Polo style sweaters are so in and this one is super cute (30% off), and I love this ruffle-neck blouse (30% off) (especially the leopard and that red would be stunning for the holidays!)
And almost no one does coats like J.Crew! This sherpa jacket (30% off) is adorable and sells out every year (love it in the brown!), it also comes in a longer coat version.
And I love a touch of leopard! This belt (half off!) is such a classic and adds punch to even the simplest outfit (love it with jeans and a white tee). I've had mine for years!
THINGS I'M WATCHING/READING/LISTENING TO
Have you guys seen the new Elvis movie? We just streamed it and I really enjoyed it – and I'm not even an Elvis fan! I wasn't familiar with the young actor who plays him but he does an amazing job.
And if you're in the mood to continue with music biopics, Bohemian Rhapsody about the band Queen and Rocketman about Elton John were both enjoyable. One thing about a movie that includes so many good songs is it's almost always saved by the music!
THINGS I'M MAKING/EATING/DRINKING
I've officially moved into my 'pumpkin' phase of fall, haha, where I'm buying allll the pumpkin things at Trader Joe's, as well as baking pumpkin bread and making my absolute favorite Pumpkin Chocolate Cheesecake Bars (above).
I also have a recipe for a slightly different but equally good Pumpkin Cheesecake Crumble Bars. You're welcome. 😉
RANDOM THOUGHTS
My friend Chloe has the sweetest IG feed featuring her farm, animals, and design business.
How to Do Board & Batten on a Staircase
Have you ever bleached pinecones?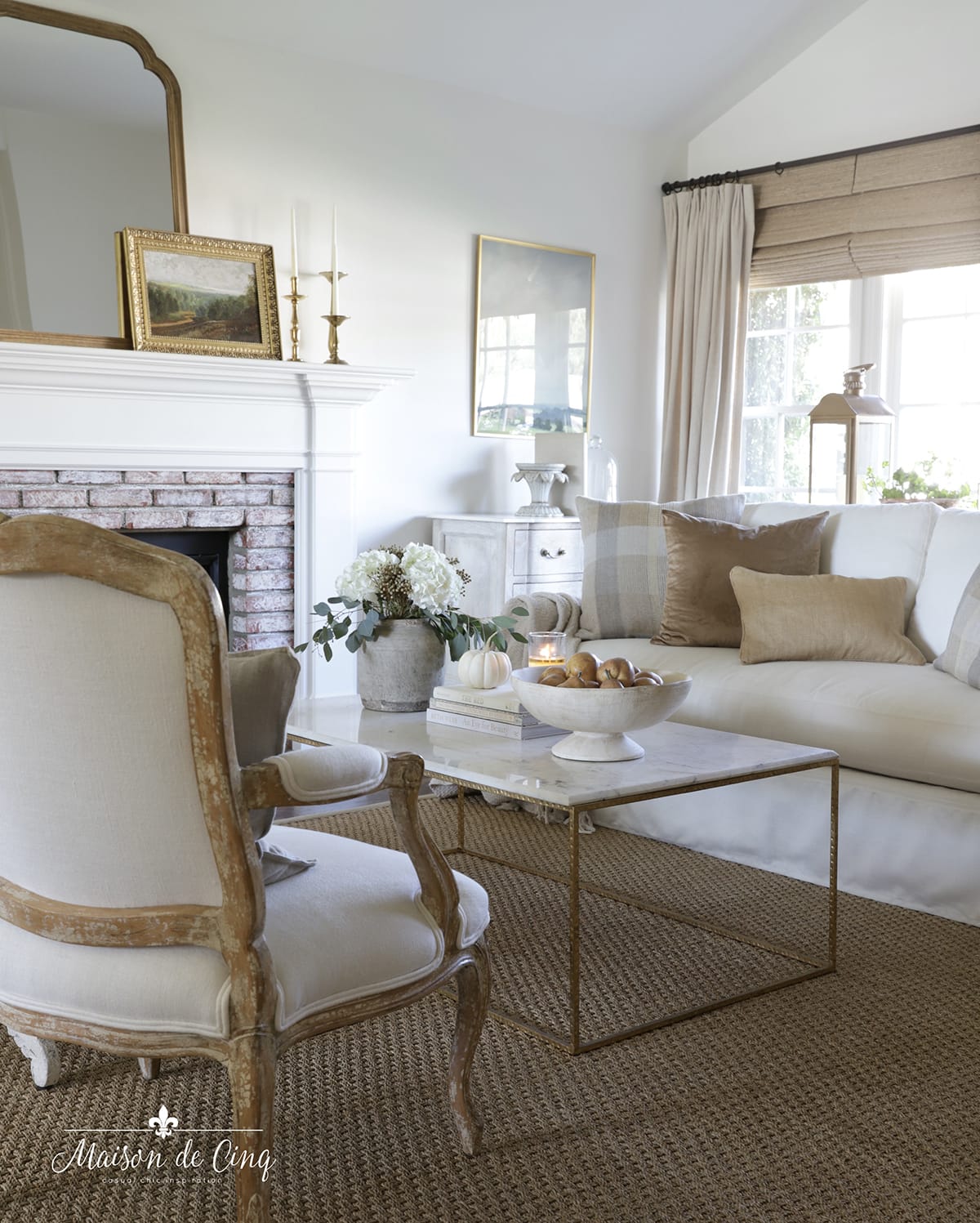 And if you missed it, this week I shared a Fall Harvest Dinner Party as well as my Fall Living Room Tour (above). Be sure to take a peek!
Happy Friday!
Sheila
xo
P.S.
Have you signed up to be a Maison de Cinq subscriber yet? You'll get every post so you don't miss any and you'll receive my free 5-day email series How to Get French Farmhouse Style for Less for FREE! Sign up here and get Maison de Cinq straight to your inbox!
Oh and if you've missed any of the previous Friday Favorites, you can find them all here!