Friday Favorites – Weekly Inspiration
Welcome to Friday Favorites, a series where we share our favorite decor, design inspiration, fashion finds, TV shows, recipes and more!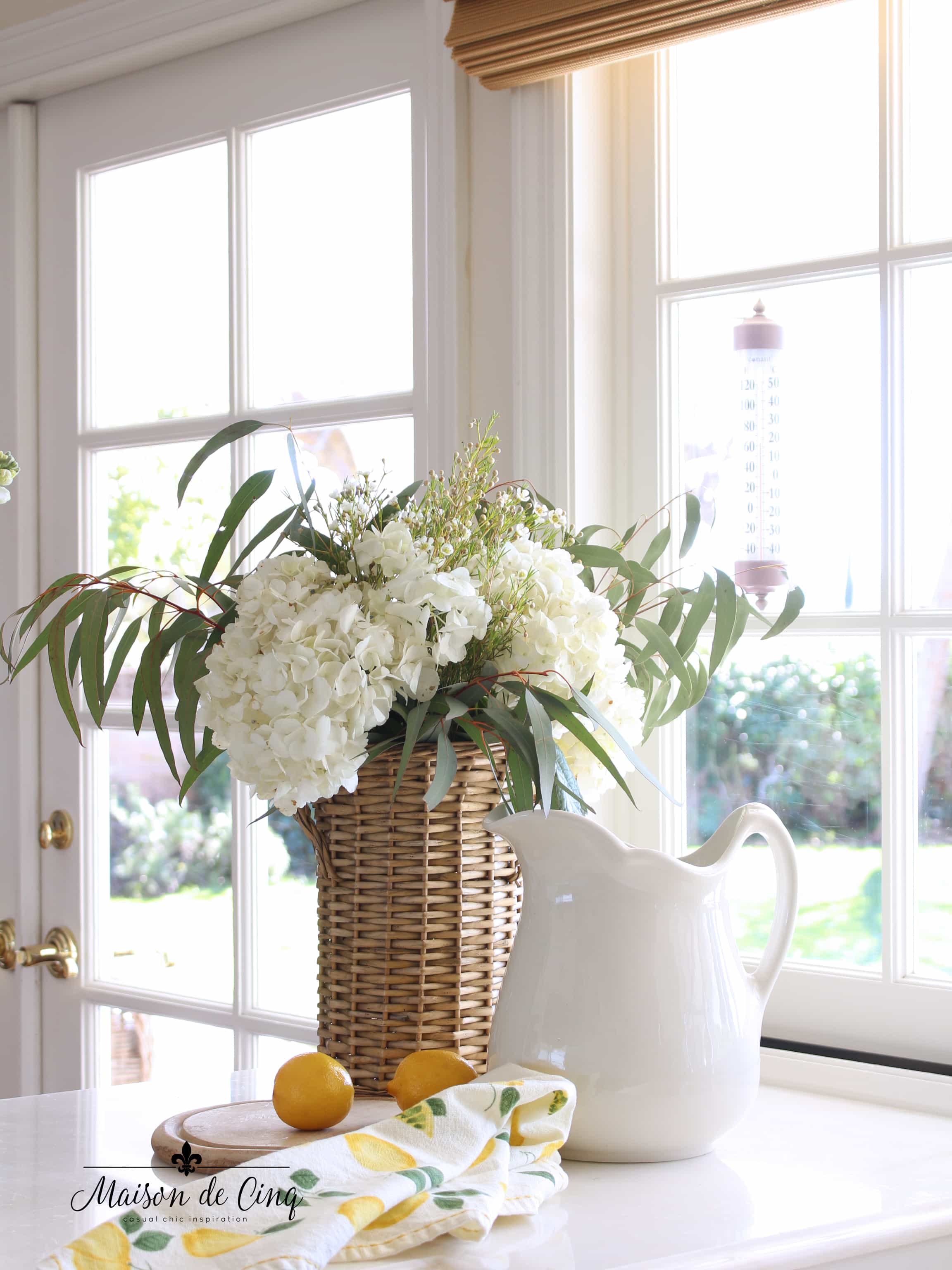 I'm feeling a little under the weather today – well woozy might be a better term- as I had an endoscopy this morning. So if I have typos this week, you'll have to forgive me!
Our rain has finally stopped and though it's been quite cold, boy it's nice to see the sun! My lemon trees are dripping with fruit (must be all that rain!) so I thought this photo was appropriate.
And now let's talk Friday Favorites – I've got so many fun things to share with you today! 🙂
THIS POST MAY INCLUDE AFFILIATE LINKS. CLICK HERE FOR MY FULL DISCLOSURE POLICY.
THINGS I LOVE IN DESIGN/DECOR
Be still my heart! This whole French minimalist house is stunning!
If you're like me and like to add some subtle nods to Valentine's Day or have a nice dinner at home rather than going out, these plates are adorable (and on sale). I've had them for a couple of years now and always get comments when I feature them! (There are mugs too which could easily be used year-round.) Links aren't always working but they are the "heart shaped stoneware plates/mugs."
It's nice to add a little pink this month, especially while winter is still roaring and we need a little pick-me-up! Love this textured linen pillow (it's the perfect pink to mix with browns, greys, and neutrals – but also comes in lots of other colors), this Persian-style rug is perfect for a small space (and all cotton!), and this pretty throw adds just the right amount of color.
These stunning coupé glasses are priced well for elegant colored glassware, and of course, there is this adorable French mug – I don't think I can resist!
I also wanted to share that several of the Studio McGee Target items I shared at the beginning of the month are back in stock! So many were sold out immediately and I know a lot of you (and me!) didn't get a chance to order them. This vase I had already ordered is sold out now, but the bigger version finally reappeared, plus this art print I have and get asked about all the time is back as well (soo pretty in person!)

THINGS I'M WEARING/LOVING/WANTING
I'm a big fan of pink, and it seems especially pretty in the doldrums of February! This sweater is a great price, and I love the weave of this turtleneck (above – almost 70% off!!). And if you want to be more literal, this sweater has a cute heart motif and is on sale for $30!
And remember the slip skirt which I bought in black awhile back? It's now available in this gorgeous pink color (almost 30% off)– adore!! It would be great for Valentine's night or any night, as would this stunning pink blouse (comes in black and cream too)!
I'm mad for this heart pajama set! Sold separately which I love since my sizes are different, top here and pants here (both 40% off right now!) Also love this cute pj set and these adorable slippers (also 40% off) are perfect for anyone. 🙂
These jewelry pieces would make a great gift for a daughter, mother or sister (or yourself!) I love this set of 3 heart necklaces and these earrings are beautiful and so chic!

THINGS I'M WATCHING/READING/LISTENING TO
Two new favorites this week! A friend just turned me onto a new (to me) show from Ina Garten called Be My Guest. I just adore her and her food and this show is sooo good (how did I not know about it sooner?!) She features prominent people like stars or celebrities and though they cook, they also talk – kind of a like a hybrid interview/cooking show. I wish she'd invite me! 😉
Also, you might remember I talked about the designer interview show Point of View awhile back (it's on HBO as well, I believe). They hadn't had new episodes in awhile and I stumbled on the interview with Joanna Gaines from the new season which I loved! She's very down to earth and they talk about their latest Fixer Upper "The Castle" – if you haven't seen that season of Fixer Upper, (also on Discovery), you have to – it's divine!
THINGS I'M MAKING/EATING/DRINKING
So I mentioned lemons! This Lemoniest Lemon Pound Cake (above) is soo good, my husband loves this easy Linguine with Shrimp Scampi (easy but dinner party worthy!), and this Chicken Piccata is a family favorite.
And I'm looking for more – these Lemon Chicken Breasts look good as does this Lemon Curd. Have you ever made it? I never have but really want to!
I also made a delicious Lemon Cheesecake last year that is to die for! Perfect for spring!
RANDOM THOUGHTS
Love everything about this stunning backsplash – and that range!!!
12 Best Audrey Hepburn Movies (love her!!)
If you're looking for ways to make Valentine's Day special (even if you're at home), I've shared 6 Tips for a Romantic Night at Home, including ten unique gift ideas for your loved one you might not have thought of!
6 Ways to Strengthen Your Relationships with Family, Friends, and Partners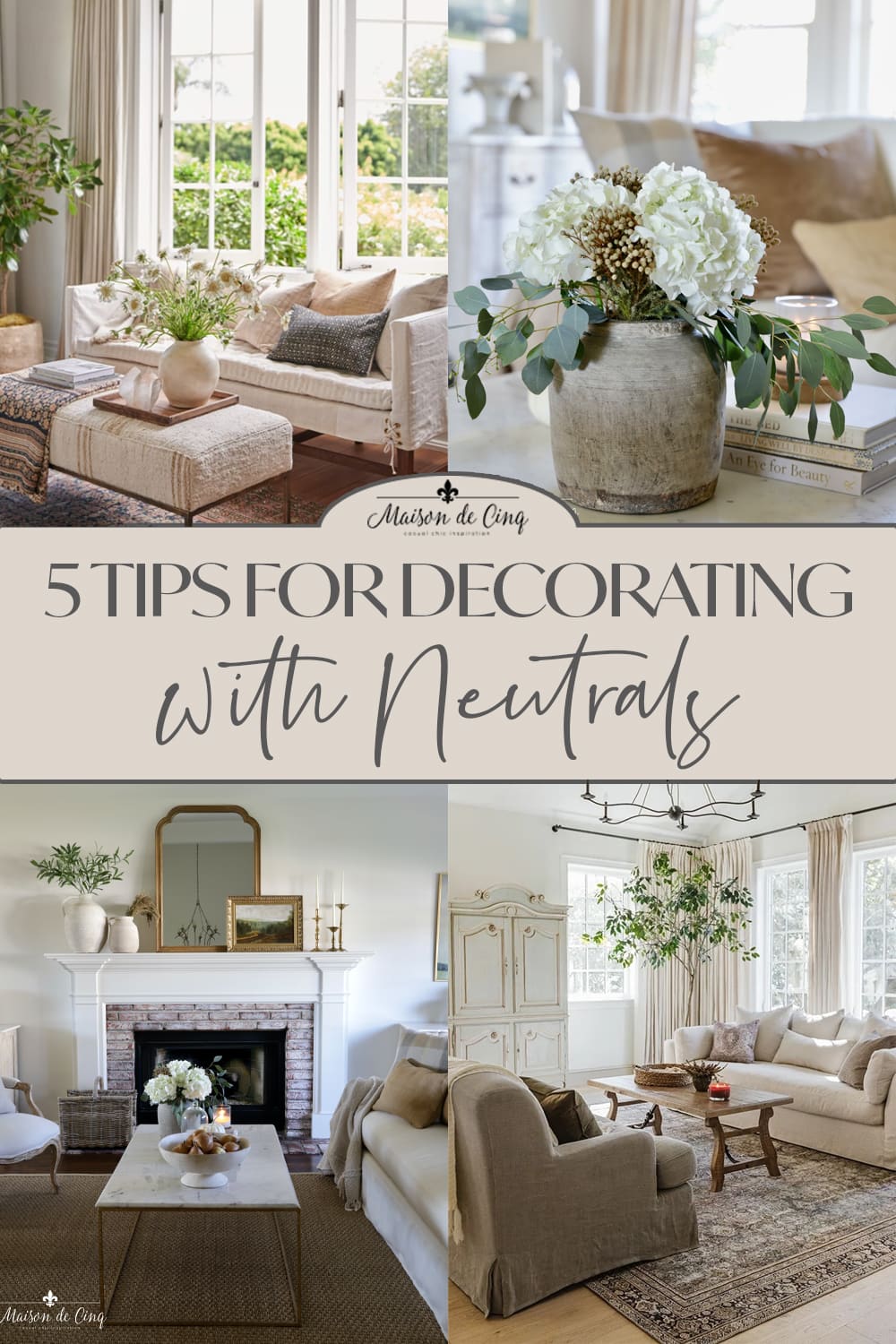 And if you missed it, this week I shared 5 Essential Tips for Decorating with Neutrals – the Right Way!
Happy Friday!
Sheila
xo
P.S.
Have you signed up to be a Maison de Cinq subscriber yet? You'll get every post so you don't miss any and you'll receive my free 5-day email series How to Get French Farmhouse Style for Less for FREE! Sign up here and get Maison de Cinq straight to your inbox!
Oh and if you've missed any of the previous Friday Favorites, you can find them all here!