Friday Favorites – Weekly Inspiration
Welcome to Friday Favorites, a series where we share our favorite decor, design inspiration, fashion finds, TV shows, recipes and more!
I'm so ready for spring – I've got spring fever! I'm dreaming of cleaning out the garden, flowers blooming, birds chirping, and sunshine. We're not there yet on the outside, but I'm certainly getting there on the inside.
So of course, that's where my head's at when it comes to decorating! I'm loving all-things-spring so that's what I'm sharing this week.
Welcome to Friday Favorites! 🙂
THIS POST MAY INCLUDE AFFILIATE LINKS. CLICK HERE FOR MY FULL DISCLOSURE POLICY.
THINGS I LOVE IN DESIGN/DECOR
This house has a springy feel, with lots of blue and green, along with perfect styling.
I just ordered two of these spring wreaths for the front doors. And I love adding a couple of pretty floral pillows. This one is so lovely (I love blue and green together!) – it would look so good layered with this blue one. I also love this toile pillow cover that's on major sale!
Beautiful neutral, textured accessories? Yes, please! This neutral ginger jar is on major clearance – such a great price for the size! A lot of you wanted the same bowl I have in my family room which was discontinued, but now it's back in a slightly different shape (along with a trough). Either would look beautiful sitting on a coffee or dining table.
This floral vase is stunning (and on clearance!), or add this gorgeous sage green glass vase (also on sale).
If you're celebrating Easter, these bunnies from PB are beyond adorable and on sale right now (and sold out last year!), or get this one to add to your porch or yard!

THINGS I'M WEARING/LOVING/WANTING
First I have to share my total crush – I'm in love with these jeans from Anthropologie (above)! They are so soft, so cute, and sooo flattering (apparently on everyone – just read the reviews!) I've only owned them 2 weeks and I've already worn them about 7 times! I'm now eyeing the linen pant (comes in so many fun colors), as well as the white jean. You can't go wrong with these.
One of my favorite easy spring/summer outfits is a cute floral top with white pants or jeans (probably the ones above!), and there are lots of new ones out there. For a drapey look, this one is so adorable as is this one (love the blue and white). For more of a crisp cotton vibe, I love this one (25% off now and comes in solids, too) or this cute long sleeve version (50% off).
A few other fun spring finds: this raffia slide is a steal (and sold out last year), and how adorable is this raffia sandal?! (I ordered it in the bleached beachwood).

THINGS I'M WATCHING/READING/LISTENING TO
I'm a huge Audrey Hepburn fan, and I've seen most of her movies so when I read this list of her 12 Best Movies According to Vogue, I had to share.
My personal favorites are Roman Holiday, Sabrina, and my all-time, Breakfast at Tiffany's (they call it Diamonds on the Couch in this article – I guess that's what it's called in Europe?!) She's the epitome of grace and elegance. In fact, this makes me want to re-watch it this weekend. And if you've missed any of those three, they're a must-see!
THINGS I'M MAKING/EATING/DRINKING
After a cold winter full of rain and comfort food, I'm eager to start eating a little lighter and healthier. This Ginger Orange Chicken Salad looks amazing, as does this Salmon with Herb Mustard Glaze.
But lest you think I'm a complete health nut, have no fear! This past weekend I made these amazing, HUGE Dark Chocolate Chocolate Chip Cookies. See, I'd recently tasted the famed ones from Levain Bakery in New York and since it was like $70 to ship them, I looked up a copycat recipe. I had to have them, and thought it was worth a shot.
They were out-of-this-world. And I'm still eating them. 😉
RANDOM THOUGHTS
Magnolia always has the best displays and this spring is no exception.
How to Organize Your Garden Shed
The 29 Most Beautiful Places in Italy
Why Your Home Needs One Color Palette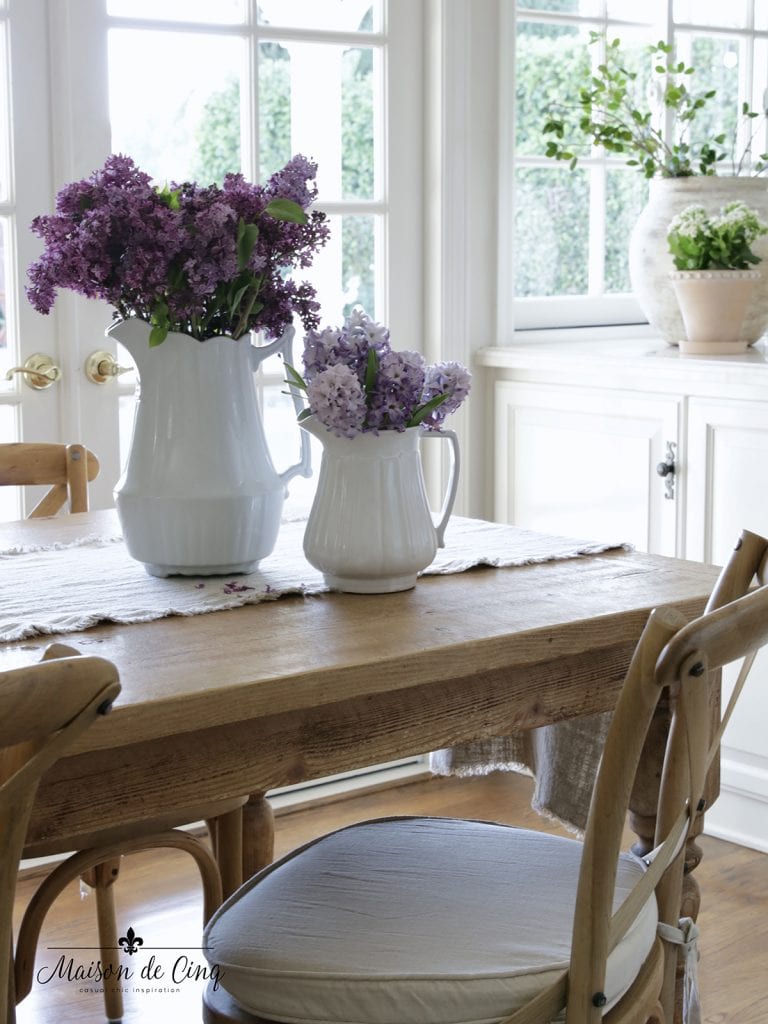 And if you missed it, this week I shared Spring Decorating Ideas: 9 Simple Ways to Refresh for the Season
Happy Friday!
Sheila
xo
P.S.
Have you signed up to be a Maison de Cinq subscriber yet? You'll get every post so you don't miss any and you'll receive my free 5-day email series How to Get French Farmhouse Style for Less for FREE! Sign up here and get Maison de Cinq straight to your inbox!
Oh and if you've missed any of the previous Friday Favorites, you can find them all here!