Friday Favorites – Weekly Inspiration
Welcome to Friday Favorites, a series where we share our favorite decor, design inspiration, fashion finds, TV shows, recipes and more!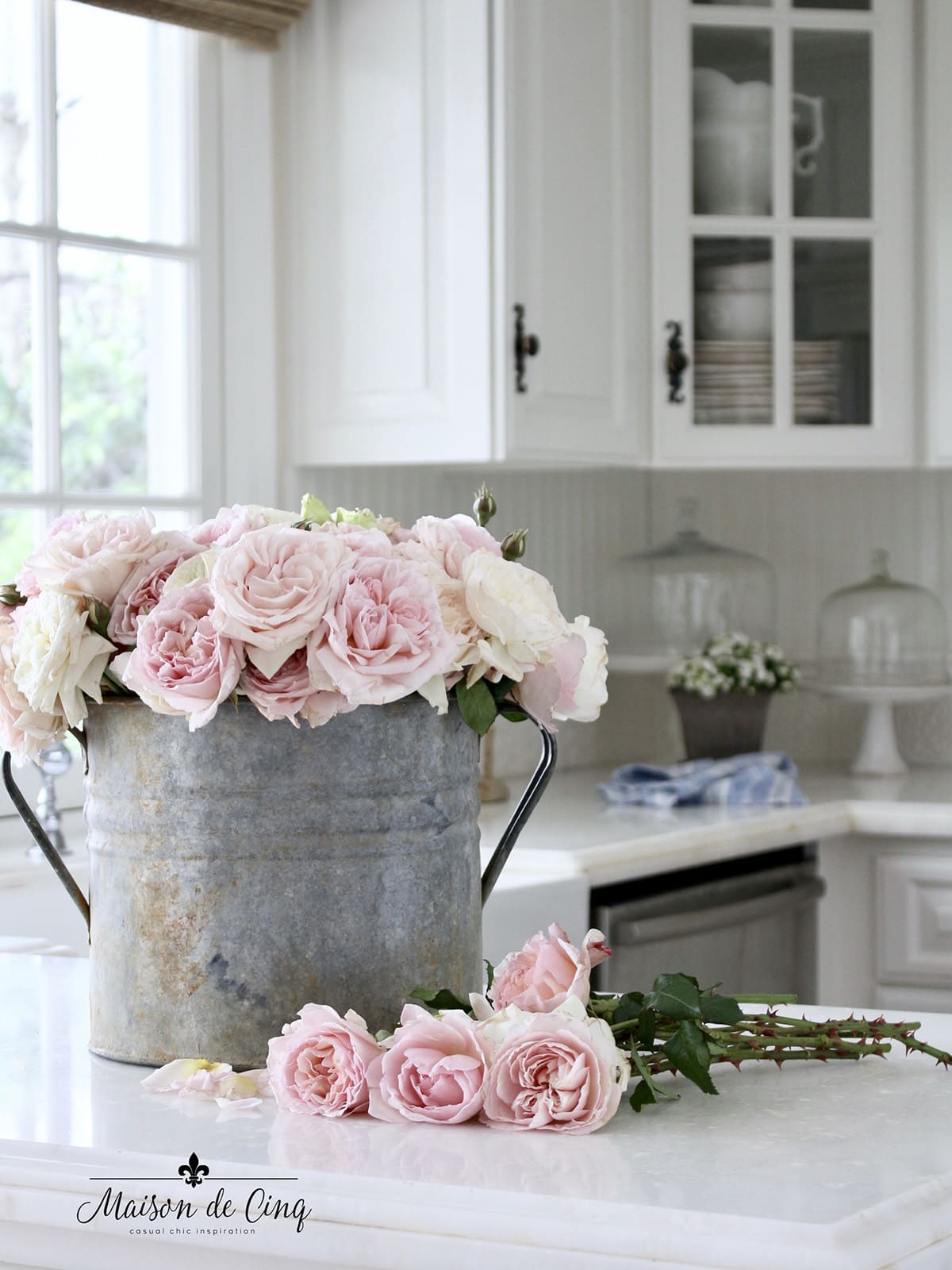 I hope you all had a wonderful Easter (or Passover!) Ours was sooo nice! Our weather finally cooperated and we were able to hike, go to lunch, lay by the pool, and just enjoy each other. The perfect family weekend.
And now this week is gloomy and rainy again! But as I said a few weeks ago, I'm going with spring on the inside – and in my closet, haha!
I'm excited to share lots of fun spring finds with you today! And if you don't mind, I'm going a little random this week. Sometimes there's a theme, but this week, I'm sharing lots of different things with no rhyme or reason – kind of how I shop in real life. 😉
THIS POST MAY INCLUDE AFFILIATE LINKS. CLICK HERE FOR MY FULL DISCLOSURE POLICY.
THINGS I LOVE IN DESIGN/DECOR
I stumbled on this gorgeous UK garden a few months back and couldn't wait until it was spring so I could share it with you!
This French chair is gorgeous and at 50% off it's a steal! (everything else at Ballard's is currently 20% off)
A couple of great finds at TJ Maxx online; these lamps are stunning and such a great deal for a pair (thinking of getting for the guest room!), and both this large urn and this rustic vase make a big statement and look more expensive than they are.
Speaking of vases, this pretty floral vase is one of my faves, and makes a beautiful gift for a wedding shower, graduation host, or Mother's Day. I've given it many times and never gotten anything but raves! Another great gift? This amazing fluted marble bowl (comes in several sizes and is much less than the designer versions!)
Are you as obsessed over your outdoor space as I am? I can't wait to start using it again and it needs some definite freshening up, not to mention major planting and cleaning! Love the shape of these concrete fluted planters (the grey is on sale), and I'm eyeing these artisan terracotta planter bowls (so good on an outdoor table and come in 2 sizes) – scroll down to see 'low bowl.'

THINGS I'M WEARING/LOVING/WANTING
I'm always looking for great linen pieces and this short-sleeved blouse is a perfect addition (and feels oh-so-relaxed and chic), I'm so smitten with these adorable wide-leg pants that are 25% off (especially the ivory!), if you're a shorts wearer, these favorites I loved last year are back and 55% off! (especially cute in black), and this faux leather jacket is perfection and comes in 4 springy colors! (above)
I love a white handbag in the spring and summer and they're surprisingly hard to find! This one is a great size and price (and check it out in the pink – so adorable!), and though it's not white this neutral bag is not only gorgeous but oh-so-versatile. And of course, a great straw bag is a summer essential and this one is my favorite!
Also have to share this adorable pearl necklace that I've fallen for! It's a great price (14k gold-filled) and would make a lovely gift for Mom, a spring birthday or a graduation.

THINGS I'M WATCHING/READING/LISTENING TO
New-to-me show alert – have you guys watched The Night Agent? It's got FBI agents, spies, and cover-ups. It's suspenseful and very binge-worthy!
THINGS I'M MAKING/EATING/DRINKING
Salmon is definitely a favorite, and since it's spring and I'm wanting to add more fish to our diet, I'm on the hunt for some new recipes. This Lemon Brown Butter Salmon with Potatoes and Asparagus looks easy and is a one-pan-sheet dish and this Salmon with Creamy Spinach and Artichokes looks so yummy! (above)
RANDOM THOUGHTS
This designer's backyard makeover is truly stunning.
How Morning Sun Exposure is Essential for Regulating Your Sleep
How to Create an English Garden No Matter Where You Live
Have you tried this Downey Wrinkle Releaser Spray? It is a game-changer!! Can't believe I only just heard of it!
Did you know that Anthropologie has a resale portion on their site??! I had no idea! There are literally hundreds of items but this springy dress really spoke to me – plus it's available in several sizes and at over 60% off it's such a good deal!
And if you missed it, this week I shared a completely updated version of our French Fashion Essentials for Spring/Summer!
Happy Friday!
Sheila
xo
P.S.
Have you signed up to be a Maison de Cinq subscriber yet? You'll get every post so you don't miss any and you'll receive my free 5-day email series How to Get French Farmhouse Style for Less for FREE! Sign up here and get Maison de Cinq straight to your inbox!
Oh and if you've missed any of the previous Friday Favorites, you can find them all here!