Welcome to Friday Favorites, a series where we share our favorite decor, design inspiration, fashion finds, TV shows, recipes and more!
It's been a super fast week between working and planning the travel on the horizon. For someone who hardly went anywhere for three years, I'm sure making up for it, haha!
Next week I'll be in Northern California visiting my daughter, and of course, the Europe trip is also on the horizon. So between booking hotels, restaurant dinners, and site-seeing days, along with as buying a few travel essentials I needed, it's been quite busy!
Also, I wanted to mention that if you've missed any of the previous Friday Favorites installments, you can always find any of them here. And for any of you on Instagram, I hope you'll follow me there! I also encourage you to follow me on LTK, the free shopping app. I share all my sources for my own home there, as well as everything I post on Instagram and lots of fun app-only content (including more fashion!) You can download the free app here.
And now for all the fun finds this week!
THIS POST MAY INCLUDE AFFILIATE LINKS. CLICK HERE FOR MY FULL DISCLOSURE POLICY.
THINGS I LOVE IN DESIGN/DECOR
A house by the water with pretty blues in every room? Yes, please!
I absolutely adore rattan (I know, I know – I keep saying – but it's so cute!) Love this large tray for decorating or entertaining all through spring and summer (2 color choices and it's 20% off right now), these candle hurricanes are so reasonable, and this seagrass party bucket is so perfect for summer!
I'm madly in love with this cushioned outdoor ottoman. The print is so pretty and it could be used in so many ways, plus it's over 50% off!
Two fun clearance sale items I randomly came across at Pottery Barn? This pretty scalloped demilune table (40% off) (works inside or out), and this charming two-tiered plant etagere (also 40% off).
If you're looking for outdoor pillows, you can't beat the cuteness and price of this pretty blue one. It would look great mixed with this favorite of mine in blue (I have it in the neutral).
And the steal of the week has to be this 4-piece outdoor wicker seating set – it's gorgeous, gets fab reviews and is over 50% off!
A summer essential we absolutely can't live without? This outdoor table in a bag. It's portable, easy to set up, and comes with it's own bag. We've had ours for 20 years (yes!) and it looks the same as the day I bought it. We use it at the beach and for concerts in the park and not a time goes by that I don't get stopped by someone asking where I got it – and it's on sale right now for 20% off!
Last week's best sellers: this fab teak outdoor table and this pretty outdoor rug.

THINGS I'M WEARING/LOVING/WANTING
Some warm weather faves: This jute tote is my absolute favorite for the beach because it's lined and it lasts forever (I have several and some are almost a decade old!) It also makes a great tote for travel as well as a wonderful gift (it's perfect for a birthday, Teacher's gift, or Mother's Day) – plus it's 20% off right now. They also have this one they call the French Riviera tote that's super cute and also on sale.
Also key for me is having a good hat that is packable. For years I spent a lot on a certain Nordstrom brand, but I'm now finding J.Crew's are just as good! I just bought this one (50% off!) that's always gotten rave reviews and I love it, and this one is beyond cute with it's pearl detail and it's 45% off!
This block heel sandal is so chic (feels very Parisian!), isn't too high, comes in 4 colors (I especially love the gold for summer), and is 45% off! And for a slightly higher/dressier heel perfect for summer weddings/events, this gorgeous sandal comes in 7 colors and is on sale.
I've been eyeing this sweet floral lace top and now it's 20% off, this paisley print sun dress (above) is so pretty and 20% off now, too, and this adorable eyelet dress is one of my favorites of this summer so far (and it's now 33% off)!
Also have to share! I was in Anthropologie the other day and sprayed this scent and fell in love! It's called Beach Trip and is evocative of sand, and sea, and all things summer (it's inexpensive too). There are several other scents that people rave about so I'm going to try those next!
Last week's best sellers: these cute wide leg pants and these great espadrilles.

THINGS I'M WATCHING/READING/LISTENING TO
We just finished a new show called The Diplomat and loved it! It stars Keri Russell as an ambassador to the U.K. (who I also loved in the show The Americans). You get political intrigue, lots of drama, plus Brits and the English countryside! 😉
THINGS I'M MAKING/EATING/DRINKING
Our meals are a little all over due to our crazy weather. Last weekend we were grilling in the sunshine and enjoying this Grilled Chicken Breast Stuffed with Goat Cheese with a Smoked-Chile Sauce (so good and a family fave!), but then the weather got cold and last night I made soup!
I tried this Creamy Tortellini Soup recipe from another blogger and it was a hit. Easy and delicious and perfect for a busy weeknight. It will be on repeat next fall and winter for sure.
RANDOM THOUGHTS
If you love flowers, you will love this inspiring Instagram account! My friend Sandra has lived in France and owns a flower shop New England, and shares beautiful florals and photos of Paris. And she has a book now! The book is gorgeous and makes a perfect gift for the Francophile, plus it's stunning on a coffee table. Highly recommend!
23 Books that Everyone with Wanderlust Should Read
How to Make Your Days Off Feel Like a True Break
35 Tiny Things to Do for Yourself Today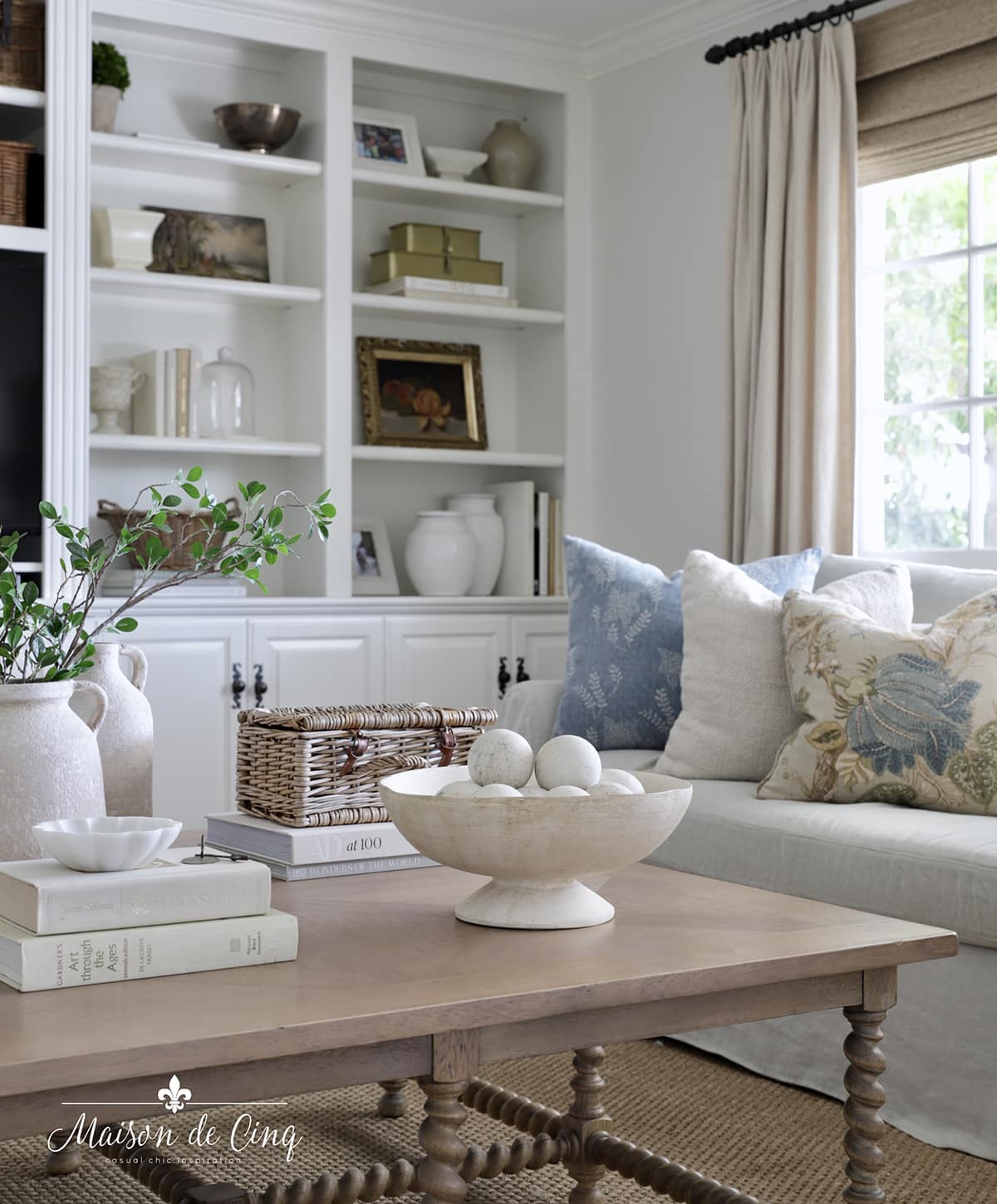 And if you missed it, I shared a Simple Spring/Summer Refresh in the kitchen and family rooms earlier this week – and used mostly things I already had! See the post here.
Happy Friday!
Sheila
xo
P.S.
Have you signed up to be a Maison de Cinq subscriber yet? You'll get every post so you don't miss any and you'll receive my free 5-day email series How to Get French Farmhouse Style for Less for FREE! Sign up here and get Maison de Cinq straight to your inbox!
Oh and if you've missed any of the previous Friday Favorites, you can find them all here!