Friday Favorites – Weekly Inspiration
Welcome to Friday Favorites, a series where we share our favorite decor, design inspiration, fashion finds, TV shows, recipes and more!
How was your week? Mine was pretty busy catching up from last weekend's trip to San Francisco, as well as preparing for our big trip to Europe next week! With it only being a week away I'm feeling a little crazed – do you feel that way when you're about to travel? I've been arranging house/pet sitting, picking up all the things I need, plus working a little extra so you all have content while I'm gone! 🙂
I know it will be great but it always feels like there's lots to do beforehand!
On that note, I'm sharing some of my favorite travel essentials, as well as summer fashion and decor, too!
THIS POST MAY INCLUDE AFFILIATE LINKS. CLICK HERE FOR MY FULL DISCLOSURE POLICY.
THINGS I LOVE IN DESIGN/DECOR
Since I have the serious travel bug these days, I thought I'd share this magical lake home in rural Norway. It's very remote and of course, the area is stunning. I don't think I could spend multiple months there, but a few weeks of absolute decompression sounds very tempting! See the rest of the home here.
Are you hosting any gatherings for Memorial Day next weekend? If you're looking for some new, cute things these floral napkins are adorable and could work all summer as could these placemats, this serving tray is so gorgeous, I love these pretty lanterns (on sale), and I'm totally crushing on this adorable striped runner!
One recent purchase I'm loving? These petal shaped marble trays. They come in 3 sizes and are utterly charming. I use the large one in the master bathroom to corral fragrances and lotions, but they look good anywhere you put them!
Since luggage is kind of a household staple, I'm including it here! We recently bought new luggage and after tons of research ended up going with Away. It isn't the cheapest out there, but they have a 100-day trial, plus a lifetime warranty which really appealed to me. It's also very well thought out, with laundry bags and an interior compression system. And the wheels are amazing!! We went with the Bigger Carry-On Flex and the Medium Flex.
More travel favorites: I usually travel with my Madewell tote but I ended up getting a different one for this trip. I wanted something that was lighter (not leather) and ended up with this nylon tote which came highly recommended.
Some other essentials: this travel jewelry case, these clear bags are cheap and come in several sizes (the larger one is great for hair tools, medium for chargers, etc, and the smaller for cosmetics in your handbag/tote), and these packing cubes have changed the way I travel! I resisted them for quite awhile but now that I've used them, I can never go back. And they are great for over-packers like me. 😉

THINGS I'M WEARING/LOVING/WANTING
I've made a few recent purchases with our travel in mind. It's spring weather where we'll be in Europe, so white jeans (of course!), lots of linen, and a few dresses are what I'm packing. I do tend to dress much simpler when I'm traveling, with lots of denim and mostly black and white being the dominant color palette.
The things I struggle with? Narrowing down the amount of shoes I bring and also finding jackets that seem lightweight enough, yet still warm. Any ideas are appreciated!
My favorite everyday jeans are the AG Mari so I got a new pair of white jeans in the same style. I find them super flattering and love that they aren't too skinny or too straight, and have just the right amount of stretch. For a less expensive option J.Crew jeans are also great (30% off).
I recently found this basic black slip dress (it's under $50!) They are so easy to wear, and can be dressed up or down. Also bringing this linen slip dress (above & 30% off) and this adorable linen slip skirt. And I'm loving this summery linen top I found on the Theory outlet site for 50% off – something I never knew there was! I bought it in the brown but also love the black and the white. And I always bring several of my favorite tees in both white and black. They are the best I've found for the price.
As for shoes I'm trying to narrow it down to just four! I always bring my favorite sneakers, especially good for when there will be lots of walking and sightseeing. I think I'm also including a flat sandal like these slides (a steal and come in 4 colors), and one heel for evening (these are so popular because they work with pants or dresses, come in lots of colors, plus they're now 40% off!) And this is the only smaller/evening type bag I'm bringing. It's a recent find and I love how versatile it is (I bought the 'gold' which is actually very subtle and pretty).
And this cashmere wrap I bought last fall is coming with me and I'm ridiculously excited to use it (I'm always cold on a plane!)
I also just bought this new-to-me eye contour mask that came highly recommended from another blogger. I tend to have bags and under-eye circles, and on long haul flights I know it will be worse. It was a splurge but people rave so I have high hopes!

THINGS I'M WATCHING/READING/LISTENING TO
It's the beginning of the summer movie season and thank goodness, there are already some notables I'm excited to see/or have seen! We just saw the movie Air starring Ben Affleck and Matt Damon and it was so good. The acting, the script – all top notch.
I'm also dying to see You Hurt My Feelings, a marital drama starring Julia Louis Dreyfus (above), and About my Father with Robert DeNiro also looks promising (both out soon).
THINGS I'M MAKING/EATING/DRINKING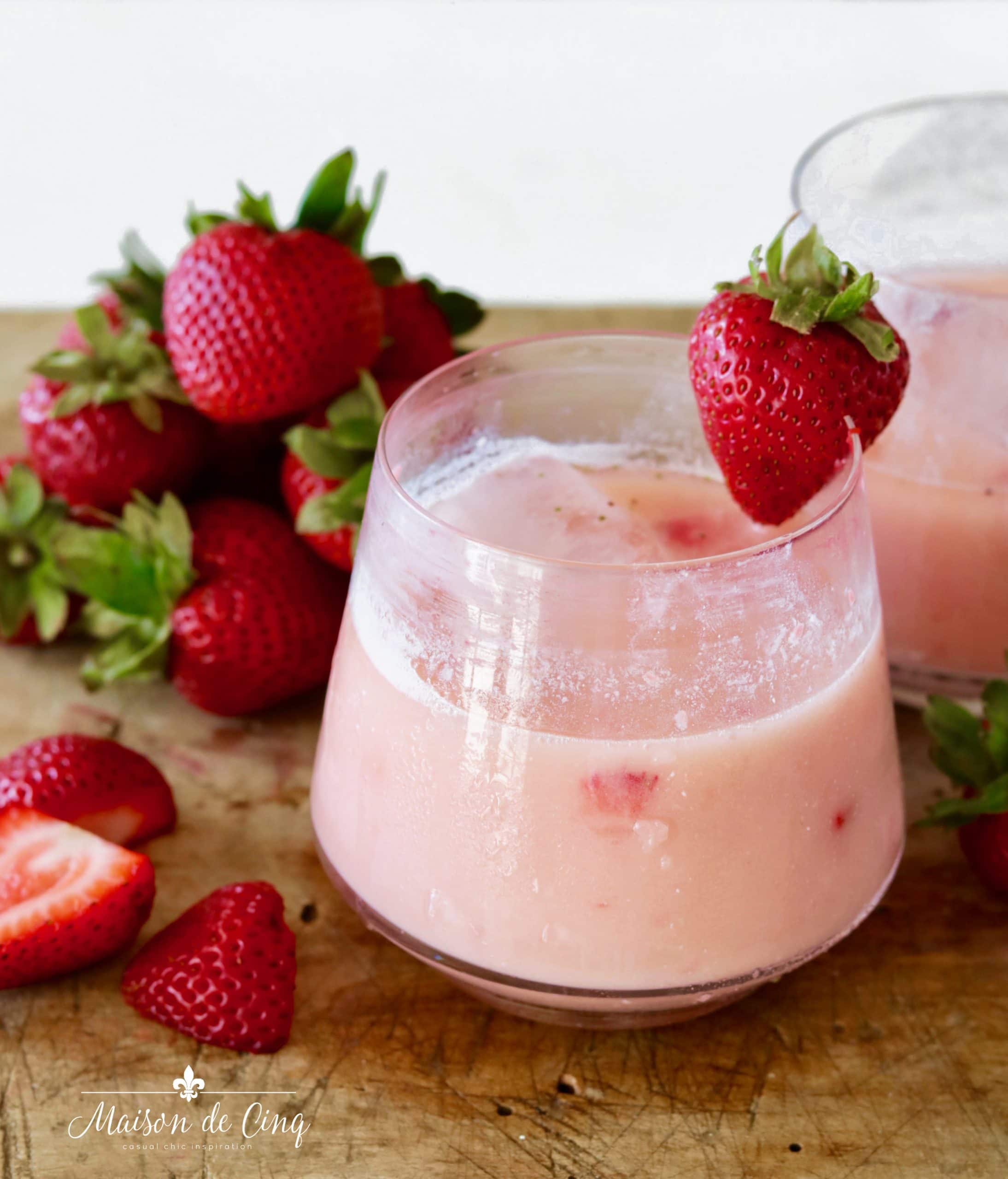 As soon as it starts warming up, I'm all about a yummy summer cocktail! If you're looking for a new one, this Creamy Strawberry Gin Cocktail (above) I made last year is still one of my favorites. (and it would be perfect for Memorial Day!)
And since I'm a strawberry lover, here are a few other yummy sounding strawberry recipes: this Strawberry & Graham Cracker Crumble Ice Cream looks amazing, we love this Green Salad with Strawberry Balsamic Vinaigrette and is there anything more delicious than a Classic Strawberry Shortcake?!
RANDOM THOUGHTS
This Instagram account has stunning architecture to swoon over.
99 Travel Hacks to Make Your Next Trip Easier
The Secret to Avoiding Jet Lag According to a Former Astronaut (I'm gonna need this!)
How Gut & Brain Health are Closely Linked – and How to Boost Them Both
And if you missed it, I shared one of my favorite desserts this week! This Lemoniest Lemon Poundcake is seriously good!
Happy Friday!
Sheila
xo
P.S.
Have you signed up to be a Maison de Cinq subscriber yet? You'll get every post so you don't miss any and you'll receive my free 5-day email series How to Get French Farmhouse Style for Less for FREE! Sign up here and get Maison de Cinq straight to your inbox!
Oh and if you've missed any of the previous Friday Favorites, you can find them all here!