Flower Favorites – The Beauty of Peonies
It seems like peonies are literally everyone's favorite flower! And I'm not surprised. Because really, is there a prettier bloom out there?! Something about their fluffy beauty just makes my heart skip a beat! And I'm sure the fact that they are here for only a couple of weeks makes them that much sweeter. I wait for 50 weeks for them to appear and then buy them like crazy for two!
And peonies look amazing anywhere you put them! Whether it's a glass vase, an urn, a pitcher, or even an old bucket, their beauty is unmatched. And they smell delicious, too!
These were part of my summer tour last year.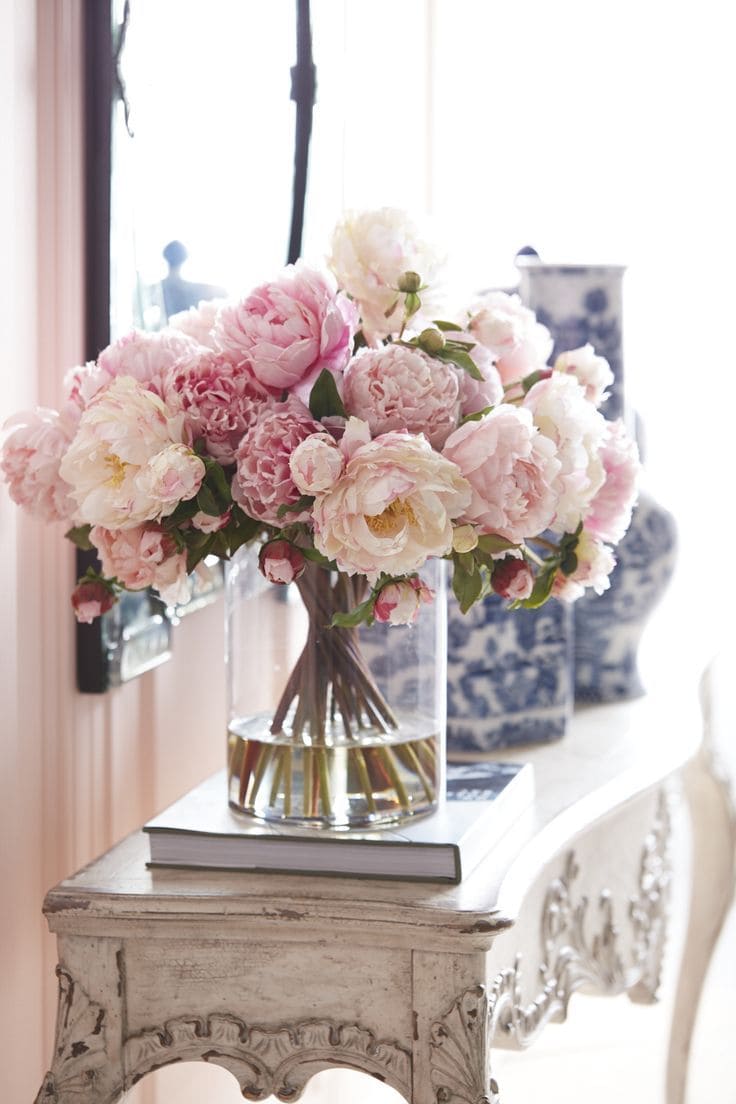 They look especially good in glass vases. So classic! Via Ethan Allen.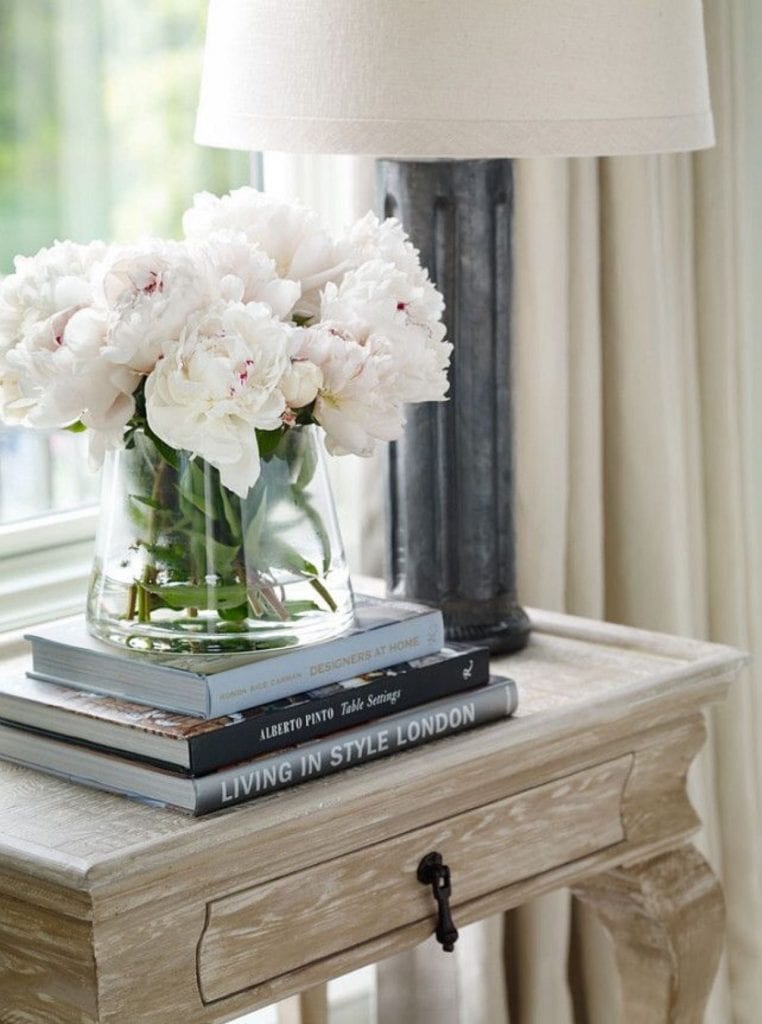 Pink seems to be the most popular color by far, but I also love the white, but I find them harder to find! Via Beth Webb Interiors.
Stunning! Via Style Me Pretty.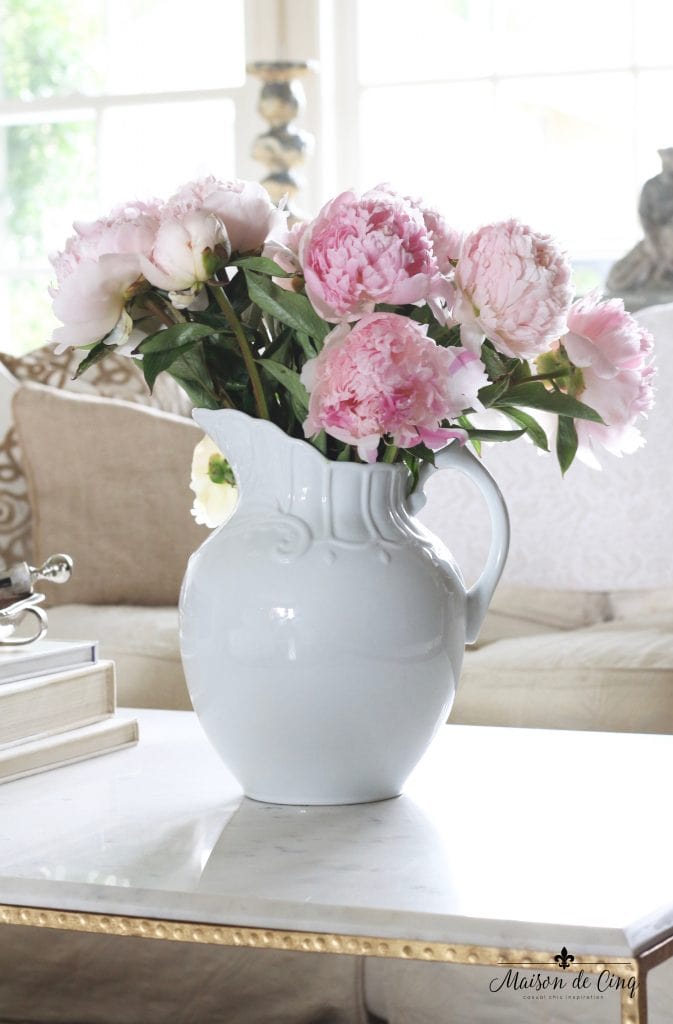 Since I have so much white ironstone, any flower that appears in my house usually ends up in it eventually!
How to Make Them Last Longer
To get the most time out of your peonies, buy them in the bud stage. You can buy them when they are already blooming, but they won't last nearly as long. Then, as soon as you get them home, clip them about 1/2″ to 1″ and plop them into whatever vessel you're using with warm water and some flower food. Also, I usually clip them again in between and freshen the water every 2-3 days.
Usually when you bring them home and their buds are closed, they will open right up as soon as you clip them and start blooming the same day. Then they explode! They get bigger and bigger and look more gorgeous each day. Another tip?! If you bring them home closed and want them to open faster, put them in warmer water and in a warm room. Likewise, to make them last longer you can put them in a cooler, darker spot like a garage to slow their opening. If you have the room, you can even put the whole vase in the refrigerator at night to really slow it down. This is especially helpful if you've bought them ahead for an occasion like a shower or dinner party, and you don't want them to bloom too quickly.
But I love them in every stage! The closed bud, the first opening flower, and the fully blooming beauties they become. If you clip often and change the water, they should last a good week or more in the vase.
Photo by Debra Stachelski.
A little vignette on the kitchen counter last summer.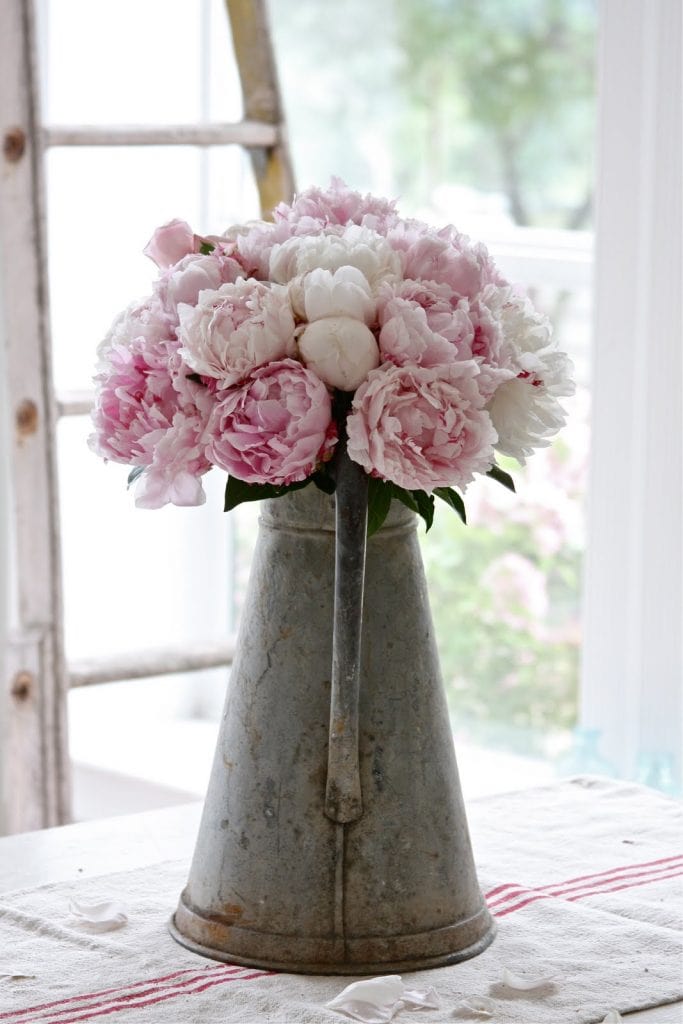 I just adore them in this vintage French zinc pitcher. Via Dreamy Whites.
Here I put them in my antique dough bowl. I actually nestled some water and florist's foam in a small bowl inside so that they would last in here, and it worked!
Personally, I love them in any vessel, but they look especially good in glass vases or something vintage. There's nothing like a crusty old bucket or something funky to contrast with their charm. So if you're inspired to run to the store (today!) and pick some up, here are some ideas for something to put them in. Also, don't forget to check out my post all about flowers!! With ideas on styling – and budget! – check out my post How to Decorate with Flowers: 7 Easy & Stylish Tips!
Shop the Post!


*please note some affiliate links have been added for your convenience*
Happy Friday!
Sheila
xo