The Timeless Charm of a Butler's Pantry
How charming is a butler's pantry? This extra storage room is something that isn't commonly added to new homes these days, but it should be! Take a look at how pretty (and practical) this space can be!
I don't live in a very large house, and I definitely don't have a large kitchen, so one of the things I'm most drawn to is larger kitchens that have a ton of storage space.
And in my opinion, one of the most charming ways to have extra storage in a kitchen is with a butler's pantry!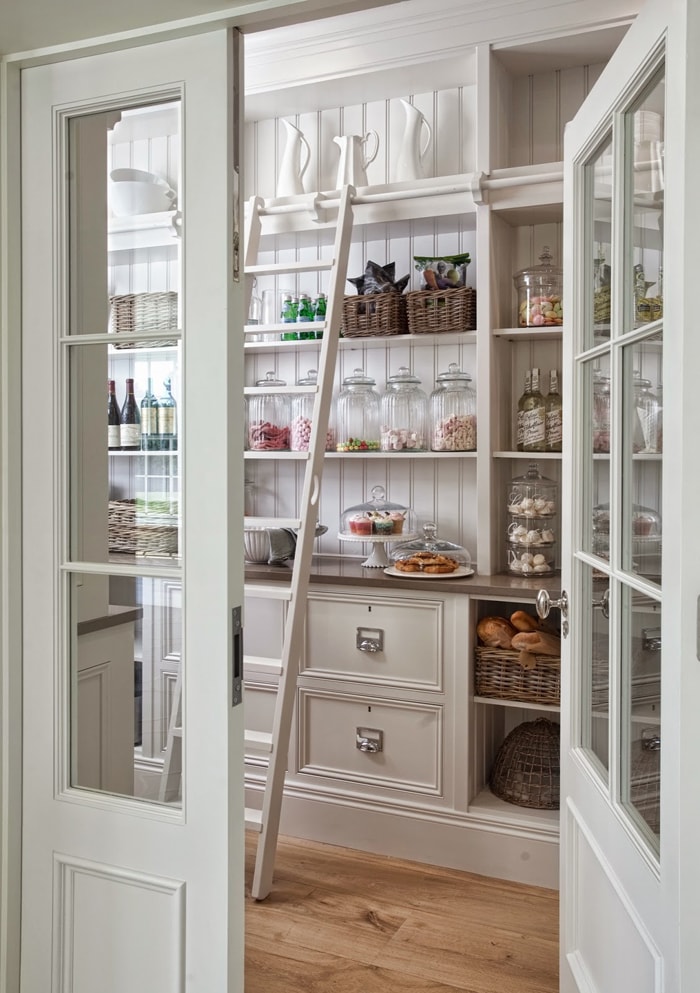 Seriously?! I'm in love! Design by Hayburn & Co.
What is a Butler's Pantry?
Historically, the butler's pantry was a small room between the kitchen and dining room. The purpose of a butler's pantry was primarily for the storing of the family china, as well as a staging area for serving meals.
Like many things used in the past and then discarded, butler's pantries are no longer commonly included in today's homes. But sometimes (and I would argue that this is one of those times), the things from the past are actually better than those found now!
For instance, the first house we owned had an ironing board built into the wall in our laundry room – best idea ever! Every time I have to drag out my ironing board I remember how wonderful it was to just open a door and pull it down!
From blogger Rach Parcell. How gorgeous is this??!
I love when they have beautiful doors or arches leading to them! Via Kate Marker Interiors.
You can see a peek of a pretty butler's pantry through the arched door. Gorgeous! Via Better Homes and Gardens.
So, though many people are no longer eating formal meals in a dining room, I personally still love the idea of adding some type of butler's pantry. Not only is it pretty, but it's actually incredibly practical!
Why Add a Butler's Pantry?
For one thing, it provides much needed extra storage. Many people have extra sets of dishes, serving pieces that they may not use but would love to display, and many more collect silver or china. What better way to display them than in a space as pretty as a butler's pantry?!
The cabinet doors here are amazing! Designed by Elevation Homes.
And as I said earlier, it works as a wonderful staging area for meals. You can leave extra serving dishes that don't fit on a table in there, allowing them to be easily accessed for second helpings without guests going back into the kitchen. Or you could have the coffee and dessert portion of the meal served from there. It also provides a place to keep extra water, wine or other beverages during meals.
They Add Beauty
This is stunning – those doors!! Via Coats Homes.
They Provide Storage
In addition to the added display storage, there are also added cupboards and drawers for hidden storage! And since we all own way more appliances than our ancestors did, a butler's pantry provides a great place to store those appliances you don't use every day or every week.
Think big bread maker, crock pot or slow cooker, waffle maker, extra coffee pots you use when entertaining, etc. All of these I'm forced to crowd into my already small pantry, but they could easily be stored out of sight in the closed cabinets of a butler's pantry!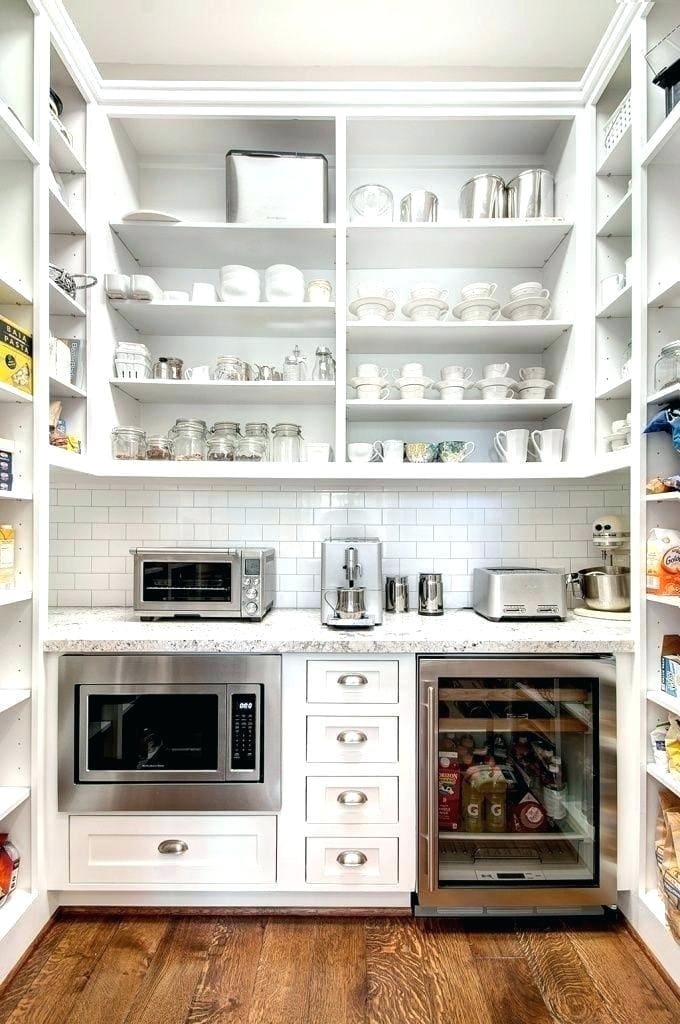 A classic! Via Zillow.
You Can Use Those Dream Finishes
And another benefit to having a butler's pantry is, unlike a kitchen, they are not used as intensely. And that means you can use gorgeous finishes like marble or unpolished brass without worry.
If you're designing one, use that marble or natural stone that you're too nervous to use in your kitchen!
Love this white kitchen so much! Carolyne Roehm. If you want to see more like this one, you can check out my post on white kitchens.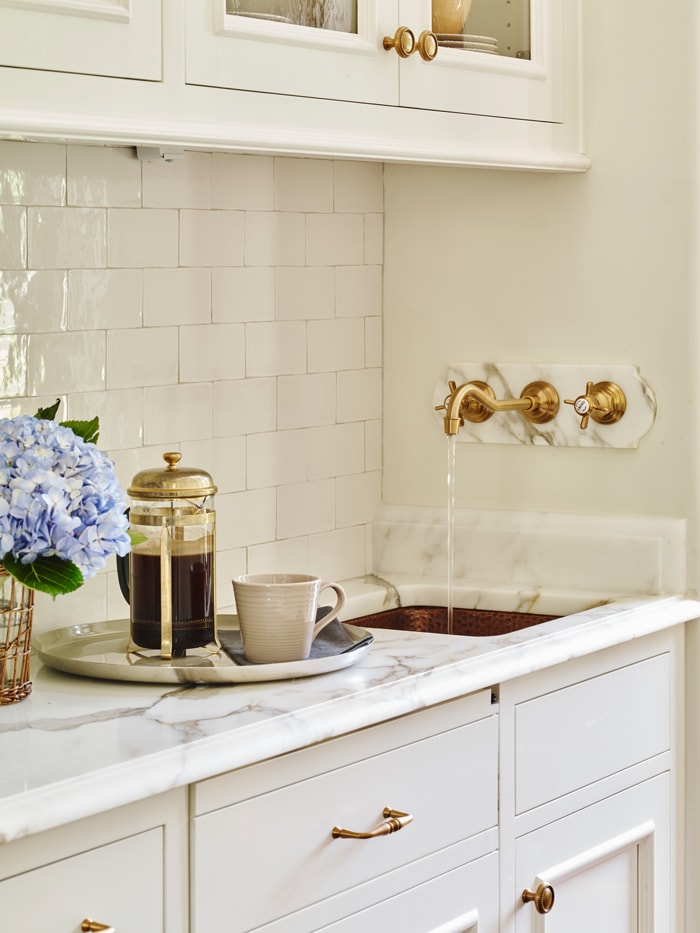 Loving the brass! Via Anna Braund Design.
Create One from a Small Unused Space
And if you don't have enough space for a full, walk-in type butler's pantry, you can often utilize a closet or small snippet of space to create a cute built-in that will stand in as a butler's pantry.
This one below is a gorgeous example of that!
This was formerly a closet! Via Designthusiasm.
Another favorite small butler's pantry is this one from Brooke Giannetti. Even a small one adds so much character to a space!
And one of my favorites is this amazing little nook by one of my favorite design groups, Old Sea Grove Homes.
No matter how you look at it, a butler's pantry is a win/win in any home. It adds character and charm, as well as practical solutions for storage or display. And how often can you say that about a room in your home?
I'm crossing my fingers that we get a butler's pantry in our next house, or that I can reconfigure the layout and add one! 😉
Happy Friday!
Sheila
xo
And if you love kitchens as much as I do, be sure to check out more inspiration in the posts below: