Fashion Fave – Easy Summer Sundresses
Is there anything easier than wearing a summer sundress?! Nothing compares to a one-piece outfit for simplicity and comfort. With a sundress you can slip it on, add a pair of cute sandals, maybe a bracelet or two, and you're done!
I'm particularly fond of white dresses for summer, in fact, I love them so much I've written about them twice! However, easy, flowy dresses in colorful hues or floral prints also scream summer.
Just like drifting on a raft in the pool, eating dinner outside, licking an ice cream cone, and going barefoot, the sundress is a summer staple. Every girl needs a few to get her through those unbearable days when anything else just feels like too much clothing!
LOVE the gingham! The quintessential summer sundress!
A summer staple, it doesn't get much better than this white dress!
I love the classic stripes on this tee shirt style sundress.
Gorgeous! I love the red, and I love that this can be dressed up or down. With flats, it's a great daytime dress, but put it with heels and a dressy bag and it can take you to dinner.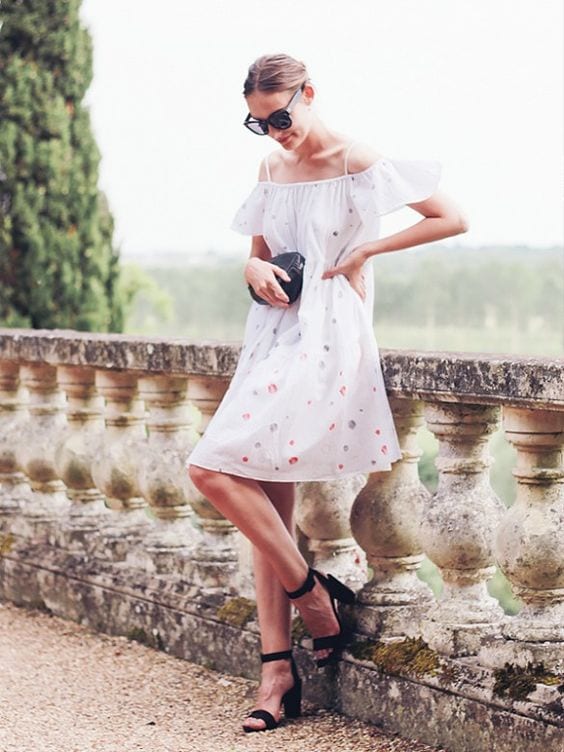 Such a summery hue!
LOVE this dress! I adore stripes, and I love that this plays with them in an interesting way.
Olivia Palermo in another cute day-to-night dress.
Denim and off-the-shoulder = summer sundress perfection!
I think this black dress is adorable! Love it paired with the flats, and again, you could change to heels and it can easily transition to evening.
Of course, this location isn't bad either!!
This works as a dress or a beach cover-up. If you didn't catch my post on white dresses last summer, you can read it here.
There are so many cute dresses out right now! I know I for one am going to be buying a few to replenish some old ones…
Shop the Post!
(*Please note some affiliate links have been added for your convenience*)


Happy Friday!
Sheila
xo