Decor Crush: Decorating with Letters
I love decorating with letters. They are so personal and unique. Not only do they add some personality to the room, they also add dimension and irreverence.
A room with some kind of metal or wood letter, whether it be old or new, seems to say "Relax… take a load off." It doesn't take itself too seriously.
I personally like vintage ones more than the new, but they are actually pretty difficult to find. However, there are a lot of reproduction letters out there that do a great job of giving the look of vintage, without all the hunting!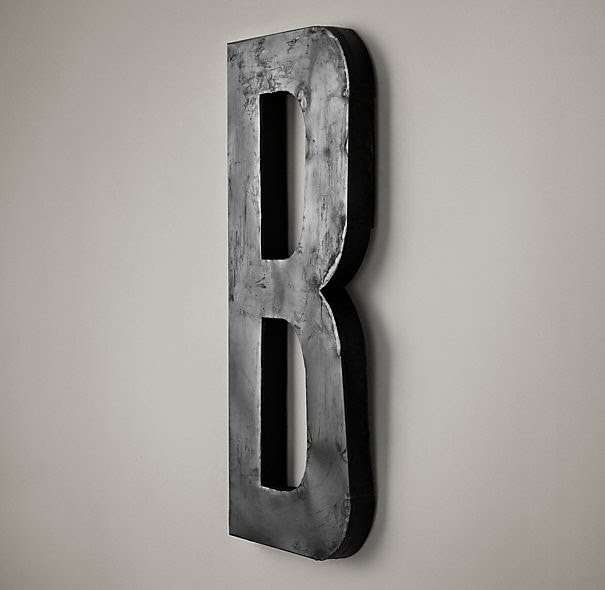 Restoration Hardware 1930's French shop metal letter
I've also seen some reproduction letters on both One Kings Lane and Etsy. Some Etsy stores will make any size, color or letter you want so you can do whole words as well as letters.
And of course, if you really want vintage, you can just keep hunting!!
My favorite way to use them is to add them to a bookshelf, with either the letter from a first name or family last name
Here decorating with letters was used to spell 'EAT' in this cute farmhouse kitchen.
Always so adorable in a kid's room
Here is someone who did it as a collection of the same letter (love this!)
This is actually an old photo that I first saw years ago with the husband and wife's initials over the bed – so cute!

I have been hunting for different "I"s for years now because I really wanted antique, but it turns out "I" is a hard letter to find. I may just have to break down and order one of the repros!
I love the idea of decorating with numbers too, and use them all over our house (the number 5 and the number 92 are two I use a lot)….. but that's a subject for another post!
Have a great weekend!
Sheila
xo