Touch of Brass – The Brass Hardware Trend is Still Going Strong
Trends in home design come and go, and sometimes come again! Brass seems to be one of those things. I remember when we first moved into our house and there were several brass light fixtures and they looked sooo "80's", and so, of course, they had to go! Door handles in the last decade looked better if they were chrome or oil-rubbed bronze, not dated brass. Oh, how things have changed!
The brass hardware trend is back, and bigger than ever! That's the thing about trends. I know some people complain about them, and I agree, sometimes it can feel like we are always playing catch up. But I have to say that often when they re-appear, they do feel fresh. Time has passed and when looked at through fresh eyes, it feels new again.
For the last couple of years, I have been seeing a ton of brass and/or gold in hardware and lighting and I'm loving it. It's a trend that's been around for awhile now, but it doesn't seem to be slowing down. If anything, I would say it's finally hitting it's stride! It often adds much needed warmth to a room, especially if the rest of the room is all neutrals or cool tones. So for this neutral-loving girl, the brass hardware trend is the perfect way to warm up a space!
Brass Hardware in Kitchens
Amazing kitchen via Romancing the Home. I love that they've mixed gold open shelving with a nickel faucet. Mixing your hardware finishes really breaks up the space and makes it less matchy-matchy.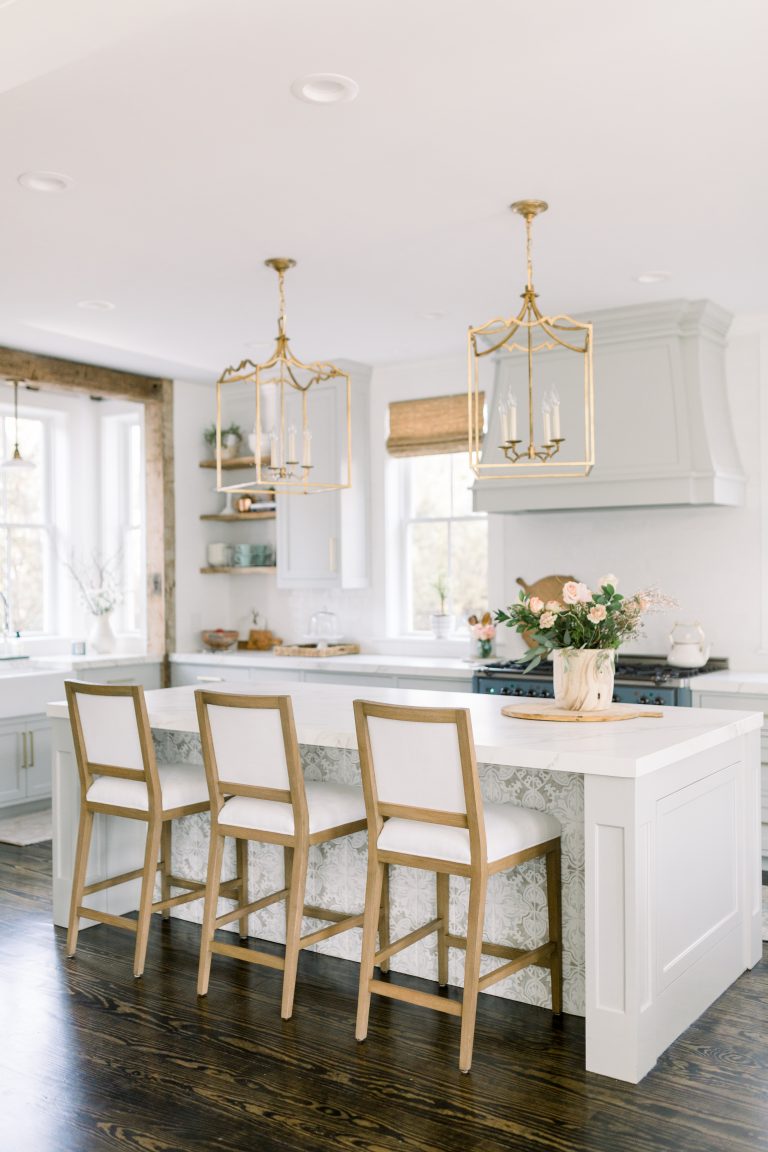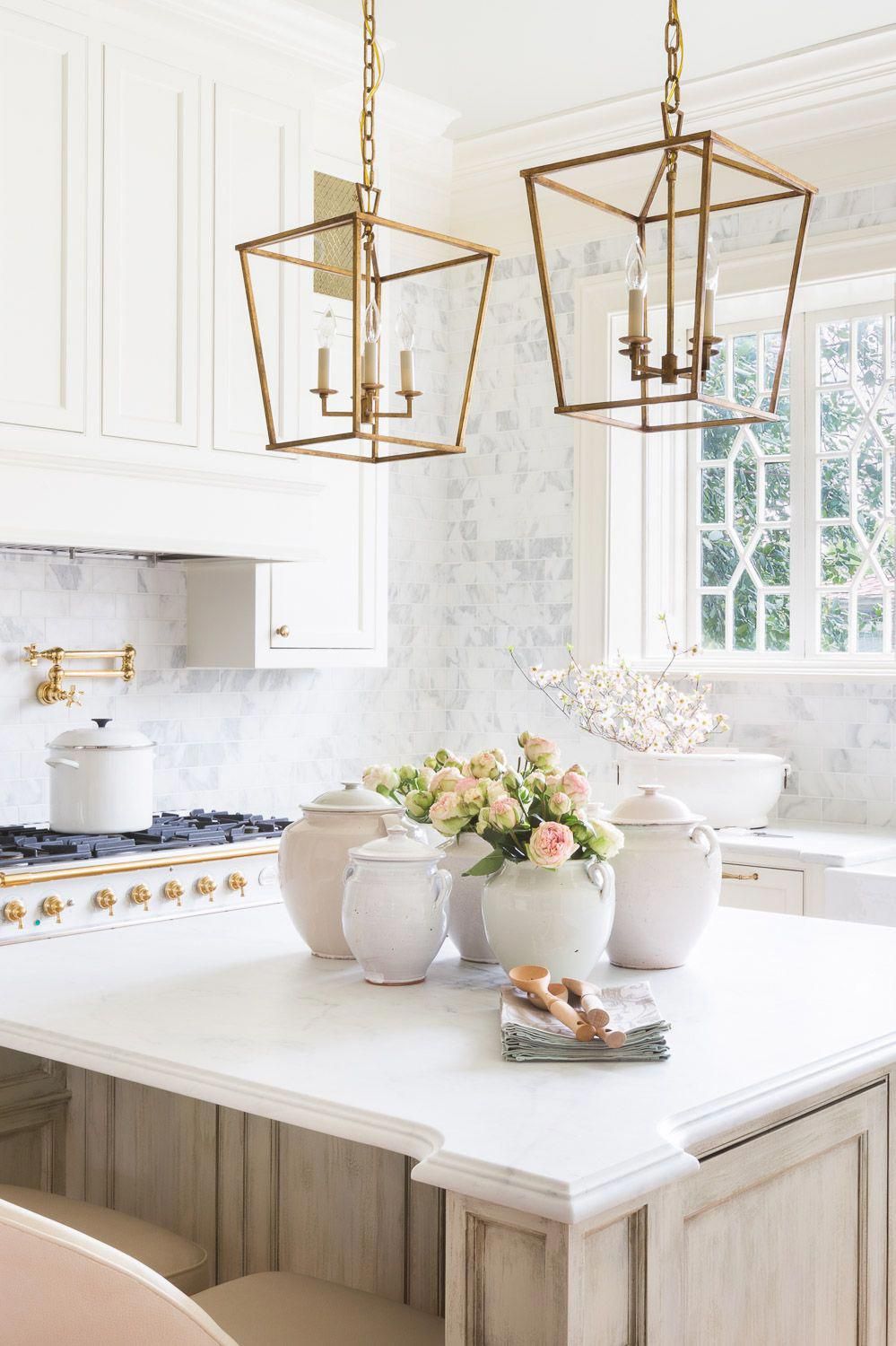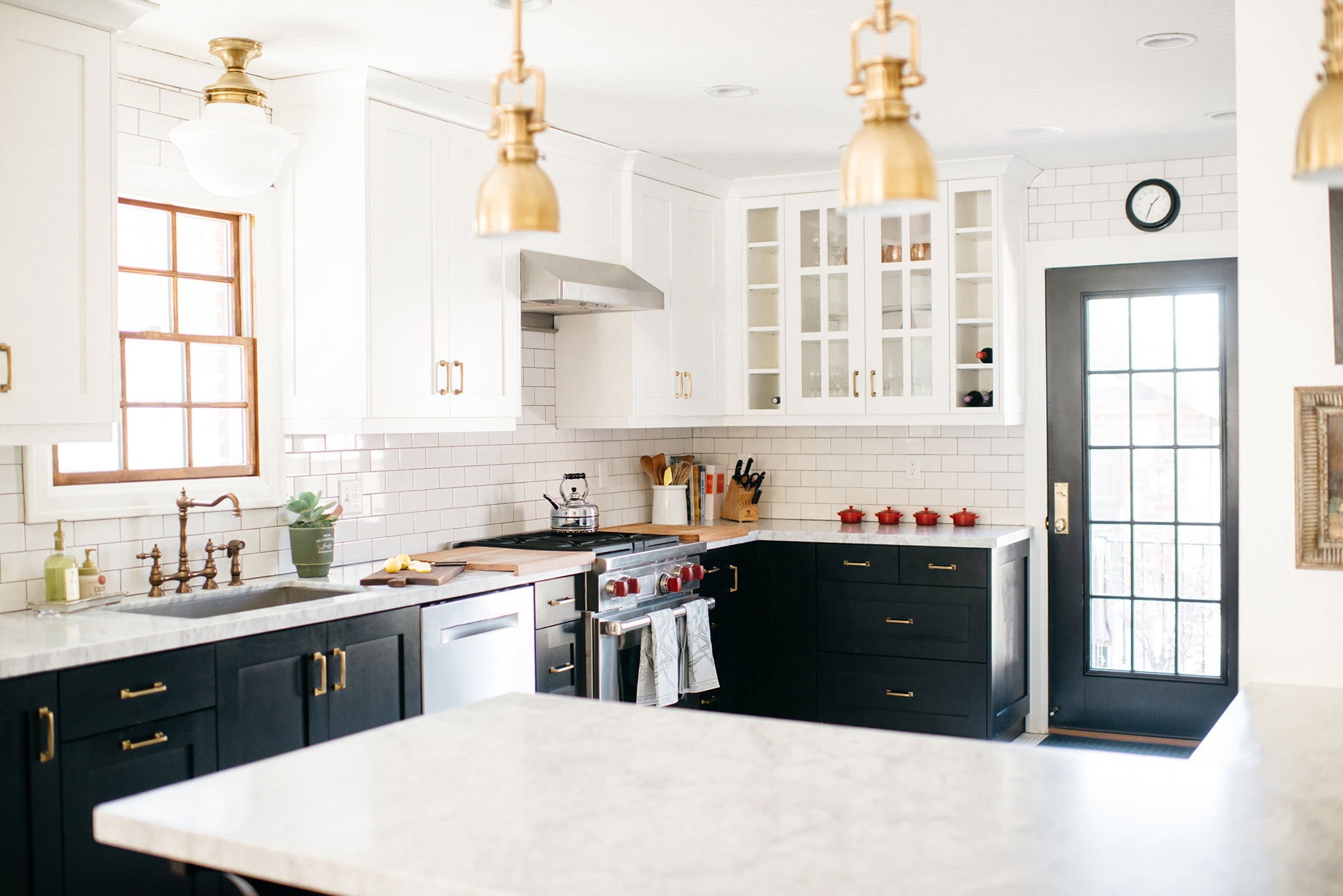 Brass fixtures, lights and hardware look classic in this black and white kitchen via
Lonny
magazine.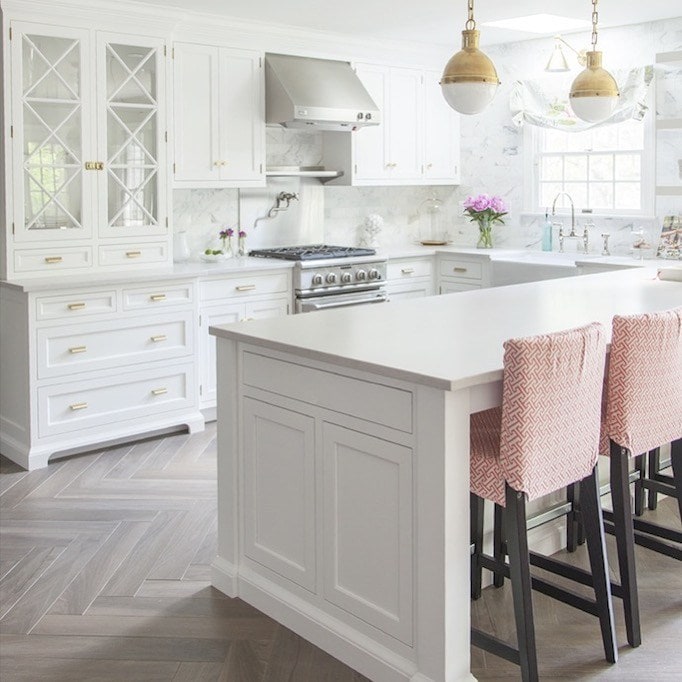 In this kitchen, there is lots of chrome and stainless- both in the range and hood and in the faucets. But mixing in the dramatic brass lighting fixtures really breaks up all the coolness of the space. I love what a difference they make! Design by Caitlin Wilson via Becki Owens.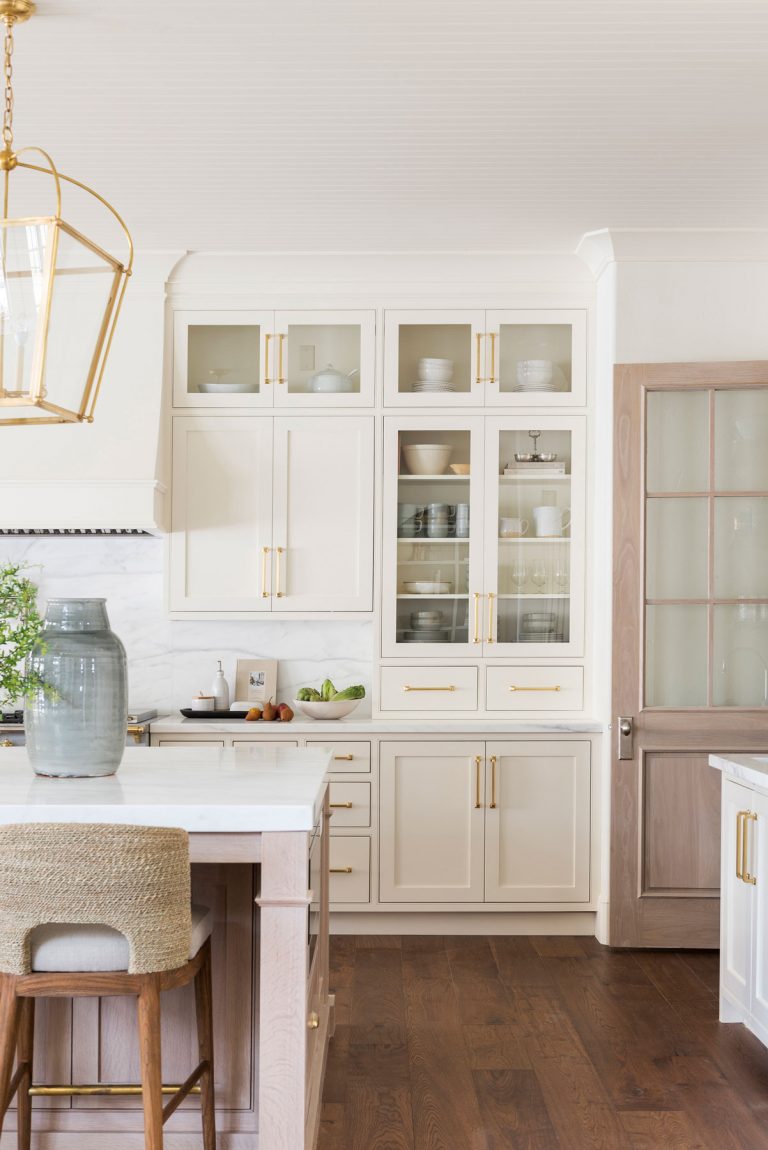 I love what a big statement these light fixtures are! Via Studio McGee.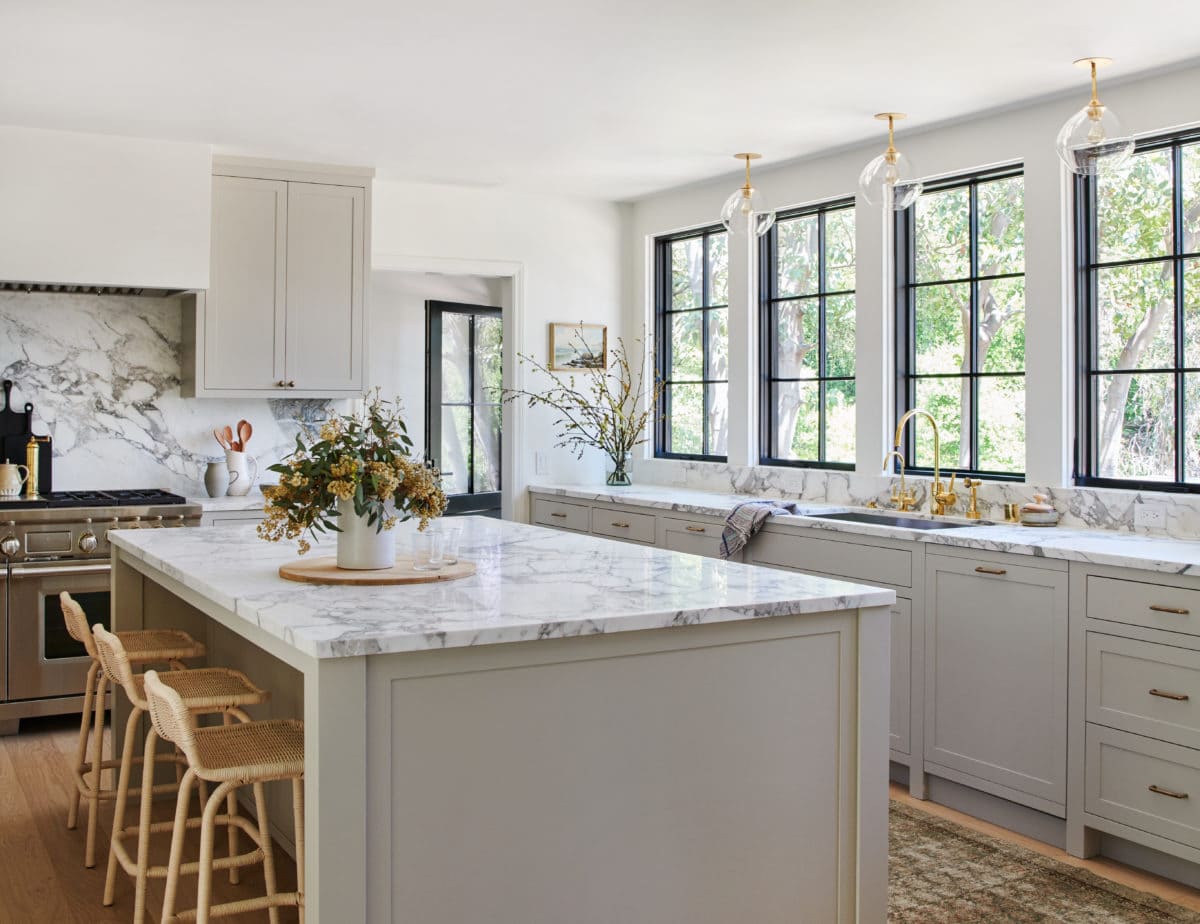 Gorgeous kitchen designed by Amber Lewis. Via
All Sorts Of
.
I love this classic white kitchen, warmed up with the vintage rug, brass fixtures, and those stunning brass lanterns! Design by Julie Blanner.
Another kitchen that mixes metals. They could have done brass hardware to coordinate with the La Cornue range, but instead, they went with the unexpected chrome handles. Design via Parkes and Lamb Interiors.
Design by Brooke Giannetti via
Velvet and Linen
.
Brass Hardware in Bathrooms
Archer and Buchanan Architecture via Houzz.
Personally, I love the way the unpolished brass ages. I did just order a brass faucet for the downstairs powder room and I had to sign a waiver saying I wouldn't complain about the patina later! Image via Perrin and Rowe.
Design via Parkes and Lamb Interiors.
Love this French farmhouse inspired bathroom. Design by Brooke Giannetti via Velvet and Linen.
Design by Meredith McBrearty via Traditional Home.
And here's a great example of mixing metals. Brass hardware and lighting, gold mirror, and chrome or nickel fixture – and it looks so good! Design by Leslie Jenkins via Jenkins Interiors.
I don't know about you, but I'm loving the brass hardware trend! I'm not going to change out all my kitchen handles, the expense is just too much right now, but I do love the idea of adding some brass in other areas. As I said above, I just changed out our powder room faucet and I love it so I may do that in the master, too.
Lighting and accessories are also a great place to start (and since I never got around to changing out my dated door handles to the oil-rubbed bronze, they are back in style again – yay for me!) I love when my procrastination pays off, haha! 😉
Sheila
xo