Decor Crush – Vintage Turkey Plates and Platters
Thanksgiving is one of my absolute favorite holidays, probably second only to Christmas. I love cooking (and eating 😉 ), and tablescaping, so it's custom made for me! But what I love most is that it's our only truly American holiday. And because it's not religious, nearly everyone celebrates it. It's unifying spirit, as well as the pause it gives us to say thank you for all we have… well, it has my heart.
I don't know when I fell in love with the idea of turkey patterns, specifically vintage turkey plates and platters, but probably somewhere around the time I got into collecting different plates for the holidays. I love how sweet and old-fashioned they are. And really, there isn't much "decor" to be found for Thanksgiving, and this gives me something to display that I love!
They're fun to collect, and utterly charming, which is why I find I buy a few more each year. But I figure that's good, right? Eventually when I have children who have spouses and maybe even grandchildren, I'll have enough so that we can all use them around a huge Thanksgiving dinner table 🙂
This year I displayed my Williams Sonoma turkey platter on the kitchen mantel. This platter is not vintage, but it does have a vintage feel and it was on sale, so I couldn't resist! I linked some similar ones below since this is now sold out.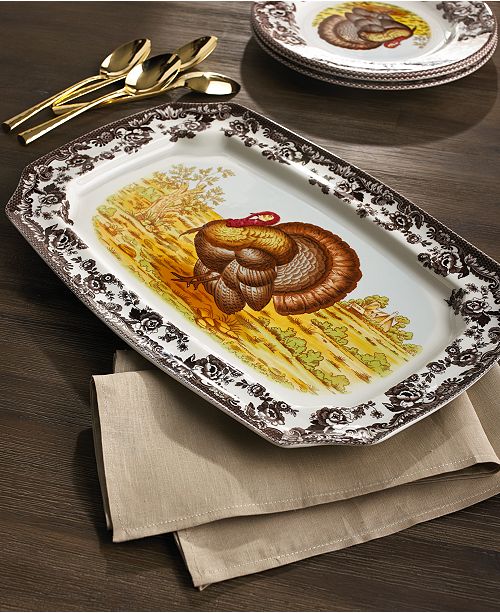 This is the Spode Woodland platter. This one is still made and can be found frequently at Horchow, Neiman Marcus, and One Kings Lane.
A
neutral fall tablescape
I did using my pheasant plates!
Here's a whole table set with the Spode – so pretty! Via
Horchow.
This was
last year's Thanksgiving tablescape
using my vintage turkey plates. I hope to do something again with them this year!
These are
pheasants,
but I'm counting them anyway! They would make a gorgeous fall table! Via
Horchow.
These are contemporary turkey plates from William Sonoma, but they definitely have a vintage feel.
Love
these!
I like to use them for fall decor, as well as for serving. They're so cute – why not pull them out and enjoy them for the season?!
I've found a couple of my newer turkey platters at
Williams Sonoma
and
Horchow
, but I've had the best luck getting vintage ones on
Ebay
or
Etsy
. And I've linked several here if you are looking!
Shop Vintage Turkey Plates

*some affiliate links have been included for your convenience*
Happy Friday!
Sheila
xo