How to Decorate with Vintage Baskets
I love decorating with baskets. There is something so wonderful about the texture they add to a room. Plus, how practical are they? Not only do they add great style, but they add function as well! And though I have many different baskets in my home, I have to say, that antique baskets are the ones that really speak to me!
First of all, they are usually adorable and often have details that you never find on a basket today. And they have a ton of character and age that you simply can't reproduce. I've settled for the new ones, and even decent reproductions here and there. But the antique ones are the ones that make my heart skip a beat! Especially anything with a buckle, strap, or lock detail…..
Baskets under a table are a classic look! Via Better Homes and Gardens.
Love these antique baskets used in a bathroom. Design by Brooke Giannetti via Veranda.
I absolutely adore this antique basket hung on the wall in place of art! Via
Leah Bailey.
If I found a basket like this, I think I would have a heart attack! Via Eloquence.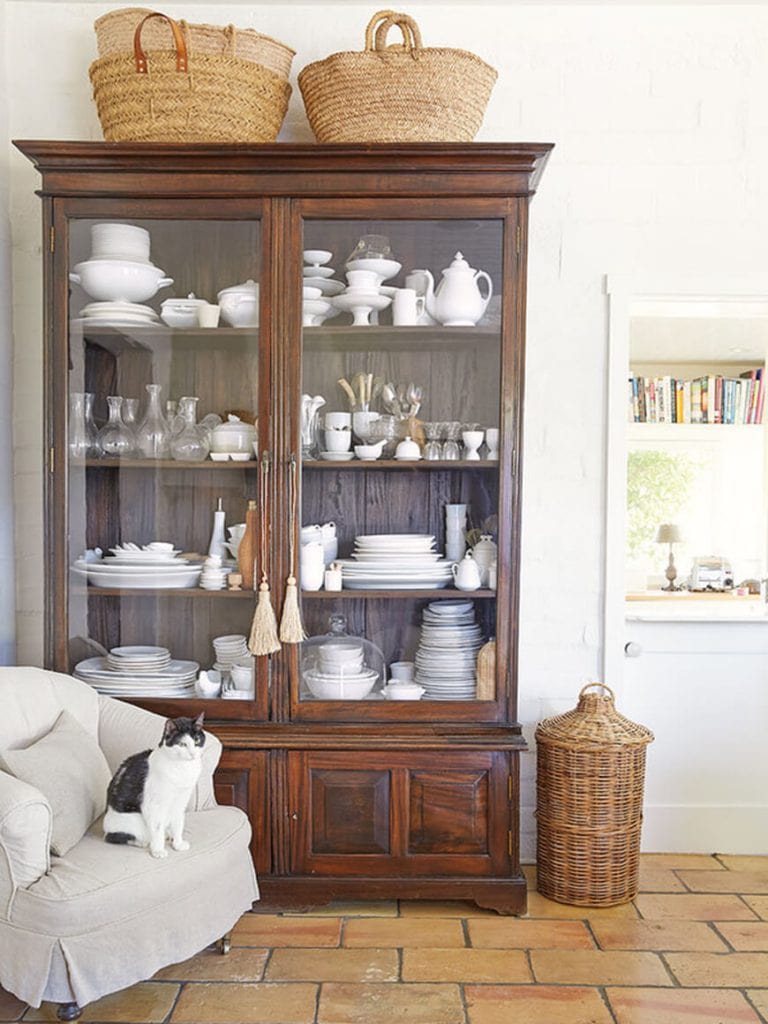 This armoire with the baskets on top is a definite favorite. Via Heather Bullard.
Via Veranda.
I absolutely love this large basket used as a planter! Via Vebeke Design.
Via Pottery Barn.
Shelf styling with antique baskets, pewter, ironstone, and mercury glass. Literally shelfie perfection! Via Skona Hem.
One of my all-time favorite kitchen images! This basket is fabulous! Via Debra Hall Lifestyle.
Via Nancy Braithwaite Interiors.
I have one antique trunk-style basket and I'm desperately looking for another for the bottom shelf of my console table. I did order a cute basket from Pottery Barn, and I will say, it's a pretty good one. However, it wasn't the right size for where I need it so I ended up returning it. And the truth is, I'd really rather find an antique one anyway!
Shop Antique Baskets