Holiday Wreaths: 7 Charming Ways to Decorate with Them!
Holiday wreaths are a great way to decorate for the season. They're charming and modern, and bring cheer to any space you hang them!
There are so many things to love about Christmas – from the music, to the lights, to the tree, but I must say, one of my biggest loves, is holiday wreaths. They are such a welcoming sight hanging on a door; there is nothing that sends quite the same message! I love that they are old-fashioned, yet modern at the same time.
There are lots of wreaths to love, but the simpler the better for me. If they are adorned with a simple ribbon or a few natural elements, that is beautiful.
And I love that they bring the holidays wherever you put them…
On a Front Door
The front door is probably the most classic location, and one of the prettiest!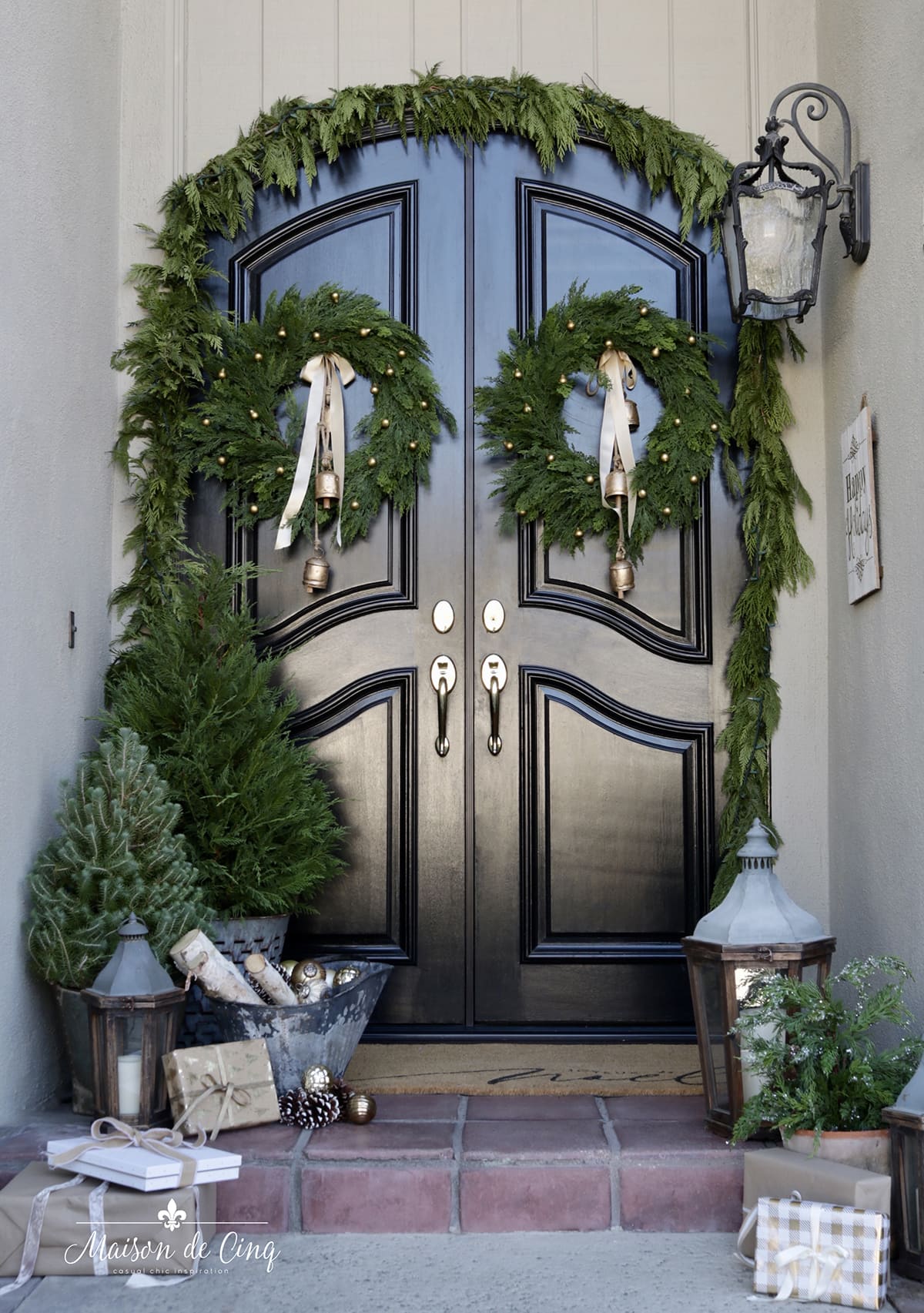 Our Simple but Elegant Front Porch from last year.
Picture perfect wreath decor via Monika Hibbs.
I've never seen a double wreath before! But I
love
the idea – it adds such drama! Via
House Beautiful
.
Over a Fireplace
Another classic spot – and probably my favorite!
Or get super creative and use a grouping of six wreaths! Via
One King's Lane
.
Hung on a Mirror
A mirror is one of the prettiest places to hang a wreath – creating even more greenery in the reflection.
Via
House Beautiful.
Even in the kitchen! Design Lisa Luby Ryan via
Veranda.
Hung on Cabinets
But you can also hang wreaths on more unexpected places! From furniture to lighting, they add charm anywhere you put them!
Sweet little wreaths look so charming hanging on kitchen cabinets. Via Handmade Farmhouse.
Hung on Furniture
Whether on a chair, a cabinet, or a bookshelf, wreaths look great added to furniture!

Hanging a small wreath on a sconce is also adorable! Via Rachel Parcell.
Hung on a Wall
If you don't have a fireplace, or simply as a replacement for art, a wreath can be hung directly on wall for maximum impact!
Via Rachel Parcell.
Three wreaths on the wall in the entryway create a warm welcome. Via My Texas House.
Hung on Windows
Classic – and especially charming!
Via Inspired by Charm.

How adorable is this?! Via Ella Claire & Co.
I especially love when wreaths are placed on each window facing the street so that when you drive by, they just say "Come on in and stay awhile!"
Really is there anything more inviting or delightful than the sight of this house at the end of a snowy road?! Via
The Cottage Journal.

Happy Holidays!

Sheila
xo
If you enjoyed this post, be sure to check out more holiday decorating ideas and inspiration below: