Romantic Holiday Entry Way in Shades of Blue
Today's post has some gorgeous French farmhouse Christmas decor! A wreath, touches of blue, and white roses create a stunning holiday entry way!
I'm back from a quick trip to Austin (and the Magnolia Market and the Silos – so fun!) and I'm officially ready for Christmas now! Between the cool weather there and the gorgeous holiday decor at the market (and the Christmas music!), it's really gotten me in the mood! And that's a good thing, since today I have a special Christmas post for you 😉
Today I'm sharing my holiday entry way, and it's a little different than anything I've done before. Just like my kitchen tour, I've added some touches of French blue and so far, I'm really enjoying the change. It's such a soft blue that it doesn't take away from my otherwise neutral Christmas decor, and it's so fun and different from my mostly blush colored palette of last year!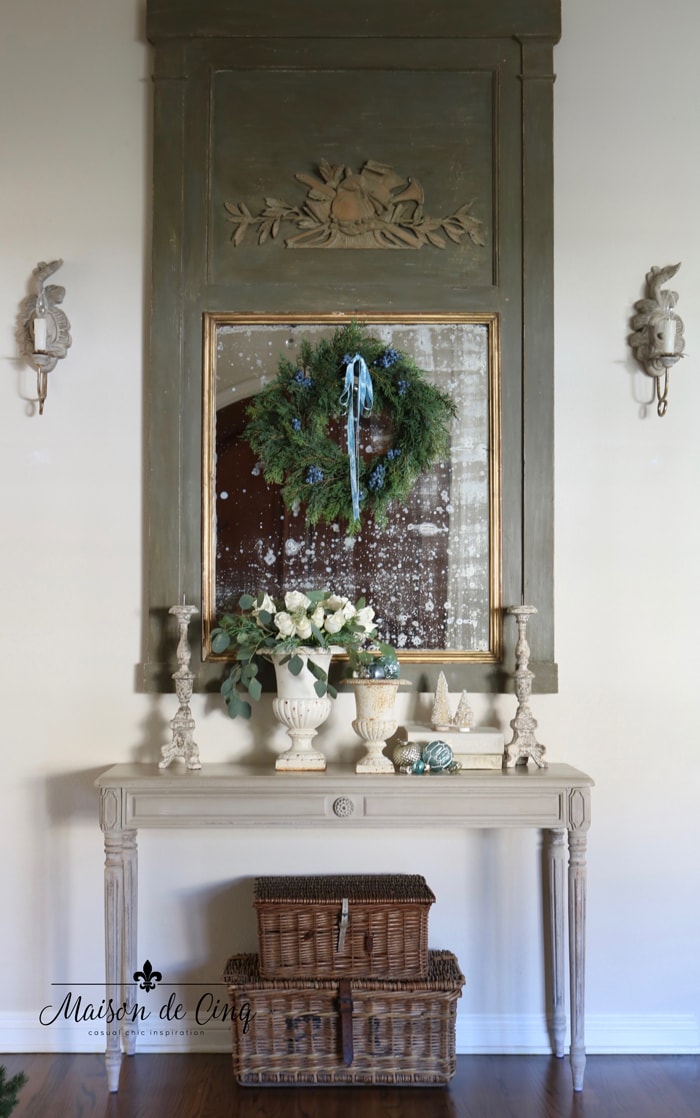 This year's holiday entry way is simple. I just added a few items to what's here on a regular basis – it didn't take much to make it feel festive!
I always add a wreath to this mirror, and I could not resist this new one! When you find a pretty juniper wreath that includes little blue berries the same year you decide to add blue to your Christmas decor?! Well, clearly it was meant to be! 😉
Sadly mine is sold out, but this one is nearly identical and all you need to do is switch out the red berries for some blue ones!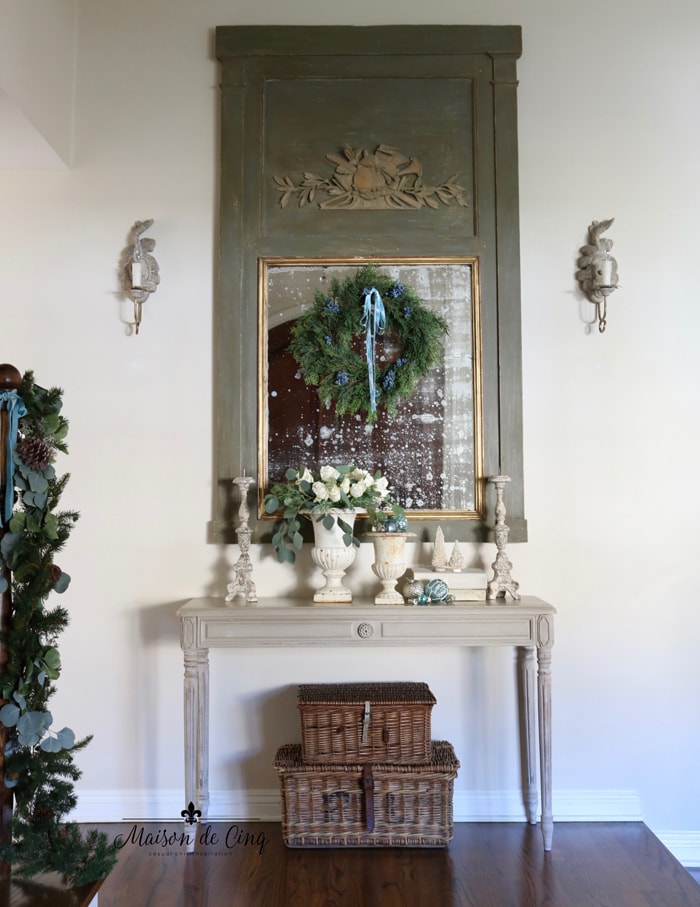 Garland on the stairwell has some blue ribbons to tie in with the blue in the other spaces. I'll be sharing more of the stairwell when I post the living room tour.
And more of the tree (and the blue touches there) then, too!
Some blue mercury glass ornaments in a French urn along with some simple bottle brush trees creates a pretty little vignette on the console table.

A small tinsel tree and some brass bells are on the little table on the opposite wall. Love these bells! They're so versatile and can be used in so many ways! Last year I used them outside, and I'm thinking of using some on the porch again this year. I have two sets of these from Amazon and I love them!

And white roses are always pretty and so, so easy – especially when I add them to a French urn that already sits here!
I love to have Christmas decor that works with my regular decor. This makes for a casual holiday entry way that doesn't take a lot of fuss, and I'm not completely redecorating just for the holidays.

I'll have a few more Christmas posts coming in the next few weeks, including more of the living room and some holiday table settings!
Sheila
xo
Shop the Post


*please note some affiliate links have been included for your convenience*
Be sure to visit the other talented ladies sharing with me, too – soo much good inspiration today!!
An Ironstone Christmas Tree
Christmas Living Room: Decorating with Metallics
Magical Christmas Home Tour
Christmas in the Great Room
If you enjoyed this post, you might want to check out some other Christmas posts below: