Combining natural elements like greenery and pinecones, with warm tones of copper and caramel creates simple holiday kitchen decor with a European feel.
Welcome friends! I'm excited to be sharing my final Christmas tour with you today! Today's post features my kitchen all dressed up for the holidays and I have to say, it's probably my favorite space to decorate!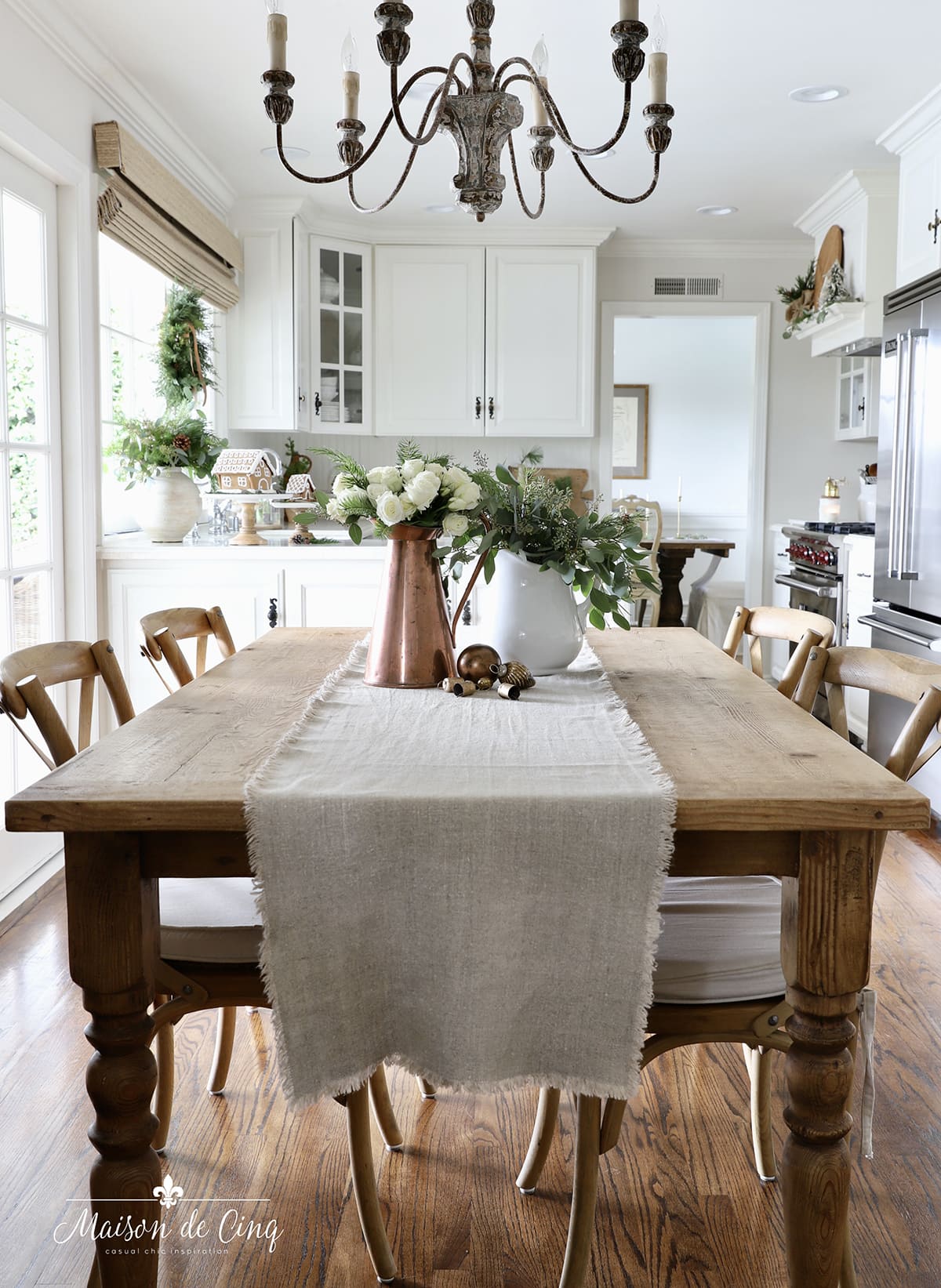 Another reason it's my favorite is that today's Christmas tour is part of the Holiday Housewalk hosted by Jennifer Rizzo! This is always a gorgeous tour, and I'm thrilled to be taking part again this year.
And if you happen to be landing here from the stop before me, Danielle of Finding Silver Pennies (or any of the other lovelies on the tour), hello and thanks so much for stopping by!
If you've seen my family room and living room holiday tours, then you know this year is a new palette for me! Rather than the neutrals I'm usually decorating with, this year's Christmas decor has gone in a decidedly warmer direction.
I'm still featuring lots of greenery and natural elements, but now the pops of color are warmer tones, like bronze, caramel, and copper. And I'm loving the result. The warm color scheme is so cozy and welcoming – something that's especially nice at the holidays!
THIS POST MAY INCLUDE AFFILIATE LINKS. CLICK HERE FOR MY FULL DISCLOSURE POLICY.
My holiday kitchen decor starts in the breakfast room. On the table I combined two rustic vases, filling one with greenery like pine, cedar and eucalyptus.

The greenery is live, but I often mix faux and live. I find it's an easy way to make the vase look fuller, and it also makes the faux feel more real!

And this year I've added some simple gingerbread houses! I've been wanting to do this for a few years now and finally did it this year. I love the look of them on the white and wood cake stands!

White roses are definitely a favorite of mine, and to me, they go so well with holiday decor. They mix with any palette or style and since I love to add some fresh flowers, they're something I use frequently.
The vintage copper pitcher is a perfect fit for this year's warmer kitchen holiday decor palette!

On the counter, a grouping with a vintage-style Santa, small tree, and a vintage bottle creates a European style vignette.

When my daughter was little we used to go to a gingerbread decorating class every year, and of course, she put every color under the sun on the houses!
However, I really love the clean look of the brown houses with the simple white icing so that's what I went with this year. I love them (but her 10-year-old self probably wouldn't!)
A simple green wreath in the window adds seasonal charm, while an added caramel velvet ribbon continues the color palette.

Alongside the vases I added my favorite brass bells to create an easy centerpiece on the table. I love the distressed look of the bells and the vintage-style European feel they bring!


Shop Holiday Kitchen Decor


Thank you so much for visiting my holiday tours this year, as well as your continued support! It means so much to have you here and I hope it gives you inspiration and ideas for your own decorating.
Though this is my last Christmas tour, I'll be sharing lots more holiday decorating inspiration in the next few weeks, as well as table setting ideas and holiday cocktails (never a bad thing!)
Happy Holidays!
Sheila
xo
There are 20 bloggers sharing all through this week – starting with Grace in My Space tomorrow. And be sure to check back everyday this week for more inspiration!
If you enjoyed this post, be sure to check out more holiday inspiration and decorating ideas below: