Designer Dupes & Home Decor Finds – for Less!
Today we're sharing some of our favorite designer dupes and home decor finds for LESS! Yep, many of these items are the exact same items that are sold on designer and popular websites for much more!
I've been so excited to share this post with all of you!
Because I'm researching online and looking at different websites almost daily, I do quite a bit of online shopping. And recently I kept finding items that were much less on some websites vs. others. And as I saw this more and more I thought, why don't I try to find even more great home decor items for less, and then share a whole post with you? Seriously, there is almost nothing I like more than scoring a bargain – and I'm excited to finally share these home decor finds for less with you!
Whether you call them 'designer dupes' or just a great find, today I'm sharing some great home decor finds that are exactly the same or very similar to items I've found on popular home decor websites. A lot of these are my own 'favorites' – items I own and love. But several of them are recent finds, too. Either way you're bound to find some deals!
Love this gorgeous canopy bed from Frontgate, but here is a very similar option from Birch Lane for a fraction of the price!
I love my own Pottery Barn bedding, but it's Belgian linen and can run high. Walmart makes an exact dupe in cotton at a much more reasonable price (I put this in the guest room!)
This terracotta lamp from Ballard Designs is gorgeous but very high end. The Studio McGee Target line makes a ceramic lamp that gives the same look for much less! (I have the Target lamp in my family room and love it!)
This impressionist landscape from McGee & Co. is one of my favorites ever! But you can find the exact same print at Etsy for only $5! Simply print it and find an inexpensive frame and you've got the same look for less.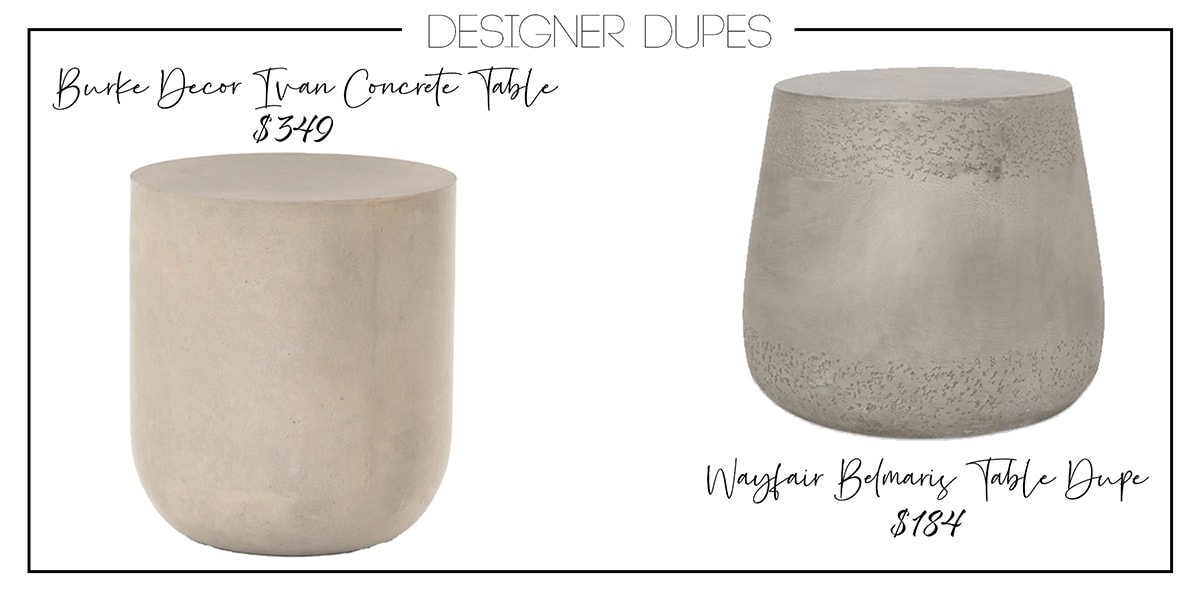 I love this concrete outdoor side table, but this one from Wayfair is very similar and about half the price!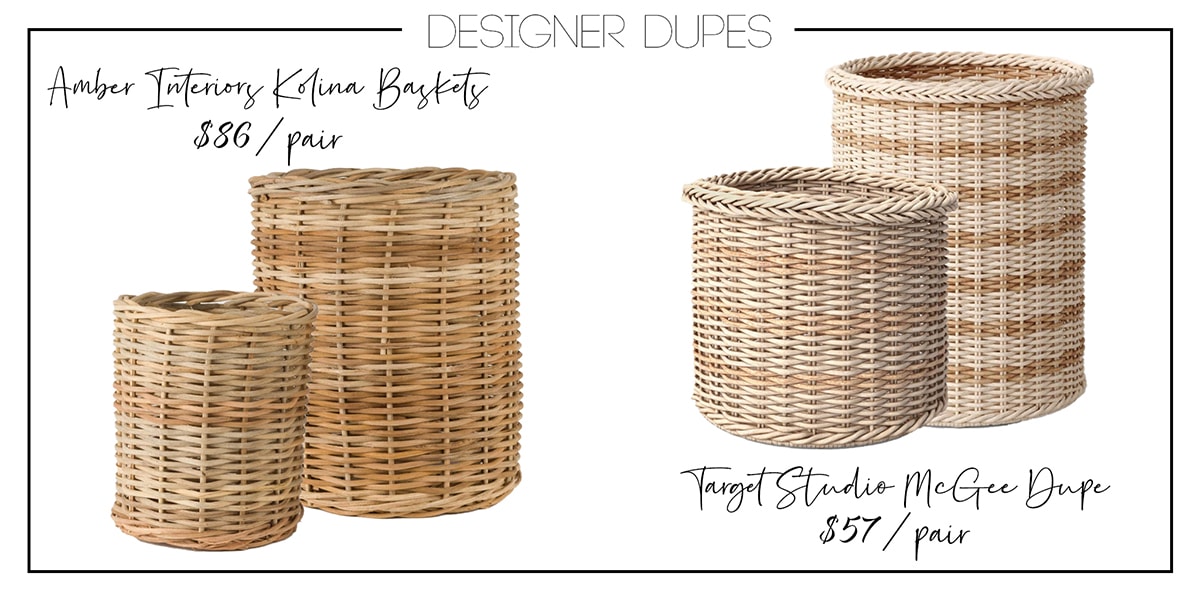 These rattan baskets from Amber Interiors have a great vintage look. But you can get a similar look with these manmade rattan versions from Studio McGee for Target (plus, these can work outside, too.)
I'm a huge fan of Farmhouse Pottery pitchers but their products are pretty pricey. Walmart has a super-cute stoneware pitcher that has the same farmhouse look for literally a fraction of the price!
Is there anything cuter than a front porch swing? This Ballard Designs version is lovely, but you can get a super similar look from this Walmart version (and it's even teak!)
I own this Pottery Barn throw in several colors, but now I've found this exact same one at Walmart for less than half the price!
These concrete fluted planters from Pottery Barn give a very chic look, but you could use these resin versions from Walmart and achieve a similar effect.
This coastal style dining chair from Serena & Lily is very popular, but Home Depot has a similar one at a great price.
This two-toned pouf from Lulu & Georgia is so cute. But Walmart does a wonderful job with this white/jute version for less.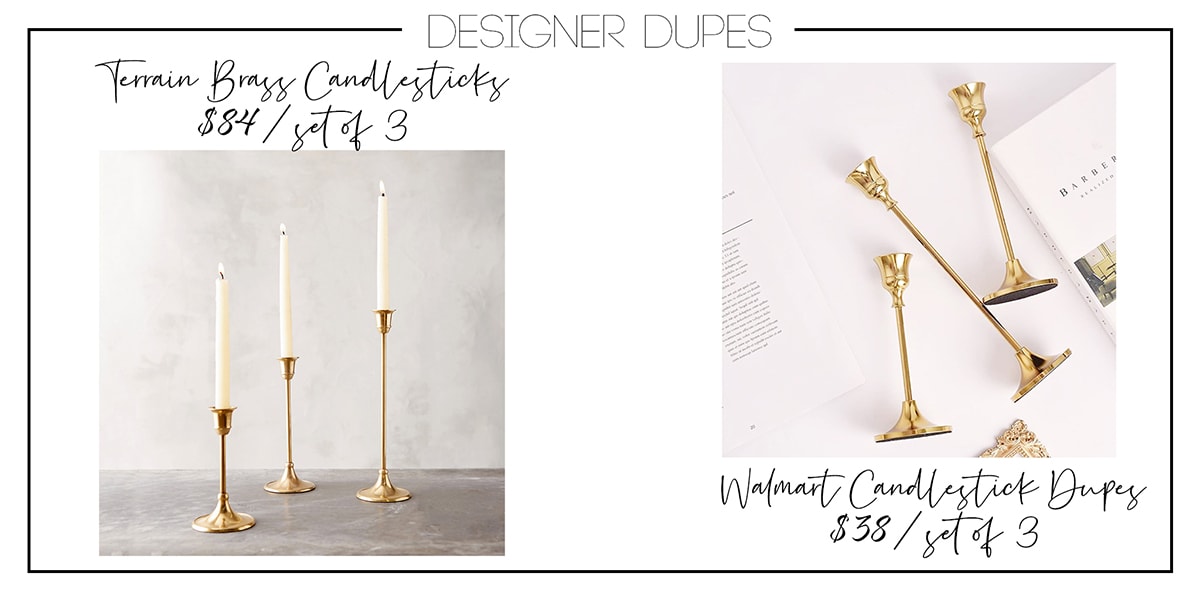 You may have seen these brass candlesticks on my tables before (and I love them), but these are the exact same thing and cost far less!
This woven bell pendant from Serena & Lily gives lots of style to any space. But Cost Plus makes one that is almost the same at less than half the price!
And here are a few more home decor finds for less below:
This Seagrass Pitcher is the perfect summer piece, but you can get this exact same one at a fraction of the price!
My favorite pepper mill can be pricey, but Ebay has it for way less here.
This beautiful woven lamp is right on-trend, but this one gives the same look for a lot less.
I love linen tea towels for their European look, but they can be pricey. These are the exact same ones at half the price!
Shop the Dupes

*affiliate links included for your convenience*
It's amazing how many less expensive items there are out there – I could have included so many more!
I'd love to know if you all like this or find this kind of post helpful. If so, I'm thinking I may make this a regular feature – or I may even do a fashion version too! And if you've found any great home decor finds for less, be sure to share them with us here in the comments!
Sheila
xo
If you enjoyed this post, be sure to check out more shopping finds and home decor posts below: