Home Design Trends for 2023: What's Hot & What's Not
Want to know what's hot in the world of design? Today we're sharing what we think will be the biggest home design trends for 2023!
Every year I anxiously wait to hear what design trends are predicted for the coming year. Not because I'm such a huge trend follower (I'm definitely not), but I love design and it's exciting to see what's new and what people are gravitating to. And this year is a good one!
For 2023 there is a continuation of much of what I talked about last year (so those did have staying power!), as well as a few new ones. Color and pattern are back, as is a turn towards traditional and nostalgic looks, and it looks like warmth and texture are here to stay after more than a decade of grey minimalism!
As I said earlier, I'm not one to follow trends obsessively or overload my house with the latest Instagram-popular piece of furniture, but I think it's important to know what's in. That way I can add a piece or two of a trend if I choose to, add a pop of a 'hot' color, or change something up slightly for a more updated feel. One of the easiest ways to keep your home looking fresh is to add a touch of a new trend!
So after researching and reading a lot on this topic, I'm sharing 8 of the major home design trends for 2023. These are the trends that I think will actually stay around, and that resonated with me the most. (Plus, this year I'm also talking about a few trends that are definitely on their way out!)
THIS POST MAY INCLUDE AFFILIATE LINKS. CLICK HERE FOR MY FULL DISCLOSURE POLICY.
1. A Turn Towards Tradition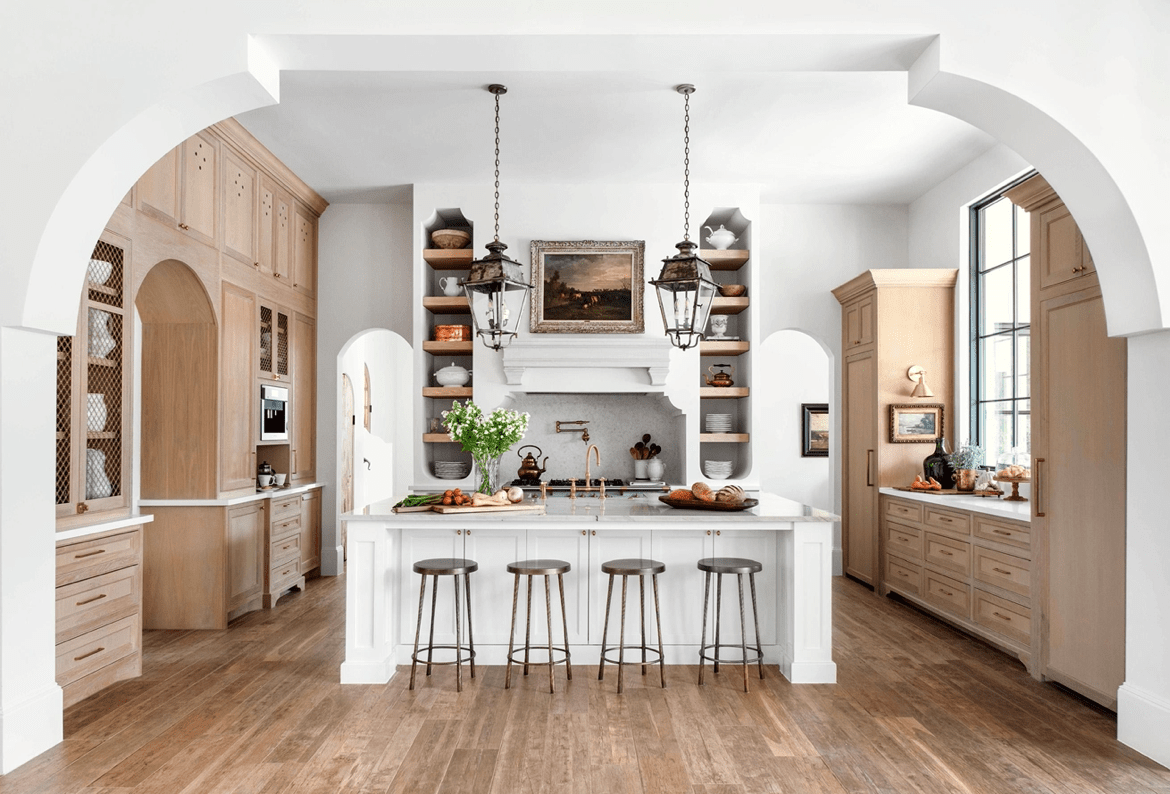 This trend could also be called 'nostalgia.' It reflects a desire to focus on warmth and comfort and live with the styles we grew up with. Signs of more traditional decorating are a return to darker wood furniture, the use of print and floral fabrics (something that seems to have been gone for awhile!), bucolic artwork, skirted sinks, and pleated lampshades. This includes last year's 'Coastal Grandma' trend along with the Granmillenial trend that's still going strong.
After years of pared-back minimalism we're seeing the pendulum swing back in the other direction. But this traditional is more carefully curated – like a chicer version of your grandmother's taste. Let's call it "Modern Traditional."
2. Maximalism
Riding on the coattails of the return to tradition is a more enhanced version of traditional details. Think trims like fringe, ruffles, and scallops, more ornate moldings and woodwork, using pattern on pattern in a space, and wallpaper everywhere!
3. Statement Stone
I'm a huge fan of natural stone, so this one is a favorite of mine! The use of large slabs of organic materials with lots of veining and contrast brings drama to a kitchen. Another new element? We're seeing colored marble and stone again! I know – it's a shock. But I've seen marble accessories and furniture in blacks and greens making an appearance. We've looked at white marble for so long I think we forgot it comes in all kinds of shades!
I think the colored marble will take awhile to reach the street, but statement marble in the kitchen (especially as a backsplash) is here to stay.
4. Mixing Old and New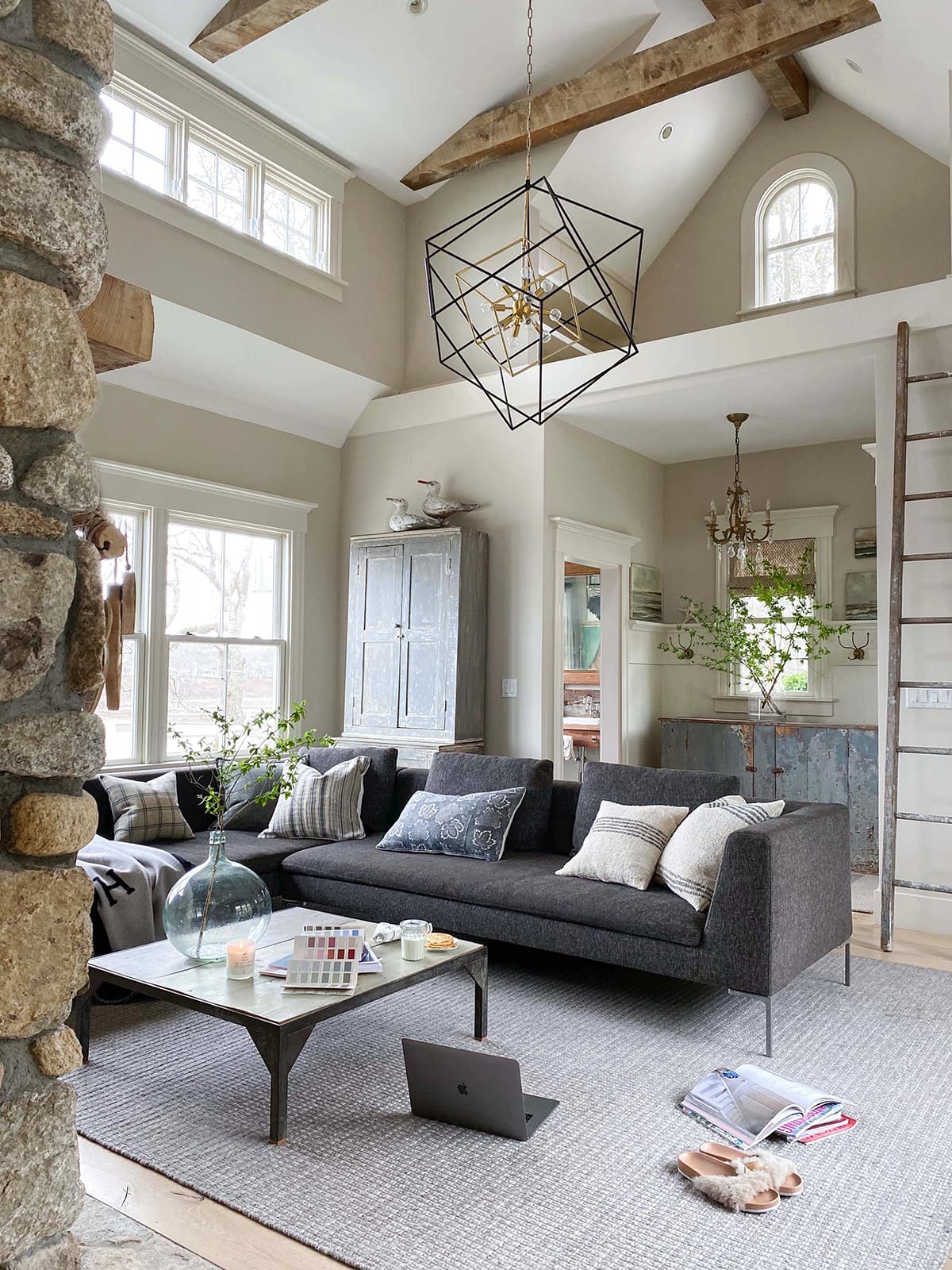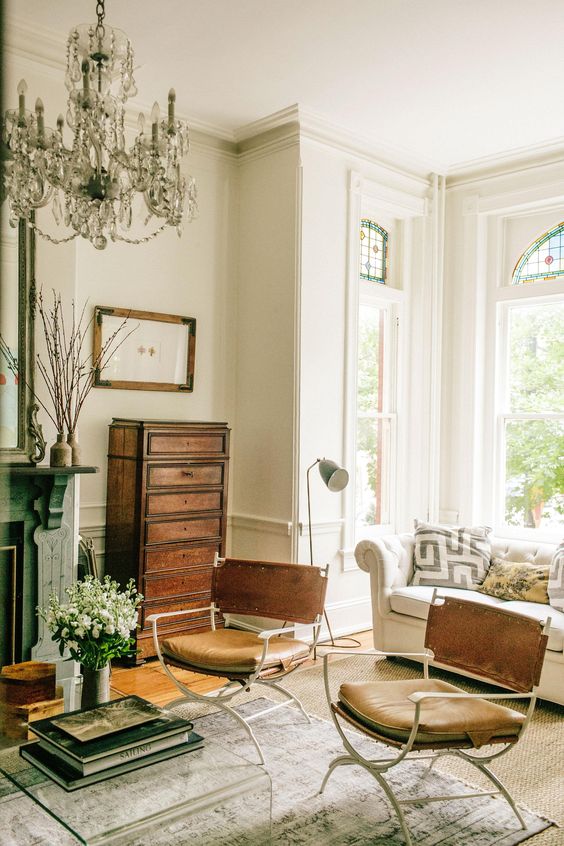 Another personal favorite. I've long talked about using a mix of old and new in any space. To me it's crucial to creating a collected look and I'm so glad it's begun to catch on more widely.
Another trend I saw mentioned a lot was 'Sustainable Design.' To me, these two are connected as there's nothing more sustainable than using vintage or antique pieces! They're personal and unique, and add character that new items never could.
Plus, this can be done whether you love color or neutrals! Either way, a few vintage pieces can transform your space.
5. The Return of the Dining Room

I'm so glad they're coming back! Although admittedly I'm pretty biased. We have a formal dining room now and did in our previous home (even though it was only 1200 square feet), so I've never not had one! For the last decade or more there's been a strong swing away from formal dining rooms with people opting for just one eating area (usually off of, or in, the kitchen).
And though I understand the popularity of that option, I'm someone who thinks it's nice to sometimes eat a meal that's not next to all the dirty dishes, or in view of the TV! To me, every meal we eat in there is elevated. Whether I'm having a formal dinner party or a simple Sunday night supper, it always feels just a little more special than the table that's nearer the kitchen.
Personally, I think this trend probably reflects the fact that we all lost the last few years of breaking bread with family and friends. Apparently dinner parties are coming back with a vengeance and I'm all for it!
6. Texture, Texture, and More Texture
I talked about this one last year, and it's showing no sign of slowing down. Use of lots of the aforementioned warmer woods along with rugs and baskets really warm up a space. In addition, we're seeing things like textured tile, lots of stone and brick, as well as old-world materials like limewash and plaster treatments which I love!
7. Statement Lighting
This is a trend that actually started last year but has now really taken hold. Using a statement chandelier in a living space or kitchen adds drama and can serve as the focal point of the room and really bring a 'wow' factor to any space.
In fact, I would argue that by choosing a bold chandelier or pendant, you can upgrade your entire room without the expense of new flooring or the hassle of re-painting!
8. Bold Colors


Of all the trends mentioned this year, the return to color showed up the most! After many years of neutrals, we're seeing more color than ever before, including a return to deeper, more saturated colors. Color (and colorful pattern) add joy to a space and I think that speaks to all of us craving fun again!
Whether you choose to paint a room a strong color, buy a patterned chair, or simply add a colorful rug or throw pillow, if you've been craving color, then this is your year!
But that doesn't mean neutral rooms are gone altogether. Neutral spaces are still here, just with more texture (see Trend #6) and a warmer palette of browns, caramels, and creams. As for me, I'll probably always gravitate to neutral spaces. But now I'll make sure they're updated with texture and pops of color to keep them from going too flat. (Find out more about doing neutral spaces the right way in this post.)
And now should we talk about trends that are out?
• GREY: As you might have figured from what we spoke about above, grey seems to have seen better days. However, that doesn't mean you can't have any grey, just warm it up a bit! My office is a warm grey and I still love it. Grey is a lovely neutral when used right. It's really the 'grey on grey' rooms with cool grey walls and all grey furniture that were the problem.
To keep grey rooms up to date, add some colorful pillows or rugs to brighten and modernize your space. Or if you want to keep your walls neutral (like me!), opt for a warmer white.
• MODERN FARMHOUSE: With any trend if it's too ubiquitous for too long, it usually goes out with a bang and the modern farmhouse trend is one of those (even Joanna Gaines isn't doing it anymore!) However, 'farmhouse' itself will always be around, it just evolves. Now we're seeing the farmhouse style take on a more European edge.
It's getting updated with more texture like limewash wall treatments, authentic vintage pieces that bring warmth, as well as antique rugs and paintings.
• TOO MANY PILLOWS: Whether on a bed or sofa, too many pillows not only looks over the top, it makes it hard to sit comfortably! Maybe those complaining husbands were onto something?! Haha!
• FAST FURNITURE: A focus on sustainability has made us look twice at what we're buying. Mass produced furniture that's made on the other side of the world of dubious materials isn't good for anyone. Do we need that cheap bookcase at Home Goods, or are we buying it just because it's $69? (by the way – guilty as charged).
It seems more responsible, better for the earth, and better for our health to spend a little more for higher quality, real wood that can be painted or stained and used for years (or handed down!) Or better yet – buy an antique piece! 😉
And that's it – the 8 Home Design Trends for 2023 (or at least the ones I think will stick around!) Which ones speak to you?
For me, I'm loving the return of antique and vintage pieces as well floral fabrics – something I've missed! On the other hand, I'm not a huge fan of jewel tones so I don't see myself adding red or gold anytime soon (though I'm loving the greens and will probably add more of those!)
When it comes to trends, it's still important to do what you love. It's your home after all! I've always felt that mixing old with new was key to getting a collected look. In fact, I'd argue that the more you mix styles, the better off you'll be. By decorating in a more personal way and incorporating different time periods and styles, your home will not only feel like an extension of you, but it will be less likely to ever feel 'dated.'
And if it does, well then, simply pick one or two trends you like and incorporate those! Your home will feel instantly fresher.
Shop Home Design Trends for 2023


Sheila
xo
If you enjoyed this post, be sure to check out more decorating and design inspiration below: