Looking for easy ways to add some summer to your home without a lot of fuss or expense? Today I'm sharing how to decorate for summer with 7 easy-to-implement ideas!
I can hardly believe it's summer. Well, maybe not officially. But Memorial Day has come and gone and it's June, so in my world, it's summer! And with summer comes a strong desire to lighten, brighten and otherwise bring in the season.
Do you feel that too? Heavy decor or dark, moody colors just don't feel right. The summer season has a lightness about it and I want my home to reflect that.
Unlike Christmas, summer decorating can take its cues from nature. It can be subtle, and easy, but still bring a feeling of freshness to your home. And that's the goal here. Easy, breezy, but still beautiful ways to bring the season into your home!
Tip 1: Bring in the Flowers!
I'm sure it comes as no surprise that one of the first things I do when decorating for summer is bring in some fresh flowers!

I always love fresh flowers, but they seem especially essential this time of year. I think because nature is blooming and blossoming outside, it's nice to reflect that inside, too. 😉

Peonies and hydrangeas are always favorites, of course. And I've got tips on how to help keep both of these popular flowers last longer! Find tips for peonies here, and hydrangeas here.
But actually, any inexpensive grocery store flower will do. It's really just about bringing nature inside.
And if you don't want to spend money on cut flowers, buy a few inexpensive potted flowers from the local grocery store. They'll last all summer and be well worth the few dollars spent!

Tip 2: Bring in Some Summer Color
Now for me, this is definitely blue!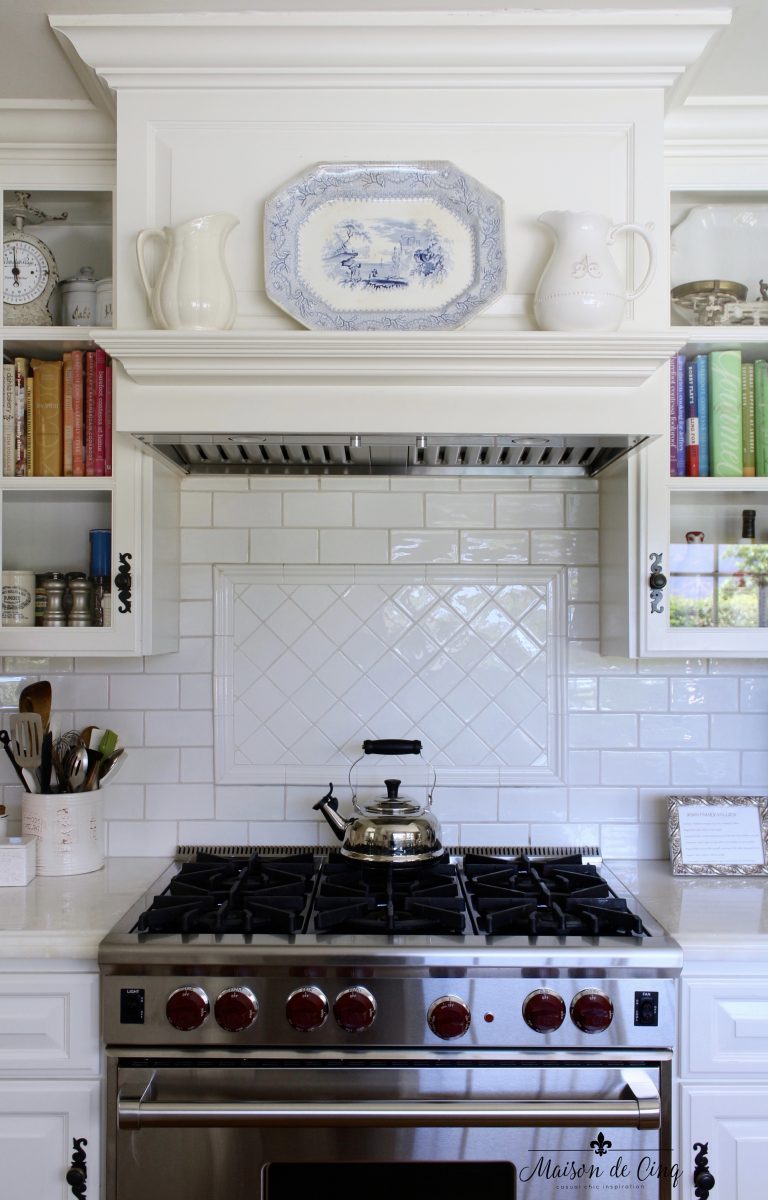 I can't think of a color that feels more summery than blue. To me, it represents the sea and days spent at the shore, but if your idea of summer is bright yellows and oranges, or a pop of hot pink, go for it! Whatever colors represent summer to you will work.

Blue and white ginger jars are one of my favorite 'blue' decor items!

Tip 3: Add some Seasonal Touches
One thing I usually do as each summer rolls around is bring out some shells and coral. They are something I've loved and collected over the years, but I don't have them displayed rear round so it feels special to bring them out each time the season rolls around.
You don't need to go overboard with this. The trick is not to have them all over the house, but rather in just a few key spots. Here I displayed some starfish under a glass cloche to elevate them in the vignette. But some collected seaglass gathered in a glass jar would be equally pretty.
Or display a mass of shells in a giant bowl! This makes a great focal point on a coffee or dining table and the shells can be collected, or easily found at stores like Michael's or even ordered on Amazon.

Tip 4: Lighten Up
Are you someone who changes out your bedding or pillows for summer? Sometimes it's nice to lighten up the mood by switching out pillows, rugs or even sheets. Wool blankets, heavy fabrics or dark rugs can really feel heavy during summer. Give your home a lighter feel by using lighter fabrics like linen, or switching to natural rugs like seagrass.
Even my candles get switched out this time of year for a fragrance that's light and refreshing! This Salt + Sea scent is a new one for me and I'm loving it, and this one is so gorgeous you'll want to keep it out all year!

And of course, changing out throw pillows is a must for me! Here pale blue pillows bring some summer color to the living room sofa.

Tip #5: Bring the Outdoors In
This is probably my personal favorite when it comes to ways to decorate for summer!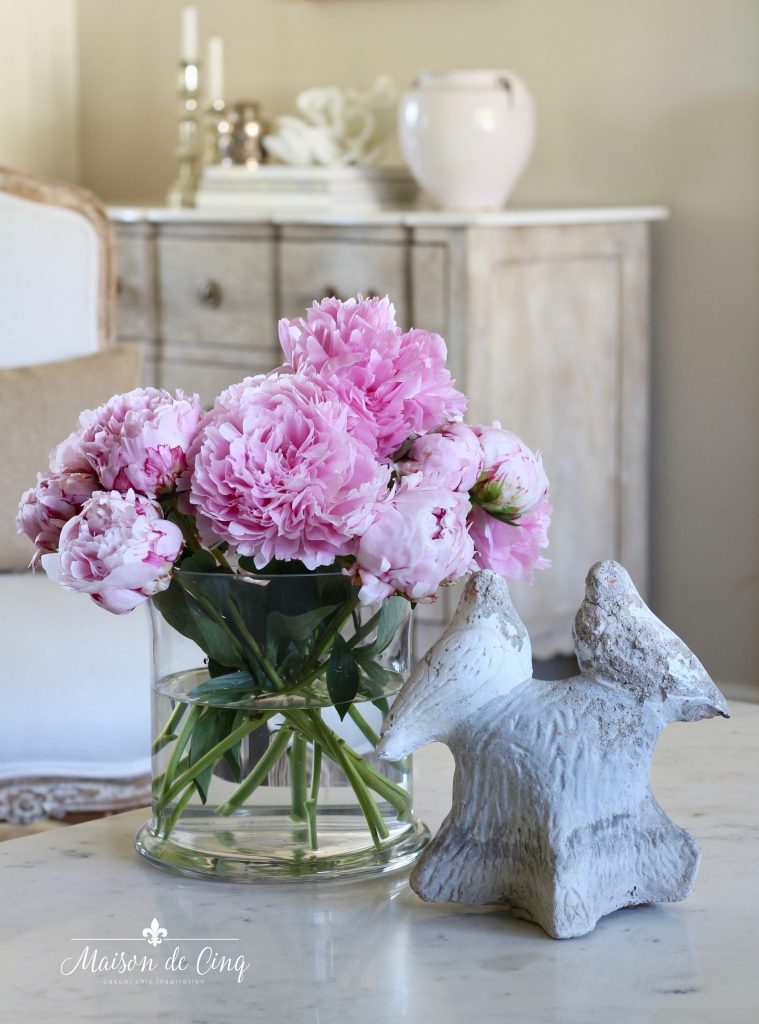 When I say bring in the outdoors, I'm talking about things like using patio accessories or decor inside rather than just outside. Here I brought a garden bird statue inside to convey that summery feeling. I love how it looks indoors, and it's a great contrast to the marble table.
Terracotta pots brought inside (these are especially pretty), or cast iron urns that normally decorate your outdoors are also ways to bring the outdoors in.

Tip #6: Add some plants or greenery
This is probably my number one tip once spring comes along! And if you didn't add some plants a couple of months ago, now is definitely time to bring in some green!
Tip #7: Spruce up the Outdoors
You might think this is obvious, but you'd be surprised how many people don't do this. Just the simple act of cleaning and tidying your backyard patio or front porch can make such a difference!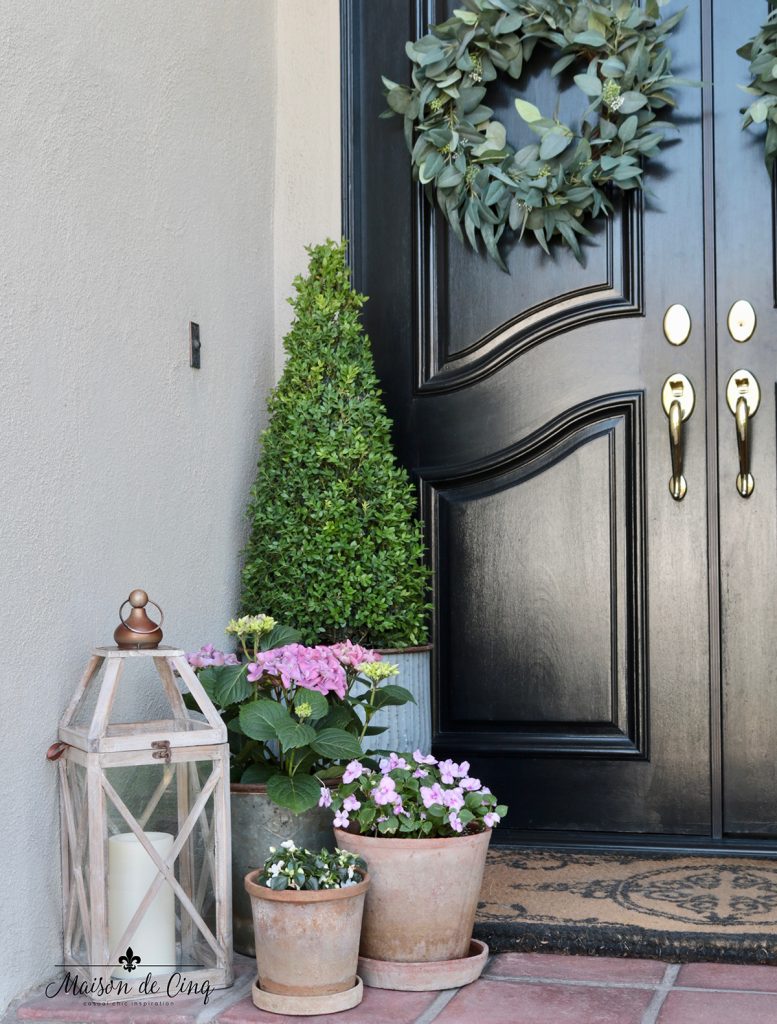 Just sweeping out the cobwebs, scrubbing our front door and adding a few potted flowers really brightened up our porch!
And of course, if you can, adding an outdoor rug or a few new pillows adds some color and freshness to any outdoor space.

I hope these seven easy tips gave you some ideas on how to decorate for summer. And it doesn't need to be complicated or expensive! A few flowers and plants and lighter colors and fabrics can make a big difference in the feel of your home. And if all else fails, a good clean up goes a long way toward making any space feel fresher and brighter!
And I'm sharing some of my favorite summer accessories below!
Shop the Post


*affiliate links added for your convenience*
Happy Summer!
Sheila
xo
For even more summer decorating ideas, visit a few of my favorites below: