How to Host Thanksgiving – 10 Essential Tips for No-Stress Hosting
Does hosting Thanksgiving (or any other big holiday) make you feel overwhelmed? We're sharing 10 essential tips for how to host Thanksgiving – without the stress!
I've been hosting Thanksgiving for almost 20 years now (which is hard to believe!) and I have it down to a science. But, and this is a big BUT, I struggled for years with mishaps, lots of cold food, and oh-so-much-stress.
But I learned. And adapted. And tried new things. And now I can honestly say I'm able to host a beautiful meal without feeling overwhelmed.
So today I'm sharing those tips with you! Because if Thanksgiving should be anything, it should be a day about giving thanks and celebrating with those we love – and not a day to dread!
Our 10 Tips for How to Host Thanksgiving cover everything from planning ahead tips to essential kitchen supplies you need. So whether this is your first time hosting or your twentieth, these easy, actionable tips will have you hosting in style without breaking a sweat – I promise!
This post may include affiliate links. Click here for my full disclosure policy.
Plan, Plan, Plan
When it comes to hosting Thanksgiving, you really need to plan ahead. A few weeks before the big day sit down and write out the entire menu. If you've hosted before, you might be making mostly the same dishes from year to year, but write it all out anyway along with a shopping list.
This will save you from forgetting anything and making mistakes (I speak from experience on this one!) Of course, if this is your first time, it's even more important to see it all in black and white. Something I didn't do for years and believe me, I should have!
One tip is to make sure that some of things you're making are finished/cooked on the stovetop, vs. everything needing to be in the oven at the same time!
In addition to planning the food you'll be serving, make sure to write out a timeline of all the tasks that need to be done, working backwards up until the big day. This could be everything from pre-chopping vegetables and herbs, to baking pies or rolls, to setting the table.
And this is also helpful for delegating chores. Why not have your husband chop onions a few days before, or your teen run out to pick up the turkey? (If they balk, just show them the long list 😉 )
TAKE INVENTORY OF YOUR SERVEWARE
One thing I really didn't prepare for in the early days was having enough platters and bowls for serving. During our first Thanksgiving I didn't even think about this and we were serving everything in aluminum pie tins and Tupperware!
So take an inventory of what you already own and make sure you're going to have enough. Now that you've written out your menu, you know exactly how many platters, bowls, and serving utensils you'll need to get everything on the table. (Don't forget a pie pan!)

Label your serving pieces beforehand
Label all your serving pieces ahead of time so you know what dish is going in which piece of serveware. That way, when the day is crazy and you're busy getting the food out before it gets cold, everything is labeled making it much quicker and easier.
And if others are helping you put out the food, you'll avoid everyone asking you what goes where while you're rushing to get dinner on the table!

Make sure you have the essential kitchen supplies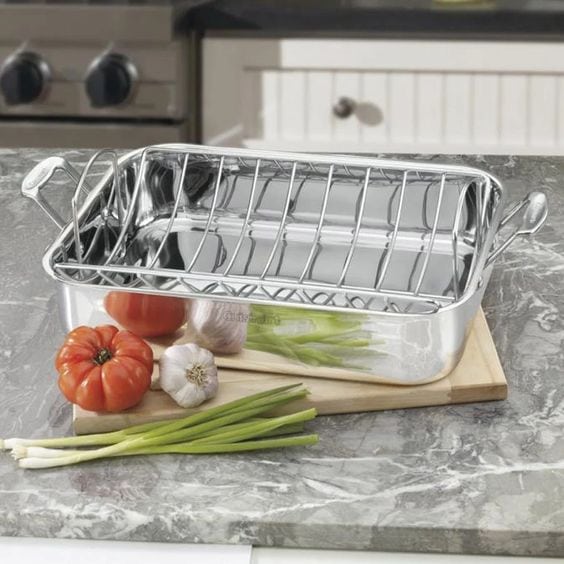 Make sure you have all the essential equipment for preparing the food. For me, there are some pieces of equipment that I use again and again and that I wouldn't be able to live without! These are:
There are also a few other items that are great little 'gadgets' that while not absolutely necessary, do make the day easier (more on that later!)

BONUS: I'm including a free printable with a list of all the items you need at the bottom of the post!
Use real dishes
I know, I know, some people swear by using paper plates and napkins. I have friends who use paper, and they say the clean up is easier. But you know what? I've actually found the opposite, not to mention the amount of waste and use of paper.
To begin with, the biggest clean up is the pots and pans and you're doing those anyway. So unless you're having 30 people, or you're using dishes that can't be put in the dishwasher (don't do that!), I say go with the real dishes and flatware.
And besides, what's better than chatting and bonding while doing dishes?! My mom, cousins and myself have spent many Thanksgivings washing, drying, and laughing our heads off. 🙂
If you don't have enough, you can buy an additional set of simple white dishes pretty inexpensively, or go with a box of 'caterer's plates' you can store for use every year (I have a set of these and highly recommend it!) Either way, it's worth the extra effort and really elevates the meal and makes it feel more special.


Set the Table Several Days Ahead
Setting the table early may seem like it doesn't matter, but I really think it does! It's one of those things that you can get off your plate several days before the big day, so why not? Or better yet, have someone else in the family do it!
Either way, just looking at the already set table always makes me feel calm and like something is being accomplished!
TIP: For a very inexpensive tablecloth use a drop cloth from the hardware department. They're cotton canvas and tough, and they wash and dry like a dream. 😉

Cook and bake ahead as much as possible
Try to do almost all the prepping and baking ahead of time, even pre-cooking whatever you can. In the best case scenario, you'll schedule all of this in your timeline, starting as early as you can. I usually start on Sunday, Monday at the latest. I do the easiest things first, like making the cranberries and pre-chopping vegetables and herbs and storing them in the refrigerator until needed. Anything that can be made ahead, should be. And alll the prep should be done. Believe me, you'll thank me later!
If you do a little bit each day, it really helps cut down on the amount of work that needs to be done. And of course, if you can get some help with those duties, even better! (Hint: show that long list again! 😉 )

Pick one cocktail as the 'cocktail of the night'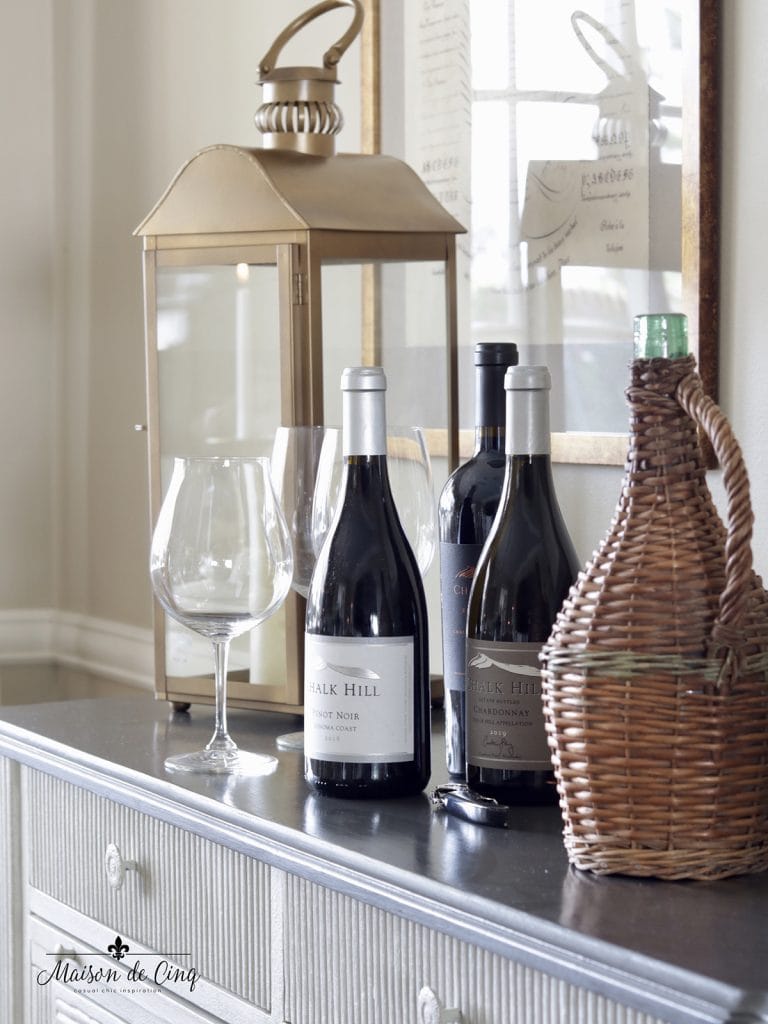 Rather than serving lots of different drinks and having to whip up cocktails for each person, I like to make one cocktail for the evening. Pick a festive (but easy) cocktail that you can prep and make ahead in a pitcher. Then when everyone starts to arrive, all you need to do is add ice!
On the dinner table, I typically serve a both a red and a white wine along with pitchers of water. Give everyone a wine glass and a water glass and let them help themselves. This makes it simple and much easier on you. And if you're lucky enough to have a sideboard near the table, you can store extra wine and water there.

Buy some little items that help a lot!
I've given you my list of Thanksgiving absolutes any kitchen needs to have, but there are other little appliances and gadgets that though not essential, can actually make the day go much smoother!
One of these is a crock pot! Until last year, I had never used one but wow, it's so wonderful to have as a 'warming drawer.' You can easily finish cooking things like mashed or sweet potatoes early and have them stay warm in a crock pot until it's time to serve dinner. This frees up oven space as well, allowing even more items to be made ahead.
Another thing I love to have is a collapsible oven rack (really great if you don't have two ovens, like me). Once we purchased this it was a game-changer! (And since it's collapsible, it's easy to store, too.)
Other favorites are small bowl sets for storing things like the pre-chopped herbs, garlic and onions (simply store them in the bowls and they're all set for when you're ready to start cooking), a digital scale for more accurate measuring, and an electric carving knife (so-much-quicker than muscling through with a regular knife).
These aren't must-haves but they are time and labor savers and sure make things easier on the cook!

Accept help when it's offered
This might be the most important piece of advice for hosting any large event! Don't ever turn down offers of help. If someone wants to chop, hand them a knife. Dishes, let them have at it. And there's no reason you need to cook every single dish yourself!
Make it a potluck, or at least a partial potluck so that other people are also participating and you're not burdened with doing everything by yourself. I used to say no to those offers, but I've learned to fight that and allow others to help. Not only does it alleviate your burden, but it also makes people feel good to be included. They want to help!
And a bonus 11th tip!
Don't feel like you need to serve every single Thanksgiving dish there is! Take an inventory when you plan the menu, and evaluate what's really needed. If it's too much to make mashed potatoes, sweet potatoes and stuffing, take one off. Or, have someone else bring it! And do you really need three desserts, when one or two will do?
Be realistic about what you can take on, elicit help, and plan ahead. But most of all, relax. The truth is, people love the food but they love you more. Thanksgiving is about being thankful for all we have and spending time with those we love, and if your potatoes are lumpy or the gravy is cold, everyone will forgive you. All everyone wants is to be together, laugh, and eat pie. Oh, and drink wine. There's always that too. 😉
I hope these tips for How to Host Thanksgiving have been helpful to you – and be sure to share some of your own in the comments!
I've linked all of my cooking essentials for Thanksgiving, along with the 'extras' that are nice to have, as well as some table setting items I love and that I used above.
Shop Thanksgiving Essentials



Happy Thanksgiving!
Sheila
xo
And if you want a copy of my Thanksgiving Dinner Essentials checklist, click the photo below to print!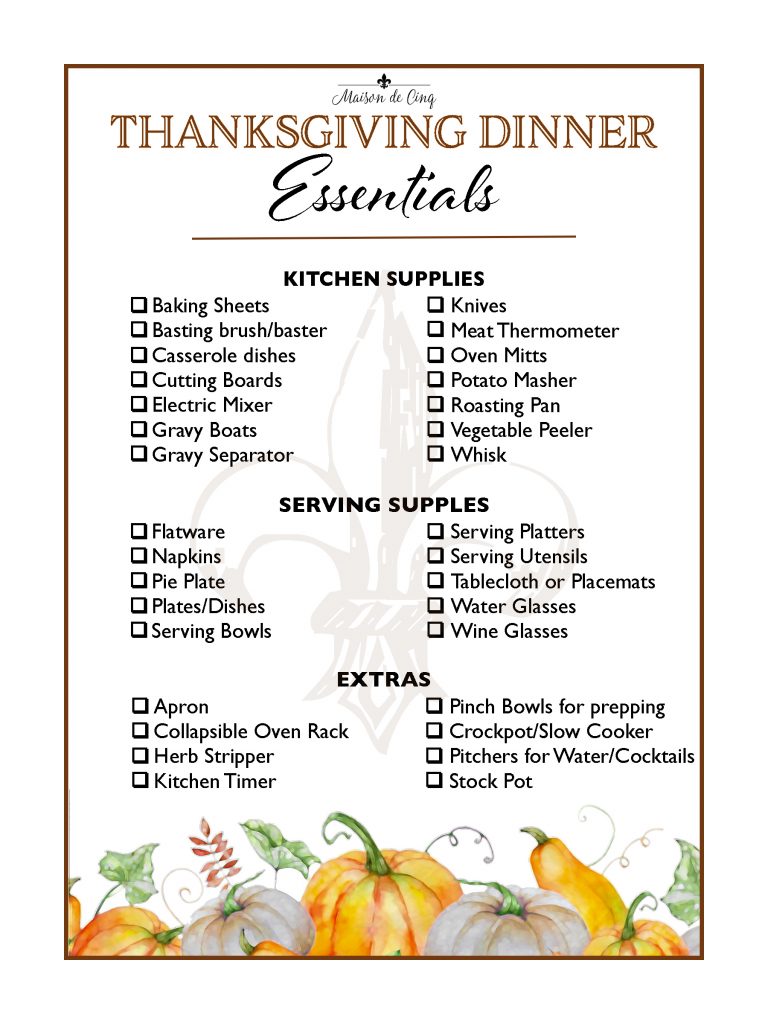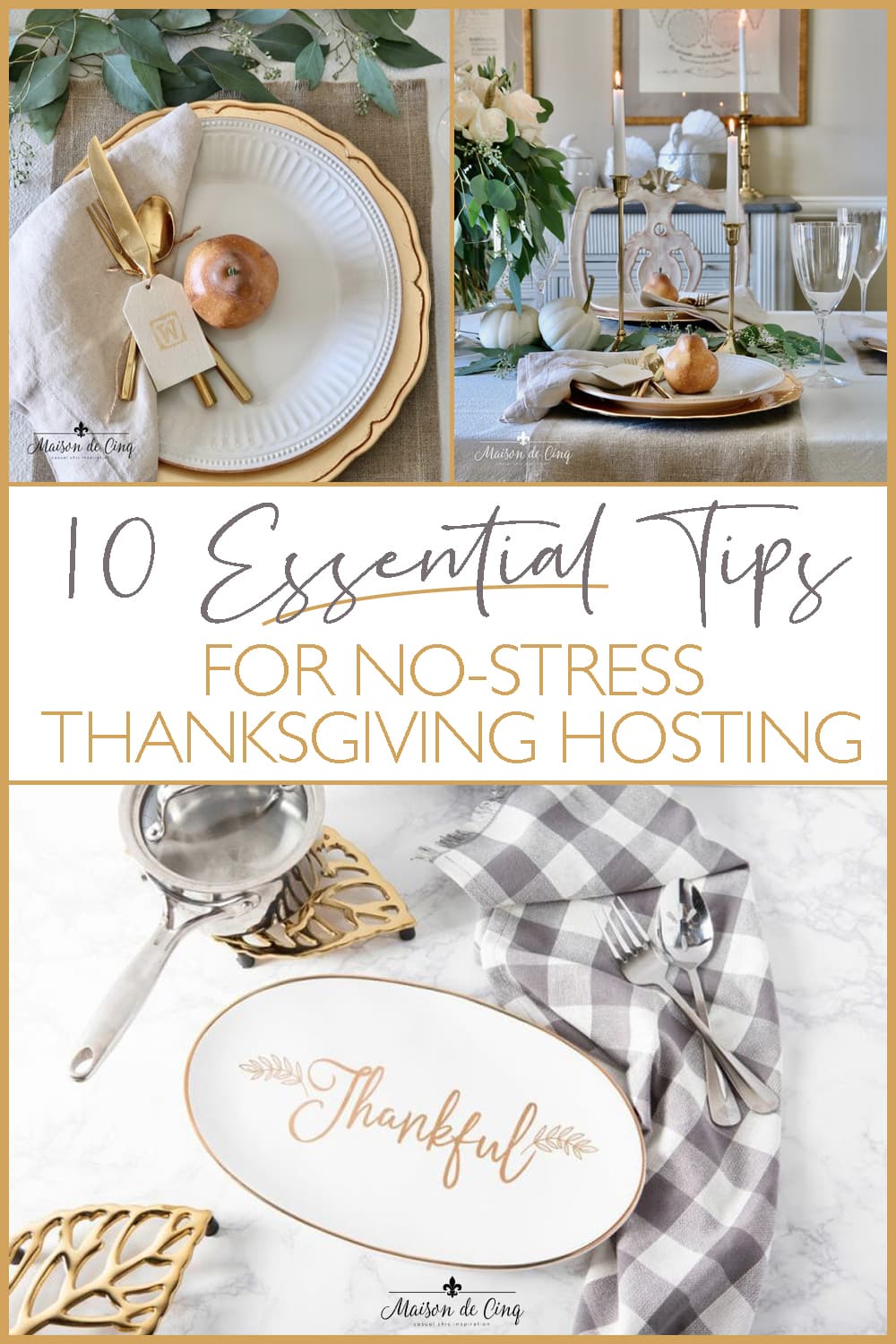 If you're looking for more Thanksgiving tips and inspiration, be sure to check out the posts below: