How to Style a Coffee Table: My Five Essential Tips
Do you struggle with styling your coffee table? Not knowing how much (or how little) to display, or even what to use? In today's post I'm breaking it down to one easy formula and sharing how to style a coffee table!
As a decorator and blogger, this is a question I get asked a lot. People frequently ask me how to style a coffee table. Just like styling book shelves, it seems to be something a lot of us struggle with!
And it's not hard to understand why. We have a myriad of choices when it comes to decor and what to put on our coffee tables. And we wonder if we've done enough, or if it looks too empty. And the reverse is even worse – no one likes a table where there is no room to actually put that cup of coffee!
So today I'm sharing my easy formula for styling a perfect table. Every single time.
How to Style a Coffee Table
There are 5 tips that I use when I start decorating a coffee table and they can be implemented on any table, in any season.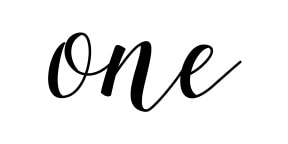 Add something alive!
I'm listing this one first because I absolutely think it's the most important one. You can get the formula wrong or have things out of proportion, but if you have some gorgeous flowers or a pretty plant on the table, no one will notice!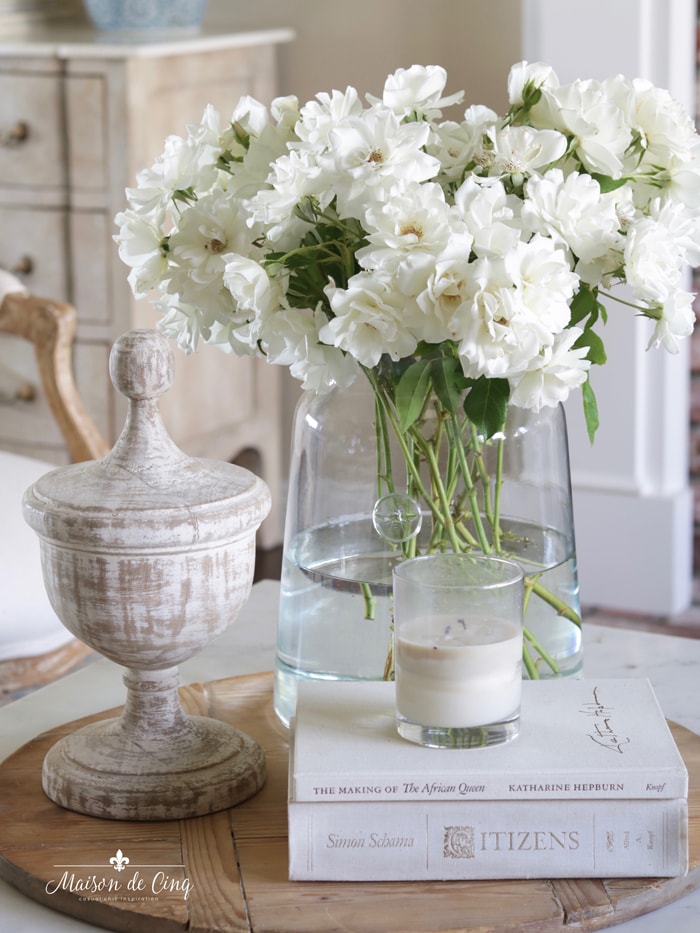 Flowers are always my first choice, but obviously, during the winter that isn't always possible. And not everyone wants to buy flowers every week, myself included.
That's where plants come in! If you don't want to buy flowers every week, then buy an easy-to-care-for and inexpensive plant and plop it in a pretty basket or pot. Orchids are a great choice and tend to last a long time with little care. And some easy house plants are pothos, creeping fig, ivy and spider plants. (For more on decorating with house plants check out this post).
And just that touch of green from flowers or plants really makes a difference. In fact, I think it's the most important element.

Books, books, and more books!
Not only are coffee table books pretty and fun to flip through, but they also help to create layers by adding height to some of your items. And I always have a few trinkets on top of whatever pile of books are on the table.
Another hint? If you want some books in certain colors like I do, go to your local library, used book store or thrift store and buy them secondhand. I look for ones in colors I love (mostly decorating or travel picture books) and remove the bright colored covers. And ta da! Lots of books in colors that you love.

Use a tray or basket to isolate or corral things that might otherwise end up looking too busy.
I put three items on my vintage bread board: an urn, a stack of books and a vase of flowers. Now I could have simply put them directly on the table, but it definitely gives a different look then. It can come off as too busy or like there is too much going on. Whereas by placing these items on the tray, it isolates them and keeps them together.
If you use a tray with a lip, you can even use it to corral smaller items.
And if the coffee table is in the living area where the TV is located (and of course 700 remotes, haha!) then I recommend a basket or box for hiding those away when they aren't in use.

This little vintage basket is on our family room coffee table and is full of remotes! 😉

Vary the height of your items, whether that means including taller ones or stacking them on books to create height, or both.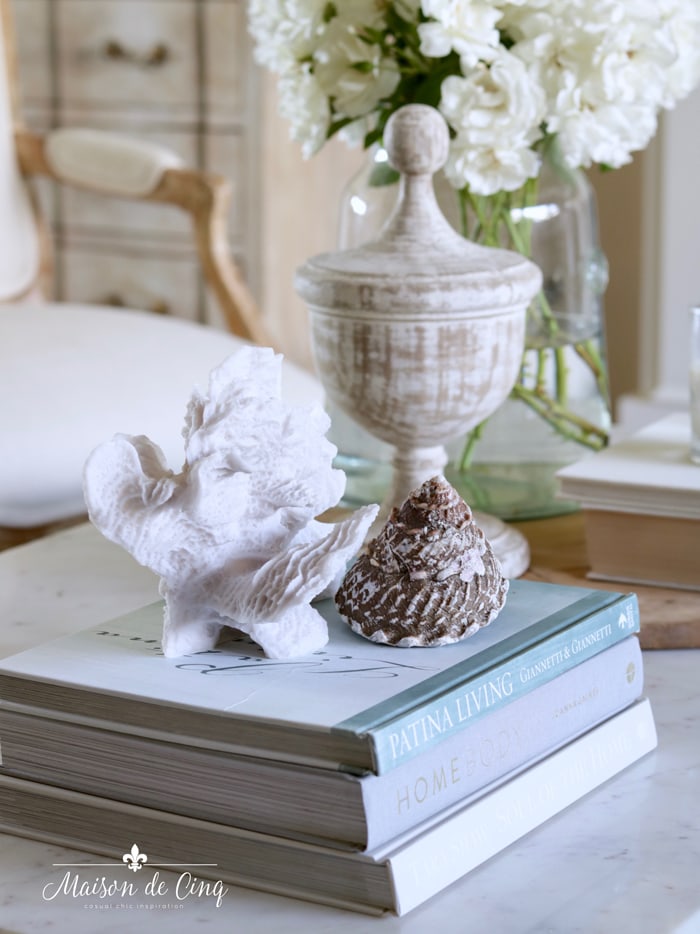 The vase is much taller than the urn, which is also taller than either of the stacks of books. Varying your heights creates layers which makes for a more interesting display.
And smaller items look more interesting (and are more visible) when placed on top of books rather than directly on the table.
Work in sections of either two, three or four.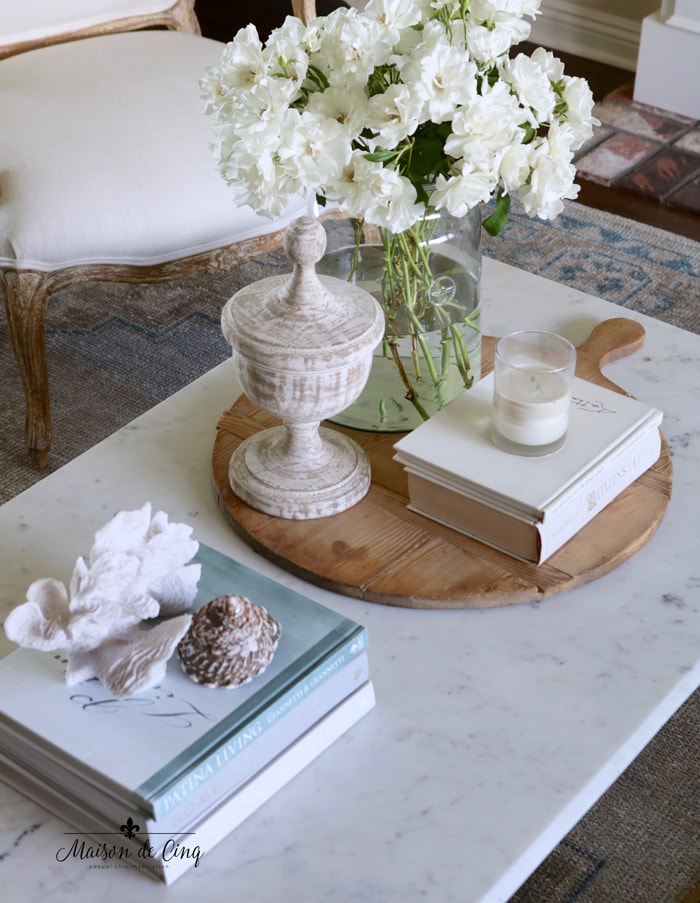 For this table I created two sections by mentally splitting the table in half. But three or even four (for a square or round table) can work well, too.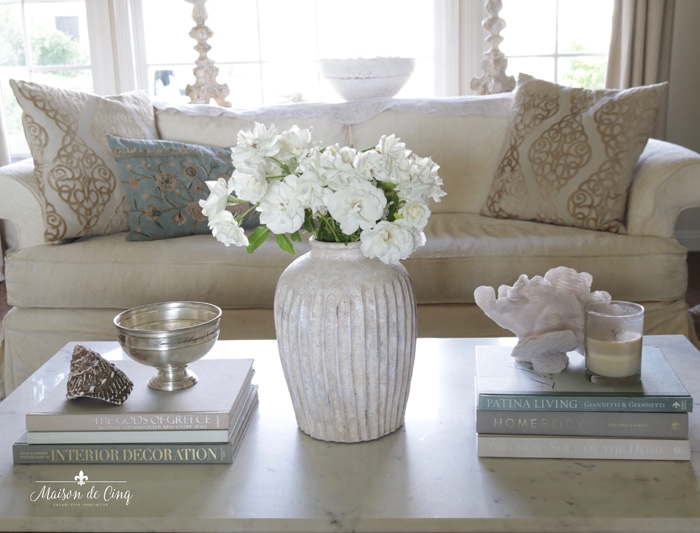 Above I changed up the table slightly to create three sections rather than two. A large vase is the anchor in the middle while two different book stacks flank either side, with smaller items on top.
Three sections is actually a very popular way to decorate a coffee table, and it works fine. I just usually prefer two. Mainly because it is simpler and less "covered" and allows for a little more space on the table. But it's completely personal preference!
And I know I said I was only sharing five tips, but there are a couple of other things I always try to include. One of them is texture. If you read my post all about texture, you know how important I think it is when it comes to decorating and that's also true when styling a coffee table.
The shells are one of several things on the table that add texture. The books add some (especially without the covers) and the bread board itself adds some, too. And in the photo below the vase serves that purpose.

If you have a rough hewn table you may not need it, but if yours is smooth (like my marble one) or glass, it's even more important.
And I almost always have a candle on the table because I love them! Scent is such a sensory experience and I enjoy burning candles year round.

I hope this has helped give you ideas on how to style a coffee table. By incorporating some easy rules and ensuring you have a few key elements, you'll find you can easily style any table like a pro!
Shop the Post!


*please note affiliate links included for your convenience*
Sheila
xo
Now check out the coffee table styling ideas my friends are sharing below!
Seeking Lavender Lane: Coffee Table Styling 101
Shades of Blue: The Basics of Coffee Table Styling
So Much Better with Age: Easy Formula for Coffee Table Styling
Thistlewood Farms: How to Decorate a Coffee Table
If you enjoyed this post, you might want to check out some of these others below: