I know I've said this before (I know!) but I love fall so much! And the last couple of years, I've found myself drawn to a more neutral fall decor palette. And since I have to do my Christmas decorating a little earlier this year due to my blog hop coming up, I wanted to touch on fall and Thanksgiving for just a little while longer. At least for this week! After that, I might be forced to give in…
Over the last several weeks I've spent time sprinkling some neutral fall decor around the house. And then moving it around again! I've used mostly white and green pumpkins (like my tablescape here), a little greenery, and neutral flowers in green and white. I just want to enjoy it for the next week or so while I can!
My white pumpkin display I did in the kitchen using two vintage French urns. I always love using white pumpkins in my neutral fall decor!
Hydrangeas are a continual theme for me, almost year round. They are a favorite and I love that they mix with anything. In spring, they feel happy and fresh, and then in the fall and winter, I love them mixed with greens, grasses, and eucalyptus.
A neutral mantel I did a couple of weeks ago using just a few white and pale green pumpkins.
I do love decorating with dough bowls, and the little white pumpkins look so cute in one. I love the contrast of the dark brown of the bowl against all the white!
More white pumpkins in a white pedestal bowl in the kitchen.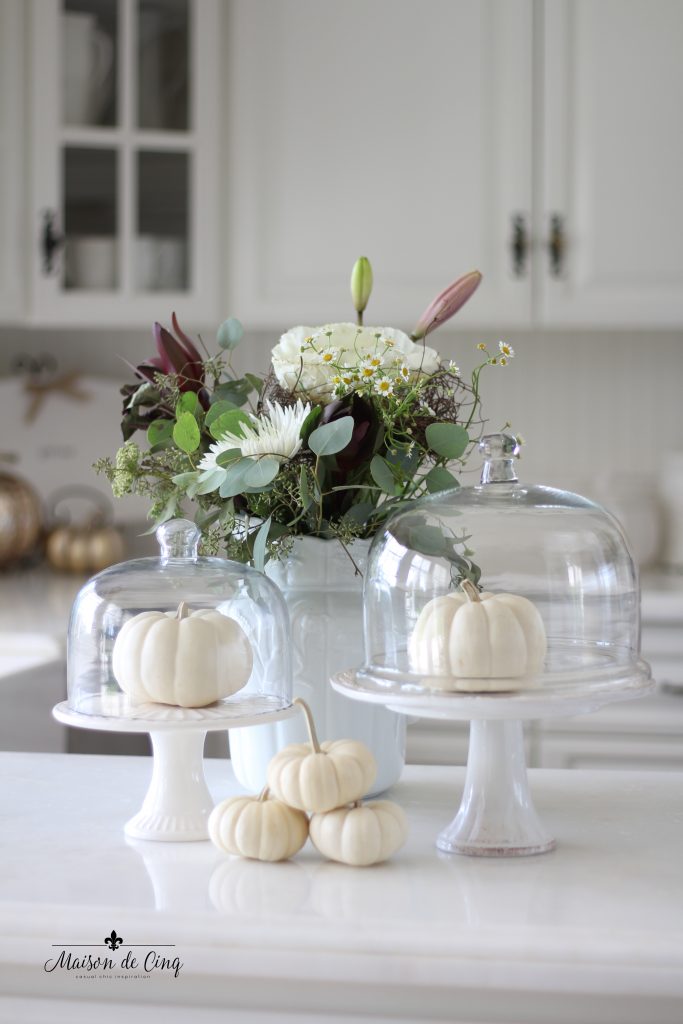 A display of fall florals with eucalyptus. You can see more of this kitchen decor in my fall tour here.
I just did this vignette on the counter this week when I took out the Thanksgiving decor. Love this little turkey tureen! And if you want more ideas on decorating with turkey plates and platters, you can find that in this post.
Hopefully you've been inspired to incorporate some neutral fall decor into your own home this season! Also, for more neutral fall decor ideas, take look at my previous fall tour and my two neutral fall tables here, and here.
Shop the Post!


*please note some affiliate links have been included for your convenience*
Wishing you all a lovely and inspired week!
Sheila
xo