Light & Delicious Lemon Cheesecake Recipe
This lemon cheesecake is rich and delicious yet also light and refreshing, making it the perfect dessert for Easter or any other spring gathering.
Growing up my mom didn't make a lot of fancy desserts on holidays. In fact, she basically made one, a rich and decadent cheesecake. We had it every Christmas and Easter and it's always been a favorite of mine.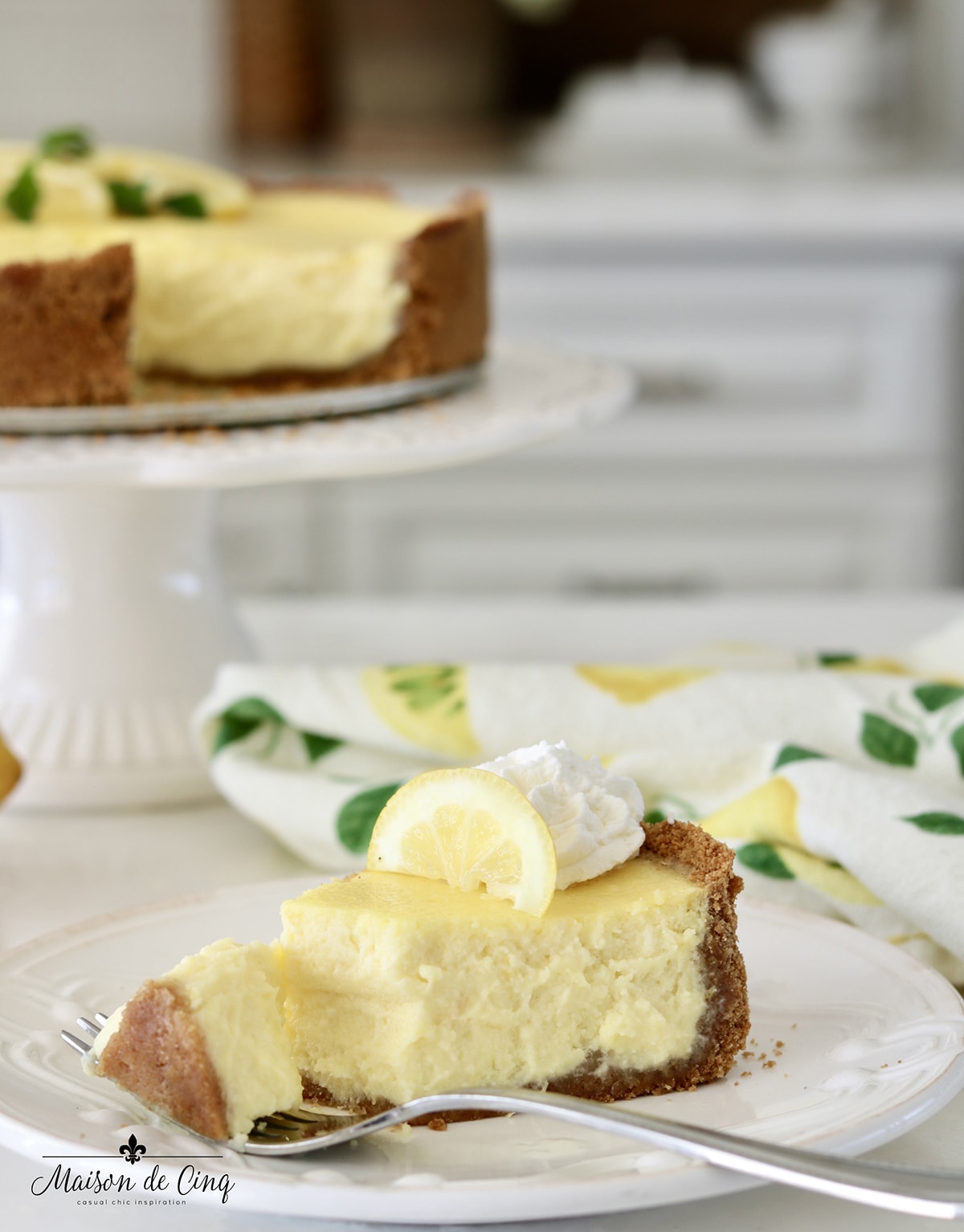 But as much as I love cheesecake, come springtime I actually like to serve something a little lighter. And since lemon is so refreshing while also being one of my favorite flavors, I set out to find the best lemon cheesecake recipe ever. And I think this is it!
THIS POST MAY INCLUDE AFFILIATE LINKS. CLICK HERE FOR MY FULL DISCLOSURE POLICY.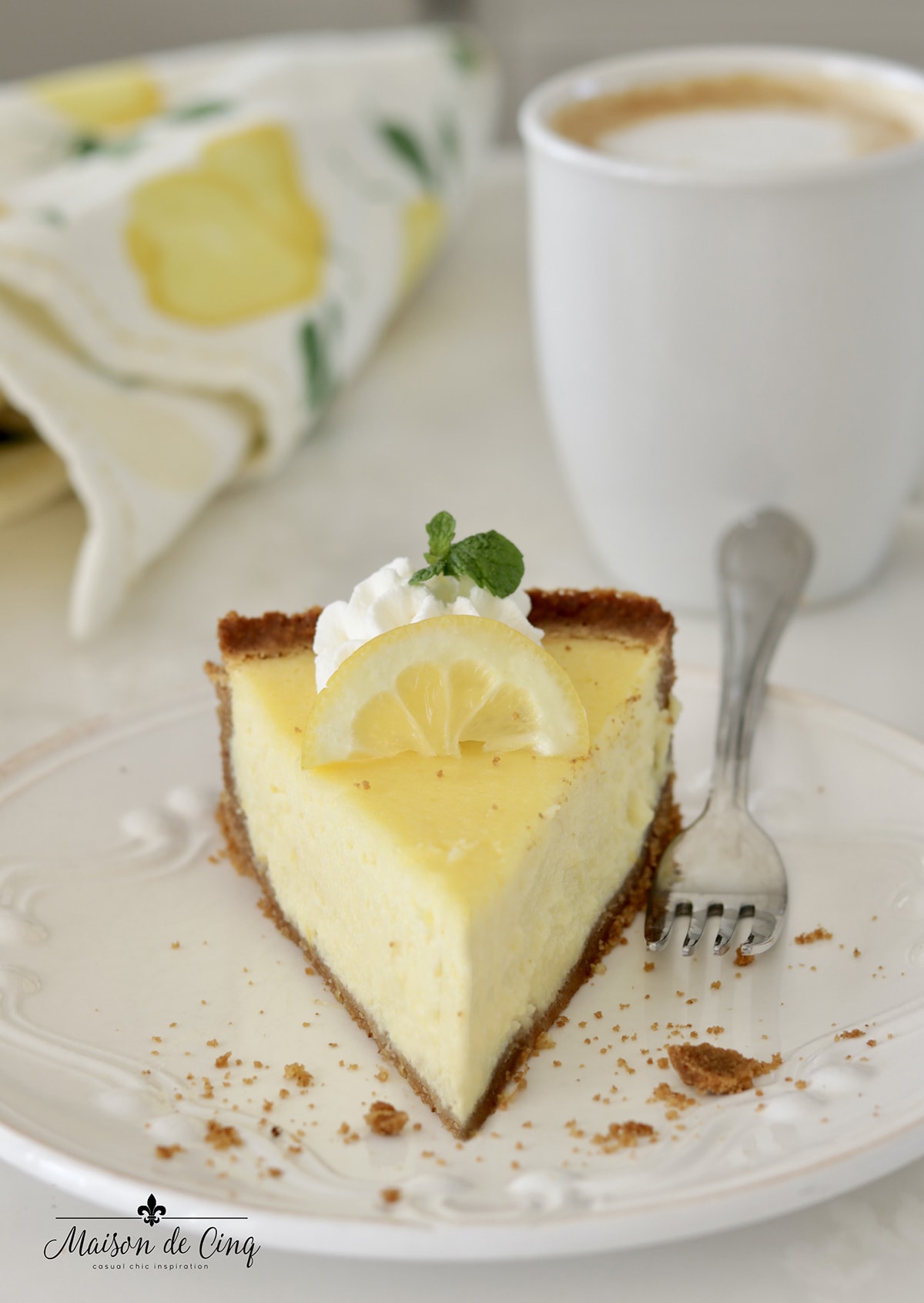 This lemon cheesecake uses ricotta along with the traditional cream cheese which creates a lighter feel. Not only that, it has both lemon juice and zest which creates lots of fresh lemon taste. If you love lemons, you will love this!
Sweet and tart, rich and refreshing. It's the perfect dessert for spring!

And if you've never made a cheesecake because you've imagined they're too difficult, nothing could be further from the truth. The secret? Cheesecakes are easy to make (just don't tell anyone – let them think you slaved away! 😉 )
And this one is even easier because the whole thing gets made in a food processor, no mixer required. What could be easier than that?

In fact, this is about as easy as the infamous 'dump' cakes! But oh-so-much better!

I've altered the original recipe by trading out the crust for a graham cracker crust because I love them. Another plus? They're easier, too.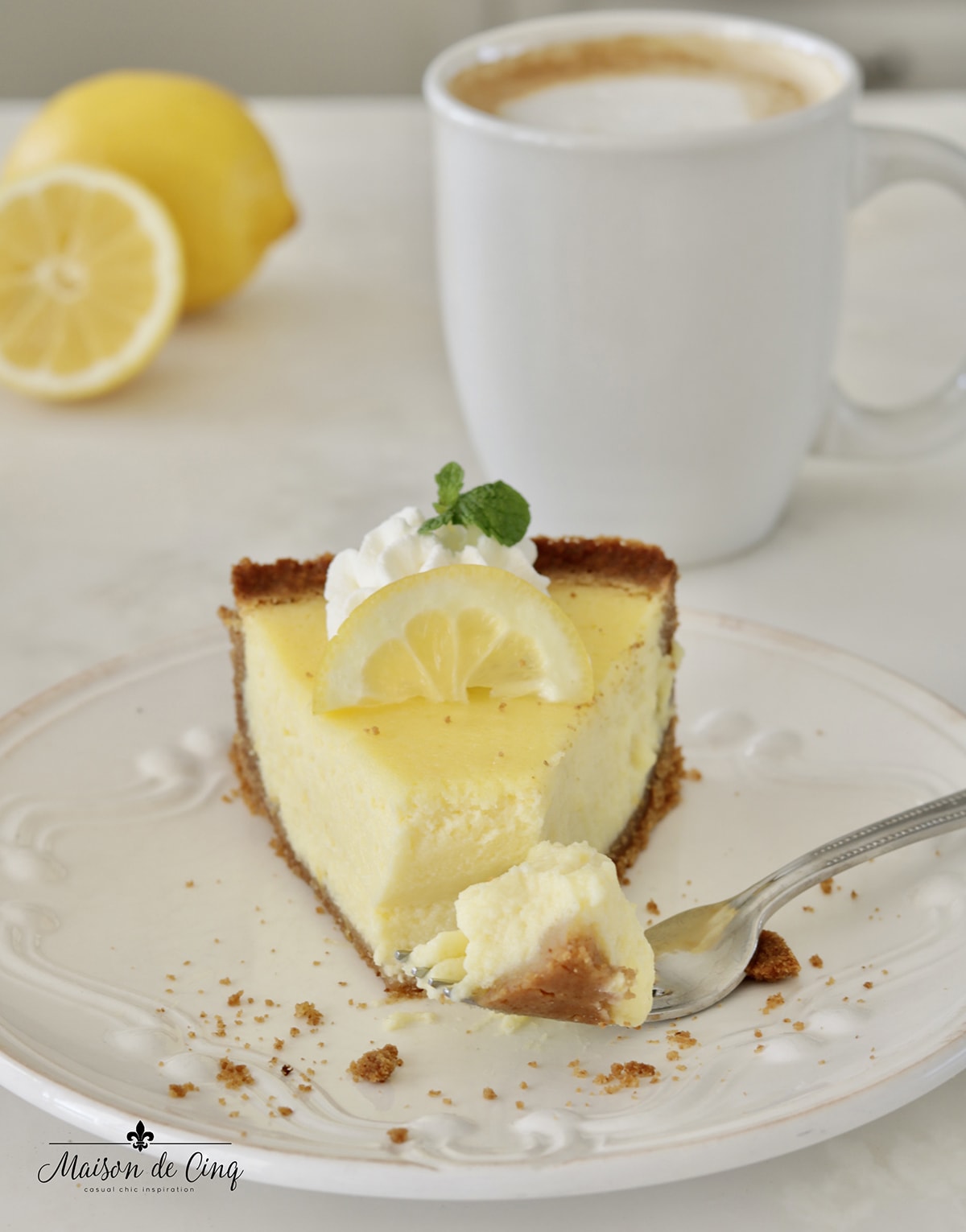 To give you an idea of how delicious this is, I was eating it while I was shooting.
Oh yes. It's that good.
Yield: 8-10
Light & Delicious Lemon Cheesecake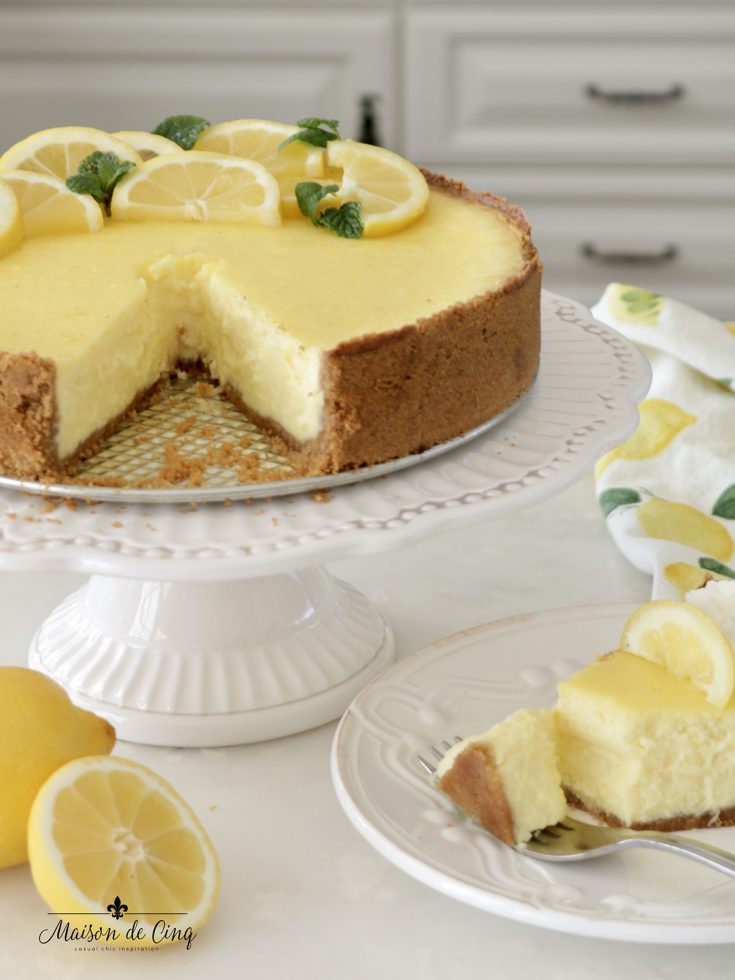 This lemon cheesecake is rich and delicious yet also light, making it the perfect dessert for Easter or any other spring gathering.
Cook Time
1 hour
10 minutes
Total Time
5 hours
30 minutes
Ingredients
Crust:
2 cups graham cracker crumbs (about 2 packages)
6 TBSP. unsalted butter, melted
Pinch of salt
Filling:
3/4 lb. cream cheese, softened
1 lb. ricotta cheese
4 eggs
1 1/3 cups sugar
1/4 cup plus 2 TBSP. fresh-squeezed lemon juice
2 TBSP. lemon zest
1/2 teaspoon vanilla
1 1/2 TBSP. corn starch
1 1/2 TBSP. water
Topping:
1 cup cream, whipped (optional)
Instructions
Preheat oven to 300°F.
Crush graham crackers in food processor or place in plastic bag and crush with a mallet or rolling pin.
Stir together melted butter, graham cracker crumbs, and salt. Press mixture firmly into bottom and 3 inches up sides of 9" springform pan. Refrigerate 15 minutes.
Meanwhile, place the cream cheese, ricotta, eggs, sugar, lemon juice, lemon zest, and vanilla in a food processor and process until smooth.
Place the cornstarch and water in small bowl and mix until smooth. Add the cornstarch mixture to cheese mixture and mix to combine.
Pour cheese mixture over the crust and bake for 1 hour and 10 minutes or until just set (cheesecake will jiggle slightly and firm up upon chilling).
Turn the oven off and allow cake to cool in the oven with the door closed for 20 minutes or so. Remove from oven and place on rack to finish cooling.
Refrigerate for at least four hours or (preferably) overnight. Top with whipped cream, if desired.
Notes
Make sure your cream cheese is fully softened before using. I like to leave it out over night - that way you get a creamy consistency with no lumps.
Cheesecake is better made the day before. This lets you chill it overnight, allowing the full flavors to develop.
Can be made up to 2 days ahead. Refrigerate until ready to serve.
Equipment: food processor,zester 9" springform pan
This has all the deliciousness of a traditional cheesecake, yet it's been brightened up with the fresh taste of lemon. And it's easier! What's not to love?
Lemon Cheesecake Essentials

Happy Spring!
Sheila
xo
*adapted from Donna Hay*
Now be sure to take a peek at my friends' amazing Easter dessert ideas below!

Strawberry Fool Dessert | Easter Bunny Cupcakes | Easter Bunny Cake – with Pattern | Lemon Curd Easter Parfaits

Bunny Puff Pastry Easter Tart | Easter Basket Flower Cake | How to Make "Egg Hunt" Easter Cupcakes

Chocolate Eclair Cake | Light & Delicious Lemon Cheesecake | Chocolate Easter Egg Pudding Cups | Blueberry Lavender Cake
If you enjoyed this post, be sure to check out more yummy spring recipes below!