Is your linen closet a mess of mismatched sheets, frayed pillowcases, and worn out items you don't use? Our easy linen closet organizing tips will help you get your linen closet in shape in no time!
It's true.
My closets/drawers/garage are a far cry from the neat and organized appearance of the rest of my house. I love having things in order, and consider myself a 'neatnik' at heart. But with the small amount of storage space our home has, it had somehow gotten out of hand. And I decided that had to change – STAT!
Before
So I purged, and cleaned, and organized, and I'm sharing the new linen closet with all of you!
Our linen closet had become a catchall for everything made of fabric. Not only did it hold our sheets and towels, as it should, but it also contained my decorative pillow covers, extra pillow inserts, Christmas tree skirts, and all manner of sheets we weren't using any longer. And many of those sheets were twin sheets!
*Note: we no longer have any twin beds in our home and haven't for a few years now, haha!
And our towels were about a decade old and in pretty sad shape.
After
And now, it's sooo much better!
It's so much easier to find what we're looking for and I couldn't be happier with the way it turned out. I literally go over and open the door to gaze at the neatness several times a day! 😉
And something I've realized is when things look this neat, they're more likely to stay that way. Win/win.
Linen Closet Organizing Tips:
Remove everything. Yes, everything. It really helps you to take stock and make hard decisions about what to keep and what to purge.
Separate everything into three piles: what needs to be donated, what you'll be keeping, and what you need to throw away.
Eliminate excess. I kept two sets of sheets for each bed. Basically one to use and one for backup.
Get rid of things that don't belong. For me, that was decorative throw pillows, inserts, and tree skirts.
Use baskets and bins to corral smaller items together.
Store like with like, and sheets with sets of the same size.
Label, label, label! Especially if there are baskets with contents that aren't visible.
To create a wonderful resource for guests, add some basic necessities like lint rollers, blow dryer, shampoo and conditioner, razors, lotions, and bath salts.
And another tip? Stick to all white sheets and towels. Not only does it look prettier and more spa-like, it makes it easier to keep them clean with bleach and not worry about staining (see our previous blue and green towels – yuck!)
I got rid of the twin sheets, any that were ripped or worn, and the few that weren't white. The sheets are now in two piles, Queen and King, and I know exactly what we have and where to find them.
Not only did purging help me make room for storing our sheets and towels more neatly, it actually allowed me to add some things to the closet that were previously in the bathroom but really belong here!
And baskets and bins were key to achieving the organization and the cohesive look I wanted. I found all of these at Walmart (they have so many cute options nowadays!) which made this a very reasonable project. 🙂
Even though our home is on the smaller side, I really wanted to create a luxe spa-like feeling so I added some hair care items that our guests might need if they forgot their own. A blow dryer, basic shampoo and conditioner, as well as body lotions, razors, and loofahs are stored in a cute metal basket.

Other basics like soap and cotton balls are stored in glass jars, making it easy for guests to grab when they need them. I love these!

And the added space allowed me to add a bin for our medicines, which were previously stored in the master bath. This is way better since now my kids don't need to go into our bathroom to get simple things like Advil, and it frees up more space in our small bathrooms for other items.

Lined grey wicker baskets hold other essentials like tissues, wipes and room spray.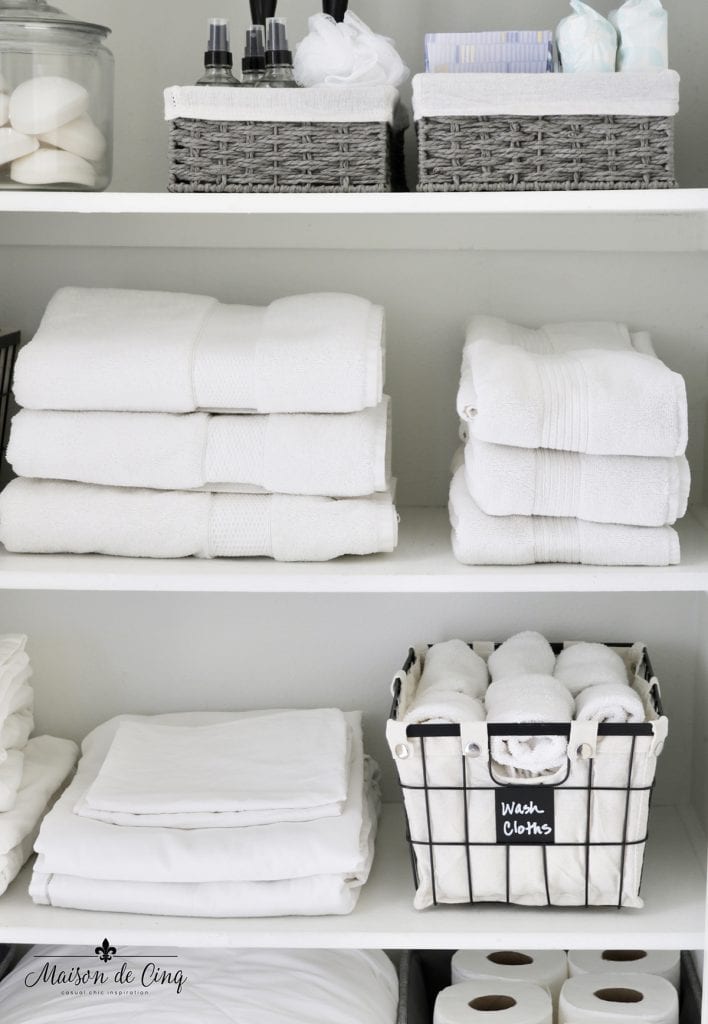 I purged the old, dingy bath towels and sprung for some new white ones. I love that it feels more cohesive now.
And how cute are these metal baskets??! They come in two sizes and have built in labels which I love!

On the bottom shelf, I've stored the larger duvets and comforters, as well as extra toilet paper. Previously I stored most of our back up rolls downstairs which really wasn't optimum. Now I can transfer a few rolls to each bathroom, but the bulk of the backup is in here making it easier to re-stock each bathroom when needed.
I'm also thinking of getting a few more extra pillows to have on hand, as well as a new blow up mattress since ours is old and not that great of quality. I may not be able to give my guests a bedroom of their own, but I can at least treat them to nice, crisp sheets, fluffy towels, and a plump new pillow!

From this….
To this….
We now have an organized and dare I say, pretty, linen closet that works better for us and is much more presentable for guests!
And I have to say, this is probably the most gratifying organization project I've ever tackled! I can't think of any project that has had such a dramatic impact for such a small amount of time and money. 🙂
I found everything for this linen closet organizing at Walmart Home! I'm sharing everything I used below, a few other adorable baskets and bins, plus a few other items that are great for getting your home ready for guests. And they have free shipping and returns for purchases over $35!
Shop Linen Closet Organizing


*please note affiliate links are included for your convenience*
Happy Organizing!
Sheila
xo
*This post was sponsored by Walmart, but as always, all opinions are my own*
If you enjoyed this post, be sure to check out more organizing and cleaning tips below: