Peonies are just about everyone's favorite flower, but do yours bloom too quickly and then burn out? These five simple tips will help make cut peonies last longer!
For me, there's really just three seasons. The holiday season. Peony season. And the rest of the year. 😉
Of course, I'm not being totally serious, but I am completely crazy for peonies. There's just something about those fluffy blooms that makes my heart sing!
Each year, in the first week of May, I start calling my local Trader Joe's to see if they've gotten any in yet and I practically run there the first time they answer 'yes'! Peonies are by far my favorite flower, and their season is so fleeting that I want to enjoy them as often and as long as I can!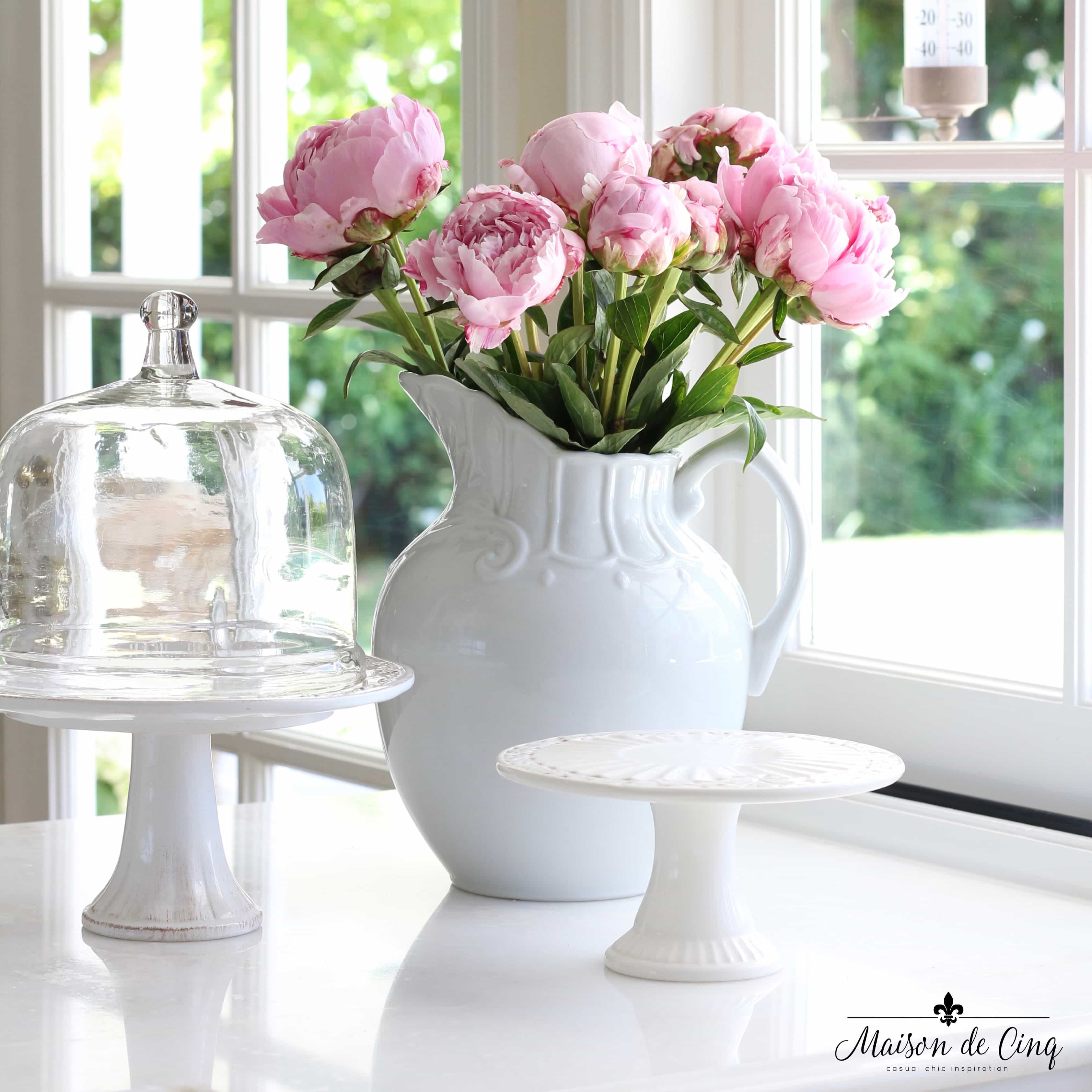 But what about when you buy them and they bloom too quickly or don't last as long as you'd like? It's disappointing to spring for fresh flowers and not have them last more than a few days! And if you're not buying peonies at Trader Joe's they can be pretty pricey.
You may be wondering if there are some tricks or tips for getting them to last longer, and the answer is a resounding yes! By implementing these five simple steps you can have peonies that last for two weeks, or even longer. And who doesn't want something this gorgeous around for as long as possible?!
Tips to Make Fresh Cut Peonies Last Longer
1. Buy peonies when they are in the bud stage. Peonies that are fully open are gorgeous, of course, but they won't last nearly as long. And make sure to squeeze some of the buds gently – they should feel soft, similar to a marshmallow.
Don't buy any that feel very hard as they may never open. Peonies usually open very quickly and in just a couple of days, you'll have a stunning arrangement!
2. Use flower food! For an average size vase or pitcher, I use about half the packet that comes with them. Flower food is fertilizer, and like any fertilizer, a little goes a long way.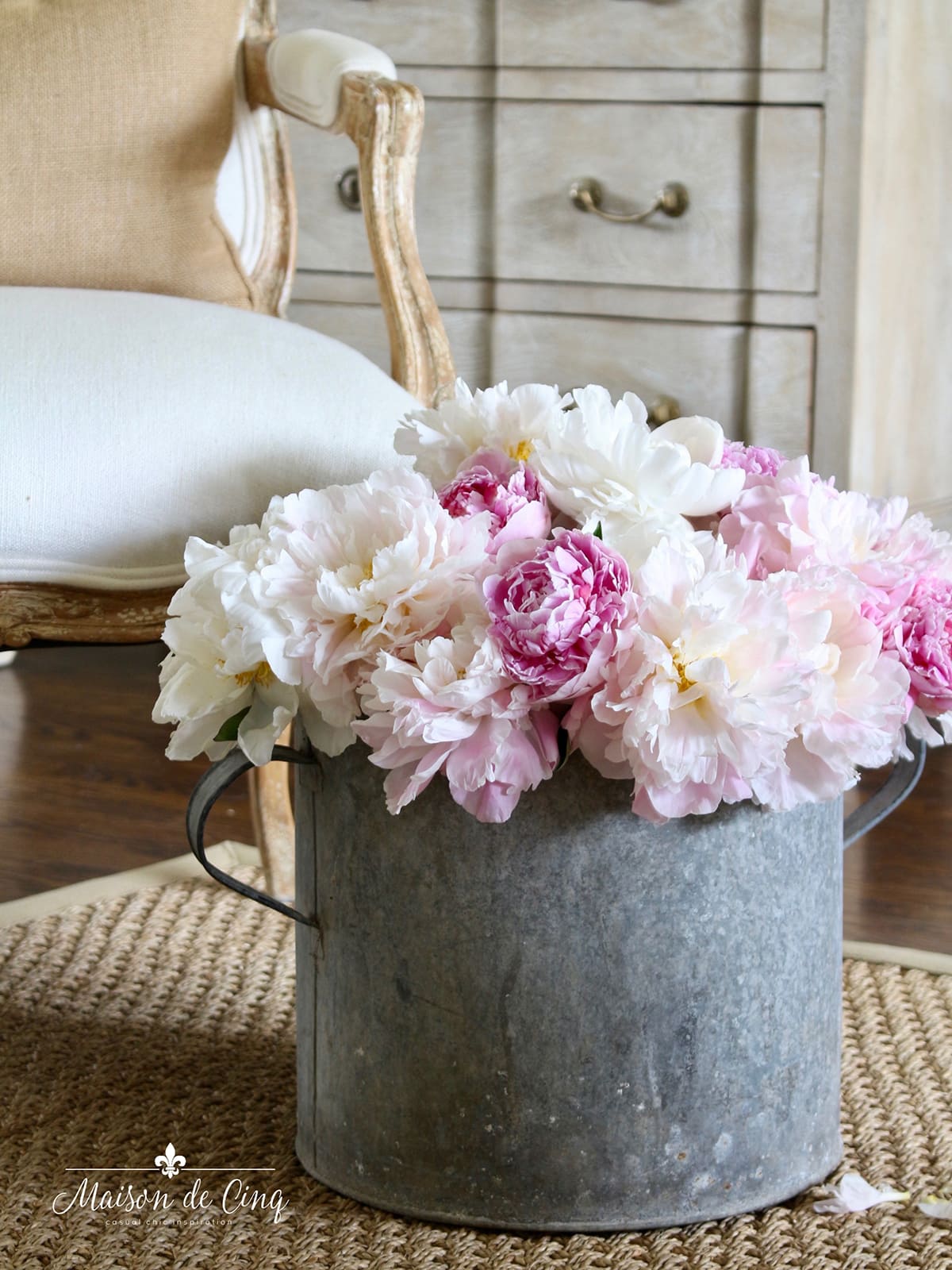 3. Cut peony stems at an angle (to allow more water absorption), removing at least one inch of stem. I also remove all leaves that will be below the water line as those encourage mildew.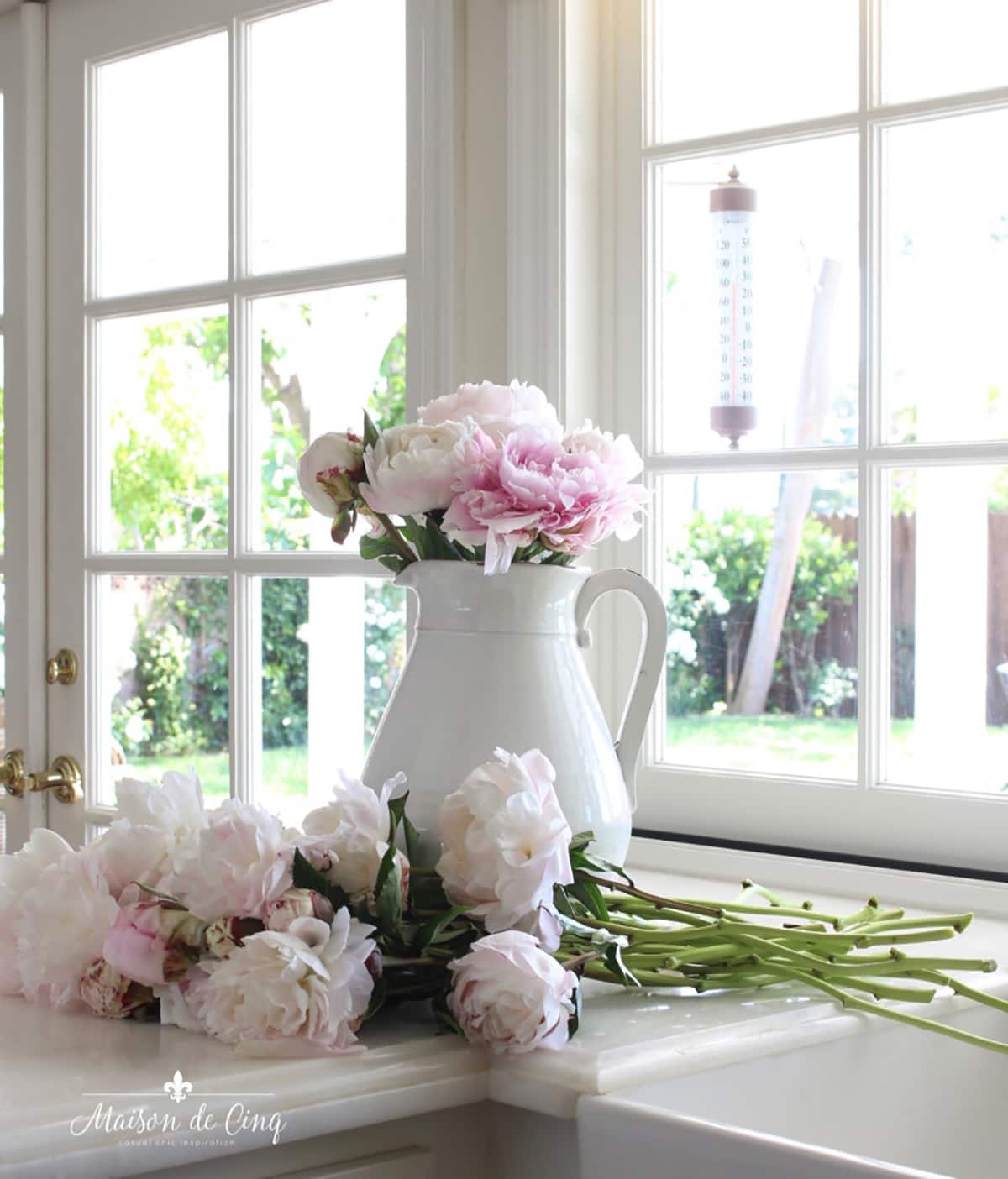 4. Keep them cold. All flowers last longer when kept in the refrigerator (think florists!) but that's especially true of peonies.
If you need them to last for a party or event that isn't happening for a couple of days, stash them in the fridge until you're ready to use them. Once you bring them out they'll continue to open and bloom when they're at room temperature.
You can even put them back into the fridge every night to get them to last their very longest.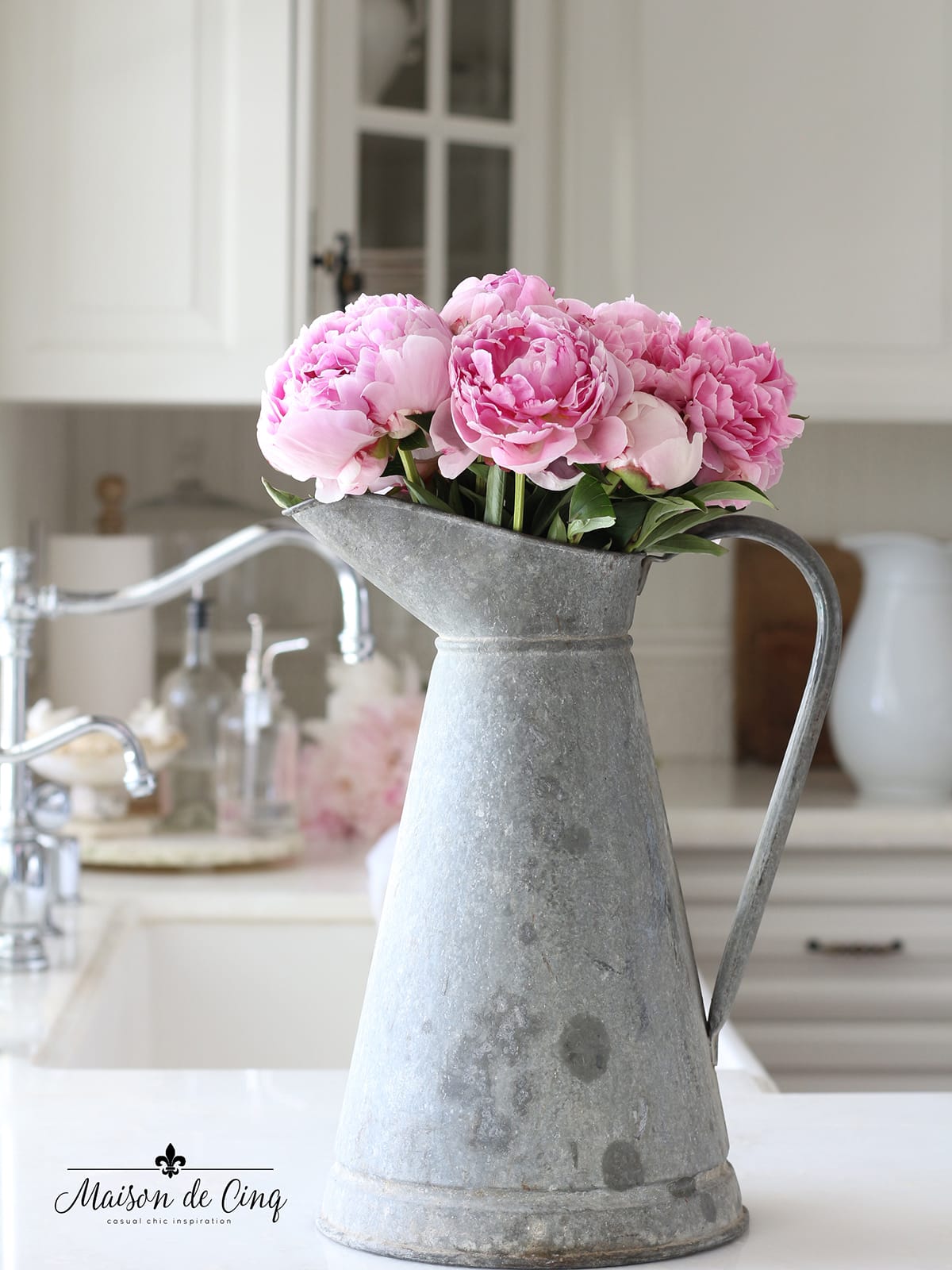 5. Be sure to refresh the water every couple of days. I also usually 're-cut' my peonies every few days to make sure they can still absorb water.
But what about when the opposite happens? And you get some buds that just won't open? Sometimes the buds just stay closed and refuse to open, even after a few days in a vase.
That's happened to me several times but now I've found ways to help them open up! See below for my tips for getting them to bloom faster.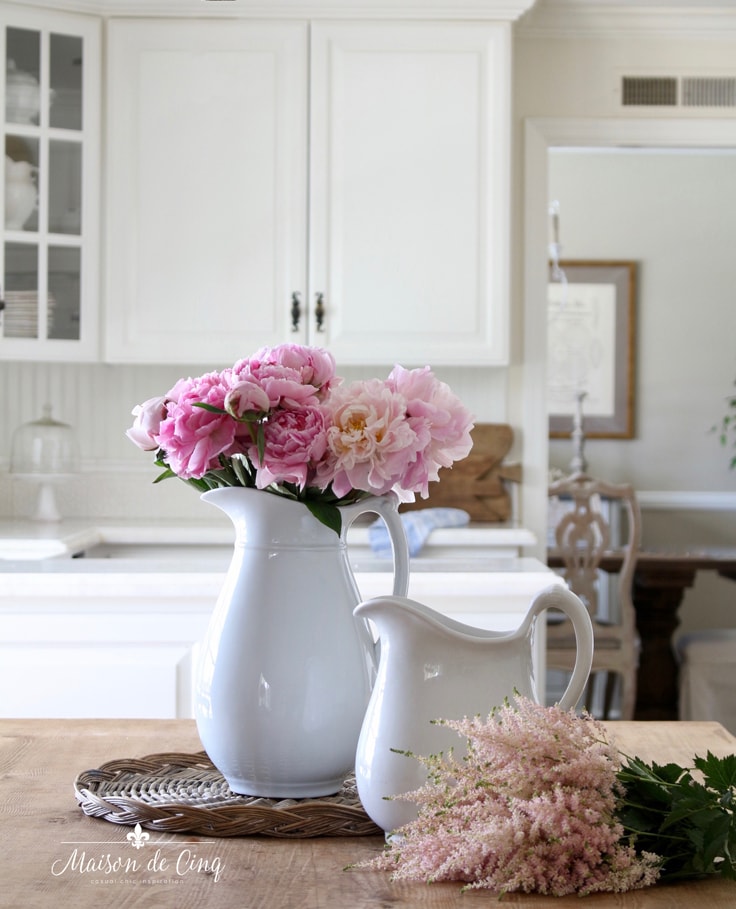 Tips to Make Peonies Bloom
Place the peonies in warm, not hot, water.
Make sure they are by a window or another warm, sunny location to encourage them to open faster.
If that still doesn't do the trick, you can also pull back on the outer leaves slightly which will make them open almost immediately.
Peony season is from late April until early June – not long! That's why it's so nice to be able to make the ones you buy last as long as possible. Florists carry them as well as most grocery stores and farmer's markets, but here in Southern California I find the best price is always at Trader Joe's.
As you can see, I am partial to the pale pink variety, but they also come in several different shades of pink, including deep pink, as well as white. I've played with them in every kind of vessel – from classic glass vases, to vintage pitchers, to galvanized buckets and honestly, they look good anywhere you put them.
They are a robust and showy bloom and you don't need many to make a statement. In fact, they are one of the few flowers where I usually don't add any eucalyptus or other greenery – I love the simplicity of the peonies all by themselves!
Now you have all the tips you need to make your fresh cut peonies last longer – and that should bring a smile to anyone's face!
And if you're interested in getting some great vessels to showcase your peonies in, check out some of the fabulous ones I'm sharing below!
Shop the Post

*please note affiliate links have been added for your convenience*
Sheila
xo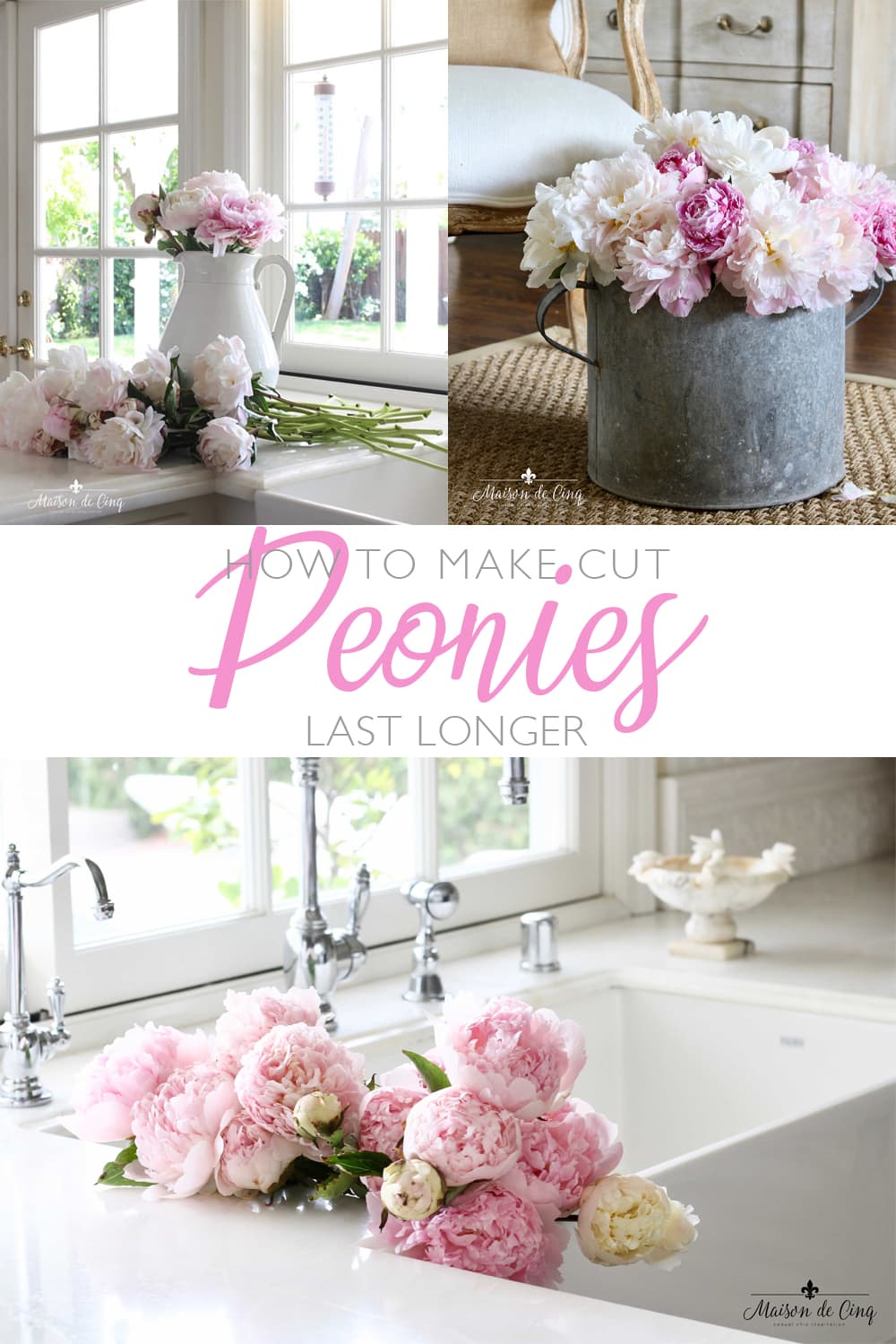 My friends are also sharing some lovely peony projects below!

Planting Peonies Best Tips on When and How To Plant // Inspiration For Moms
Peony Fields Free Printable Peony Art // The Happy Housie
Pink Peonies Pillow DIY // My 100 Year Old Home
Peony Arrangement Ideas // Happy Happy Nester

How To Make Cut Peonies Last Longer // Maison de Cinq
May In The Garden – Waiting For Peonies // Finding Lovely
Dollar Store Candle Hack // My Sweet Savannah
3 Easy Steps to Create Inexpensive Front Door Decor // Robyn's French Nest
If you enjoyed this post, be sure to check out these other flower-inspired posts below: