7 Things to Do to Make Your Kitchen & Bathrooms Look More Beautiful
These seven small changes make a surprising difference and will help make your kitchen and bathrooms look more beautiful – today!
A couple of years ago I had one of those epiphanies about my house. You know, the ones that you never thought of before and you can't believe you didn't think of earlier?
I was in the kitchen at the sink and noticed what was next to it for maybe the first time ever.
Bright yellow sponge. Orange Palmolive bottle with a bright green label. And both of these were simply sitting on the counter. Not even a pretty container or spot for them to rest.
Until then I had just accepted that those things come in garish colors and that's that. They never bothered me. To be honest, I never gave it much thought. But on that day I realized that while I was spending time decorating and accessorizing my home, I was ignoring these small things that could really use some improvement.
So I decided that I would make an effort to change up all the little, everyday things that were ugly. You know that saying by the famous decorator Elsie de Wolfe?
"I will make everything around me beautiful – that will be my life"
That's what I decided I would do.
Because why shouldn't the small things in our lives be pretty? Do sponges and soap bottles have to come in bright neon colors? And why does every toothbrush look like it belongs to a 5 year old?!
These things clash so much with the rest of a pretty home, and yet they don't have to! Today I'm sharing 7 easy things you can do today to make your kitchen and bathrooms look more beautiful – starting with those sponges!
THIS POST MAY INCLUDE AFFILIATE LINKS. CLICK HERE FOR MY FULL DISCLOSURE POLICY.
1. Change out your sponges!
The first step in making my kitchen look more beautiful was to swap out my sponges. I set about trying to find sponges that were either white or neutral. I found some simple white ones at Target (that's the one above). But I also like and have used these natural colored ones – they're also a little thicker and more durable. While you're at it, add some natural bristle scrub brushes for doing dishes.
Also be sure to find a beautiful bowl or container to hold the sponge. My little marble bowl is a vintage piece I found, but there's lots of small, pretty bowls to be found. Or how cute would this marble tray look sitting on the counter?
I also transfer my hand and dish soaps into pretty glass containers. I have my hand soap in this one above, and my dish soap in this larger size (not shown). There are also double sets where you can have hand and dish soap or hand soap and lotion in matching refillable containers.
Not only do they look better than a bright bottle of Palmolive, but they're also much more earth-friendly as they're refillable. I love the Mrs. Meyer's soaps. My favorite is the Basil but I also love the Lemon Verbena and the Lavender. They come in all kinds of yummy scents, they're affordable and they have large refill bottles, too.
This whole spot looks so much prettier than it did when I had the glaringly bright sponges here!

2. Corral cooking items with trays
Over on the stove side I've corralled some cooking items on a vintage bread board. Salt, pepper, olive oils or vinegars all look better if they're grouped together in a basket or on a tray. Much like the dish soap, I like to decant salt and pepper into pretty vessels.
This little 'salt' jar looks so much better than the previous large box of kosher salt that used to sit here! (similar here) Likewise olive oil looks better in a glass dispenser with a spout, and it's much easier to use, too.
I also adore my new brass pepper mill! It's seriously the best pepper mill we've ever owned and I love the look the brass adds to the kitchen.
And while you're at it, add a candle. This line above is one of my favorites and they're very reasonably priced. I love the Espresso scent, but the Sweet Cinnamon is also really yummy. I buy them in bulk so I always have some available!
Scented candles make your house smell so much better, and they're especially great for getting rid of cooking smells (just be sure to blow them out before you eat as they can interfere with taste buds).

3. Use cute brass chip clips
So this might be my favorite 'prettifying' tip ever. When I discovered these brass chip clips, I was giddy! They look pretty and sophisticated and so much better than the bright colored chip clips I used to have!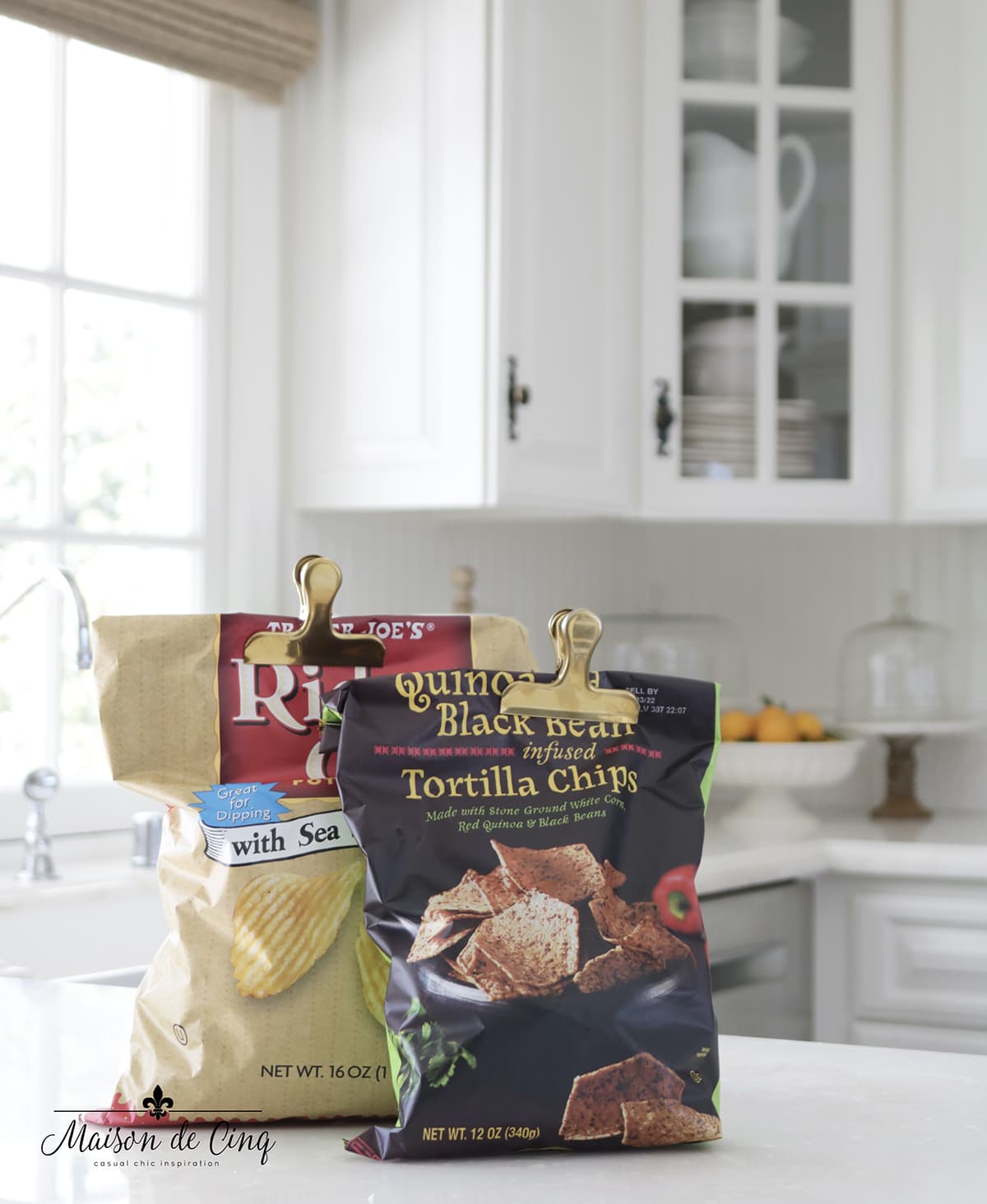 Now these pretty brass clips hold our coffee closed as well as chip and pretzel bags. And they're much sturdier! It seems every week one of the plastic ones was breaking. Whereas I've had these a couple of years now and they're still going strong.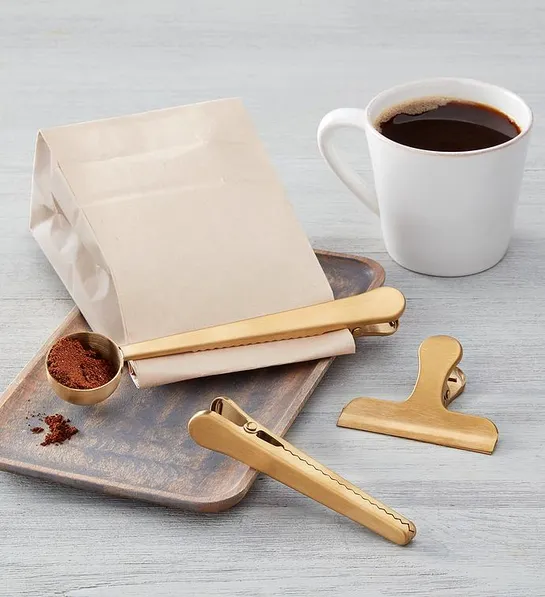 I also have a clip set from the same brand that includes a coffee scoop.
Another pretty option for closing bags is plain wood clothespins. I do have some of those as well and much prefer that look to the plastic versions!

4. Use pretty covers for your tissue boxes
Though I've had some tissue box covers before, none of them really spoke to my taste for a simple yet classy style until I found this linen cover. It's so pretty, works with any decor in any color bathroom, and makes a great gift, too!
My linen cover has unfortunately been discontinued, but I found a great option from Ballard Designs. that's actually less than I paid for this one!

5. Change out those toothbrushes
It is beyond me why toothbrushes that are allegedly for grown-ups look exactly the same as the toothbrushes that they make for kids! So just like with the sponges, I set out to find either all-white or natural colored brushes that would blend more with our home.
I found these white and gray options above. They are soft bristled (that's all we buy) and come in packs of two. One is light gray with white bristles and the other is white with gray bristles. This is great since my husband and I share a bathroom, and handy for kids who are sharing, too.
Another option are the natural-colored bristles with bamboo handles. We've also used these and I like them too – some even have numbers so it makes it easy to tell them apart!

6. Decant your soap or buy one in a pretty glass bottle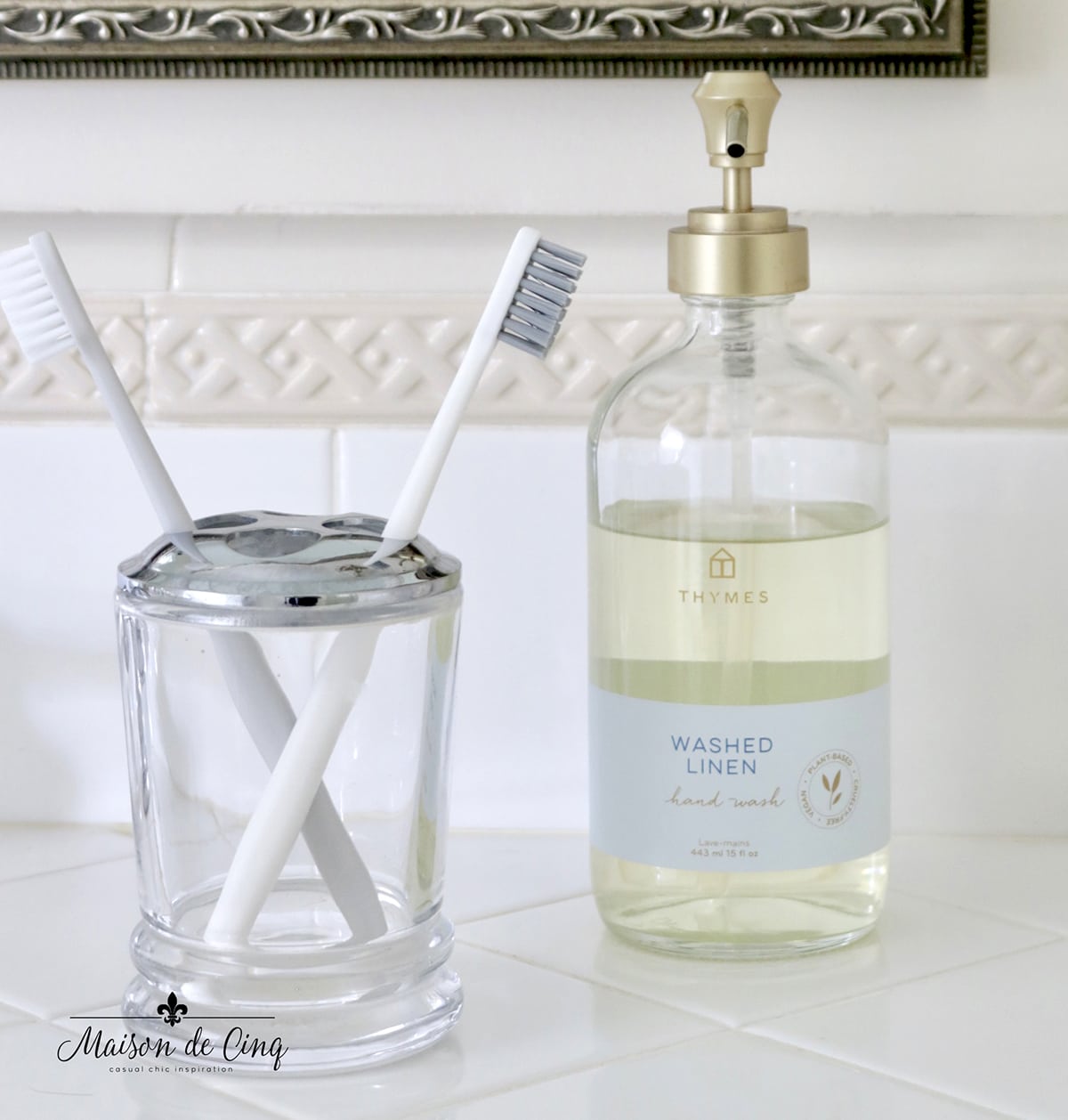 As I mentioned above, in the kitchen I decant both the dish and hand soaps into glass containers and I've done the same in the bathroom. However, I recently found this soap that comes in a beautiful glass bottle and it's the most amazing scent! It's by Thymes which makes my favorite holiday candle so it's no surprise their soaps smell so good.
I love this one above, Washed Linen. But I've also tried their Eucalyptus and it's also great! I've linked the larger size because I love that it comes in a glass bottle and can be refilled. But if you want to try the scents in a smaller, less expensive size first, you can find most most of them on Amazon.
And for a less expensive option, again I love the Mrs. Meyer's scented hand soaps!
7. Use pretty boxes to store things you don't want visible
I love to use baskets or pretty boxes to hide things I'd rather not have out, or that just aren't pretty. Above, I used a cute little vintage basket to hold all of our TV remotes. Not only does it look prettier and neater, but it also keeps them from getting misplaced!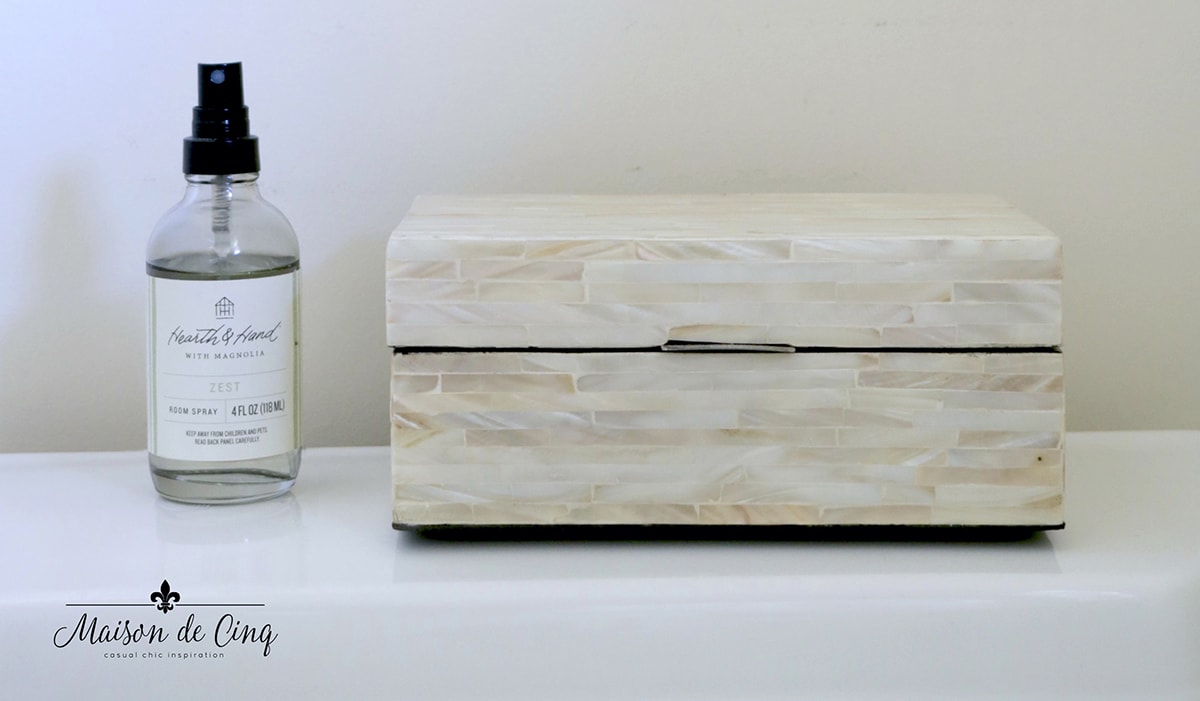 Not a pretty picture, I know, but this box is beautiful and now holds the toilet wipes. My whole family loves them, but I didn't love the package sitting out – especially in the powder room and guest bathrooms. Pretty box to the rescue!
This box is Mother of Pearl and came in a set of two, but there are so many options these days. If you want to do the same thing, just measure the container of whatever you need to hide. Another favorite? This cute marble jar that holds matches in another bathroom but would be perfect for so many things!
You might also notice my cute Hearth & Hand room spray – another small improvement over the previous version, haha! Not only does this look decent sitting out, but it smells so good!

Bonus tip: Decorate with Flowers & Fruit – Always!
One sure way to pretty up your kitchen is to display your produce. Using fruits or vegetables as decor is not only beautiful to look at, but it adds color and freshness to the space, too.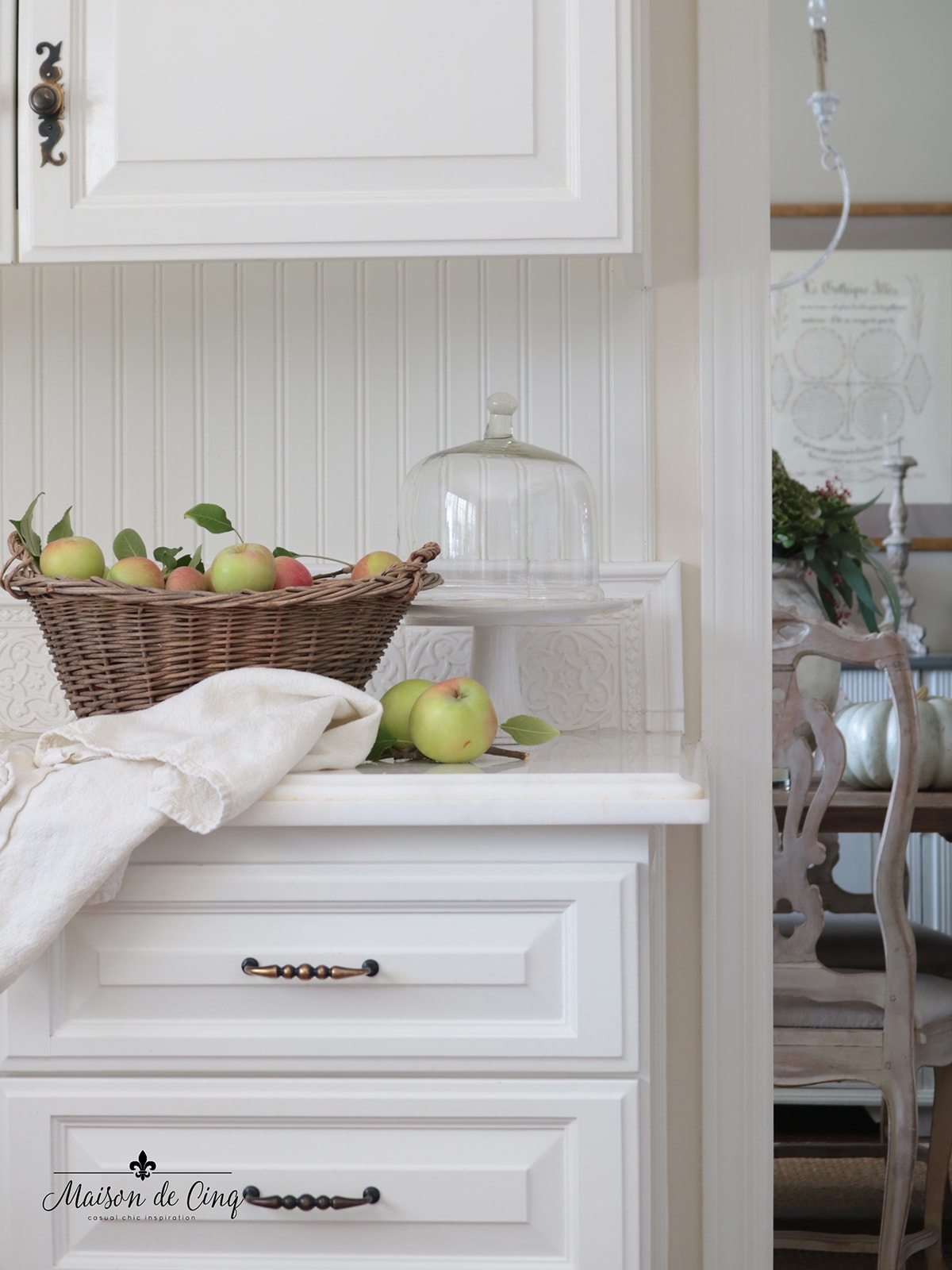 And of course, I'm sure it's no surprise to you how I feel about fresh flowers!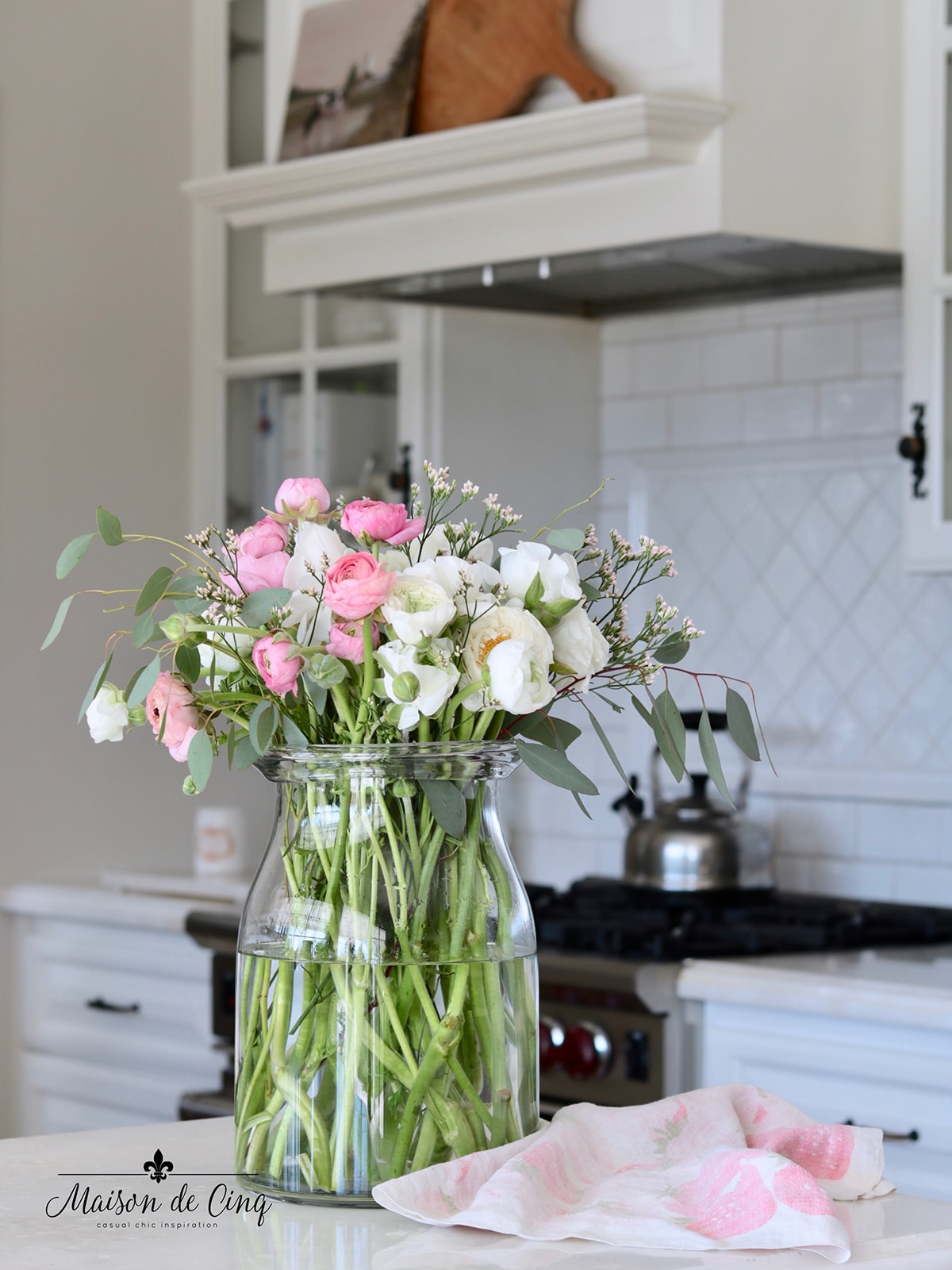 No matter the mess or dust or lack of perfect styling, fresh flowers will always make your kitchen – or any space in your home – feel prettier. It's probably the single easiest way to bring some sunshine to any room! For more flower tips be sure to check out my post all about Decorating with Flowers on a Budget.
It doesn't always take a lot of money to make a big difference in the appearance of our homes. In fact, sometimes small, inexpensive changes can have a big impact. By simply swapping out some of these unattractive but necessary household items, you can make your kitchen and bathrooms look more beautiful!
Shop Beautifying Favorites


Sheila
xo
If you enjoyed this post, be sure to check out these other ones below: