Gorgeous Farmhouse Style Master Bathroom Remodel
Today I'm sharing a friend's master bathroom remodel that I thought you'd all enjoy seeing. This was a project we finished about a year and a half ago, but I never got a chance to go back and take photos until now!
This was one of the first projects that I helped to design, and it was a lot of fun to work on. A friend asked if I would help her in making some choices for her master bathroom remodel, and I was more than happy (and excited) to help. I mean, go shopping for things like mirrors, tubs, and marble with a friend? That's like candy to me!
She had a pretty good idea of what she wanted already, but like many people, she needed a second opinion on some things. Someone to run ideas by. Someone to help with paint colors (always hard!) Basically, someone to help her bring her ideas, Pinterest pins, and visions in her head, come to life.
She loves farmhouse style so we knew we wanted to have that influence. But I also wanted it to be a little dressy, and not too farmhouse since it is her master bathroom, after all! And I think it has a great balance of rustic and elegant. It still needs a few accessories, and there are a couple of bare walls in some areas I'm not showing. But overall, I'd say it's basically done. And she is thrilled which makes me thrilled!
Farmhouse Style Master Bathroom Remodel
The tub resides in a circular area surrounded by windows and is the focal point of the room. Where the tub stands now there was a dated 90s built-in tub that was replaced with this beauty!
Unfortunately, I don't have any "before" photos to show you which I know is always fun. She had already gutted the old bathroom when I came on the project, and she did look for some photos so we would have some to show you but she couldn't find any. You'll just have to take my word for it that it's much prettier now!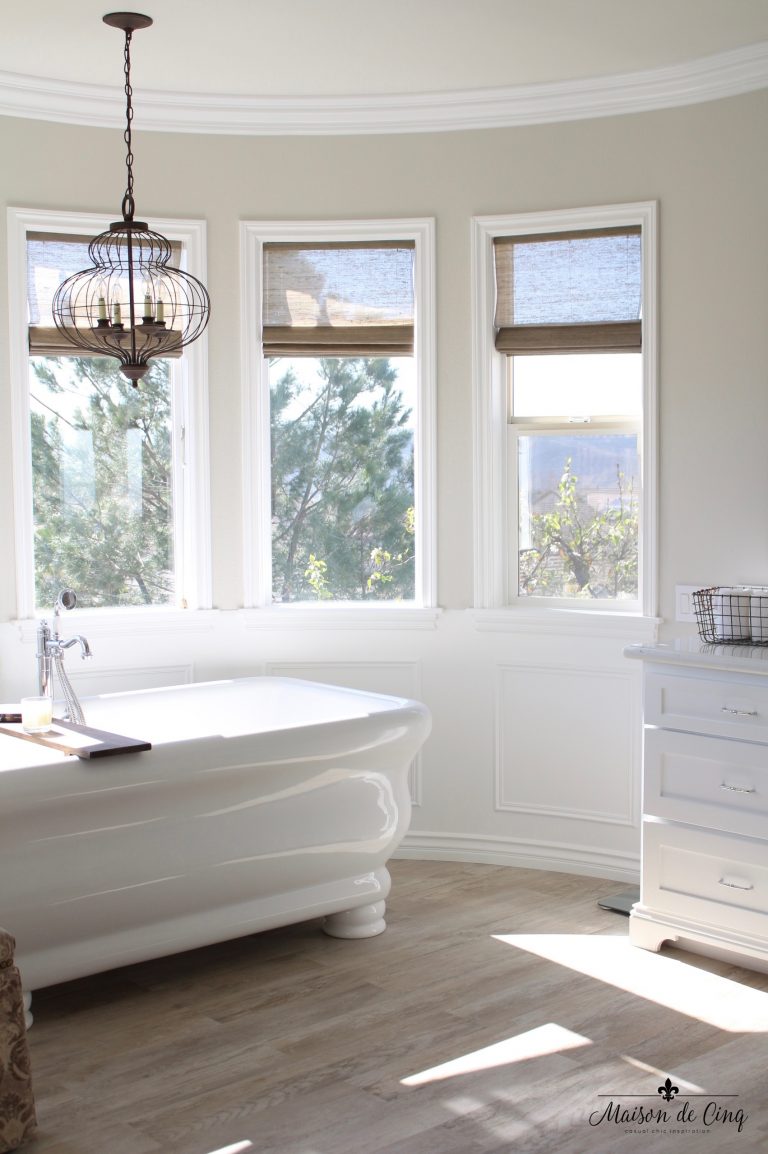 I suggested adding the wainscoting that is under the windows in the tub area, and she agreed. It is probably my favorite thing in the space and I love that it adds detail and character!
There are two sink/vanity areas in the bathroom. This one is slightly larger and is the "hers" side of the room.
The floors are actually porcelain tile! You literally can't even tell they aren't wood, even when you are standing on them. And the color variations are so pretty.
The mirror is one that we had custom made from old barn wood. I love the rough-hewn wood contrasting with the white quartz.
That shower! It is Calacatta marble tiles and it is seriously stunning! I must say the photos do not do it justice!
Dual shower heads were added as well as a bench at the end for shaving.
On the other side of the room is the "his" area with the same mirror and vanity, just made slightly smaller.
The shades are woven woods and are a very sheer taupey-grey that we both fell in love with. I love how they look in the space!
Master Bathroom Remodel Source List:
Free standing tub: Hydro Systems Maestro collection "Donatello"
Woven wood shades: custom
Sink: Kohler "Devonshire"
Faucet: Santec "Vantage I"
Vanities/cabinets: custom
Mirrors: custom made out of barnwood from a local framer
Hardware: Restoration Hardware "Montepellier"
Shower: marble tile in Calacatta Gold
Counters: Pental quartz in "Statuario"
Porcelain floor tiles: Arizona Tile in "Club White"
Chandelier: Quoizel "Laila"
Paint color: walls, Benjamin Moore "Revere Pewter" at 50%, trim and cabinets BM Cloud White
Get the Look!

*please note affiliate links are included*
I hope you enjoyed seeing this farmhouse bathroom remodel. This was such a fun project for me to work on, and a special one, too, as it was for a friend. At the end of the day when I've helped someone to get a space that makes them happy, it is a wonderful feeling!
Sheila
xo