French Farmhouse Master Bedroom Makeover Reveal!
Come see how I turned my dark and dated bedroom into a French farmhouse inspired calming retreat in my master bedroom makeover reveal!
I'm so very excited to finally be sharing my French farmhouse inspired master bedroom makeover reveal as part of the One Room Challenge! This has truly been a labor of love, and though not everything is in (yes, sadly 🙁 ) I'm still so excited to share it with all of you!
To be honest, there were times I didn't think this would actually get done in time. There have been several mishaps and missteps along the way. But here it is, and I couldn't be happier with the result!
And now come on in ~ I'm sharing all the details of our French farmhouse inspired master bedroom makeover!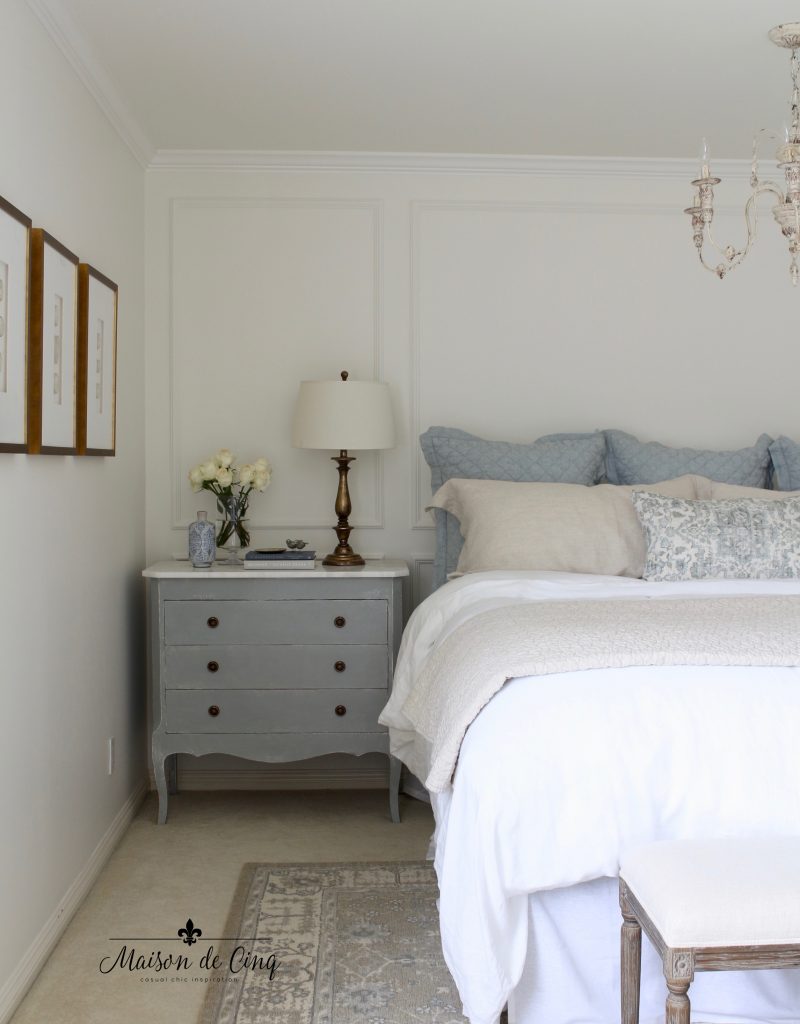 As I'm sure you've noticed, there is something missing! And that would be the new headboard! 🙁 Ironic since it's probably one of the things I was most looking forward to.
Sadly, the upholsterer that I hired did a terrible job. And since it was only finished a few days before the deadline, there was not time to fix it or buy something else. So, I will be pursuing a new headboard – immediately!
I'm so looking forward to relaxing in here and watching TV comfortably (something we've never been able to do!) And I will be sure to update the post and share it here when it comes in!
Just to refresh your memory, here is how it looked just six short weeks ago!
Before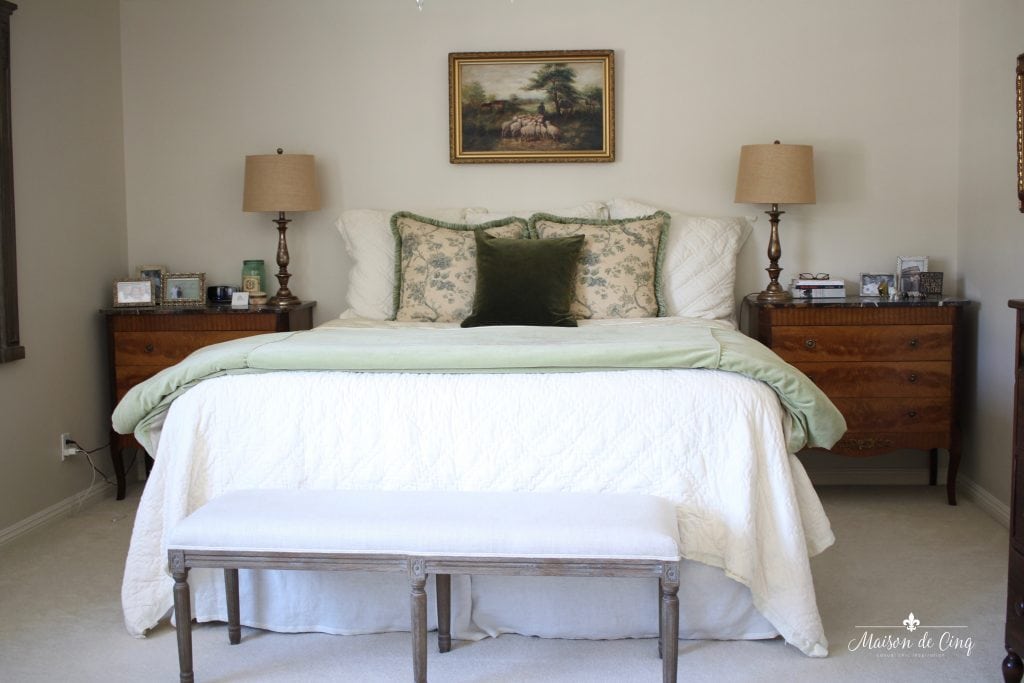 After
It feels so different! The whole space just feels lighter and brighter – and serene. I keep walking in here multiple times a day to look at it!
Paint Color
The other thing you might have noticed is that the walls are definitely not Edgecomb Gray! When I shared the paint color in last week's post, I really liked it on the wall, but after living with it for a couple of days, I realized that it just felt too heavy for this north-facing room.
And the other problem? The gray tone made the new molding disappear! We added it to create a little architectural interest in an otherwise boring room, so it disappearing wasn't really what we were looking for.
I had originally considered doing a white, but then oddly, I never painted sample swatches of any whites the first time. So, back to the paint store I went! We sampled White Dove and Cloud White, both Benjamin Moore, and immediately I knew the white was the way to go.
My husband even agreed – and believe me, he was not too crazy about re-painting! But once it was done both of us were really happy we made the change. Not only is the room much lighter and brighter now, but the molding that my husband worked so hard to install looks so much better.
Night Stands
And as is often the case with decorating, the change in the paint forced some other changes as well. Once the walls were white, I knew I didn't want the nightstands to be white as well, so I changed them to a soft French blue.
They were painted white first, and then I custom mixed two Annie Sloan Chalk paints to get the blue color (a mix of Svenska Blue and Paris Grey). I distressed them so that you would see some of the white coming through just to make them look a little older and not newly painted.
This is only about my fourth time painting furniture of any kind so the pressure was on, but I must admit, I'm pretty thrilled with how they turned out!

The lamp was already here, I just changed out to some lighter shades from Pottery Barn and I added a little bit more gold to the base with some Rub 'n Buff in Gold Leaf.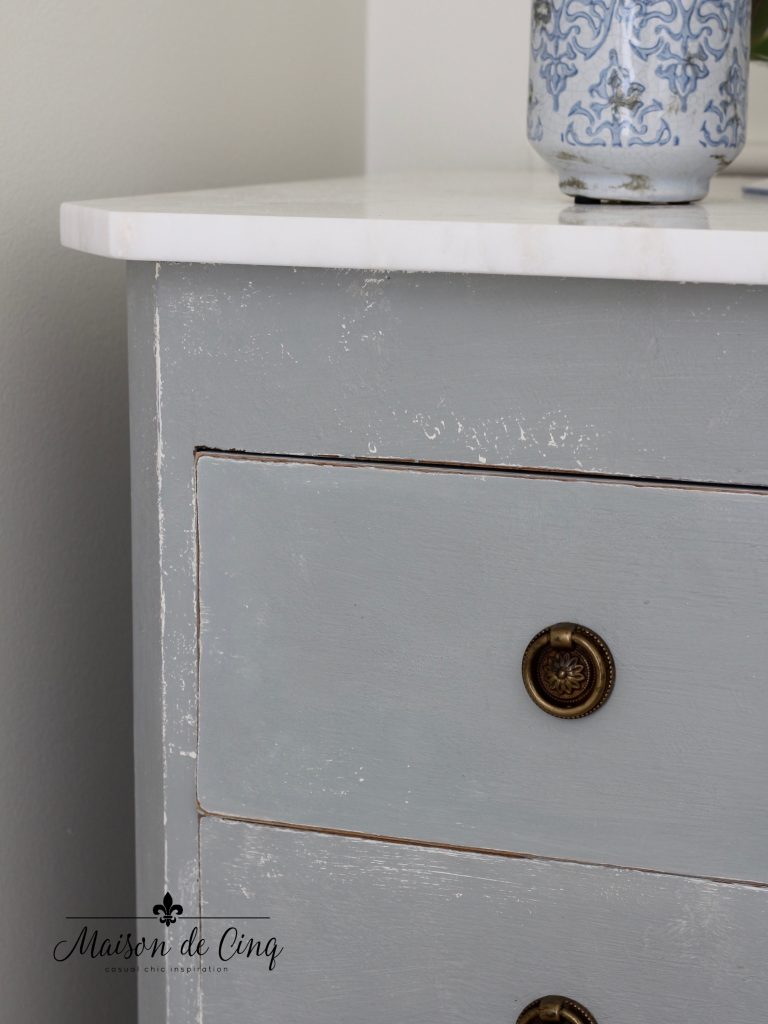 Bedding
The bedding is all from Pottery Barn and I am seriously in love! The minute I saw the Belgian Flax Linen Diamond line – and the fabulous mineral blue color – I knew it would be perfect! Their bedding has always been one of my favorites, especially their linen lines, and these are so pretty in person.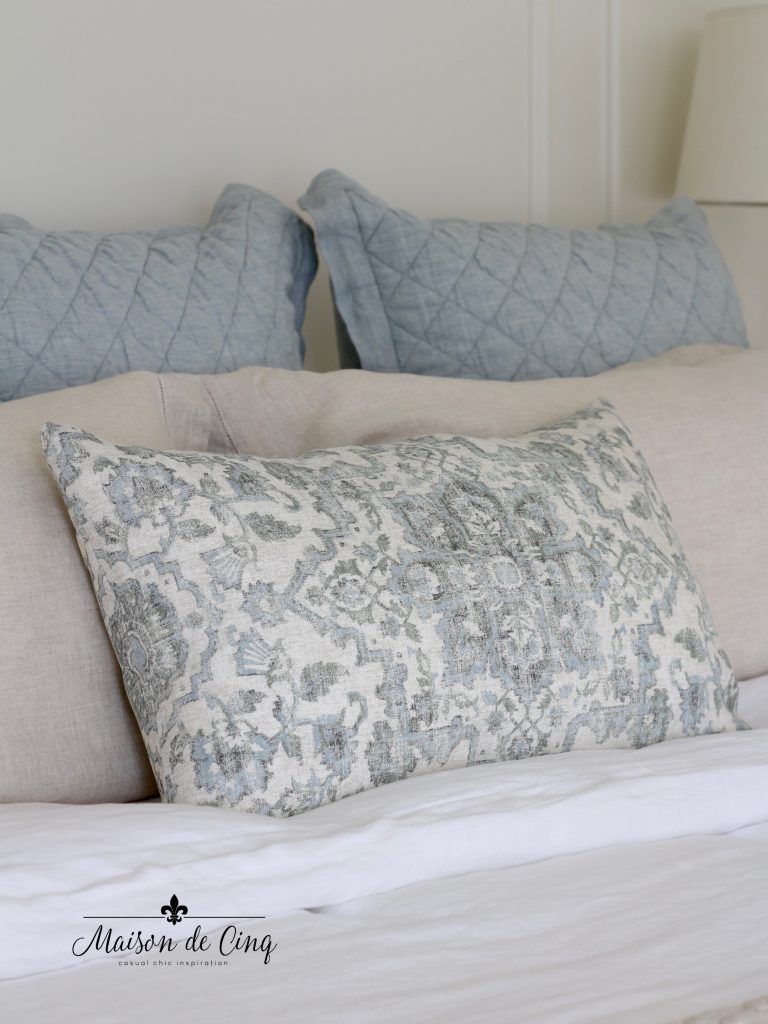 The bedding is a mix of white, flax, and mineral blue linens. And I had a custom made lumber pillow done by the company who made the drapes for me.

Speaking of which, they also dramatically changed the feel of the room!
Drapes
Before
After
The drapes are a simple French pleat and are done in a flax linen. I'm also going to add a woven wood shade, but just didn't have time to get that ordered and finished in time. Another thing I'll be pursuing next week, haha!

And how cute is this adorable Xavier table from Aidan Gray?! I have a lot of Aidan Gray items in my home as they are such gorgeous pieces and I love that they are all European inspired designs. And since I don't have a ton of space over in this area, it's the perfect little table for a book or a cup of tea!

Another dramatic change to me? The rug! I always knew I wanted a rug in here, but once it was in the room it was amazing to me how much it added to the space!
Rug
It's the Reeva rug from Pottery Barn in the 8 x 10 and I am seriously in love! Why have I never had a printed rug anywhere before???!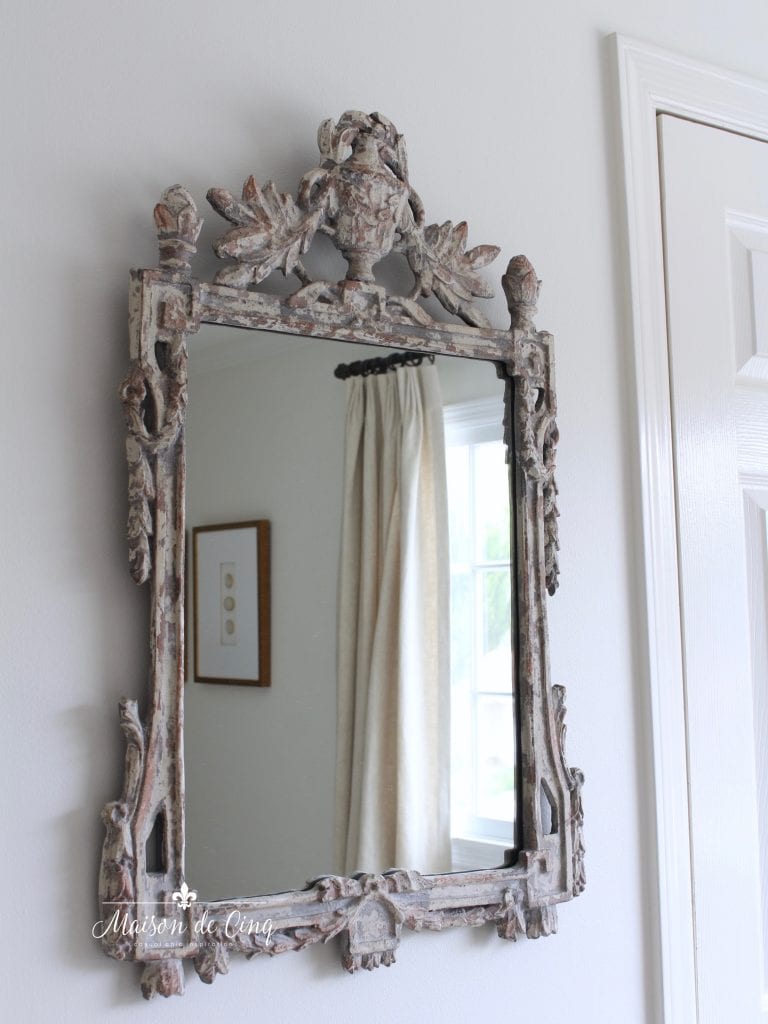 This French inspired mirror is one of the few things that stayed! It hangs between the doors to the bathroom and the walk-in closet.
Chest
This serpentine gorgeous chest is also from Wisteria and is such an improvement over the dated dark wood dresser that formally sat here!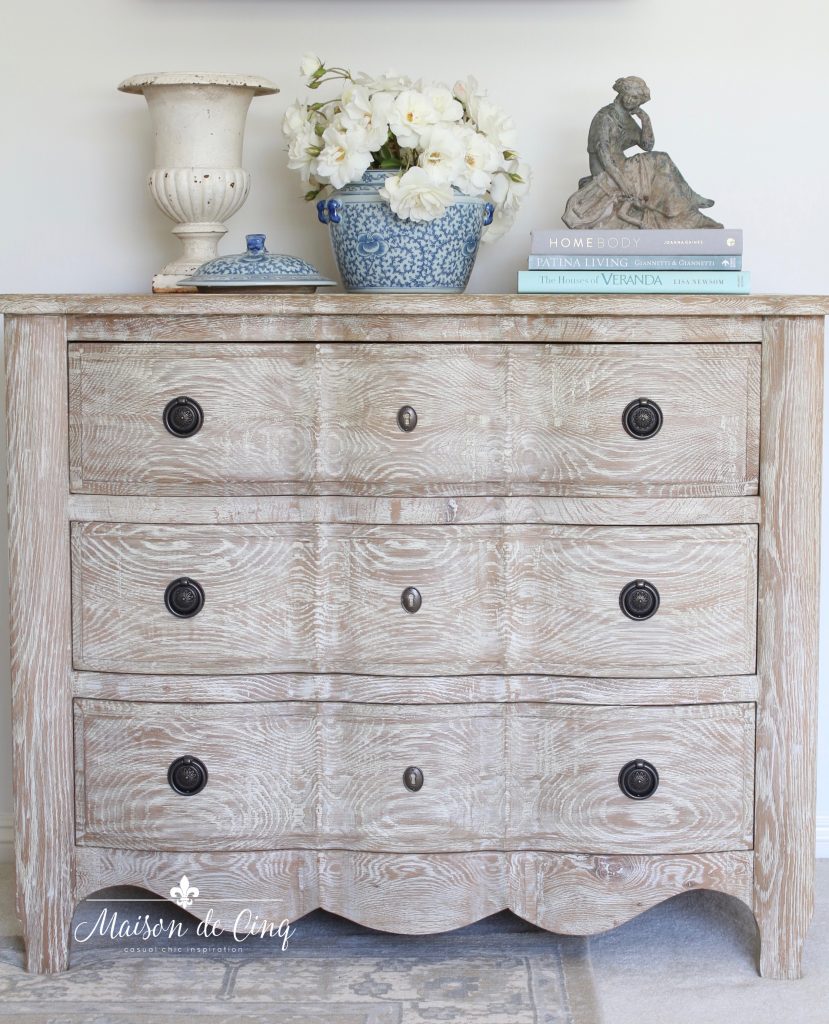 The previous piece was also very deep and not the best choice for the room. This chest is the perfect size for under the TV and I love the natural white oak color!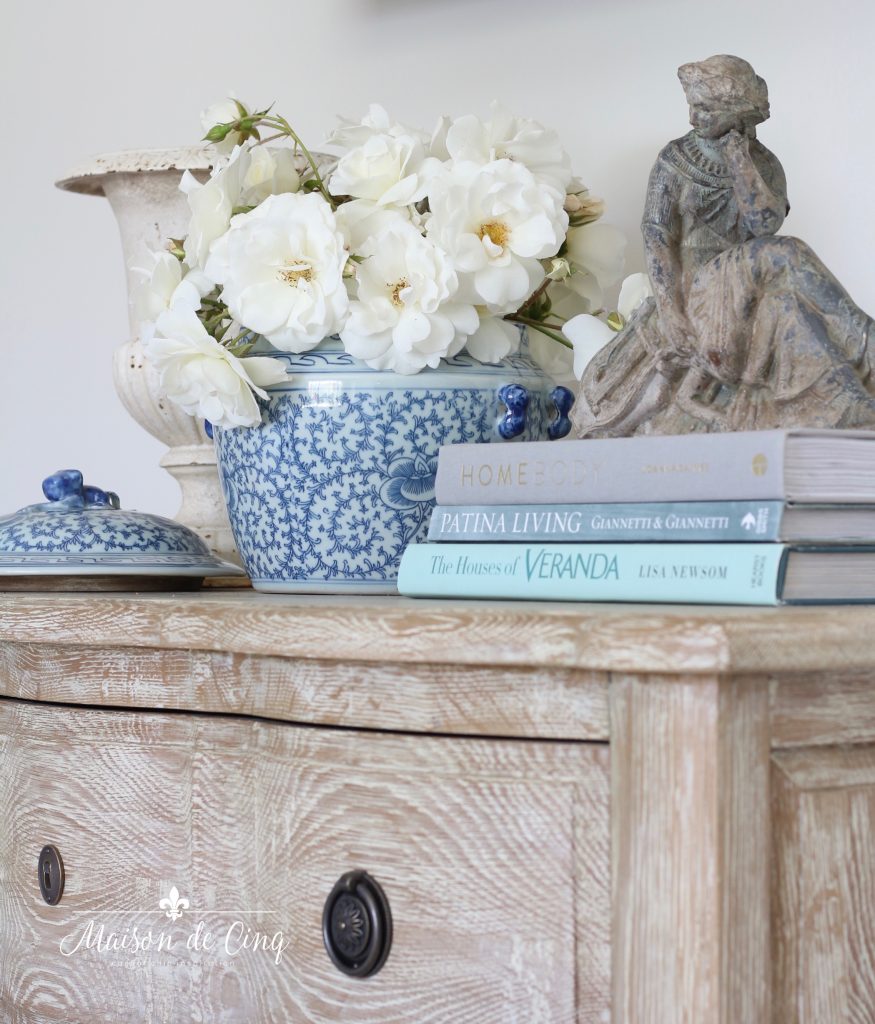 Artwork
The intaglios are from a wonderfully talented Etsy artist that I found on Etsy! She does all custom work, so you can pick whatever particular intaglios you want, and you can either frame them yourself, or she will mat and frame them for you.
I had her frame them in a simple gold frame, and I'm completely smitten. She did a beautiful job, and they are even more stunning in person! If you are looking for some, I would highly recommend her work. As I mentioned in the post from Week 3, these are something I've been wanting for a few years and I'm thrilled to finally have them.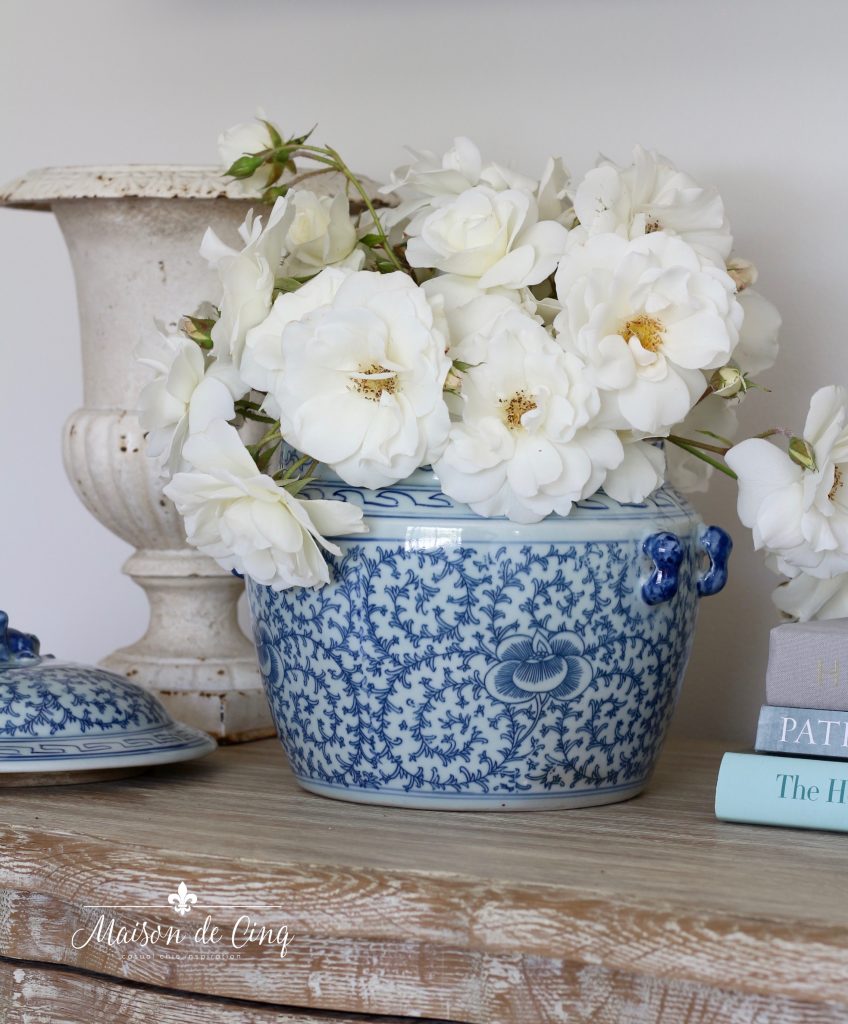 Thank you to Linda of Calling It Home for creating the One Room Challenge. I love not only the creativity and design that I find here, but the spirit of community as well.
Also, I'm pretty sure this master bedroom makeover would not have happened as quickly had I not had the motivation that the ORC provides. I'm already thinking about my next one! (just don't tell my husband, haha! 😉 )
And if you missed any of the previous weeks and want to catch up or just see where I started, you can get to all of them below!
Week 1 | Week 2 | Week 3 | Week 4 | Week 5
French country chandelier is the Salento Chandelier (you can read more about the chandelier dilemma in Week 3!) And though I bought the bench a couple of years ago, I was still able to find it – it's still around!
I can't thank you enough for following along on this adventure! I've loved getting your comments and input here on the blog, as well as on Instagram. And I hope you love the master bedroom makeover reveal as much as I do!
If you want to find any of the sources of the products I've used, I've linked them below. Also, where there isn't the exact same item, I've found some similar items for you as well!
Shop Master Bedroom Makeover


*please note some affiliate links are included for your convenience*
Sheila
xo
Master Bedroom Makeover Detailed Source List
Paint: Trim and ceiling are Cloud White, Walls are White Dove, both by Benjamin Moore
Furniture: Chest is the Serpentine French Commode from Wisteria | Nightstands are vintage, painted in Annie Sloan chalk paint in a custom mix of Svenksa Blue and Paris Grey, similar for purchase here | Bergère chair is thrifted, similar here, here and here | Table is the Xavier table from Aidan Gray | Bench is the Clairette French Bench
Artwork: Mirror is the Carved French mirror from Wisteria (discontinued), similar here and here | Custom intaglios done by Anne Joseph Designs
Drapes: Custom made, almost the exact same here
Bedding: Belgian Flax Linen Diamond Euro Sham in Mineral Blue | Belgian Linen King Sham in Flax | Custom lumber pillow | Belgian Flax Linen Duvet in White | PB Essential Bed Skirt in White | Belgian Linen Geo Coverlet in Flax (discontinued), similar here
Chandelier: Quorum Salento Chandelier
Table Lamps: old, purchased at Home Goods | Lampshades from Pottery Barn
If you enjoyed this post, be sure to check out the posts below for more French inspired decorating ideas!