How to Add Character to a Dining Room – Mixing Dining Chairs
To create a more collected, designer look try mixing dining chairs! This adds character and contrast to the space.
I know some people love to have a dining set. I have friends (and some clients) who don't even want to mix woods in a room! But I'm quite the opposite. I love the creativity that a mix of woods, paint colors or styles affords you. And one of the most fun ways to achieve that mix is by mixing dining chairs. It adds character and interest that you simply can't get with a matching set!
I've gotten quite a few questions over the years from readers asking about whether or not they should mix their dining chairs, or how they should mix them. There are a few ways to do it if you're not using a matching dining set. You can use matching side chairs with different end chairs, use an eclectic mix where no two chairs are the same, or even add a bench to one or both sides. All of them add interest, it's just a matter of taste, and which style you prefer.
Another benefit to mixing dining chairs is that it feels a little more laid back and inviting – it's not quite so serious! And by layering different styles, your room will actually have a longer shelf life!
Let's take a look at some of my favorite spaces with a mix of dining chairs….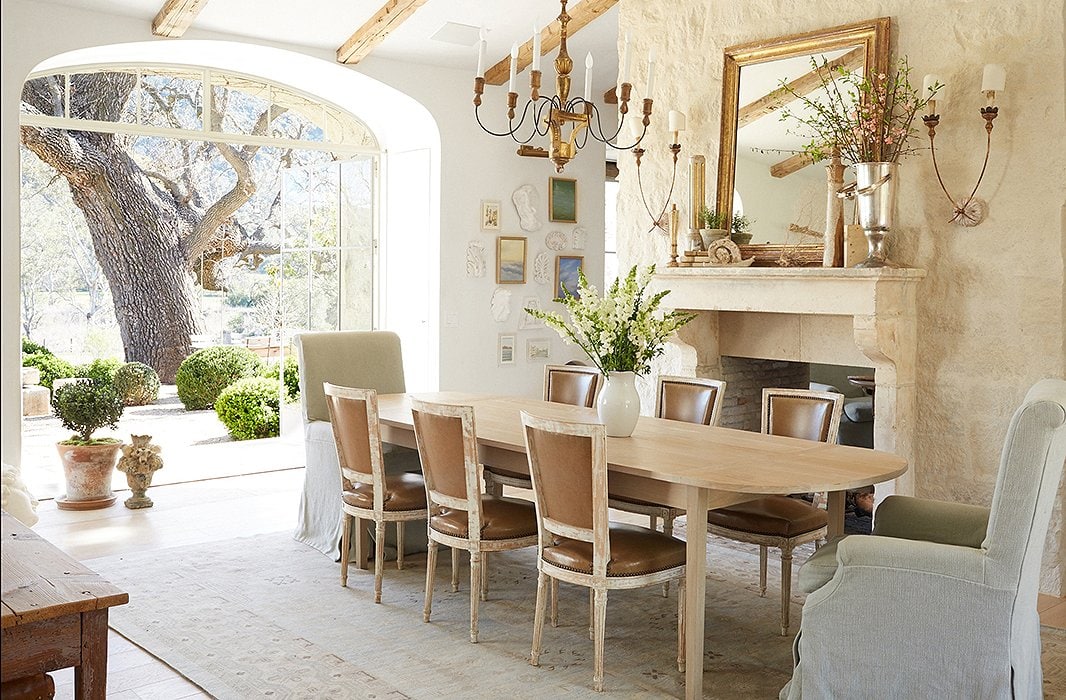 French leather chairs mixed with slipcovered end chairs. Design by Brooke Giannetti.
Another example of slipcovered end chairs by Lisa Luby Ryan.
One of my all-time favorite breakfast rooms by Ashley Goforth.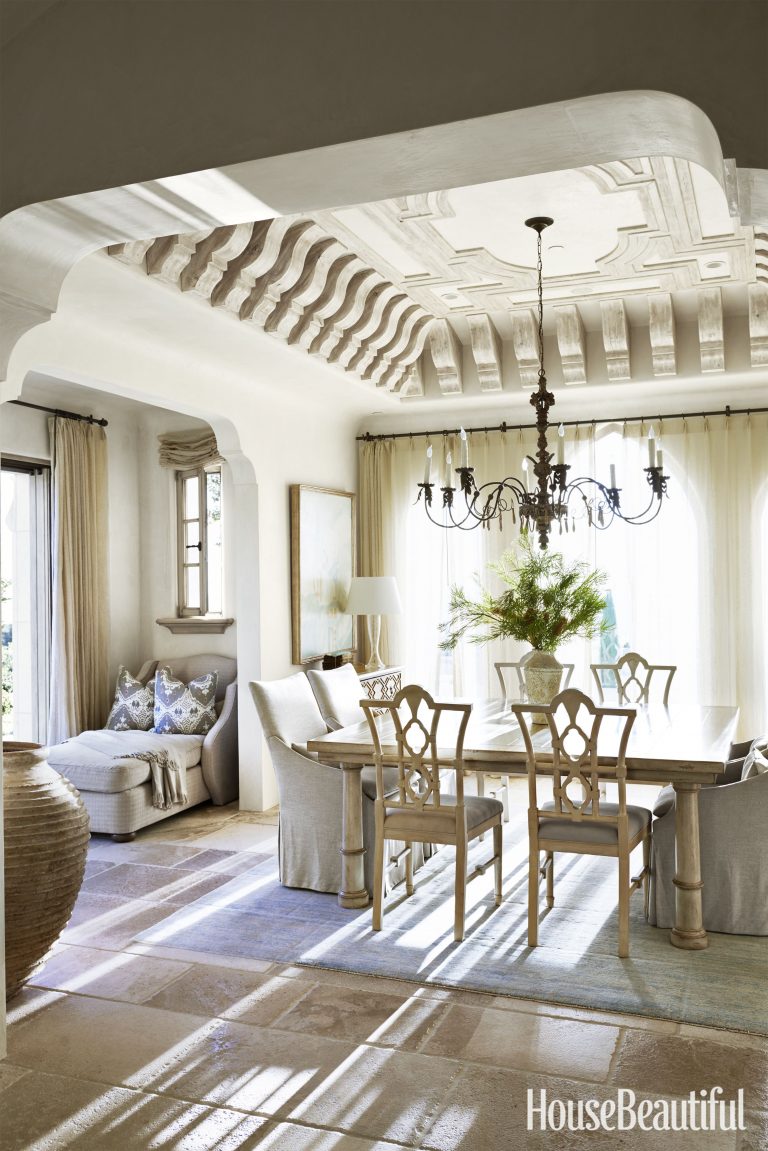 Design by Ohara Davies-Gaetano via House Beautiful.
Love the wicker chairs mixed with the primitive bench! Via Decor de Provence.
And a banquette is the ultimate mix of dining chairs! Design by Nannette Lewis via New England Home.
The mix of chairs loosens up this traditional dining room. By Ashley Goforth Design.
You can also use the end chairs to introduce different fabrics, or a pop of color. Via Horchow.
Wicker chairs on the side work beautifully with slipcovered chairs on either end. Pineapple Design Group via Home Bunch.
And this one is just the opposite! They've used the slipcovered chairs on the sides, with the wicker coming in at either end. Love this mix via Blackband Home & Design.
Design by Joanna Gaines via HGTV.
As I'm sure most of you know, in my own dining room I have a mix of dining chairs. After years of having an old, hand-me-down matching set from my parents, I finally lucked upon the Swedish side chairs at an antique store. But it was several years of just those before I added my slipcovered Parsons chairs to the ends.
For me, having just the end chairs be different feels like the perfect blend. And I love the coziness that the fabric chairs add!
Here are some ideas below if you want to get a similar look!
Shop the Post

*please note some affiliate links have been added for your convenience*
Sheila
xo