10 Most Popular Posts of 2021 – and a Year-End Recap
Today we're sharing what our most popular posts of 2021 are! These are the posts you all liked the most – and some of them really surprised me!
Lots of us like to take stock when the new year rolls around (I'm one of those). I love to make lists of home projects and goals for the year, as well as personal resolutions, too. It's nice to see what worked and what didn't, as well as new habits or routines you may want to keep, or not. So much like I do with my personal home/life at year's end, I like to do the same thing here at Maison de Cinq!
If you're here from my friend Jamie at So Much Better with Age, welcome! Today we're sharing what the top posts of the year have been! If you're a regular subscriber, you might have your own favorites. Or you may think you've seen everything I published this year and be surprised by what lands in the top spots – I know I frequently am!
It's not only fun to see what you all liked this year, but it's also helpful for me. This way I can produce more content that you love in the future! If you are new here or a recent subscriber, this is a great chance for you to see some of the posts you might have missed. Or to re-read something you previously liked and save or pin the ideas for later! You can get to any of the full posts by clicking on the title.
Let the countdown begin!
So that's a first! I've never had a tablescape in the top 10 before, and no Valentine's table has ever come close! I'm guessing this is because so many of us were home last year and were looking for ways to make the day special even if you couldn't go out. And by the way, you can still do that this year! 😉

I usually find a seasonal post in the top 10 somewhere, and the first one this year is my fall living room. I used a very subtle but rich color palette for a soft but still warm feeling.

Our French-inspired Christmas living room was by far my most popular holiday post this year! Gold and white with lots of greenery created a gorgeous palette for the season.
I can't even begin to tell you how excited I was to see that the first installment of our new series, Friday Favorites, made it in the top 10! This series is such a joy for me to put together, and I love that you all love it as much as I do! (If you want to see more recent Friday Favorites installments, you can get to all of them here).
I'll be honest, since the blog usually focuses on home decor I was pretty surprised to find this post all about French-girl style make it to the top 10! But apparently, like me, you all love any and everything French! You can also find a spring/summer version here.
I've really enjoyed adding more live plants to the house over the last year or so, and it's great that you loved it too! I shared my best tips, plus some plants that are easy to grow – and keep alive!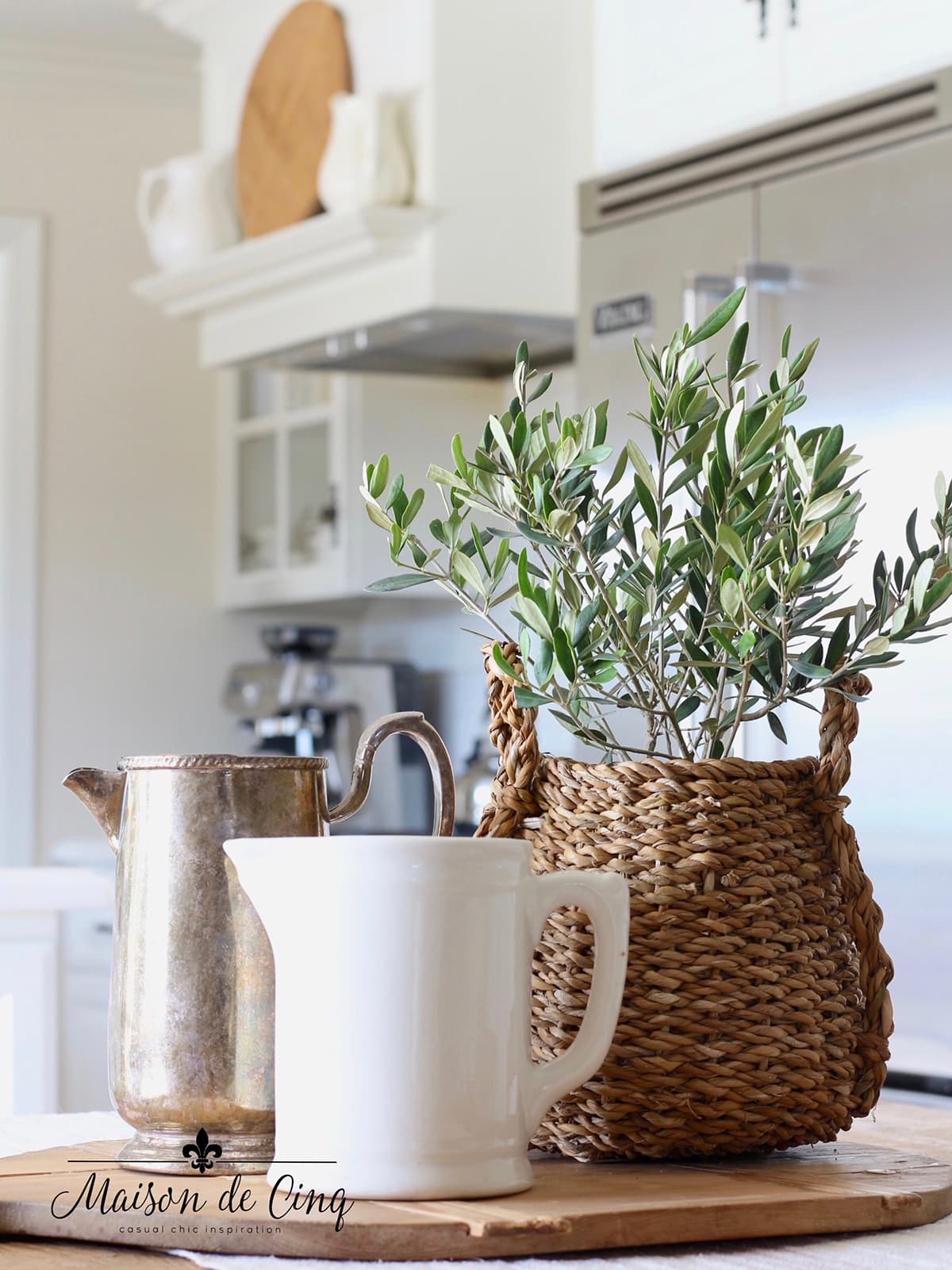 This was such a fun post to write! I love finding great French decor for you guys, and I was pleasantly surprised at how many fabulous things I found at Amazon!
I always find that you guys love organizing posts (get ready for more this year!) and this one from early last winter focuses on my method for cleaning out and organizing cabinets.
No one was more surprised than I was when a recipe made it into the top 10! This chocolate banana bread is beyond delicious and I love that you loved it as much as I do!
And drumroll please….. the number one most popular post of 2021 is….
This project was one I wanted to do for years, and I could not be happier that we finally did it! It has made a huge difference and it couldn't have been easier!
And that's the 10 Most Popular Posts of 2021! It's been really fun to see what resonated with you all the most. I incorporated a lot more fashion and recipes this past year than ever before and most of you seem to be enjoying that. For 2022, I'm planning quite a few organizing/cleaning posts for January, and later in the spring I hope to share a bathroom renovation (or two!) with you, as well as a few decor tweaks I've got on my mind. Some new paint colors, rugs, wallpaper, and a few more changes are in the works – stay tuned!
I never cease to appreciate the fact that so many of you choose to spend your time here, and that you find inspiration here is so rewarding for me. And on that note, I always want to provide you with more inspiration and ideas so please let me know what you want to see more (or less) of! Feel free to tell me in the comments below, or shoot me an email.
Maison de Cinq has grown so much this past year, and I've so enjoyed hearing from so many of you! You've written to me, commented, asked advice, and given compliments more than in any year before and I'm so grateful for the connections we've made.
And thank you all for making this job of mine possible. You've lifted me up and made me feel like this little blog makes a difference. It may only be decor, but making your home comfortable, and cozy, and safe, is such a basic need. And maybe even more now than ever.
Home, and all that it encompasses, is my passion and I'm thankful every day that I've found a little corner of the internet where I can express my creativity and inspire others. So thank you. You all make it possible, and so worthwhile.
Happy New Year!
Sheila
xo
And now be sure to visit The Tattered Pew next, and then onto all my friends who are also sharing their top posts of the year. Click the links below the images to get to any of the posts!
The Top Posts of 2021
If you enjoyed this post, you may want to check out some of my other most popular ones below: