My Favorite (and less so!) Paint Colors: What I Have in My Home
Do you struggle to find the right neutral paint colors? Today I'm sharing my five favorite paint colors! These tried and true neutrals and whites are colors I've used again and again, and they look good in almost any room!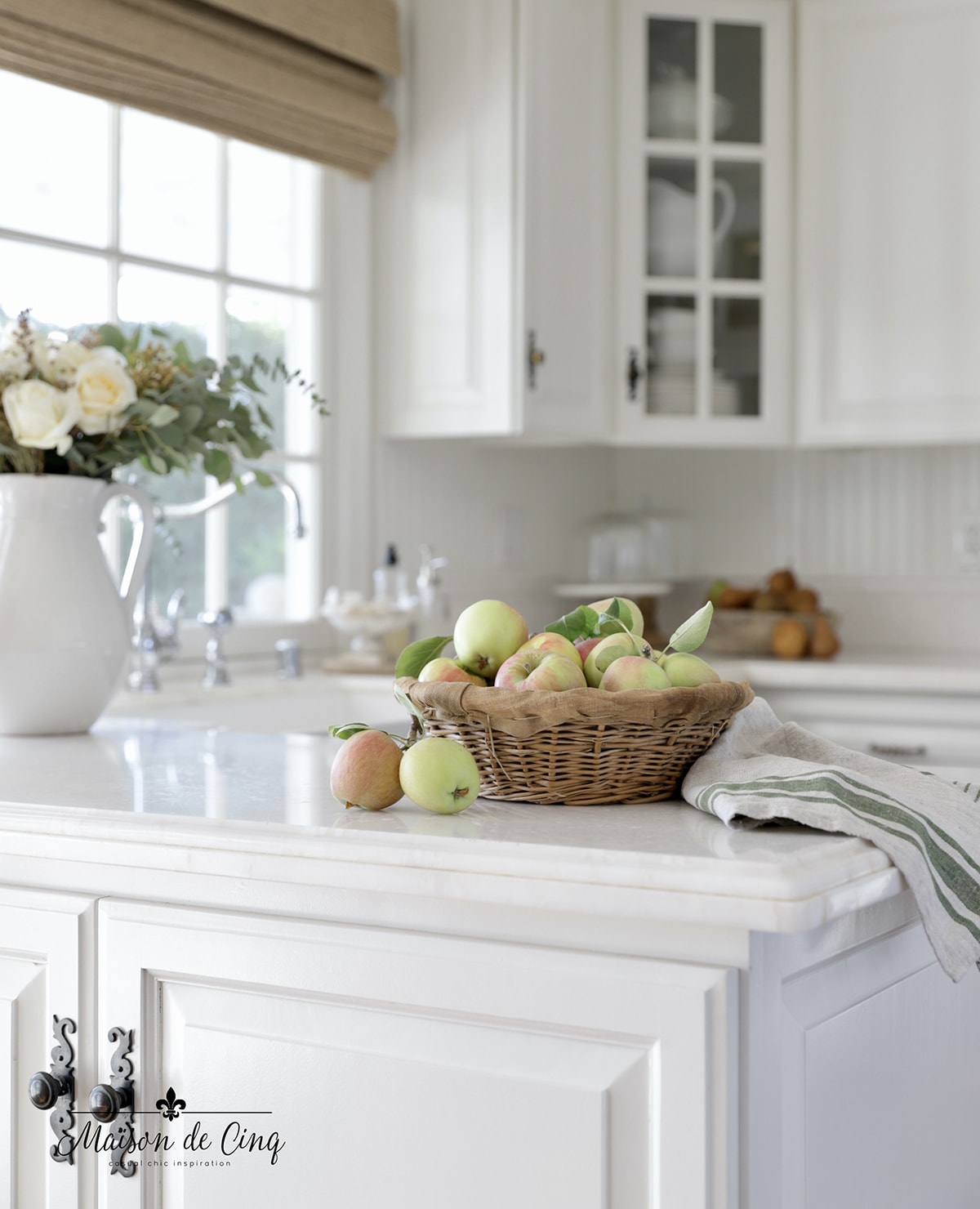 One question I get a lot here and even more so on Instagram, is what paint colors I have in my home. Whenever I post different rooms, I invariably get asked about the different colors I've used. So when the ladies from Project Design asked me if I'd like to share in a post with them about my favorite paint colors, I thought this would be a great chance for me to share what I've used and love (and don't love!) in my home.
I'm a firm believer that there are no perfect paint colors, however, I do think there are some that are almost universally flattering in any light. Kind of like certain dresses seem to just flatter any figure, some paints just have a certain mix of pigments that makes them work in almost any space. I don't know all the paints out there, but I can share what I've used and loved over the years and what has worked for me!
THIS POST MAY INCLUDE AFFILIATE LINKS. CLICK HERE FOR MY FULL DISCLOSURE POLICY.
My Favorite White Paint Color
Let's start with my absolute all-time favorite white paint, Cloud White by Benjamin Moore. You will see that all of my interior paints are from Benjamin Moore and that is just personal preference. I do believe in using a higher quality paint such as Benjamin Moore, Dunn Edwards, Pratt & Lambert, or Farrow & Ball (and there are others). There is truly a difference in the quality of the color due to the fact that they use more pigments in their formulas. You do get what you pay for with paint!
Not only that, BM is nearly odorless and has either zero, or very low VOCs in all of their formulas (even the least expensive one!) Since I paint my kid's rooms as well as areas we are in a lot, I feel better knowing it's a little less unhealthy.
My absolute favorite white is Cloud White. Another favorite (and one of many designers as well) is White Dove. And while I love that (and have it elsewhere) it's not as "clean" of a white as Cloud White. Want something less yellow than White Dove but not as stark as Simply White? Cloud White is your color! I would describe it as as much of a true white as is possible. It doesn't have blue or yellow tones – it's just white!
I truly feel like it is the perfect white! I spent many years using several different whites in several houses and I will never use another one again. It is what I used in our kitchen, family room built-ins, and for every bit of trim, doors, and molding in our whole house.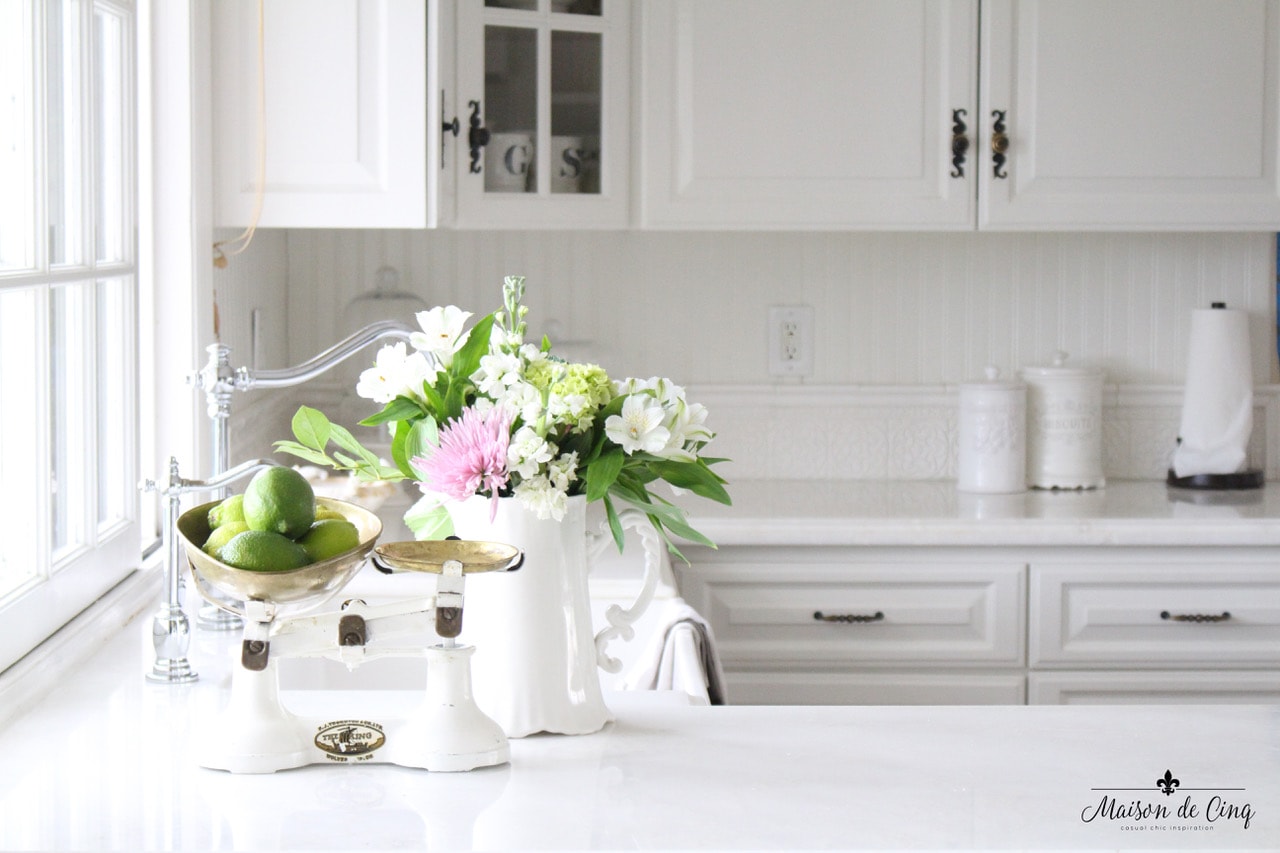 My Favorite Neutral Paint Colors
There are a few favorite neutrals that I've used, but I'll start with one of my favorites and that is the one in my living room, stairwell, family room, and upstairs hallway. This color is Muslin. Muslin is a very soft beige, with some warm undertones. I don't think it's too yellow, especially in a north facing room. But it can skew that way if you are putting it in a south facing space. I'll show you!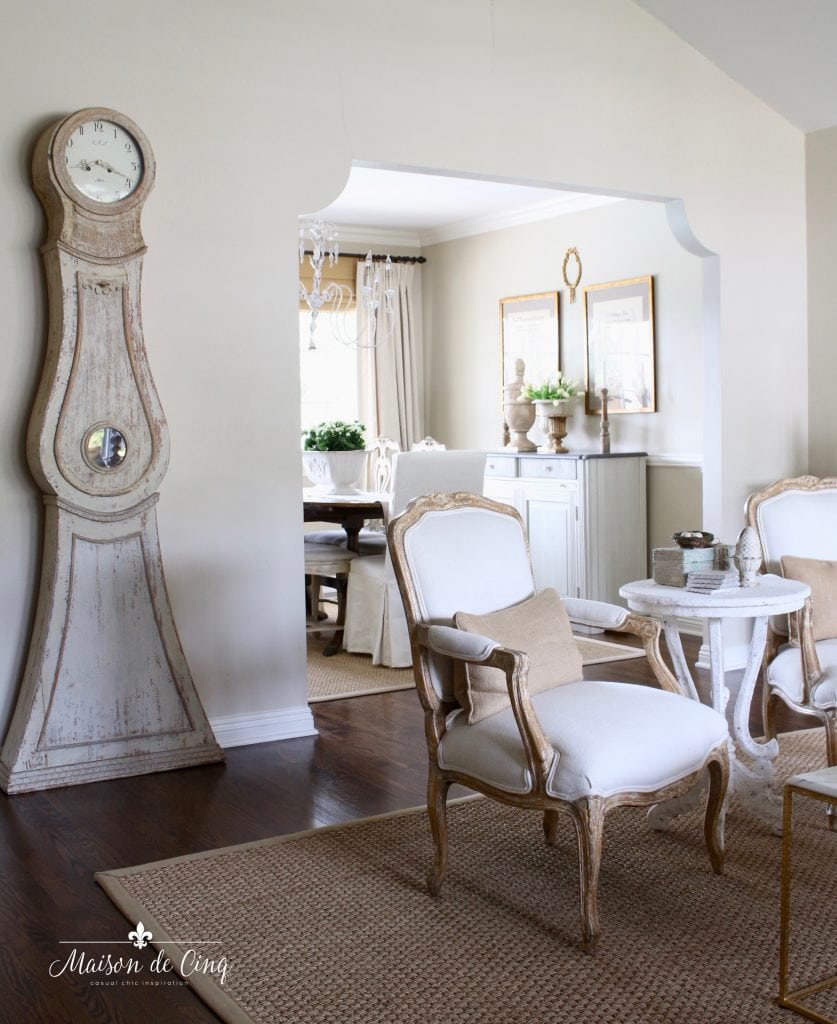 Here in the living room (which is north facing) it goes pretty neutral. Soft beige with some warmth and a little grey, but not too yellow.
However, I also painted it in my family room and it's a completely different color in there! That room is south facing so it adds a lot of warmth and the paint does go a little more yellow. For me, I don't love that so I am planning on repainting. It isn't necessarily a bad color – just not what I wanted it to be.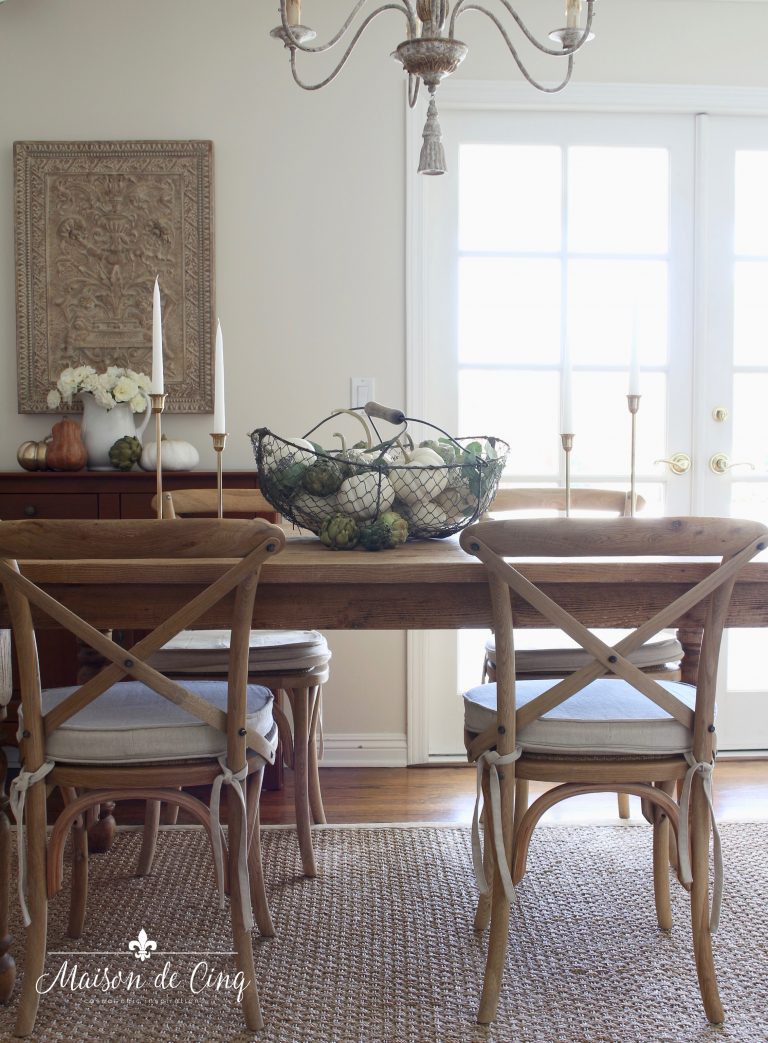 It appears a lot more yellow in this space than it does in the north facing living room! Lesson learned: be sure to sample your paints on every single wall in the room you'll be painting. This is something I normally do, but because I love Muslin in the rest of the house, I didn't think I needed to. You do.
Test it in every room, every time. Even if it's a favorite. Even if you've used it before because lighting is a bitch!
Another favorite neutral is Shaker Beige. The name of this one tends to scare people away! I think they think of something more gold, or dark dated-90s-beige! However, it's actually a very true beige. Not too gold, not too brown, and very versatile. This is the color in my dining room below.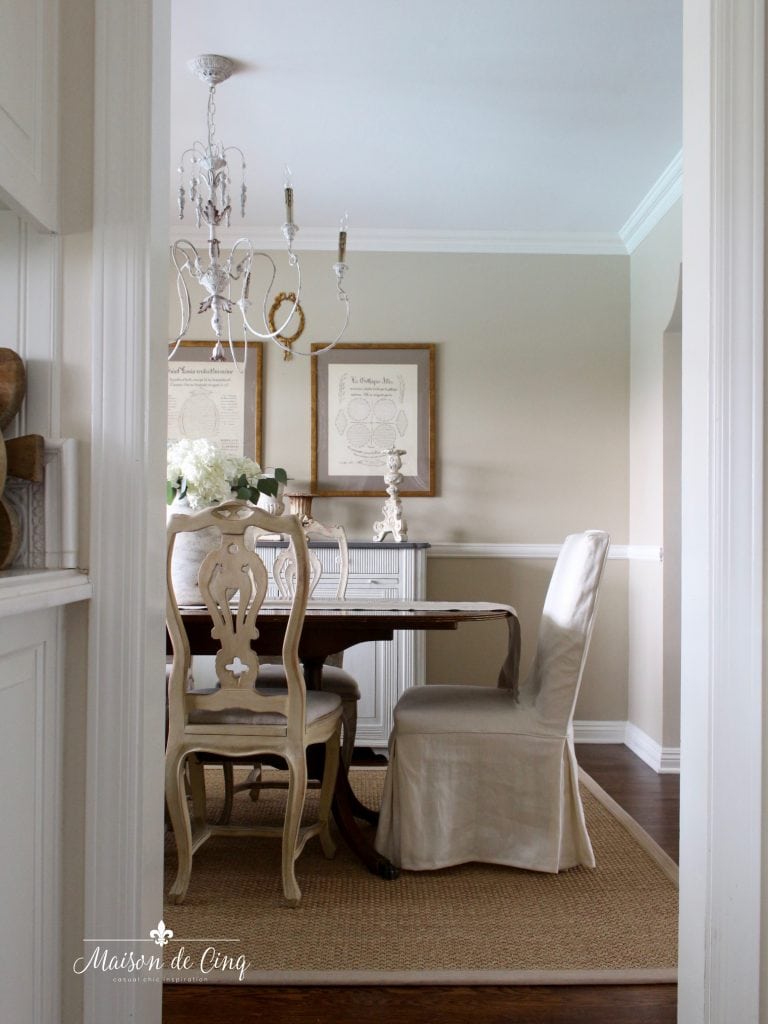 You can see here that it's quite a bit darker than the living room Muslin. And below, the two in the same view.

Shaker Beige is slightly warmer and darker than the Muslin. It's a good dependable neutral, and I've seen it used at half strength as well and it looked beautiful. And it doesn't go too yellow. Our dining room is south facing and it stays a very neutral beige in that room.
Another neutral favorite is Revere Pewter. This color is uber-popular and all over Pinterest! It's a classic warm grey. The warm undertones keep it from going too cold (a definite problem with many greys). My daughter's room is painted Revere Pewter below.
Not too blue, not too beige. For me, Revere Pewter is the perfect warm grey!

I also used it in our office. In this space, I wanted a softer look so we cut it to 50% strength and I love it! It goes even warmer when it's cut to 50% which I really like in this room. It is probably the paint color I get the most comments/questions on whenever I post it!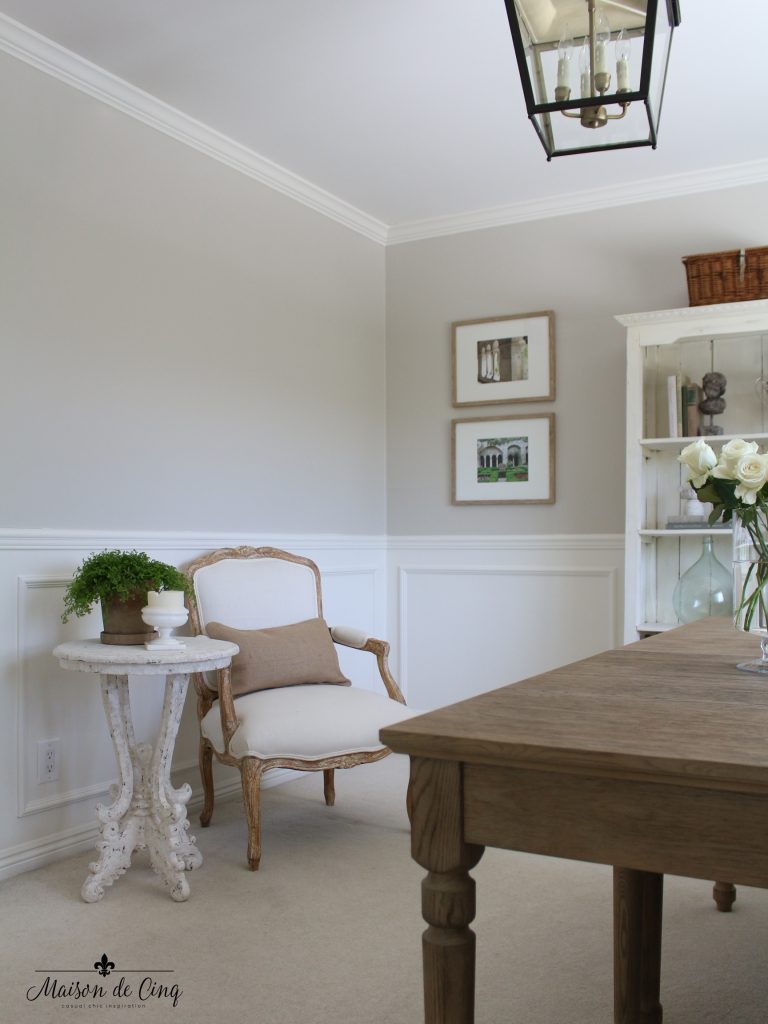 I love how soft and pretty it looks in this room. It might just be that perfect "greige" that everyone is searching for!

Another Benjamin Moore color that I absolutely love is Edgecomb Gray! I actually painted the office in that color first, but ended up changing. But let me preface it by saying I loved the color! I just didn't love it in this space for the look I was going for.
But I will definitely be using it at some point, either in my home or in a project. It is close to Revere Pewter but slightly warmer.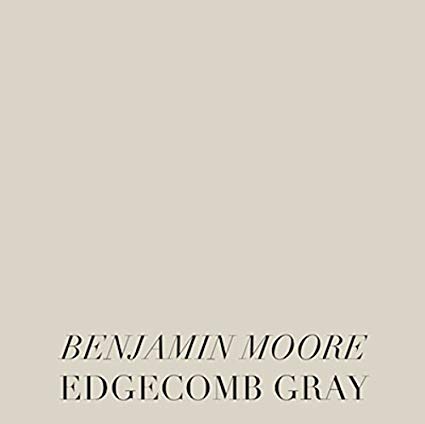 Another Favorite White Paint Color
A very popular white and one I mentioned above is White Dove. In fact, when asked their favorite white it is favored by more designers than any other! And that's because it is slightly warm, creating a fresh, clean space but one that isn't too harsh or cold. We painted the walls of our bedroom in White Dove and I love it!
I was worried the room would feel too stark but it doesn't at all. It definitely has slightly more yellow undertones than the Cloud White does though, so if you're doing it in a south-facing room be sure to sample it first.

I also used it in the kitchen remodel that I did last summer. She loved it so much we painted her whole house in this color!

So that's it! My favorite paint colors that I have come to love over many years of trial and error. And more error!
My best piece of advice is to buy samples. So many people tell me they don't want to spend the money, and they try taping those little paint strips all over the house. Take my word for it, that just doesn't work!
Spend the money. It will save you repainting in the long run. And keep in mind that any paint will go more yellow/warm in a south facing room. And any paint will go more grey/cool in a north facing room. This is a super helpful fact to keep in the back of your head!
Sheila
xo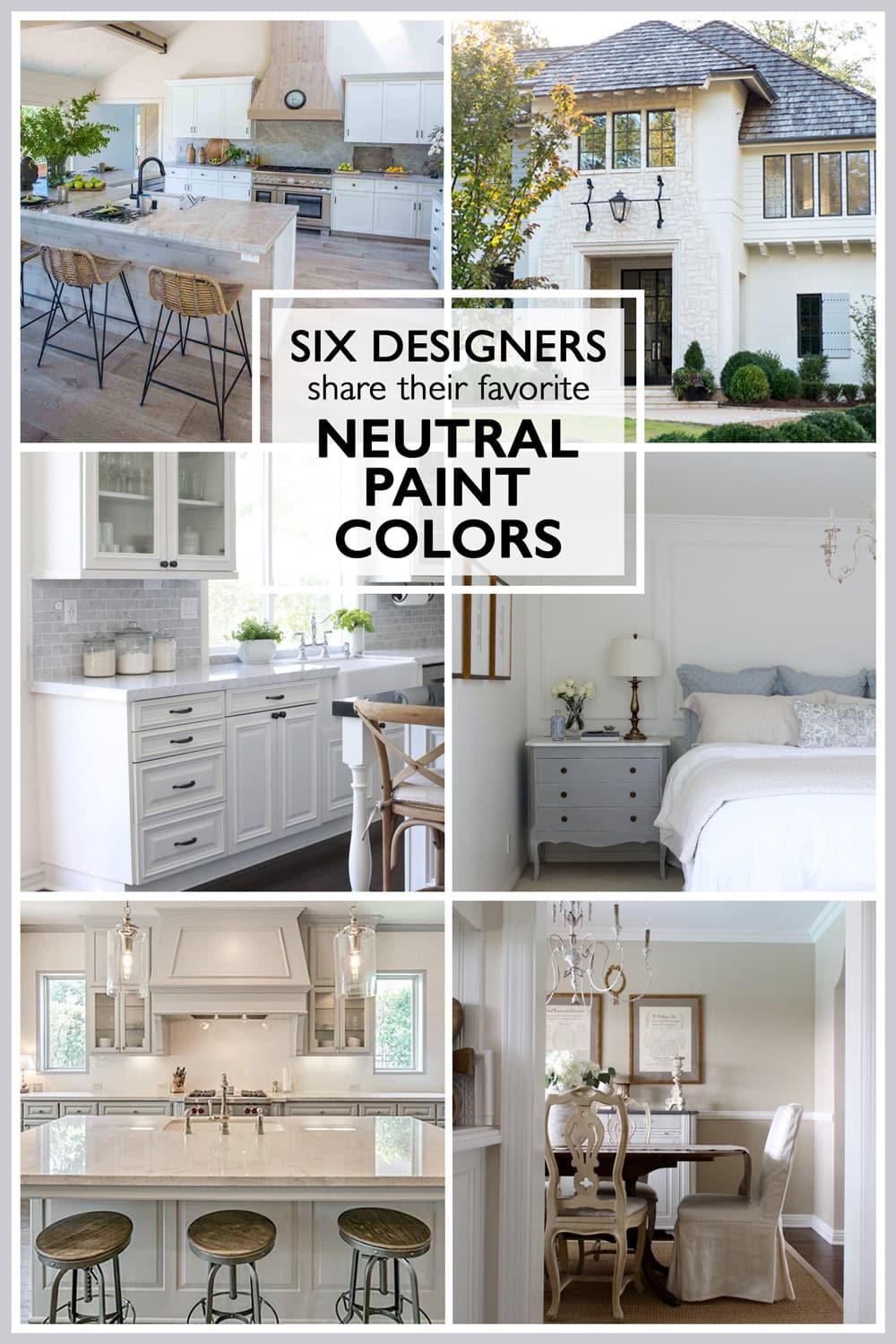 Now I hope you'll hop over to some of the other designers also sharing their tips and tricks to finding the perfect paint colors below:
If you enjoyed this post, be sure to check out more decorating ideas and inspiration below: